Education is ultimately an act of connection: teacher to student, student to world. Often, that original connection is so profound that the student longs to maintain it after the formal part has ended — to give back by offering the experience to a new generation of students.
Helen Revellese Esposito '38 was someone who valued that type of connection. Until she died in May of last year at age 101, she was devoted both to Barnard and to giving back, as a public-school teacher in Yonkers, New York, and as an adult-education volunteer. She took pride in giving to Barnard every year, from the leaner years when she was building her career, all the way to the end of her life. That spirit is kept alive through the Barnard scholarship fund that bears her name.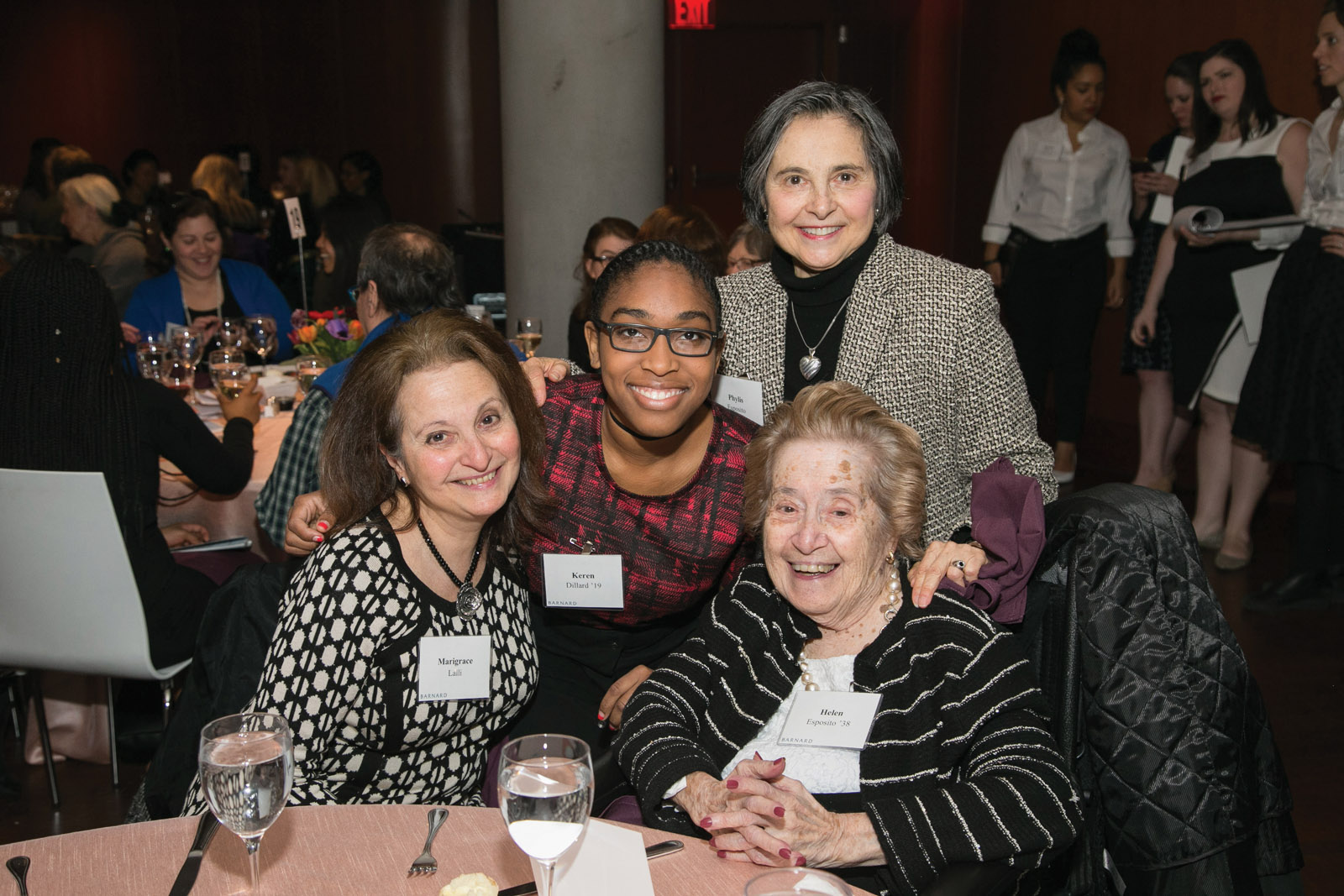 Born and raised in Yonkers, Esposito was one of 14 children of immigrant parents and the first in her family to attend college. After Barnard, she earned a master's degree in education from Teachers College and then returned to her hometown to begin a career in education. That career spanned decades, as did her volunteer work.
Esposito's love of teaching and her love for Barnard were infectious. In 2001, her daughters, Phylis Esposito and Marigrace Lalli, decided to conjoin those two loves by establishing the Helen Revellese Esposito '38 Scholarship Fund with a $50,000 gift. The fund's interest underwrites an individual scholarship for a student who needs financial aid. The family asked that the fund support young women who, like Esposito, grew up in Yonkers or in Greater Westchester County, with a further preference for students also planning a career in education.
The fund became a source of pride for Esposito; she asked family and friends to donate to it in lieu of birthday and holiday gifts. This helped the fund grow to its current value of more than $524,000. As the fund continues to increase in value, it creates new opportunities for students who might not otherwise be able to afford Barnard, and enhances the College as well, by enabling a more economically diverse class. Indeed, the scholarship has already helped several young women to realize the power of a Barnard education.
Before Esposito died, she met each of her scholarship's recipients at the scholarship celebration dinners the College holds each spring to bring together students with many of the people who sponsor them. With Esposito's encouragement, two of her scholarship's recipients became dedicated teachers. Dana Kim '09, who became close with Esposito during her time at Barnard and invited her as a special guest to her wedding, followed Esposito's path. Angelica Cusma '14, another recipient, also went on to teach and has kept up her relationship with the Esposito family.
Yonkers resident Keren Dillard '19 is the scholarship's most recent awardee. An architecture major, Dillard was "very excited" in her first year when she learned that she would receive the Esposito scholarship. Not only did it enable her to meet her tuition costs, it also allowed her to find a balance between her work, her studies, and her extracurricular activities. It offered a connection to people from her hometown who had passed through Barnard's halls. "The scholarship afforded me time that I would have otherwise had to spend working," Dillard says. •