In her more than 20 years on college campuses, Natalie Friedman has occupied just about every role in undergraduate college life: student, instructor, "dorm parent," director, assistant dean. Now the new dean of studies and senior class dean at Barnard, Friedman exudes the kind of spirited enthusiasm one expects in a first-year college student. "We are the triage unit, the clearing house for academic issues," says Friedman, beaming as she explains her duties, which include advising both faculty and students on the intricacies of Barnard's academic policy, and working through academic conflicts or challenges. Resolving such challenges may include reviewing a student's petition to adjust the requirements for her major, assessing a student's disagreement with a faculty member, or responding to a student's alleged breach of the honor code.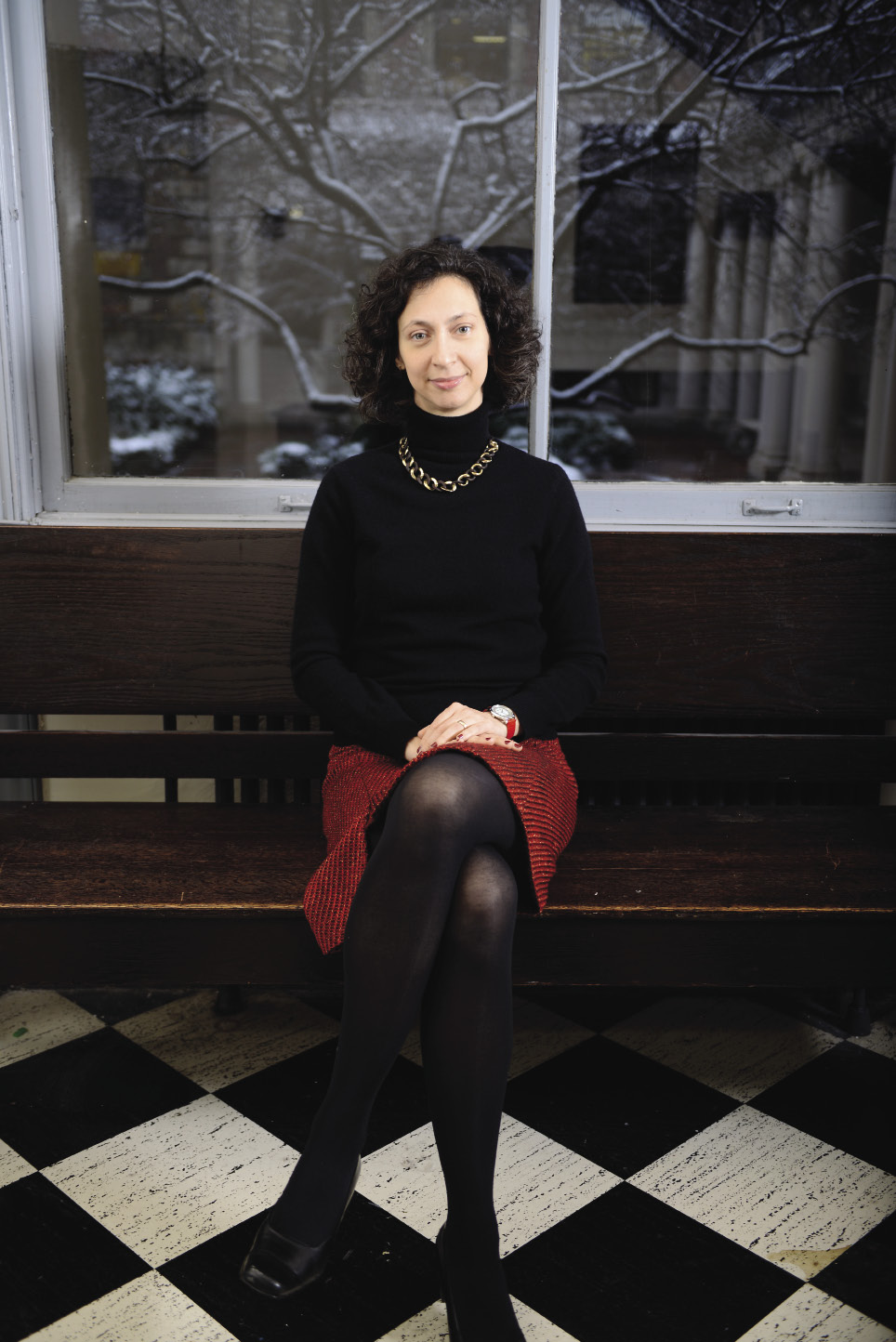 As Friedman speaks, snow falls softly outside the window of her office in Milbank Hall. Her walls are decorated with pictures of her young children; her face wears an almost constant smile. "Sometimes we can find a solution. Sometimes a policy is a policy," she says.
Her responsibilities may seem removed from the scholarly world that first captivated her. In the past, Friedman's work has included researching the literature of new Americans, dissecting Moby-Dick for a class of college jocks, and directing a writing center. But Friedman—though she still delights in conversing about books—says that as dean, she enjoys the art of "Solomonic decision making."
A child of Soviet refugees and a grandchild of four Holocaust survivors, Friedman grew up in a tight-knit community of like-minded families in Forest Hills, Queens. She still recalls the excitement of her first day at Vassar College in 1991, when her father, who never went to college, drove her to the school in Poughkeepsie. She immediately fell in love with the grassy campus surrounded by a stone wall, and also with professors who relished answering her questions. "Vassar is a similar school to Barnard in a lot of ways," says Friedman, who completed a double major in English literature and French, and returned full time to Vassar in 2004, after earning her doctorate at New York University and teaching at Boston University and Marymount College of Fordham University. At Vassar, where she worked and taught until 2012, she established and directed a writing center, and later helped start and run a learning center.
"Vassar has about the same number of students as Barnard," explains Friedman, who also served as an assistant dean at New York University between March 2012 and last summer. "It is also a Seven Sisters school." Though Vassar is now co-ed, in some respects the school culture resembles that of a women's college. "There was no Greek system. There was no football," says Friedman.
Despite some similarities to her alma mater, one aspect of Barnard baffles Friedman. "My biggest surprise has been the complexity of our relationship to the resources at Columbia," she says. Friedman marvels at the access to Columbia's libraries, but though she understands the strong allure of taking classes at Columbia, she's also mystified by Barnard students who opt to "take exactly the same class at Columbia....Here, there's little chance of a class with a TA [teacher's assistant]. If the student is coming for the Barnard experience, they're removing themselves from that."
Among her initiatives, Friedman hopes to find ways to better support and encourage student research—financially and otherwise. She would like to celebrate senior research with a campus-wide publication or a symposium. In addition, Friedman hopes to strengthen tutoring programs.  "We have a very different kind of student than we had 25 years ago," she says. "They are growing up with frequent tests, and in a wired world." She worries about support for students from underserved backgrounds, and says that although "currently we ask students to pay for tutoring, I would love it if a donor came along," allowing students to obtain these services at no cost.
She firmly believes that "the small liberal arts college environment is really conducive to student achievement. It's the best education you can get for the money," says Friedman. Her 3-year-old daughter has already digested this message; Barnard is the girl's first-choice school. Friedman says her 7-year-old son wishes he could attend, too.