"I've always wanted to go into medicine," said Barnard student Eva Kerman '16. "I always wanted to be a doctor. Now, I'm kind of questioning if I want to be a nurse or what field of medicine to go into. So this was a perfect opportunity to learn about all the different specialties and fields of medicine and see what I can really connect with."
Kerman's chance to learn what's possible in medicine came during the Health Careers Program, presented this fall by Barnard's career development office. The daylong event was a vibrant exchange between alumnae who work in a diverse range of medical fields—physicians, nurses, researchers, physical therapists, and nutritionists among them—and students who wanted to learn more about the options available.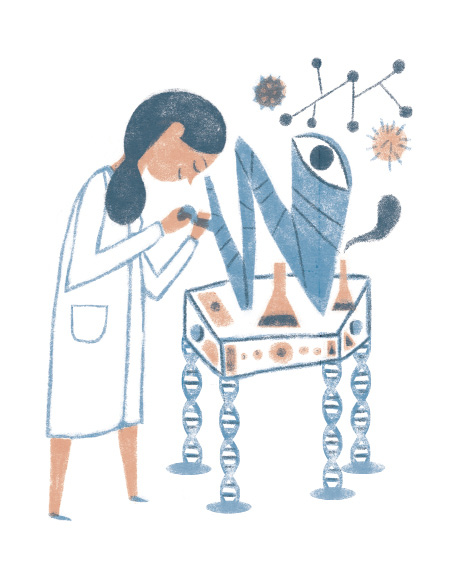 Lois Jackson '73, a pediatric dentist, provided generous support for the event. The program honored her mother, Rosalind Jackson, supportive and encouraging of Lois's choice at a time when few women entered dentistry. "At Barnard, it wasn't what you could do; it was what you should do. If you wanted to do something, you should do it," Jackson said, adding, "We needed to have this event...a forum where women could come together and voice their concerns."
One major theme of the panelists was the importance of remaining open-minded and flexible. Even for the participating physicians, medicine wasn't always a direct path. Several of the doctors did not take a pre-med curriculum while at Barnard. The same was true of others in health care—the field was something they found after exploring other career options. This theme resonated with students, who were looking for guidance on how to find their own niches.
"I've always been really interested in going into pediatrics, said Bryn Seltzer '16. "Since coming to Barnard, I've been studying human rights." Last summer she worked at a clinic in India and is considering a major in children's studies. "I feel it gives me a very good background and I can go into pediatrics from that."
The first of the day's two panels included four physicians and Jackson. They repeatedly advised students: be open to change and roll with the punches. Three of the four doctors revealed they'd been laid off from jobs—all for financial reasons.
Gwen Lopez-Cohen '92 went into teaching after graduation. When she decided on medicine—entering medical school at the age of 28—she initially assumed she'd opt for pediatrics, but ultimately chose psychiatry.
The career of Nieca Goldberg '79 has always centered on cardiology, but has undergone a variety of transitions. She pursued an academic track after med school, but realized she really liked patient care. "I transitioned to a job at Lenox Hill Hospital where I was running a cardiac rehab program," she noted. "Unfortunately, in March of 2003 a hospital administrator approached me and said, 'We're closing the program in six weeks and you won't have a job.'" She went into private practice until 2009, then was recruited by New York University Langone Medical Center to become part of a comprehensive women's health center. In September 2011, the Joan H. Tisch Center for Women's Health opened with Goldberg as medical director. "The most important thing is not to let that passion die," said Goldberg, also an author of books on women's health and heart disease.
Rachel Bermudez-Lunz '86 grew up around medicine; her mother was a social worker at a South Bronx clinic. Much of Bermudez-Lunz's career has involved primary care for inner-city patients. She was also let go when a program ran out of money.
Susan Yoo '84 had no interest in science when she entered Barnard, but by her junior year, she'd become a pre-med student. She saw herself working in pediatrics, but her approach changed. Yoo told the students, "When I applied to medical school, I was sure that I wanted to be in an academic center with research. I wanted to be a neonatologist. I worked in a [neonatal intensive care unit], but this wasn't really for me. I did not want to spend my time writing research grants and went into a general pediatric practice. I love it."
When her three children were young, Yoo found a practice that allowed her to work part time. After 10 years, she was let go. "The practice didn't have enough money to keep a part-time person on," said Yoo. With her children now grown, she works full time.
All of the panelists said it was important for students to expose themselves to internships, volunteer opportunities, and clinics, or to simply shadow doctors. That kind of active participation is important both in terms of fully understanding what a medical career entails and showing commitment.
Jackson served on the admissions committee at Columbia University College of Dental Medicine, and Goldberg interviewed prospective medical students at SUNY Downstate
Medical Center. "It still is very important that when you apply to medical school you have good grades and do really well on the MCATs," said Goldberg. But showing a passion for the profession and outside interests distinguishes candidates.
Barnard alumnae who work in other careers in health care participated in the second panel: a dietician, a retired nurse/midwife, a pediatric nurse-practitioner, a physical therapist, and an embryologist.
Between the two panels, students were able to meet with the panelists and other alumnae in health care, learn more about their work, and ask questions, particularly about the panelists' careers.
Isamar Lopez '14, majoring in dance and planning a career in physical therapy, found the information more helpful than she anticipated. Eliana Applbaum '14, studying neuroscience, wanted to hear more about what to expect in medical school. Pascale White '05, a chief resident at NYU in internal medicine, was happy to share her experiences, for which she said Barnard prepared her. "A lot of times in medicine there are intimidating faces," said White. "Barnard was a place where the intimidation wasn't there and the barriers weren't there, so it allowed me to flourish.'
Urban studies major Veronica Lai '14 appreciated the chance to meet with retired nurse/midwife Karen Black Burgin '64. "I was originally a pre-med student planning to be an obstetrician," said Lai. Studying abroad made her consider other avenues. "When I came back, I was really interested in public health and still had that interest in women's health. I'm here to learn more about what a midwife does and how the job helps women's health. Karen has such great experience. We're getting into such deep conversations."
Dietician Laura Rosenthal Feinblum '95 was an art history major, and then embarked on a publishing career. After losing her job at Random House in her late 20s, she decided to pursue her interest in nutrition. Today she has her own practice, which she says has its risks and rewards. "I'm both the president of my company and the janitor," Feinblum said. "I wear every hat possible because it is just me. It's both satisfying and excruciatingly frustrating to have a private practice."
Pediatric nurse-practitioner Ellen Simons Shaw '62 was an urban studies major who was always involved in service work. Nursing wasn't on her radar; in fact, she admitted, she even internalized stereotypes about the profession. Then she saw how becoming a nurse would enable her to realize her goals. "There are so many things you do within nursing," said Shaw. "Direct clinical care can be in a primary-care setting or a critical-care setting. You can be an administrator, be involved in policy, do systems work. That diversity...is so incredibly appealing."
Aviva Gans '75 majored in English and writing and simultaneously studied dance. As a professional dancer, she suffered a torn hamstring that wouldn't heal. During physical therapy, she decided this was a career for her. She uses the knowledge of movement she gained through dance to work with patients. She works with children and calls upon her full creativity to engage her patients.
Embryologist Alexis Adler '78, who has been on the forefront of in-vitro fertilization (IVF) for more than two decades, loved being in the laboratory. She is still there today, although her career has taken quite a few twists and turns. After graduation, she went to work at Rockefeller University; when funding ran out on her project, she was forced to make a change. For a time she worked in a sperm bank. For the past 25 years—the last 18 at NYU—she's been seeing life begin in the laboratory.
All the panelists encouraged students to interact with people in the fields that interest them and become well informed. "There is such diversity within the health care field," said Robert Earl, director of Barnard's office of career development. "I think our students are walking away much more empowered to make their career decisions. I'm so thankful that our alumnae are collaborating with them."