"Remember Magic Eye paintings?" laughs Greta Gerwig '06. It's the end of a long, giddy weekend of doing press for the movie Lady Bird, her directorial debut, and Gerwig has settled on a way to explain the creative process that led her to the story of Christine McPherson (Saoirse Ronan), a Sacramento teenager with the eponymous self-nickname, who's trying to figure out her life, who she's meant to be, and how much of her roots to leave behind.
"I overwrote. I wrote tons of scenes that would never make it in. I didn't outline. It took soooo long," Gerwig says. "And then, just like with Magic Eye paintings," which let people see 3D images by looking closely at two-dimensional patterns, "it's almost like the plot just came out at me."
Leave it to Gerwig, one of the more creative, original, and insightful voices working in contemporary film, to draw a parallel between her directorial debut—which has Oscar prognosticators abuzz and led a New York Times critic to actually type the word "perfect"—and a mid-'90s instant camp phenom. "Magic Eye paintings were so fun. They really had a moment and then just . . . went away."
Let the comparison between Gerwig and Magic Eyes officially end, because this actress, writer, and director is not going away. Since leaving 116th Street just twelve years ago, Gerwig has carved out a career of writing scripts that make you want to go back and savor each glorious turn of phrase, and playing characters quirky, strong, and everything in between. She paid her dues, doing small acting gigs after graduation—playing a struggling actress in Mark and Jay Duplass's Baghead and a disillusioned woman in a long-distance relationship in Joe Swanberg's Nights and Weekends. But it wasn't until 2010 when she portrayed an endearingly honest dog walker opposite Ben Stiller in Noah Baumbach's Greenberg that Gerwig became that actress who made audiences across the country instantly think, "Who is she and why isn't she starring in every single thing ever?"
The second part of that question was quickly resolved, with memorable roles on TV shows ranging from The Mindy Project to Portlandia. (We will never know how brilliant the spinoff of How I Met Your Mother would have been, had the planned series, starring and cowritten by Gerwig, gotten picked up by CBS.) On film, she stole scene after scene, teaming with Baumbach (her partner off-screen as well) in Frances Ha and Mistress America, and opposite Annette Bening in Mike Mills's Oscar-nominated 20th Century Women.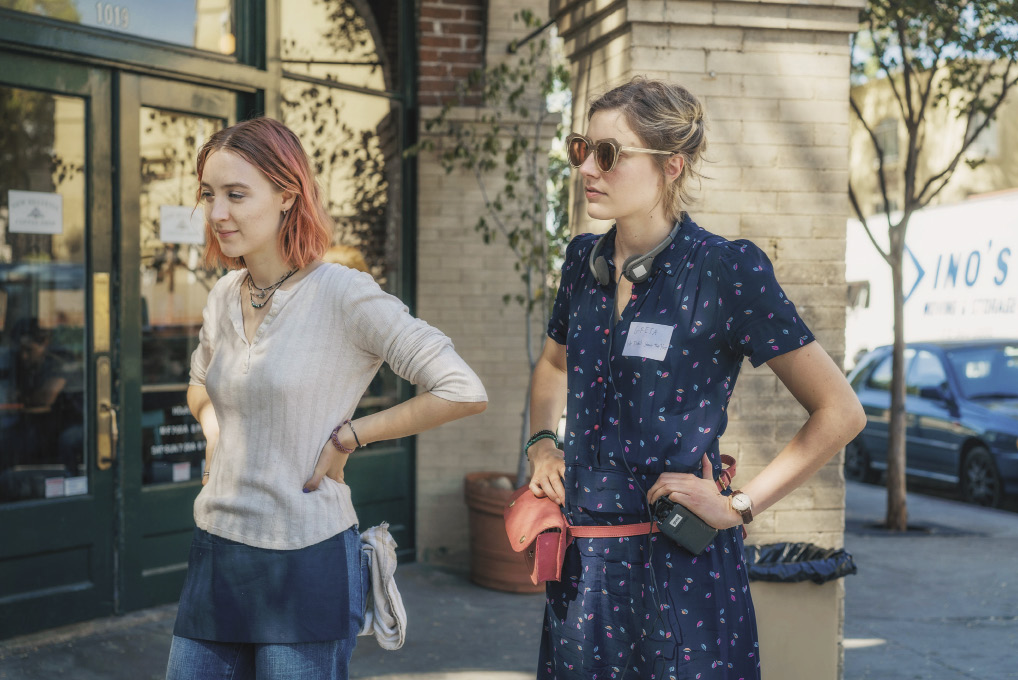 As for the first part of that question, don't try to figure out who Gerwig is by assuming she is Lady Bird. Though, yes, she too is from Sacramento. And, yup, she was theatrical as a teenager. And, okay, sure, she did leave home to attend an elite East Coast college. "Lady Bird was sort of the opposite of what I was." She laughs at how quickly many people have jumped to the conclusion that this film is strictly autobiographical. "I was a real rule follower, a people pleaser. Her brashness and bending of the rules or outright breaking them—that was stuff I didn't do." (Gerwig is still on good terms with her home town, having just hosted a screening for residents, from the mayor to her second-grade teacher.)
Gerwig planned to study musical theater at either NYU or UCLA. But on a trip to New York City, her father encouraged her to take the 1/9 train uptown to visit Barnard and Columbia. (Pour one out for the old number 9 train!) "We did the tour of Columbia, and I liked it. But when I went to Barnard, I wanted to be all the women I met there. I was instantly drawn to the place and the women. They all seemed like superheroes to me." Maybe Wonder Woman was looking out for her, because she was able to nab an interview that afternoon. "The woman who interviewed me was an opera singer and a math major, and I was like, 'You are the coolest person ever.' And my whole life plan changed." Even though she missed the early admissions deadline, she wrote to the admissions office, "If I don't get in, save my application because I'll be applying as a transfer next year." (If you're reading this, you probably know Barnard College Admissions has impeccable taste. So naturally Gerwig was admitted that year.)
During her four years at the College, Gerwig majored in English, with a concentration in theatre. As for other academic pursuits? "I think I minored in philosophy," she says, adding with the hilariously brutal honesty of one of her scripts, "Well, I say I minored in philosophy, but I'm not sure if that's true." It is true, though, that she appeared in The Varsity Show, was on Columbia's parliamentary debate team, did improv comedy in a group she cofounded called The Tea Party Ensemble, and still managed to find time to leave campus. She supplemented her education around Manhattan, whether at Kim's Video & Music Shop (R.I.P.) in the East Village, the Museum of the Moving Image, or the Film Forum. "I was wide-eyed exploring the city," she says. "The process of learning it as my home was so fundamentally exciting. That's how I really learned about movies. I can't express enough gratitude for my time at Barnard. I really explored a lot of different classes. I wish I could have done it for eight years. I think I really found who I was and what I wanted to do there."  
It would be impossible to graduate from Barnard without an understanding of depictions of women in culture. Sadly, there is a long list of problematic portrayals of women and the relationships between women on screen. When Gerwig started writing the script for Lady Bird, she initially called it Mothers and Daughters, a nod to the cinematically underrepresented bond. Though the movie delves into Lady Bird's friendships—don't forget the name Beanie Feldstein!—and her relationships with guys (Oscar-nominated Lucas Hedges and Timothée Chalamet), the core of the film, the moments that gut you and tear out your inner organs (in the most satisfying way, of course) are between mother (Laurie Metcalf) and daughter. "I don't see a ton of great mother-daughter movies. I feel that relationship is not represented as much as I think it should be," she says. "Often in movies, mothers are shown as monsters or angels. I just feel that that's not true. Most mothers are trying their best, sometimes getting it right and sometimes saying totally the wrong things. Often in coming-of-age movies, parents are played in a less complex way. For me, one person's coming-of-age is another person's letting go. I was just as interested in the letting go."
The bond between Metcalf's Marion McPherson and Lady Bird is so beautiful, so complex, so honest, so layered, so toxic, it's impossible to draw a parallel to anything else ever portrayed on screen. "Watching those two women say the words I had written was genuinely one of the most amazing things that has ever happened to me," she says. "They are worth their weight in gold."
But figuring out who should play her precious characters wasn't so easy. "I had been reading people for Lady Bird and I couldn't find them. I remember the first time Saorsie and I talked. She said, 'I know I'm from a tiny town in Ireland. But I'm telling you I know this story in my heart and I know it in my bones.' She was instantly so perfect but also completely unique and not what I necessarily had imagined, but so much better than I had imagined."
As for Metcalf, "I knew I wanted someone who was extraordinary and would be powerful. But I wanted somebody that felt like in a way was a discovery. Even though I've known about Laurie Metcalf forever, she hasn't been in a lot of films recently. The first time we talked, she had a seventeen-year-old at the time who, she said, was trying to kill her. She understood the moment of the story was more difficult than any other moment, but there's love underneath it all. She's just my favorite American actress."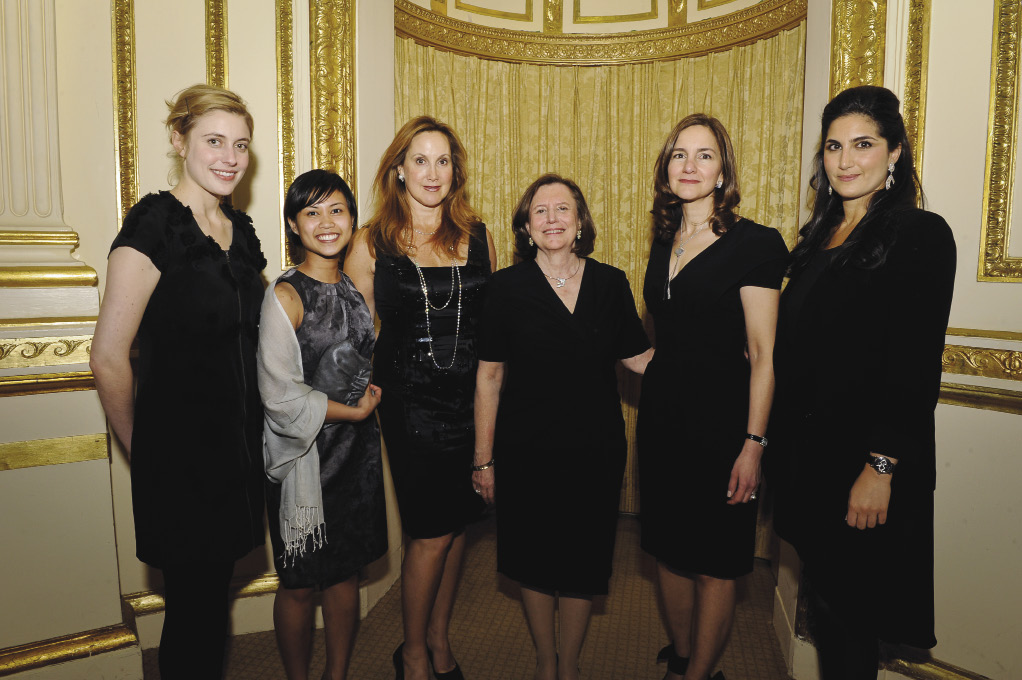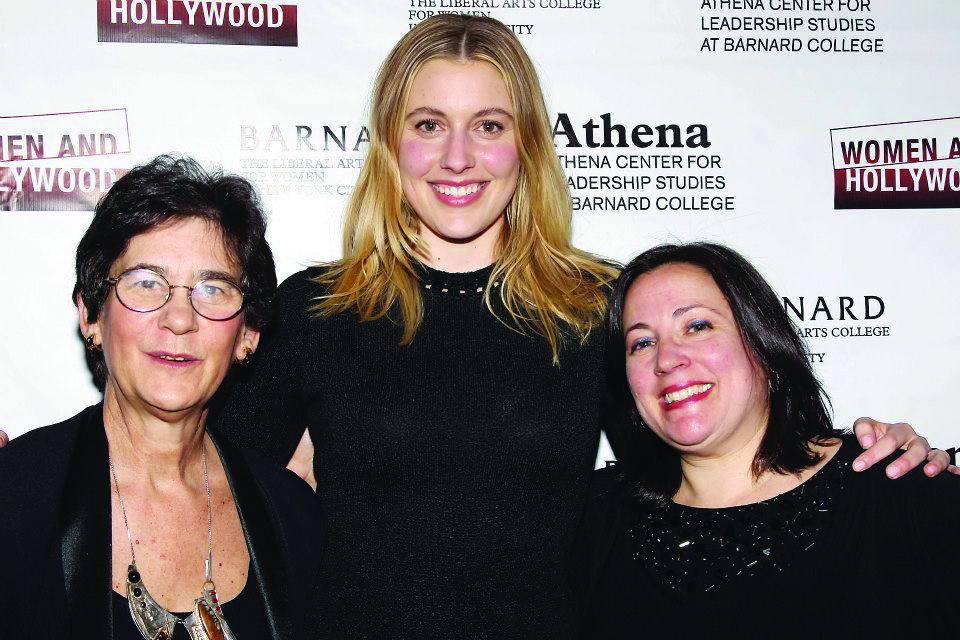 Though Gerwig has had success in front of the camera and behind a keyboard, she wasn't daunted by directing for the first time. "Filmmaking is such an inherently collaborative art form and it's my favorite thing to engage in someone else's creativity. I don't do any improvisation and the script is the script. But one of the great pleasures of working with this cast is so many of them are theatre veterans. They have this way of approaching the material that is distinct and in-line with how I like to work. I love being surprised on set and I love being surprised by an actor."
And if you were surprised Lady Bird doesn't end up at Barnard, Gerwig won't say if you're right or wrong to feel that way. Unlike in Mistress America, in which Gerwig wrote a character who was a Barnard student, when it came to figuring out where Lady Bird would land, she wanted something less specific. "I didn't name the school she goes to," says Gerwig. "I wanted it to seem like The Great Gatsby—like the green light on the other side of the bay. I wanted it to be more mythical than that and more of a fairy tale." More, perhaps, magical. •