On November 16, 2017, poet, performer, playwright, political activist, and author Ntozake Shange '70 celebrated her newest book of poetry, Wild Beauty, at New York's Nuyorican Poets Café. Shange offered a performance that exploded with joy—taking the form of spoken word, song, dance, and call-and-response.
In this interview, our iconic alumna shares the inspiration behind her new English-Spanish collection and discusses the importance of language, and, of course, poetry.
N. Jamiyla Chisholm: What inspired you to create a bilingual poetry collection?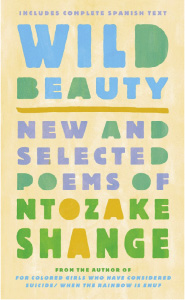 Ntozake Shange: The main ports for the disembarkation of Africans in the slave trade were Savannah; Charleston; Havana; Cartagena; and Salvador, Bahia, in Brazil. It's by luck of the draw that I ended up here. I might have relatives in Brazil. My bone marrow transplant match might be in Venezuela, for all I know, as opposed to North America. So, I want to reach out to all the other black people in the diaspora and let them know I didn't forget. Just because I'm an Anglo, I'm not arrogant enough to think I am here by myself, experiencing racism in a vacuum; racism and slavery go hand in hand. One of my dear friends, [the poet, playwright, and Nuyorican Movement cofounder] Pedro Pietri, ended his poem "Puerto Rican Obituary" with "to be called negrito/means to be called LOVE." To be called negrito, a term of endearment, is to be called love for a little black child, and I think that applies to all of us. We have to constantly reaffirm ourselves, ensure the love we have for and with ourselves, and I wanted to make sure this book did that.
Can you talk about the status of poetry at this moment in time, since poetry is often used to express some kind of desire for social justice?
At this point in time, it seems to me that poets must be at the vanguard of the resistance to this dangerous oligarch who is in power right now and who would destroy everything that is beautiful and that represents freedom or legitimacy for people of color. Poets' voices capture moments, ironies, and satirical aspects of our lives that allow us to see the terror and oppression that we're experiencing with vulnerability because it's done with love and with respect.
Is there one poetry book that we all should have in our pockets?
I carry around Sterling Brown, Langston Hughes, and the poetic language of Zora Neale Hurston '28. The Harlem Renaissance poets inspire me. And I carry around Yusef Komunyakaa, Jessica Hagedorn, and Olga Broumas.
Speaking of Ms. Hurston, another Barnard alumna, what did she mean to you as a writer?
Well, it was in my first year of graduate school that Their Eyes Were Watching God was republished, and I was so grateful for it. It gave me a safe haven I had never had. It gave me access to regional language and to ordinary people. I've tried to stay true to that calling. •
Listen as Shange discusses her work and time at Barnard.
Learn about Barnard's acquisition of the Shange collection and about the Digital Shange Project.