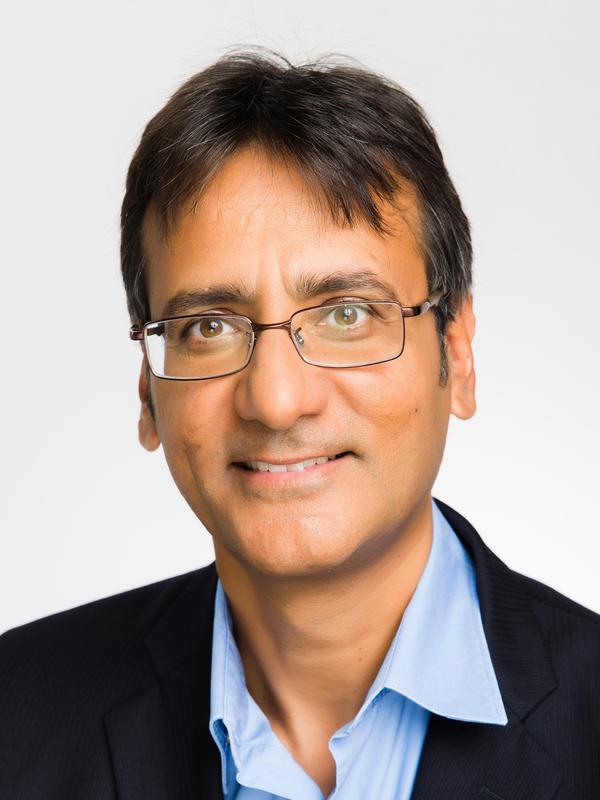 As U.S. governors announce reopening strategies for their states, the question of how to safely and effectively resume "normal" life and restart the economy has taken center stage.

Barnard College economics professor Rajiv Sethi is at the forefront of academics pushing for solutions to the reopening challenge. He is an external professor at the Santa Fe Institute, on the editorial boards of the American Economic Review and Economics and Philosophy, and an original contributor to CORE (Curriculum Open-Access Resources for Economics), an organization dedicated to the production of free, high-quality resources for the teaching of economics.

With his wealth of expertise, Sethi joined an interdisciplinary and ideologically diverse team of thought leaders from business, academia, think tanks, and philanthropy at Harvard University's Edmond J. Safra Center for Ethics to produce a consensus report, titled the "Roadmap to Pandemic Resilience." In this Break This Down interview, Sethi explains the key points of the roadmap, including why reopening should happen in phases, how we upscale testing, and what the roadblocks to success are.
As the infection curve appears to be flattening in places like New York, why can't we fully reopen now?
We can't fully reopen now because the consequences of a second or third wave down the road would be devastating. Remember that the curve is flattening because we are confined to our homes for the most part and are social distancing when venturing out. Many parts of the economy are shut down entirely. If we relax this, we risk a reversal of the flattening. At the same time, the costs of lockdown are extremely high and unsustainable. So we need to find a way to reopen soon in a manner that allows us to stay open. That's the basis for the Safra Center plan. 
How does the Safra Center's four-phase plan balance the need to reopen the economy with the desire to protect the public health?
The Congressional Budget Office has estimated that in the second quarter of this year, the economy will shrink by 40% at an annual rate, which amounts to a loss of $2.5 trillion. More than a tenth of our economy will vanish in just three months. Every month of lockdown carries devastating costs. At the same time, we don't want to reopen prematurely, otherwise we will just have to go through the same cycle again, most likely in the fall and winter. The four-phase plan has us reopening gradually starting in June, with close to full reopening in August, and with testing levels that will help us avoid having to close again. This is how we can save lives and save hundreds of billions of dollars at the same time. 
What does the testing, tracing, and supported isolation reopening plan require?
We need to start testing the 40% of the workforce that are considered essential and are currently at their jobs — health and care workers, sanitation workers, grocery store clerks, and those who are part of the food supply chain. These workers need to have confidence that they are not at risk from each other. Those who test positive need to have their contacts traced and tested, and those who need to be isolated must be supported financially and be provided with job security so that they don't have incentives to break quarantine. After this segment of the workforce is taken care of, and we ramp up testing supply, we should test those who can play a supporting role for essential workers, then those who can't work from home, and finally those who can.
The report relies on the U.S. massively upscaling testing, to the order of millions per day. How do we accomplish this?
It will require a national effort that is similar to a wartime mobilization, but the technology to scale up does exist. See, for instance, this article in the MIT Technology Review. But we will need coordination across all levels of government, as well as the participation of business and labor groups. Danielle Allen of the Safra Center, who is leading our team, explains it this way: We don't need to break the laws of physics to get this done, but we may need to break the laws of politics. 
What are the major roadblocks to an end-of-summer reopen?
Decisions made now, over the next few days and weeks, will have repercussions for years to come. We are really at a crossroads. Reopening the economy before the testing, tracing, and supported isolation infrastructure is in place will leave us at enormous risk of a second or third wave. And remaining in lockdown for months longer is just not sustainable. Not only will major parts of the economy simply vanish, but people will just stop obeying stay-at-home orders. So the major roadblock is a failure to recognize that we are not currently on a sustainable path. 
—VERONICA SUCHODOLSKI '19
---

Barnard experts explain.