Barnard Archaeology Field School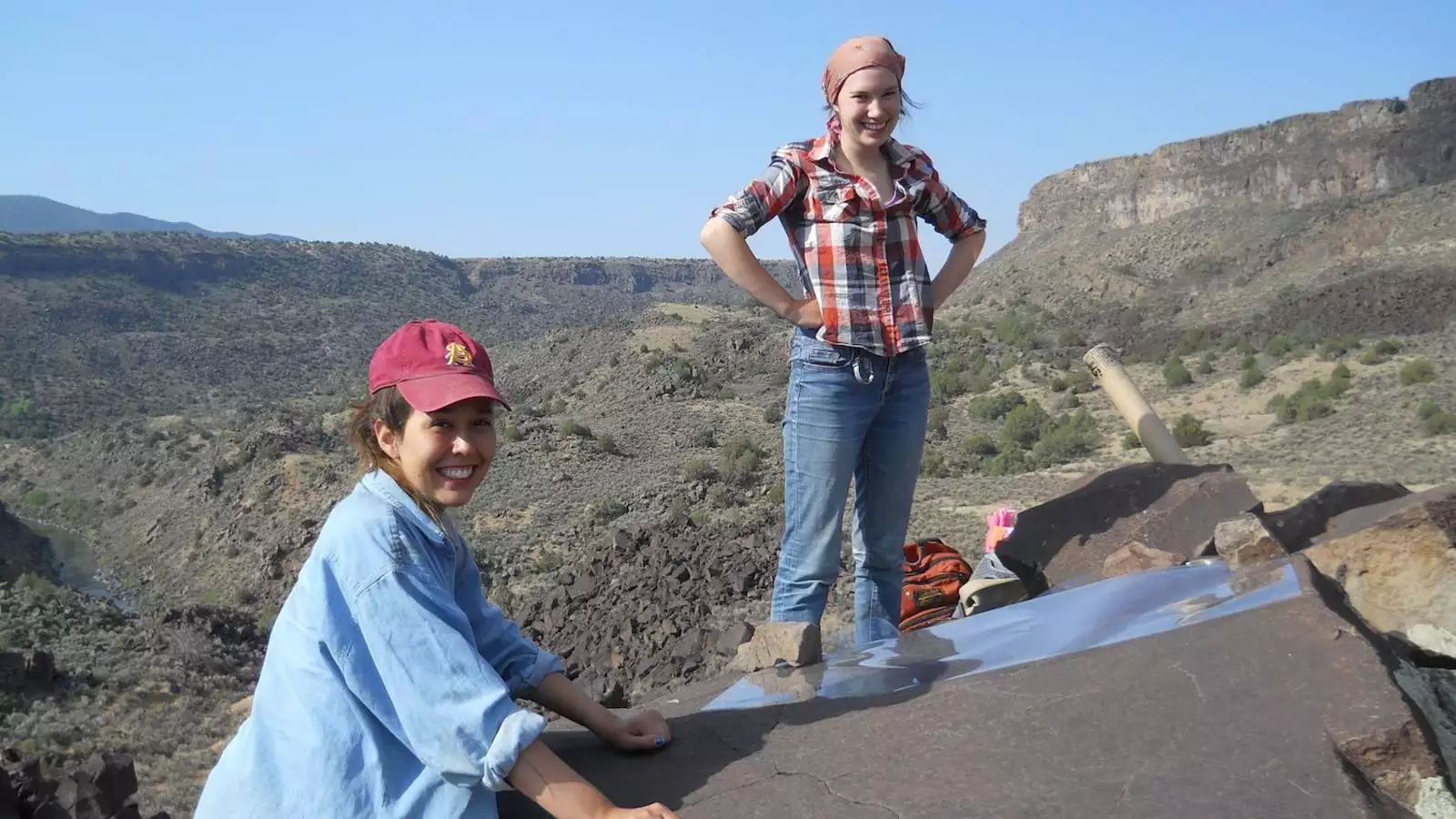 Participate in summer archaeological research in New Mexico
| | |
| --- | --- |
| Location: Dixon, New Mexico | Dates: May 29 - June 26, 2020 |
| Faculty Director: Dr. Severin Fowles, Anthropology and American Studies, Barnard College | Program Length: 4 weeks |
| Language of Instruction: English | Term: Summer |
| Pre-requisites: None | Credits: 4 |
| Class standing: Rising Sophomores, Juniors, or Seniors | Application Deadline: April 1, 2020 |
| Enrollment: Limited to 12 students |   |
Program Description
The Barnard Department of Anthropology is pleased to announce its 2020 summer field program, designed to provide students with training in the methods of archaeology and oral history while studying the rich indigenous and settler histories of the American Southwest. Work alongside Prof. Fowles and his colleagues in beautiful northern New Mexico and help write new histories of the past while serving communities in the present.
Academics
"Field Methods in Archaeology" is an intensive 4-week course organized around a unique set of collaborations between scholars, students, and the Indigenous and Hispano communities of the Rio Embudo Watershed in northern New Mexico. Participants in the course gain formal training in archaeological field methods (pedestrian survey, site mapping, in-field artifact analysis, excavation, remote sensing, artifact and sample processing) as well as in the methods of oral history (structured and unstructured interviews and ethnogeography), while helping build new understandings of the complex indigenous and Indo-Hispano histories of the region. In the process, participants work closely with local stakeholders and are guided in the development of interdisciplinary research projects that integrate the sciences and humanities and that are accountable to descendant communities.
During the 2020 summer field season, we turn to examine the past six hundred years of inter-cultural relations in the mountain valleys of the Rio Embudo watershed, the traditional homeland of Picuris Pueblo and, since the early 18th century, of many rural Hispano communities. Working in formal partnership with Picuris Pueblo and through a network of established relations with local Hispano families, students will have the rare opportunity to participate in research that marries academic inquiry with the goals and priorities of descendent communities. The archaeological component of our research will be conducted on Picuris tribal lands under the supervision of, and in collaboration with, tribal leaders. There, we will conduct surveys and excavations designed to document the emergence of a regional political economy during the 15th and 16th centuries in which resident Picuris farmers exchanged corn and pottery for the bison meat and hides obtained by migratory Apache groups who increasingly entered the region from the Southern Plains. The oral historical and ethnogeographical components of our research will be multi-sited, designed to examine the new intercultural relationships that arose not just between Picuris and the Apache but also between both these indigenous groups and nearby Spanish-speaking communities over the course of the colonial period, resulting in the rich Indo-Hispano traditions of the region today.
Students who successfully complete this course will be able to...
design and conduct pedestrian surveys.
create maps of archaeological sites using tape-and-compass, GPS, and laser transit techniques.
conduct archaeological excavations, including the establishment of excavation units, excavation in both arbitrary and natural levels, documentation of horizontal exposures as well as stratigraphic profiles, and collection of special samples (e.g., flotation, pollen, phytolith and radiocarbon samples).
conduct oral history and ethnogeography research with members of descendant communities, aware of the ethical and legal complexities involved.
compose a professional report documenting survey, excavation, and/or oral history activities.
Application Procedures
The application deadline is April 1, 2020.  Applications may emailed to summerstudy@barnard.edu or hand delivered to the Barnard Global offices, located in 242 and 280 LeFrak, Barnard Hall.
A complete application includes the following:
Personal Statement (see details in Application Form)
Study Abroad Approval Form from an academic dean or study abroad advisor (for visiting students)
Academic Transcripts. You may submit an unofficial transcript with your application. If admitted, Columbia and visiting students must submit an official transcript. Transcripts may be sent electronically to Barnard College, Provost's Office, attn. Giorgio DiMauro, 3009 Broadway, New York, NY  10027; summerstudy@barnard.edu
Students will be notified of the results of their application within two-three weeks of the deadline, and will be required to pay a tuition deposit at that time to hold their place in the program.
Eligibility and Application Review
General eligibility requirements for the Barnard Summer Study programs are outlined below:
The summer study classes are open to all Barnard and Columbia students as well as students from other U.S. accredited colleges or  universities.  
Individuals who have completed at least one year of college but who are not currently enrolled in school are not eligible to apply.
The completion of at least two full-time semesters of college is required and intending to return to home institution for at least one more full-time semester (students in their last semester of college are ineligible to apply).

Be at least 18 or older prior to beginning of summer term.
Most students who are admitted have earned a G.P.A. of at least 3.0.
Be in good academic standing at your home institution.
It is expected that students selected to participate in the course will have completed the Intermediate level of French.
Application Review and Notification:
A review of a student's academic records and personal statement is required to confirm admission to one of the Barnard Summer Study programs. Once an admission decision has been reached, the applicant will be notified of the decision by email. Only completed applications will be reviewed. If an application is missing a required component (i.e. transcript, personal statement) it will not be reviewed until the missing material is received.
Location, Accommodations, and Meals
The field program is based in the midst of the beautiful and historic community of Dixon in northern New Mexico, just one mile from the Rio Grande with a view of the Sangre de Cristo Mountains. Students are housed in an adobe residence in the center of the village, where they have daily access to a General Store, Library, Post Office, and Cafe. Fieldwork and field trips during the course provide an opportunity to explore many historically significant sites throughout northern New Mexico, including Chaco Canyon, Taos Pueblo, Ohkay Owingeh, Pot Creek Pueblo, Chimayo, the Rio Grande Gorge, Santa Fe, and more. Participants should arrive at the Albuquerque International Airport before 2:30 pm on May 29 and depart after 11 am on June 26.
Financial Information and Scholarships
| | |
| --- | --- |
| Undergraduate tuition | TBD |
| Program & Activities Fee | TBD |
| Administrative fee for visiting students | $150 |
PLEASE NOTE: Students will be responsible for their own airfare and personal expenses.
Scholarships:                                              
Barnard and Columbia students may apply for the following merit-based grants and fellowships to help cover the costs of participation:
Confirmation of Enrollment-Reservation Deposit:
Admitted students who intend to enroll must confirm their intention to participate by submitting a non-refundable tuition deposit of $500. This fee must be paid within two weeks of acceptance notification and will count toward tuition payment. Enrollment is not guaranteed until this payment is received.
Withdrawal/Cancellation:
After students have been accepted to the program and paid the required tuition deposit, they are considered an enrolled participant in that program. By making such payment they are expressing their intention to participate in the program, and acknowledge that the deposit is non-refundable. Payment in full is due May 6th. If a student cancels participation between May 6th and May 15th, tuition and fees are refundable, minus the $500 deposit. After May 15th, tuition and fees are non-refundable.
Should a program cancellation become necessary prior to the start, for reasons such as safety or under-enrollment, Barnard will refund tuition to the participants. Unrecoverable program expenses (e.g., airline deposits, housing fees) cannot be refunded.
For unrecoverable expenses, you may wish to consider purchasing trip cancellation insurance that can be obtained through many travel agents or insurance companies. Policies vary on what triggers trip cancellation, so you should check with travel insurance providers for more details.
Transfer of Credits:
Students who are not enrolled at Barnard should consult their home college/university to find out if their school will accept the transfer credits. Barnard is accredited by the Middle States Association of Colleges and Schools but each institution may have specific policies dictating what classes are transferable from outside institutions. Please consult with the professor for individual course syllabi.
Students with Disabilities:
Students with disabilities who are requesting accommodations during a Barnard Summer Study Program must contact the Barnard Disability Services Office to discuss reasonable accommodations. Students are encouraged to contact the office prior to applying and should register with the office as soon as they receive notification of their acceptance to a program.
Health and Safety while Traveling Abroad:
All students traveling internationally will be required to register through Barnard/Columbia's Travel Registry: ISOS travel.
It is essential that students have adequate medical insurance coverage to participate in one of our Summer Study Programs. If you have the Barnard student health insurance plan, it will cover you domestically and abroad on an out-of-network basis. If you have other insurance, make sure that it will cover you (especially abroad) abroad for routine and emergency care, mental health, pre-existing conditions. Be prepared to pay up-front for care and submit receipts for reimbursement.
Other resources:
Honor Code:
The Honor Code is a vital part of the Barnard community because it helps to shape the character of Barnard College. The "Honor System" refers to the combination of the Honor Code, the Honor Board, and the members of the entire Barnard community who together strive toward building a community of academic integrity. All students on one of Barnard's summer study programs are expected to adhere to our honor code. https://barnard.edu/dos/honorcode
Contact Information
If you have general questions about your application or procedures, email summerstudy@barnard.edu for assistance. Students may also reach out directly to Professor Severin Fowles at sfowles@barnard.edu with questions about the program.