The Museum of the Chinese in America (MOCA) might not exist today if not for the dedication of a loose coalition of volunteers and community activists in New York City's Chinatown. Originally known as the Chinatown History Project, the museum was started in 1980 with a simple goal: to honor and preserve the memory of Chinese-American immigrants in the United States.
Since 2009 MOCA has been housed in a 14,000 square-foot space designed by noted Chinese-American architect Maya Lin on Centre Street. Its collection contains some 65,000 artifacts spanning 160 years of Chinese-American history, including photos, letters, clothing, household objects, and more. The collection reveals a vivid, often heartbreaking, picture of the widespread discrimination these immigrants faced, as well as the Chinese community's ability to survive and thrive in the United States, in spite of the many obstacles.
Over the years, Barnard students and alumnae, including many with parents who were born in Hong Kong or mainland China, have played a major role in bringing MOCA to life. Two Barnard alumnae were part of the Chinatown group that launched the museum, and MOCA's current executive staff includes several Barnard graduates. All were photographed at the museum.
For more about MOCA and its exhibits, go to mocanyc.org.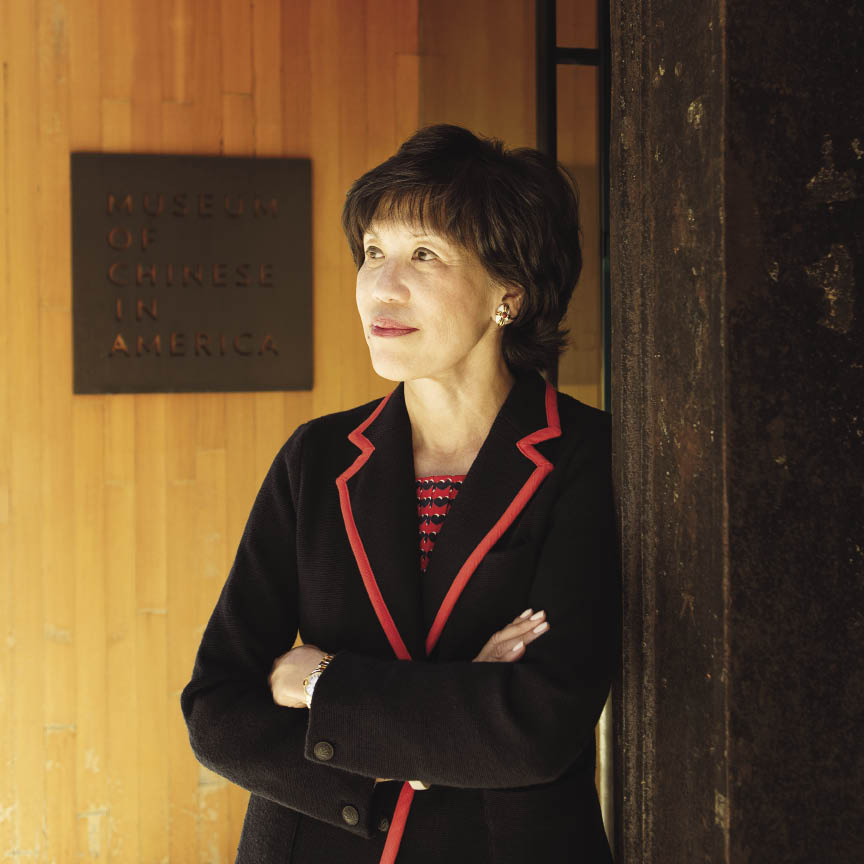 Patricia Pei Tang '67
Board chair
Patricia Pei Tang comes from an esteemed Chinese family.Not only is she the half sister of famed architect I.M. Pei, her father served as head of the Central Bank of China, as well as a delegate to the Bretton Woods international monetary conference, before China's Communist party took power in 1949. After the revolution, her parents left for New York, where Tang was born and raised. An art history major at Barnard, she went on to work for noted art collector and dealer Eugene Thaw. She made her first trip to China in the mid-1990s. The travel helped kindle a keen interest in her Chinese ancestry, prompting her to co-found a new nonprofit—the American Friends of the Shanghai Museum. The group's mission is to raise funds and boost public awareness of the museum, which is widely regarded as one of China's finest cultural institutions. Tang is just as enthusiastic about MOCA, and its effort to preserve the history of Chinese-American immigrants. "It's like a jewel box," she says of the museum's many artifacts and exhibits. "It's an education for everyone."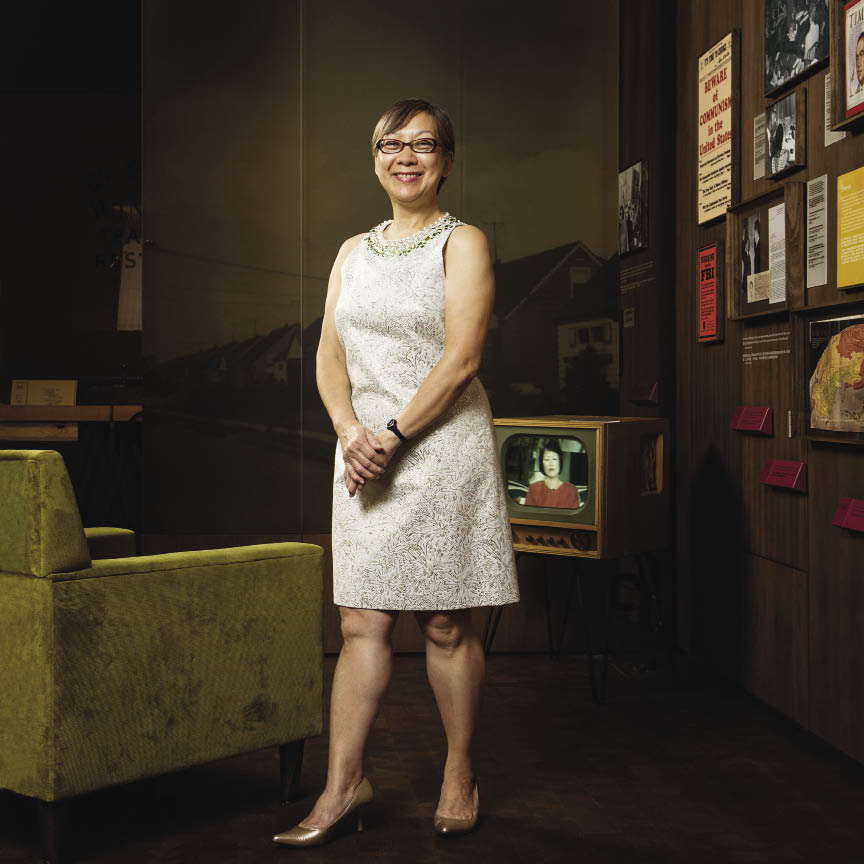 Fay Chew Matsuda '71
Former Executive Director
Fay Chew Matsuda recalls that assembling the museum's collection was a real race against time. "Sometimes it was literally dumpster diving," says Matsuda, who notes that as an older generation of Chinese immigrants passed away, irreplaceable photos, news clippings, and other mementos were being tossed in the trash. "We were trying to recover history that was quickly being lost." As the daughter of Chinese immigrants, Matsuda witnessed some of that history firsthand. Her mother was a garment worker, while her father ran a laundry, and at one point, owned a restaurant in Chinatown. And though she grew up in the East Village, she recalls that going uptown to attend Barnard on a scholarship was a whole other world. "For me, Barnard was a real eye-opener," says Matsuda, who majored in sociology. After more than a decade at MOCA, including two tours as executive director, she is now director of the City Hall Senior Center in lower Manhattan. But Matsuda is grateful for the opportunity she had to help build MOCA. "It was about reclaiming our own history," she says, "and telling the story we wanted to tell."

Helen Koh '85
Former Executive Director
Helen Koh had been living in Rhode Island when she got the offer to come work for MOCA. At the time, she wasn't all that familiar with the museum. But what she learned piqued her interest. Koh took the job, serving as MOCA's executive director from April 2012 until this past September. Koh's background was unique at MOCA; her parents are both Korean. But she notes that the Chinese experience resonates with those who came here from other East Asian countries, given that they faced similar kinds of discrimination and many of the same challenges and problems. "A lot of what happened to the Chinese happened to other Asian Americans too," says Koh, who was an East Asian-studies major at Barnard and previously worked at the Manhattan-based Asia Society. "MOCA is trying to help people get a better understanding of the immigrant experience," says Koh, "and bring that part of history alive."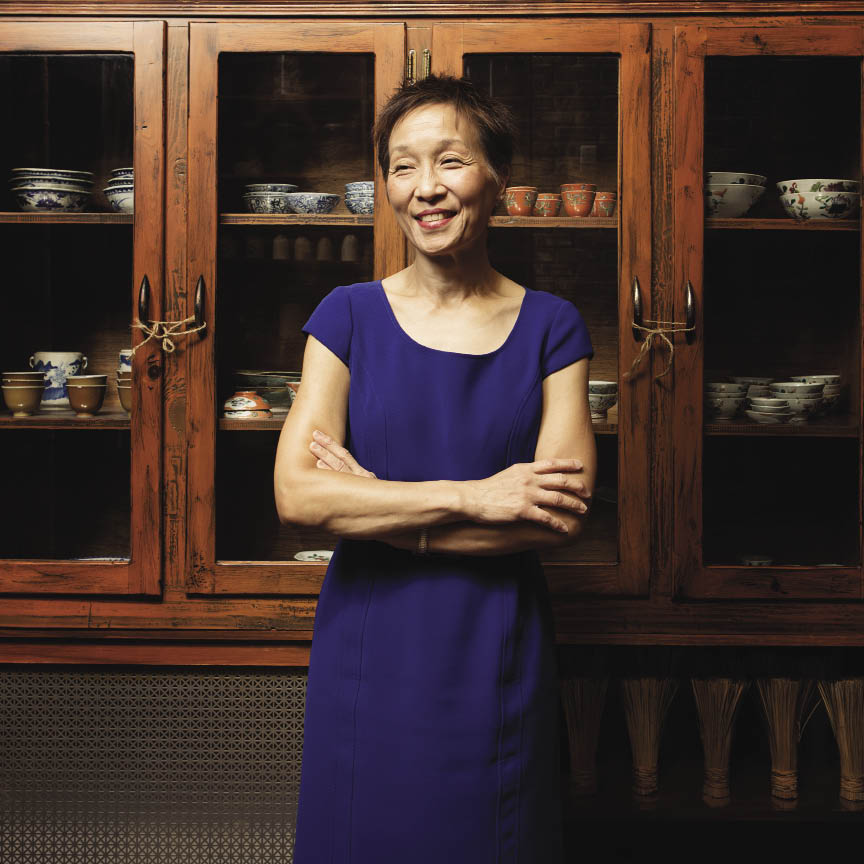 Jessica Chao '75
Former Interim Director
Back in her student days at Barnard, Jessica Chao heard about what was then called the Chinatown History Project. She was intrigued enough that she decided to check it out. "I remember going downtown to attend meetings," says Chao, whose Chinese-born parents came to the United States to go to graduate school after World War II. She and others involved in the Chinatown History Project were a loose coalition of volunteers trying to preserve the stories of Chinese-American immigrants. As it turned out, they were laying the foundation for what's now MOCA. A dance major at Barnard, Chao is currently interim CEO for the Foundation for Child Development. But she's remained connected to MOCA, where she recently served as interim director. "It's really a cultural home for a lot of people," says Chao. "It will always have a very soft spot in my heart."

Bonnie Chin Washburn '90
Director of Operations
Bonnie Chin Washburn gave up a career in banking to join MOCA three years ago, and now serves as the museum's interim chief operating officer. The daughter of Chinese immigrants from Hong Kong, Washburn grew up in Chinatown, where her father worked at a noodle factory before starting his own laundry business. "I know how difficult the immigrant experience can be," she says, noting that MOCA helps bring that experience to life. "These are things that you'd never learn in history books," she adds. A mother of 6-year-old twin boys, she also likes the fact that MOCA is kid-friendly, and says she regularly brings her sons to exhibits and other activities at the museum. "I like the idea of stories being passed down from one generation to the next," says Washburn, who also wants her sons to understand the challenges their grandparents faced. "My kids are growing up learning about that different experience."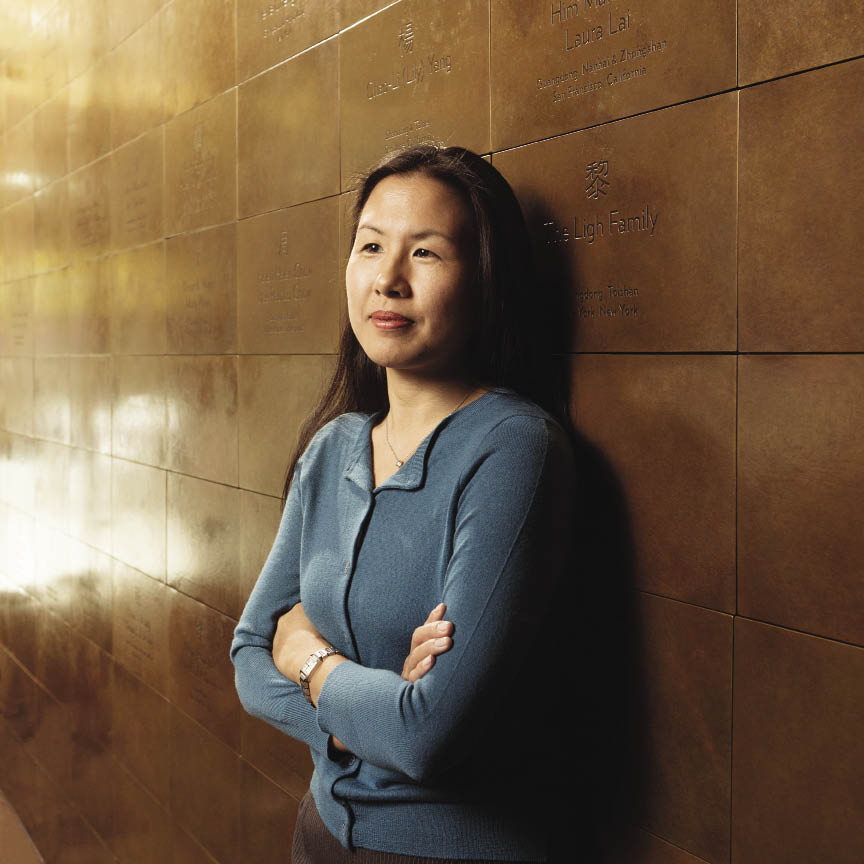 Chun Yee Yip '97
Director of Individual Giving
Chun Yee Yip joined MOCA this past July. Born and raised in New York's Chinatown, she likes the fact that she's helping to keep Chinese-American history alive. "Our mission is to celebrate that history," says Yip, whose parents were part of the wave of émigrés that fled China during the turbulent years before the revolution. "My father didn't have a nickel in his pocket" when he arrived, she says, and adds that he wound up doing restaurant work while her mother earned money for the family as a seamstress. Her parents still live in Chinatown today. Thanks to MOCA, she says, the sacrifices that they and other Chinese immigrants made won't be forgotten. "Their stories can be passed on to generations to come," says Yip, who has a three-year-old daughter. "This place will keep them alive."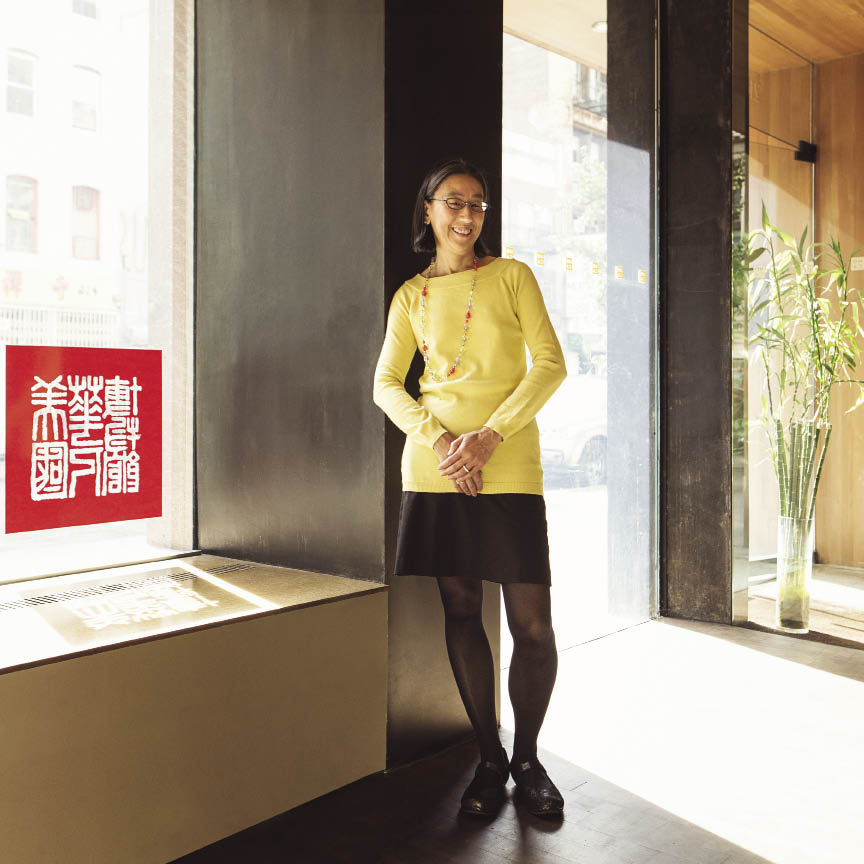 Wanda Chin '77
Museum Educator
Wanda Chin works full time as chief credit officer for a nonprofit investment fund that provides financing for low-income housing and other worthy projects. But she's also a big supporter of MOCA, as well as a volunteer docent; for the past few years, she's devoted some of her spare time to leading tours. "I've always loved the museum," says Chin, whose parents emigrated from Canton province and ran a laundry in Queens. "We spent every Sunday in Chinatown," she recalls, and feels a strong personal connection to MOCA and the surrounding neighborhood. "There's a lot of personal history there," says Chin. Not only can she hold forth on the Chinese immigrant experience in the United States, she is also an expert in New York Chinese dining, having written the book Dim Sum, How About Some? A Guide to New York's Liveliest Chinese Dining and How to Make a Day of It.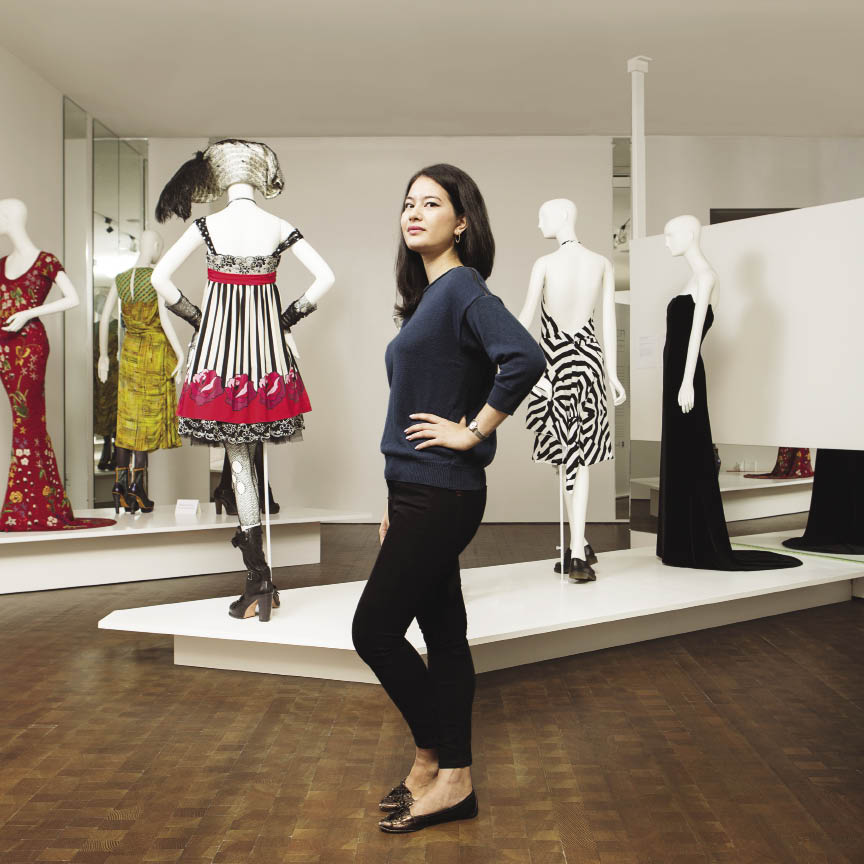 Jade Farrar '16
Intern
During high school in Manhattan, sophomore Jade Farrar spent a lot of time at MOCA. Indeed, as a member of the museum's youth advisory board, she used to attend weekly Saturday meetings there. "It's such a nice, welcoming place," says Farrar, whose mother emigrated from Hong Kong as a child and grew up in a walk-up apartment on Eldridge Street in Chinatown. "MOCA helps keep me in touch with my Chinese roots." She is still deciding on a major at Barnard, but despite a busy class schedule, she's found time to intern at MOCA, where, among other things, Farrar has been helping to organize the museum's fall gala and also boost its social media profile on Facebook and Twitter. She was glad to see the enthusiastic reception for MOCA's recent exhibit on contemporary Chinese fashion designers. And she's proud to note she has a personal connection to the exhibit: Her aunt, Melinda Eng, is one of the featured designers.