She has traveled to 33 countries for her work on international security problems, to do field research, or to give presentations to international audiences. She lived for three months in Tokyo as a Council on Foreign Relations/Hitachi International Affairs Fellow, visited Turkmenistan with a delegation from Columbia's Harriman Institute, and went on patrol with U.S. military troops on a NATO-led peace operation in Kosovo. Kimberly Marten, the Ann Whitney Olin Professor of Political Science, was also embedded for a week with Canadian forces on another NATO-led mission in Afghanistan. In 2012, she visited Ramallah for a research project on the Palestinian security forces that was funded by a Barnard grant; she also spoke to Barnard alumnae in Jerusalem at the request of former dean Dorothy Denburg.
Despite the global reach of her interests, Marten keeps returning to her first love: Russia.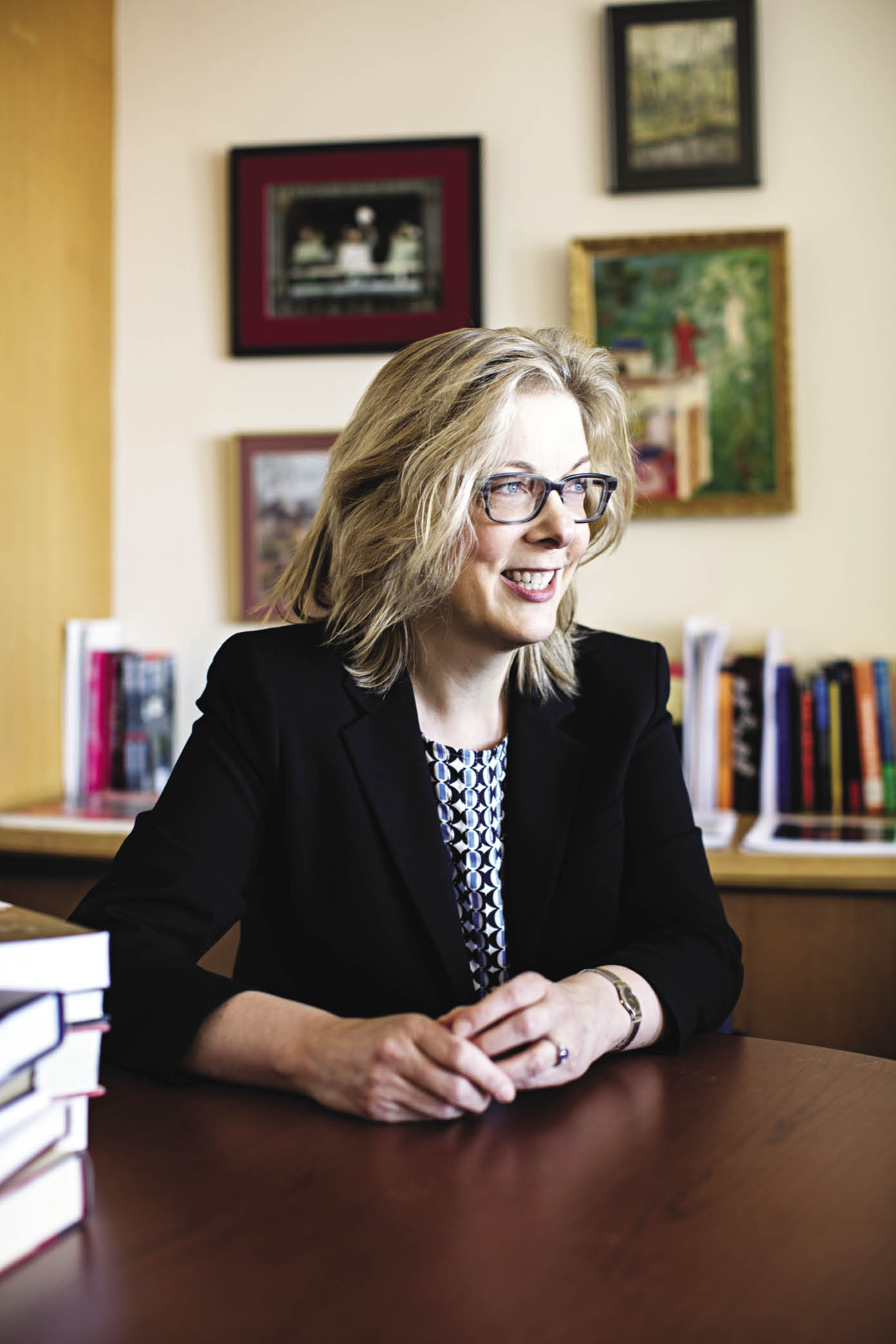 She credits her enthusiasm for international travel in general, and her interest in Russia in particular, to the influence of her father, who spent most of his career as a research leader for the U.S. Department of Agriculture and traveled frequently to international scientific conferences. In 1974 he presented a paper at the International Grassland Congress in Moscow, and he came back with fascinating stories about Soviet life and the KGB, as well as with gorgeous photographic slides of the country.
Marten got her start as an academic analyst of the Cold War. Her Harvard undergraduate honors thesis looked at Soviet reactions to the Iranian revolution of 1979; her PhD dissertation at Stanford focused on how the Soviet military responded to changes in U.S. and NATO military doctrine in Europe. Naturally, her work has evolved as Russia has changed since the collapse of the former Soviet Union. In recent years, she has been focusing on the effects that corruption and patron/client politics—in which leaders (the patrons) reward lower-level functionaries (the clients) for their loyalty with benefits such as jobs, graft, or the dismissal of a legal problem—have on international security. Her most recent book, Warlords: Strong-Arm Brokers in Weak States (Cornell University Press, 2012), examines the relationship between state leaders and armed local power brokers throughout the world, including in two post-Soviet cases (Georgia and Chechnya). She says her findings inspired her to take a new look at Russia as a whole, in particular its leader President Vladimir Putin, whom she calls "a former KGB operative who loves surprises." Her students joined her in exploring the fraught relationship Putin has with the outside world in her newly revamped course in spring 2015, Russia and the West, which will be offered again this spring and is open to "anyone who has an interest in Russia."
As Putin has increasingly pushed Russian military and security issues back onto the international stage, Marten has been called upon to discuss his possible motives in Ukraine, Iran, and Syria. Her insights have been sought by The Daily Show , NPR's Fresh Air , The Rachel Maddow Show , Charlie Rose , and PBS's NewsHour Weekend as well as the public radio show The Takeaway . She's written recently for ForeignAffairs.com, the Monkey Cage Blog of the Washington Post , and the Huffington Post .
In a thought-provoking article for The Washington Quarterly , published over the summer, Marten writes that it's a mistake to focus on Putin's "endgame." The term comes from chess, but Putin is a judo master, not a chess master, and that means he thinks tactically, not strategically; he treats every interaction as a new match. While he has two overarching goals, to stay in power, and to go down in history as the man who restored Russia's great power status—in other words, to be the "last man standing at the end of the tournament"—there are many ways to get there, and Putin tends to think in terms of short-term victories rather than long-term plans, Marten argues. When his actions in Ukraine left him bogged down, with his economy in shambles from the double-whammy of the collapse in global oil prices and Western sanctions, he needed to pull a new surprise. The result is that we now see the Russian air force and special operations forces deployed to Syria, perhaps in an effort to shore up Bashar al-Assad's regime there, even though many objective observers of Russian national interests think it's a mistake for Moscow to become embroiled in the current mess of warfare in the Middle East.
Beyond Putin's personal style, Marten explains that the Russian political system as a whole is opaque. There are no institutions or legal rules that shape decision-making, just powerful individuals. Many of them have come out of the KGB and are now backed by its successor, the FSB. Even if Putin were to leave power, the same kind of patron-client relationships would endure. Given the tools that KGB and FSB affiliates have available to them, like the ability to release or invent information that can destroy someone's career or send them to prison, it would take a very brave soul indeed to challenge the current order.
These informal networks influence Putin's behavior in Ukraine, and his policy in Syria and Iran, serving the interests of his political allies, says Marten. Many of his cronies have been installed in key defense enterprises, for example, and stand to benefit when weapons are sold. "Putin also has to look like a strong leader who will never give in to Western pressure," adds Marten.
The author of four books, Marten admits that she's hesitant to start writing a book about Russia right now, because events are unfolding so rapidly that it would be out of date by the time it went to press. Instead she is using this time to gather as many points of view as possible about what is happening in Russia. Last March, she traveled to Moscow to talk with foreign-policy experts and give presentations at two universities. As the director of a new program on U.S.–Russia relations at Columbia's Harriman Institute, Marten is planning a number of events that will bring high-profile experts to talk to faculty, students, and professionals in the New York area about their work. This fall there was a conference of U.S. and Russian historians and political scientists that asked whether any lessons from the collapse of U.S.–Soviet détente in the 1970s apply to the current era. Next spring there will be a more policy-oriented conference on U.S.-Russia relations in the Arctic. She has also created a visiting speaker series on Russian business and finance, and a student forum where students registered in degree programs at all levels, from Barnard, Columbia, and elsewhere in the Greater New York area, choose speakers to invite to campus for informal presentations.
Despite the ambiguity and complexity of her field, Marten expresses satisfaction with her work. "I like challenges," she says with a laugh. Global politics offers abundant choices. •