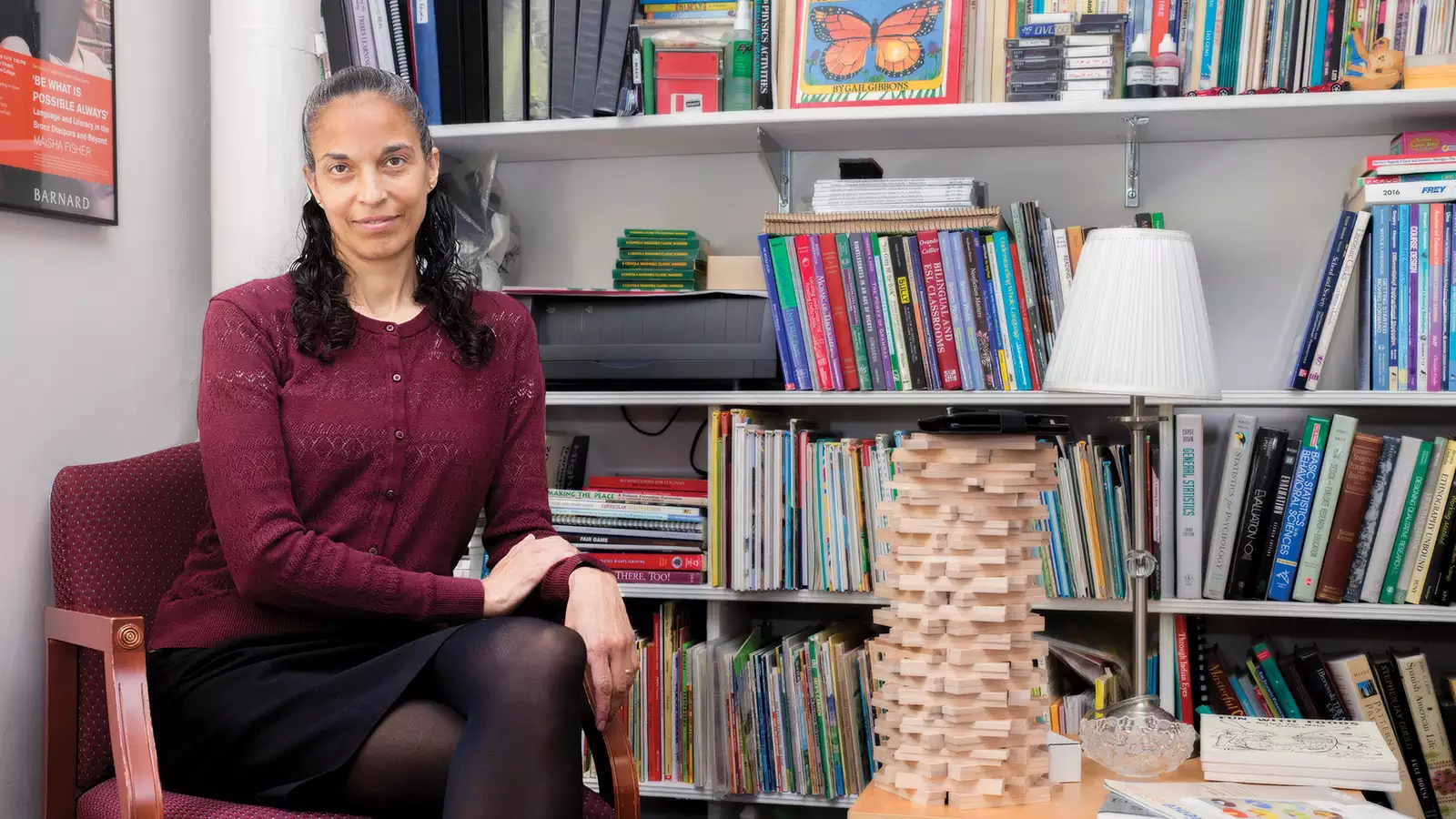 Associate Professor of Education Maria Rivera Maulucci '88 knows what it's like to live in two different worlds. Growing up in Manhattan's Marble Hill neighborhood, she spoke English rather than Spanish with her second-generation Puerto Rican parents. "We grew up with the culture and the language in our extended family—the food, the music—but we did not learn the language fluently at home," she says. When she attended Barnard, she did so as a commuter, babysitting and working campus jobs as a lab assistant, even as many of her peers lived in relative luxury on campus or nearby. 
She started teaching in New York after graduation and spent the school year at a private school for low-income children, encouraging mostly black and Latino children to believe in themselves; her summers were spent at a private school's day camp, trying to deal with privileged kids' senses of entitlement. "I really had two different pieces of my life," she says. "One where I was trying to be an activist and an enabler, the other trying to make people see it isn't the 'world according to you.' "
Now as chair of Barnard's education program and director of the Barnard Noyce Teacher Scholars Program, which trains science and math majors to become K-12 teachers, Rivera Maulucci's ability to span worlds has proved a benefit, enabling her to teach inclusion in the classroom in ways that help improve learning for both education majors and their school-aged students. (The BNTSP, supported by a $1.2 million grant from the National Science Foundation, has committed to training sixteen new teachers at the same time as it supports research about best practices for recruitment, retention, and mentoring.)
About her pedagogy, Rivera Maulucci explains: "We talk about class and ethnicity and gender and language and race, and how those things impact the learner, and how to draw on them as assets rather than seeing these things as deficiencies." Of course, for her, inclusion doesn't mean incorporating only different identities and points of view, but also a subject that sometimes get short shrift: science. "Schools are rewarded for high scores in math and reading," she says. "But right now they are not incentivized to have high scores in science." That's a shame, because science can train children in a completely different way of seeing the world. "When we can think scientifically, we learn how to ask questions, conduct observations, and make evidence-based claims," Rivera Maulucci says. "It's another"—and important—"way of knowing."
Compelled by Teaching
Rivera Maulucci never meant to be a teacher. Instead, she always thought she'd be a scientist herself. As a child, she fell in love with the outdoors on camping trips with her family to New Jersey and upstate New York. At Barnard, she joined the biology club and studied botany, conducting off-campus research examining plant chemistry at the New York Botanical Garden, and becoming a biology teaching assistant. When it came time to graduate, however, she couldn't decide whether to specialize in conservation biology, forest ecology, or cell biology, and decided to teach for a few years instead.
At the time, her brother was attending De La Salle Academy, a private school for gifted low-income students, and the principal asked her to teach science there. Despite a lack of formal training, Rivera Maulucci excelled at the task and fell in love with educating students. Helping them thrive meant not only mentoring them academically, but also addressing the challenges that some of them brought with them from their home environments. "You couldn't just address their academic problems," she says. "You are not going to be able to set a child on a different path if you haven't addressed why they are coming late every day or if they don't have what they need to properly clothe themselves."
After five years "in the trenches" educating students, she returned to her first love, science, studying forest science in a master's program at Yale. But she kept getting dragged back into education. At Yale, "there would always be interdisciplinary groups, and I would always get pulled into the educational part of the project," she says. "I kind of just stopped fighting it." After graduation, she returned to Columbia to attend Teacher's College, where, in her dissertation, she followed three fifth-grade teachers in a low-income school who were trying to integrate science into their curricula. Rivera Maulucci looks at the issue of science inclusion as a matter of social justice. "If we take the perspective that students have a right to science education, then what does that look like? How can we afford those opportunities, and how do we work within the constraints of schools to make that happen?"
Valuing science in schools can start with changing the reward mechanisms, she says, so that science and social studies aren't edged off the list of priorities. Secondly, science needs to engage students where they are. Rivera Maulucci believes in starting with students' natural curiosity about the world around them and using that as fodder for scientific inquiry, rather than imposing esoteric concepts from textbooks.
When she started as a professor in 2004, she brought those ideas back to Barnard. In the College's popular "Science in the City" course, she begins by asking each student-teacher to write her or his own science biography to identify their own background and relationship with science—whether they love it, hate it, or fear it—in order to interrogate their own prejudices about how science should be taught. "If I am going to transform someone's science pedagogy, I have to know where they are and they have to know something about where they are, in order to set goals for change," she says.
Then she explores how to develop new teaching skills so her students can engage a broad range of learners. For example, instead of promoting a traditional science classroom in which students measure so much of chemical A and so much of chemical B, she encourages play-based pedagogies that allow students to explore and bring their own backgrounds to bear on the subject. "You may give students three materials to explore the properties of bubbles or rolling vehicles," she says. "It's more likely to be open-ended and inclusive of their experiences."
While some of her teachers-in-training balk at these creative methods, Maulucci's research shows that it's not necessary that a teacher buys into the philosophy right away. "What I've found is students' beliefs do not need to be aligned with reform-based practices, but by engaging with reform-based practices, often the attitudes follow," she says. Her 2015 study of a fourteen-week training for teachers of urban third graders, published in the Journal of Research in Science Teaching, found that students were more actively engaged in the subject when teachers used creative techniques. "I have had students who say, 'I don't think this can work.' Then they become big proponents when they see how creative students can be when they are thinking outside the box and how it fosters deeper engagement."
Toward that end, a recent BNTSP get-together explored the concept of "phenomenon-based education," in which a teacher creates a lesson out of a phenomenon in nature, rather than a concept such as force and motion. "You might show an image of a water strider on top of a pond and ask, 'How can this insect walk on water?'" Rivera Maulucci says. "Students need to learn about the biology and physiology of the insect, as well as the properties of water in order to understand this scientific phenomenon."
Using such techniques can help to engage both students and teachers from all different backgrounds, who are able to bring their unique perspectives to bear on a scientific concept. "One of the things that is central to my ethic is creating a student-centered curriculum—and for us, that happens at two levels," Rivera Maulucci says. "It needs to be student-centered for our students learning to become teachers, and it has to be student-centered for K-12 students in the schools where they are doing fieldwork." That, she says, is the only way to bridge multiple worlds and create an environment that is truly inclusive of everyone. 
Michael Blanding is a freelance writer and the author of  The Map Thief.