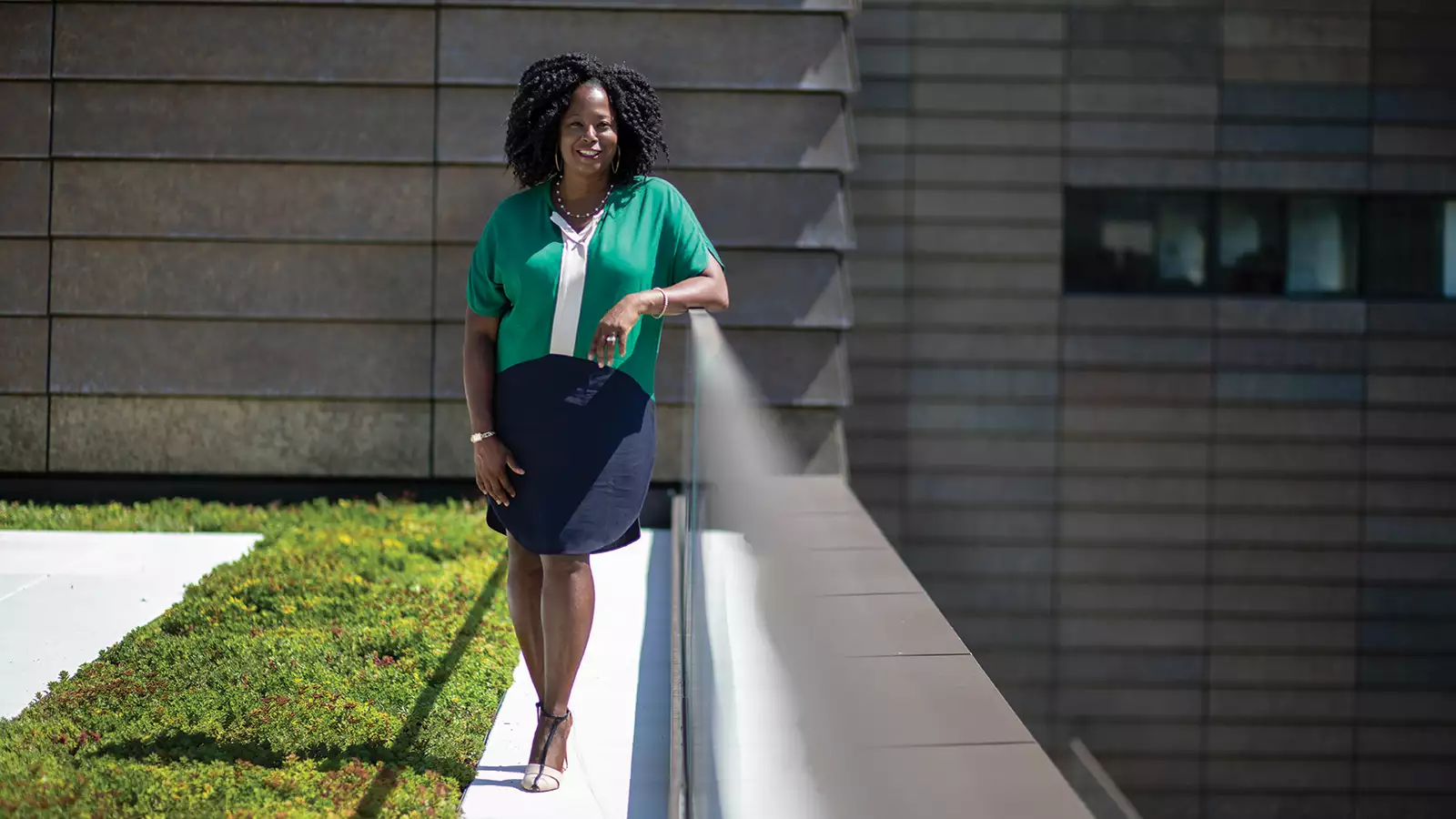 Mignon Moore '92CC is keeping watch on the corner of a busy intersection, taking notes at the crossroads of gender, sexuality, race, and class, where the chair of Barnard's Department of Sociology first became interested in the field as an academic career. But it wasn't a class that brought her here — rather, it was a game of cards.
As an undergrad at Columbia College and then a grad student at the University of Chicago, the self-described "church girl" devoted all of her time to school; as a 30-year-old, openly gay Ford Fellow and tenure-track professor in Columbia's Department of Sociology, though, she decided to make time for a social life, after meeting a black lesbian couple who had invited her to play spades. Over cards, Moore met their circle of friends, composed of other black lesbian couples from various socioeconomic backgrounds."Their money went to socializing and to having a good time in life. And I had not had a good time in my life, other than as an academic. They introduced me to different components of black lesbian life in New York," she explains. It was in this welcoming space that the now-tenured professor and award-winning author found her calling at the exact moment when her own career was at a crossroads.
Professionally, she was trying to figure out what her next project would be; personally, she had connected with friends she found "sociologically interesting." Ever the sociologist, Moore melded these professional and personal realities and spent the next eight months taking field notes on her new world. Her introduction via a card game to this social network of black lesbian friends from various classes inspired the research that would eventually turn her into a pioneer in academia for her studies of black lesbian families.
"I've always been interested in the intersections of race and gender," Moore says. "I had this path, I had [reached] this crossroads, and [then] I received a [Ford] fellowship to collect new data on new family forms. I was going to look at adolescent relationships that teens had with their parents in Harlem, a coming-of-age kind of thing, [but] I was like, 'I really think I want to study these lesbian families through the lens of race and class.' … This was a time [in the early 2000s] when no one was looking at these things in the academy. Sexuality was very marginalized, so people were like, 'You're going to find they reproduce heterosexual norms.' I would listen, but in my head I would say, 'Well, that's not true.'
"All of the literature that I could find on lesbian family formation was about white middle-class women who approached their sexuality as a politics. And that was not what I was finding. I was finding different kinds of black women and different kinds of family configurations, but [the researchers] were leading with race, they weren't leading with sexual orientation. Most of the time, they didn't even think about [black lesbian] sexual orientation as a politics."
 
We understood Barnard to be a different place, a place where there was concrete mentoring and advising, and we felt that the Barnard women were getting more attention from their professors.
At first, Moore worried there might be professional risks in pursuing the topic, but the result — her book Invisible Families: Gay Identities, Relationships, and Motherhood Among Black Women — went on to win a 2012 Distinguished Book Award from the American Sociological Association and was a finalist for the C. Wright Mills Award from the Society for the Study of Social Problems.
In 2011, Moore joined the sociology and African American studies faculty at UCLA. Switching coasts wasn't the only major change in Moore's life then. During her time in Los Angeles, she and her wife, Elaine, whom she met in 2002 at a family function, became the mothers of two children.
Four years later, Morningside Heights beckoned again. In 2015, Moore became an associate professor at Barnard and Columbia (moving to chair at Barnard in 2018 and a full professor this year).
The journey that took Moore throughout New York City and across the country to realize her calling resumes at Barnard, nearly 30 years after it began when Moore discovered a Columbia course on the sociology of education, followed by a popular Barnard course, Gender, Race & Class (which Moore has plans to revive) — she loved both.
At the same time, a religion professor named Judith Weisenfeld had arrived at Barnard. Many black students formed relationships with Weisenfeld, one of very few black women faculty members in those days. The professor met with Moore about papers and advised her as she prepared to attend graduate school. Weisenfeld's willingness to mentor Moore affirmed what she and several of her Columbia peers felt. "We understood Barnard to be a different place, a place where there was concrete mentoring and advising, and we felt that the Barnard women were getting more attention from their professors," she says.
Being at Barnard has given Moore a chance to follow in Weisenfeld's footsteps as a mentor. She hires Barnard students as research assistants and is an enthusiastic senior thesis adviser, encouraging her students to apply her own melding of personal experience with professional research.
"If you think that it matters if a girl is African American in determining which factors play a role in her success, then you must think … there are other combinations that would matter, [like] immigration status … or class status. So I have worked closely with students, [including] white women from low-income backgrounds, to think about how class mattered for how they understood the world, the relationships with their parents.... I encourage students to think about those intersections."
"She really encouraged me to do research that I was personally passionate about," says former student/mentee Annaliese Grant '17, now a Ph.D. student in sociology at the University of Wisconsin–Madison, a top-10 sociology program. Moore advised Grant's thesis on mother/daughter relationships among low-income white families. "She was the person who told me I could do things … based on my life experience," Grant continues. "I'm from a low-income background. I don't know I would have felt as strongly that the things I did were valid.… She has a really powerful way of making students feel that their life experience is valid and [that] they can do something about it by writing about it to change things."
Moore herself is now writing a second book, In the Shadow of Sexuality: Social Histories of African American Lesbian and Gay Elders, 1950-1975, in the hopes of changing things. "I want to make a contribution to the field of studies on the Great Migration by looking sociologically at sexual minorities who were part of that experience," she says.
This time in Morningside Heights finds Moore perfectly situated in both her professional and personal lives, still studious and observant of the social realities around her. At the busy intersection of race, class, gender, and sexual orientation, Moore remains focused on her dual missions: to change the world through her work and to equip Barnard students with the knowledge and confidence to one day do the same.•
—Staff reporting