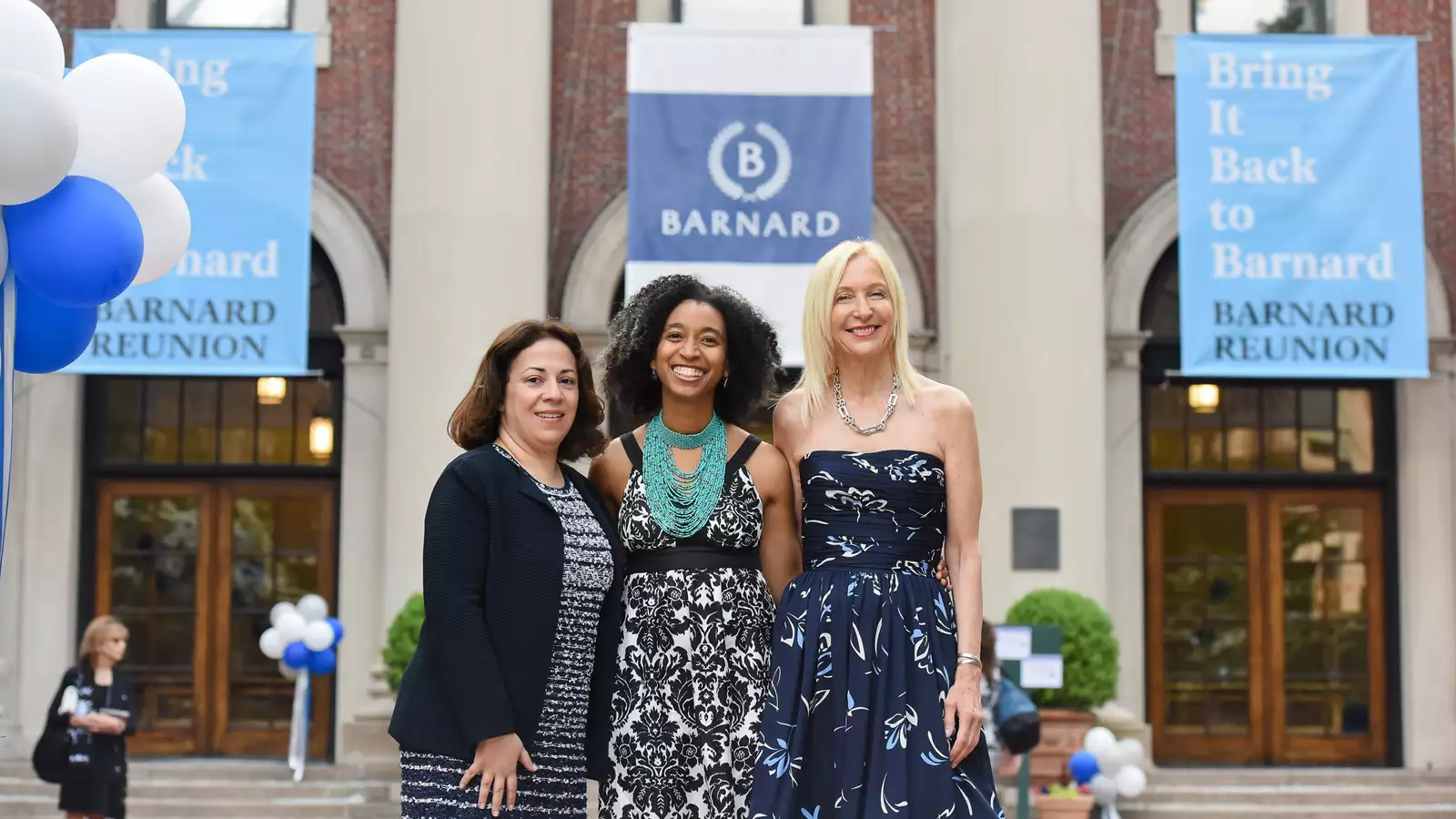 More than 1,200 alumnae returned to campus to celebrate Barnard Reunion 2019 over the May 30-June 2 weekend.
At the Alumnae of Color dinner on Thursday, graduates from the past five decades gathered to reconnect with friends, faculty, and current Barnard students. Featured speaker Paola Ramos '09, who served in the Obama White House, and then on President Obama's reelection campaign, and now hosts Vice's series Latin-X, told the crowd, "It was here that, all of a sudden, that fear I had about speaking up was gone, where the words I was writing on paper found meaning, and where to the left and right there were women that looked like me, that spoke like me, that loved like me, and when I finally understood what it meant to be bold."
On Friday morning, Reverend Anna (Keller) Pearson '85 officiated at a multidenominational memorial service honoring alumnae who have passed away. And that afternoon, AABC President Jyoti Menon '01 shared updates about the Alumnae Association of Barnard College (AABC), followed by a presentation of the AABC awards. (For more about AABC's 2019 awardees, see page 6.)
STEM (science, technology, engineering, and mathematics) careers were the focus of a Saturday morning panel. Both Danielle Lahmani '84, an engineering technical project manager at Bloomberg LP, and Nieca Goldberg '79, a cardiologist and medical director at the NYU Langone Joan H. Tisch Center for Women's Health, emphasized how important liberal arts are to a STEM career. Lahmani explained that diversity of thought is sought after in technology, and different points of view are essential. Said Rosemary Bates '04, director of design and construction at Rockefeller Group, "The more you talk, the more you share, the more you learn."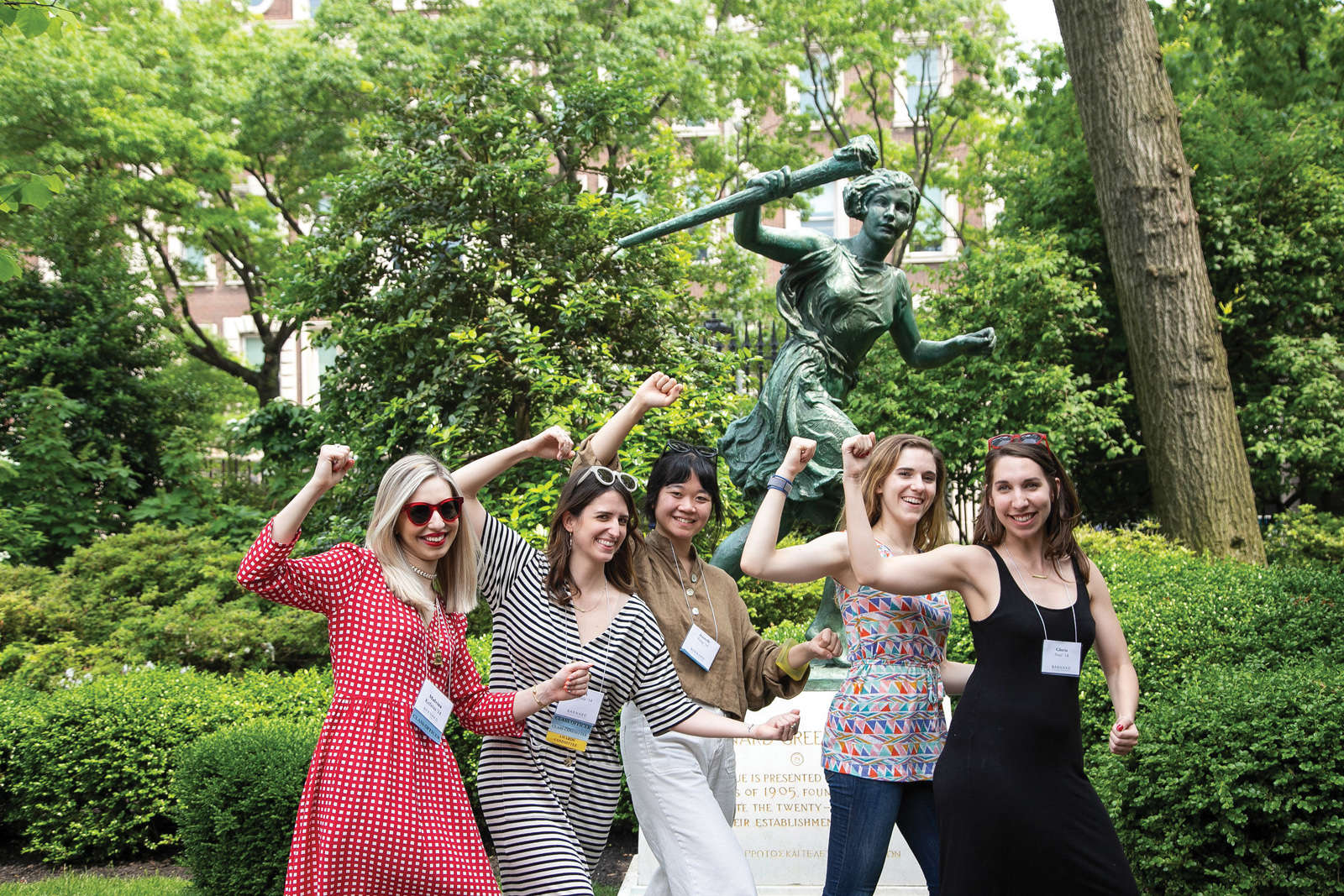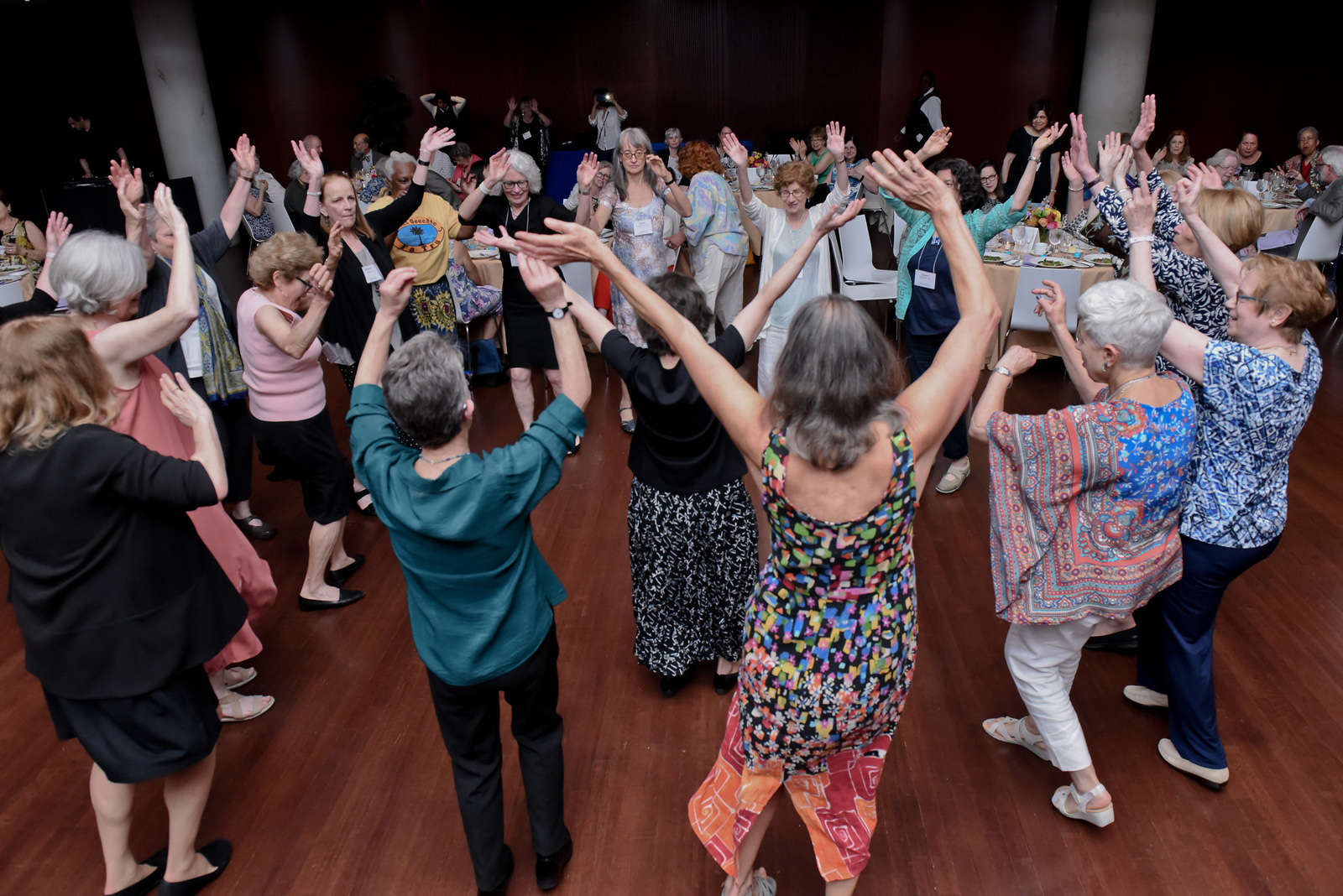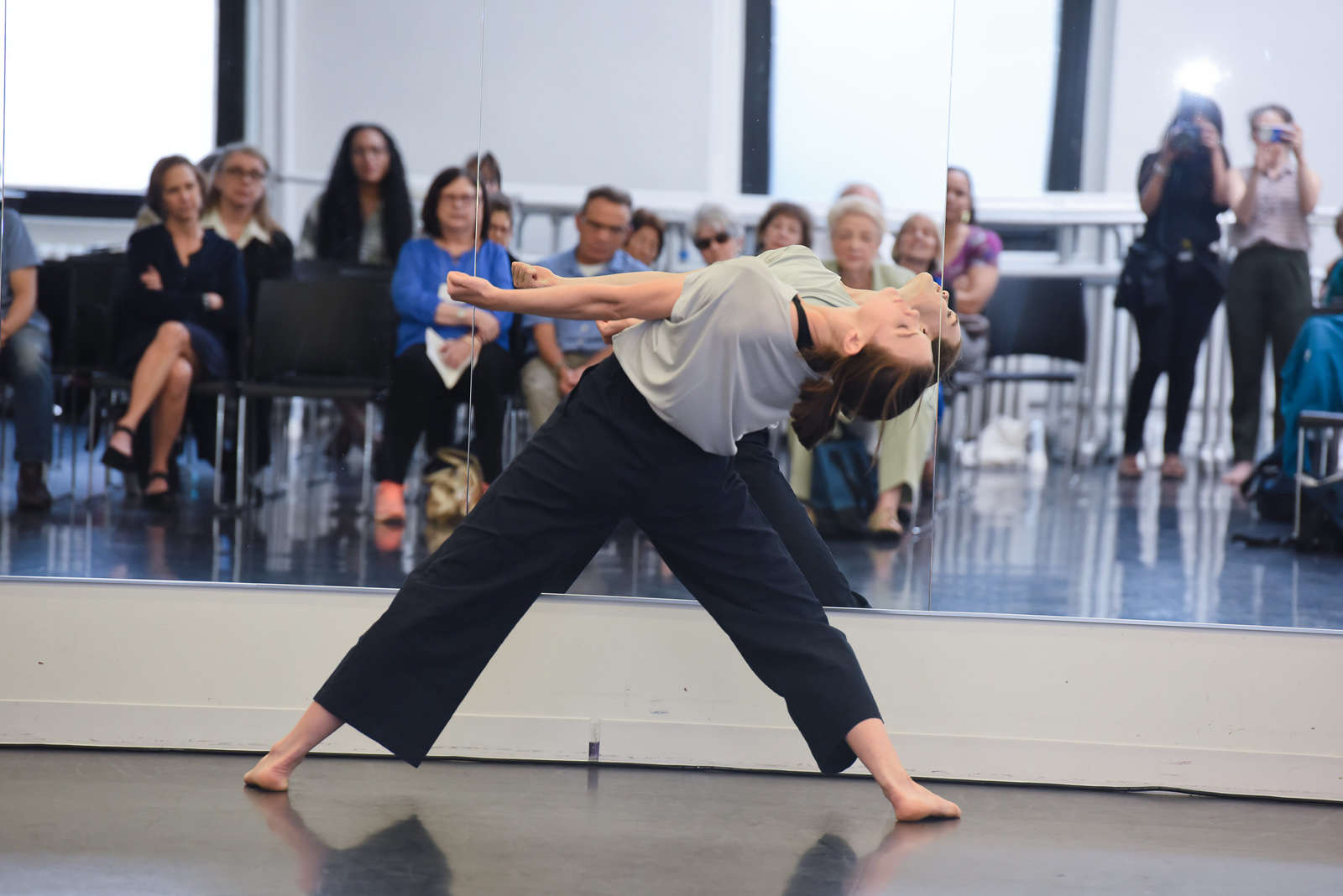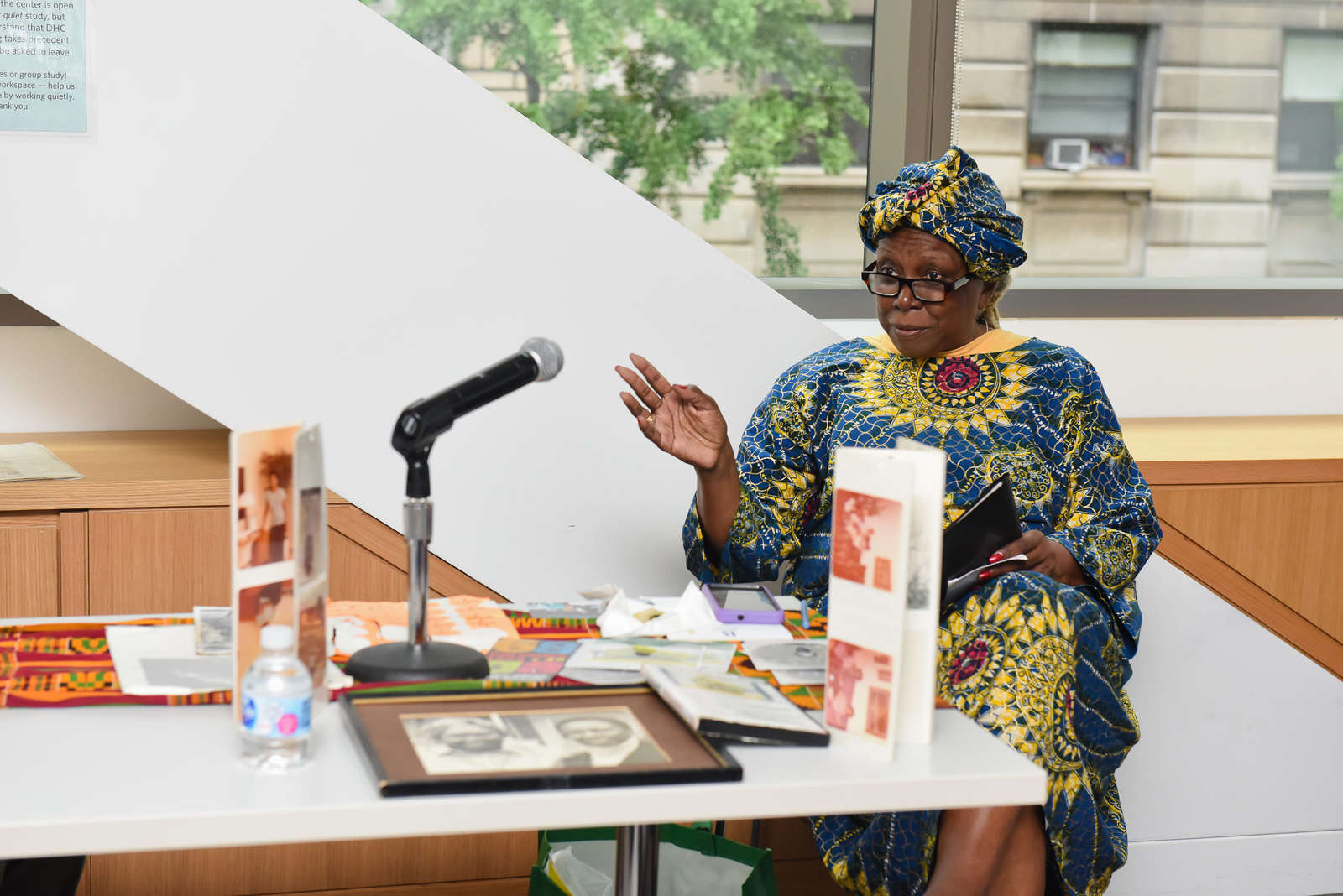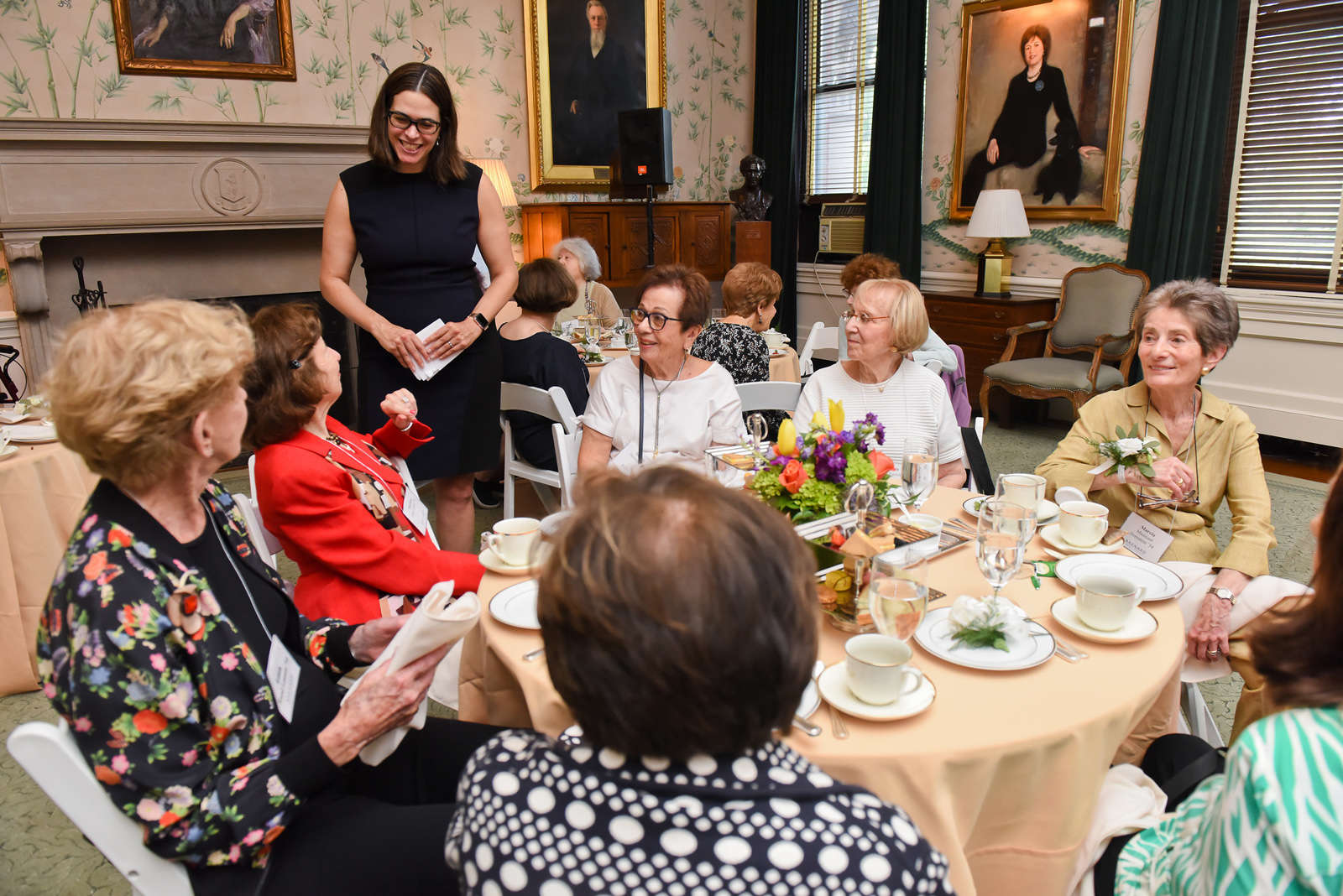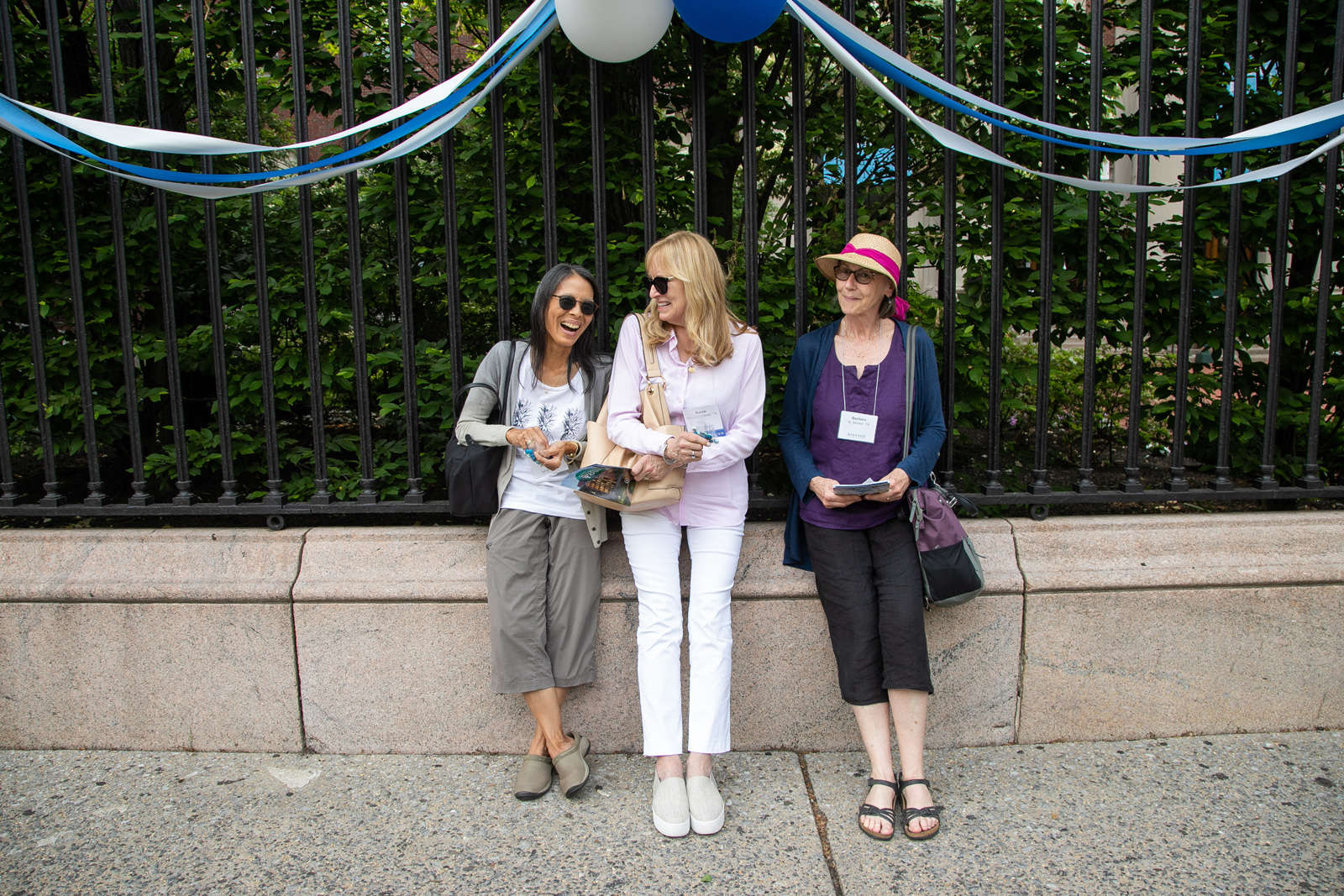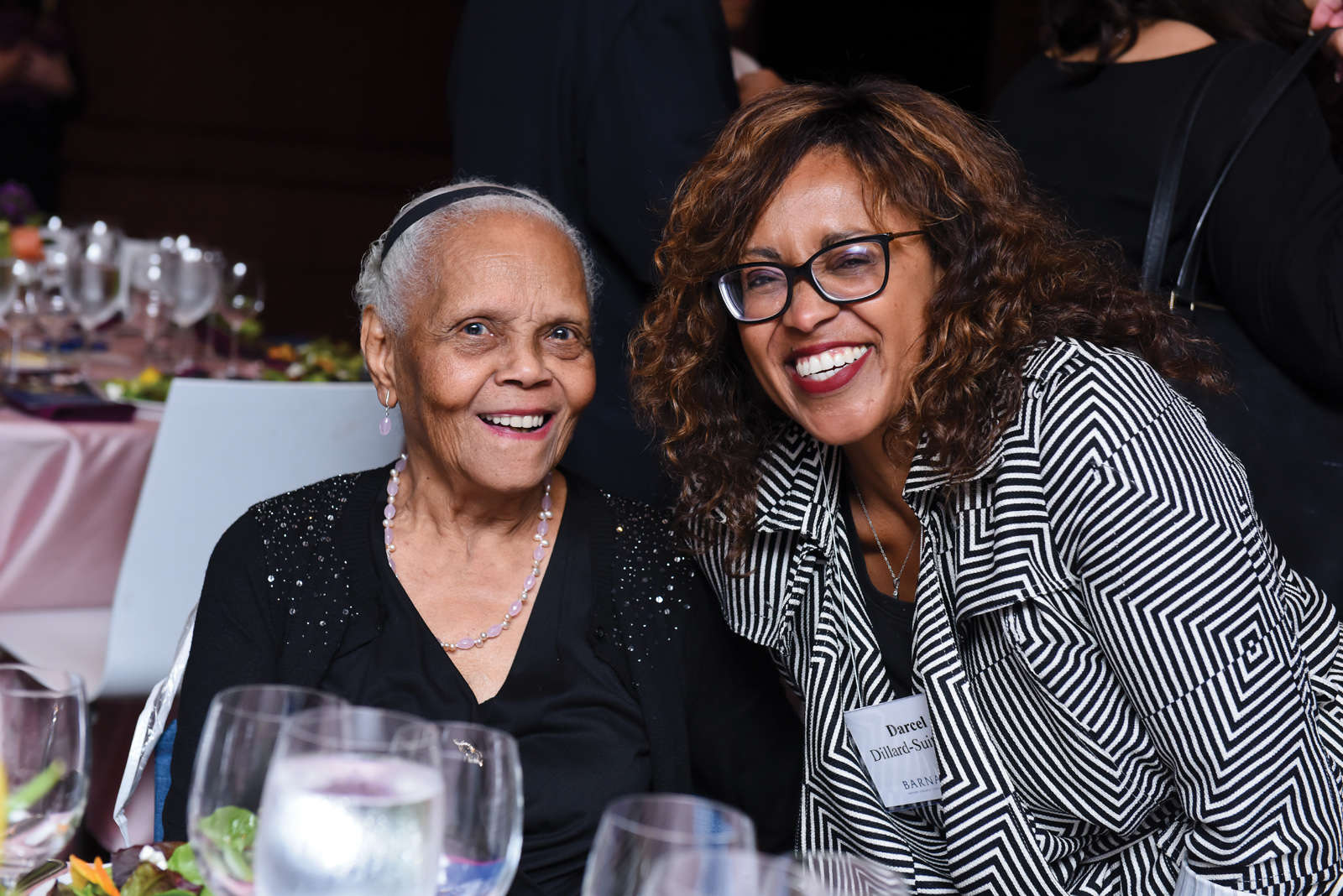 From left: Malvina Kefalas '14, Alex Strycula '14, Jennelle Fong '14, Victoria Albert '14, and Gloria Noel '14 strike a Greek Games statue pose
The Class of 1969 dances the Mami Bali, an Israeli folk dance, at their Class Dinner
Alumnae dancers perform works in progress
Sherry Suttles '69 discusses the importance of documenting the histories of black students and graduates
President Sian Leah Beilock greets members of the Classes of 1934–1954 at the President's Tea
From left: Kim Hom '74, Karen Hansen Melnick '74, and Barbara St. Michel '74 catch up by the Barnard gates
Professor Quandra Prettyman (left) and Darcel Dillard-Suite '83
The storytelling event Bring It Back to Barnard, produced by the Peabody Award-winning organization The Moth, delighted a capacity audience on Saturday afternoon. Hosted by writer-comedian JiJi Lee '01, the event featured tales of how the College has affected alumnae's lives, such as Bonnie Oh '59, once an unsatisfied student at Seoul National University in her native South Korea, who arrived at Brooks Hall in the early morning hours of Feb. 14, 1956, after traveling for four days. "Barnard helped me live my life to the fullest," said Oh, now a retired distinguished professor of Korean studies at Georgetown University.
And Shoshana Greenberg '04, who along with her friends made the Big Apple their playground during their first year. The terrorist attacks of 9/11, in her sophomore year, changed all that. She and her friends struggled through the subsequent semesters, staying close to campus. But before they headed home in May 2002, they visited a psychic in Greenwich Village and felt renewed. "We realized we would never get this Barnard of the first year back, but we could have a new New York," said Greenberg, now a freelance musical theater and opera lyricist/librettist and theater journalist.
At the closing dinner, alumnae danced to their favorite tunes and toasted one another. President Beilock announced "The Bold Standard: Raising the Bar" fundraising campaign, which will focus on four institutional priorities that align with her vision for the College: STEM at Barnard, Social Mobility, Beyond Barnard, and Health and Wellness.
"Our young women are strong and fearless," she said, "and on their way to becoming visionaries and trailblazers. What better time to reach to new heights?" •