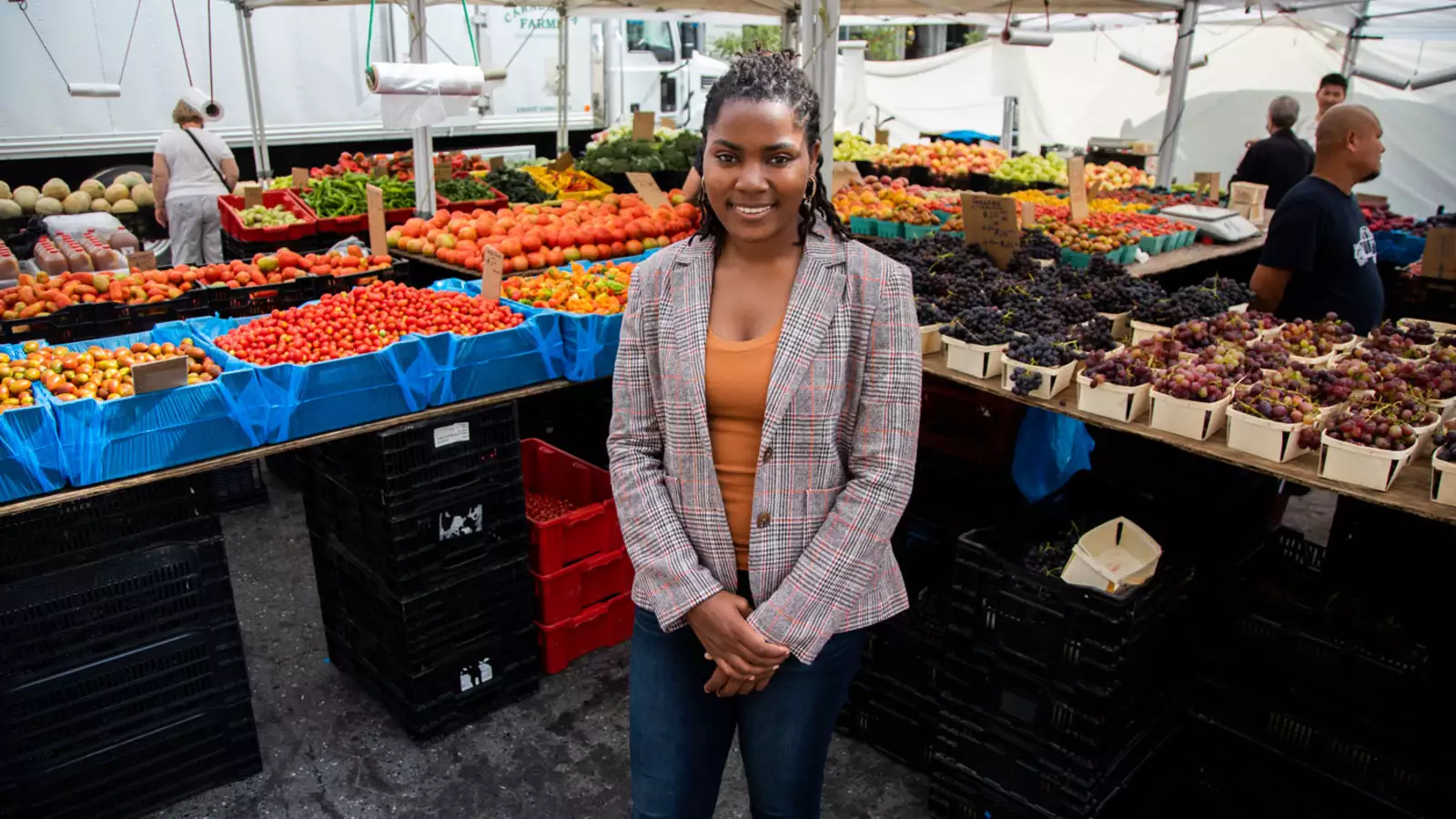 When Olivia Watkins '16 returned from an undergrad semester in New Zealand and the Cook Islands, she brought back a research idea from that side of the globe. While abroad, she met one of the only Cook Islands farmers using organic agriculture practices. He told her he wanted to better prove the efficacy of his methods to his community. Watkins' interest was piqued, and she offered to help him.
Back on Barnard's campus, she proposed a project looking at how soil microbes in the Cook Islands were responding to a transition to more organic farming practices. Watkins proceeded to find funding and procure permits, and she returned to the South Pacific in the summer before her senior year to collect 300 soil samples from cassava and taro patches there.
Krista McGuire, then a Barnard biology professor who was mentoring Watkins, was thrilled with the environmental biology major's drive and enthusiasm.
"Olivia did all of the DNA sequencing and soil and nutritional analysis; her work was so impressive that it could have been a master's thesis," says McGuire. "It was the first study ever done in the Cook Islands on microbes, and it gives scientific foundational knowledge to the utility of using organic practice to regenerate the soil." McGuire and Watkins are now submitting the paper for publication to academic journals, with Watkins as first author, a rarity for an undergrad.
She has also continued to innovate in the agricultural space: In 2019, Watkins combined her interest in the science of farming with her passion for food equity to help create Black Farmer Fund, which provides financial and technical assistance for Black food systems entrepreneurs in New York State. Watkins serves as the organization's president.
BFF has raised $1 million from foundations, individuals, and impact investors for its pilot funding round, which is currently being disbursed to eight Black-owned businesses and farmers.
"I was not surprised that she started something so impactful since she has such an innate drive and motivation to change the world," says McGuire. "Olivia is an example of what other aspiring activists and scientists could be."
McGuire is far from the only person impressed by Watkins — she was named to the 2021 Forbes 30 Under 30 Social Impact list and The Grist 50, an annual list of emerging U.S. leaders working on solutions to the world's biggest challenges.
From Lab to Field
Watkins was raised in Westchester, New York, where her mother served as executive director of the Boys and Girls Club of New Rochelle and her father was an orthopedic surgeon.
"I grew up seeing my mom commit herself to working specifically at the community level to make sure that kids had access to programs to support their educational activities," she says. "[And] I saw my dad in the science space, helping people heal. I saw the positive impact that both my parents had on individuals and communities, and I have combined that."
Watkins, who received early admission to Barnard, says that she was excited about being at a college where women comprised more than 70% of the leadership. She first discovered the interdisciplinary approach she brings to Black Farmer Fund during college. Although her studies focused primarily on environmental issues, she enrolled in an Athena Center for Leadership class that she says helped her "see a problem, figure out a solution, and be able to articulate the solution in a way that could achieve tangible results."
Watkins also gained valuable insight through participating in Barnard's Collegiate Science and Technology Entry Program (CSTEP), designed to foster academic success for historically underrepresented students interested in STEM.
"Livvie [Olivia] has always been someone who walked outside the lines but in a good way," says former CSTEP advisor Elida Martinez-Gaynor. "She is intentional about getting the skills and knowledge she needs to work to effect change."
To that end, Watkins decided to get her hands dirty after her 2016 graduation so that she could see in real time some of the things she had learned from textbooks. "Farming seemed like the best place for me to do that as I continued to develop professionally and figure out how I wanted to make an impact," she says.
Degree in hand, Watkins soon boarded a plane bound for Oahu, where she apprenticed for a year at Kahumana Organic Farms. She helped scale the farm from nine to 16 acres through tripling production output from $66,000 to $200,000 and implemented invoicing automation, creating a 75% increase in efficiency. A year later, she spent the summer as a farmer and irrigation manager at Soul Fire Farm, an upstate New York Afro-indigenous community farm committed to ending racism and injustice in the food system.
I am a scientist by training, but if I'm a part of a project that helps move money to traditionally marginalized people, that allows me to expand my impact more than working for one farm or one academic institution.
"In these experiences, I used my environmental biology background to manage and grow socially impactful business operations that were also environmentally regenerative," she says.
But Watkins realized that she wanted her work to impact more people more directly, and that's why BFF was born.
"We want to create systemic change that addresses climate, social, and governance solutions, and that takes a long time," she says. "I am a scientist by training, but if I'm a part of a project that helps move money to traditionally marginalized people, that allows me to expand my impact more than working for one farm or one academic institution." Earlier this year, Watkins received an MBA, with a concentration in finance and financial management, from North Carolina State University's Poole College of Management.
"Now that Black Farmer Fund has raised money for operations and for our fund, it is crucial for me to transition into a role where I can help manage the money in a way that is sustainable for the organization," she says.
Watkins, who lives in both New York and North Carolina, chose North Carolina State because it brought her closer to her maternal grandmother's land outside of Raleigh, which has been in the family for more than 130 years.
There, Watkins tends a small shiitake mushroom farm, though the majority of her land stewardship role is managing the family's 40 acres of forest for wildlife conservation, biodiversity conservation for timberland, and waterways protection of the land's streams.
"While I didn't have a relationship to this land growing up, I am now committed to conserving the land and putting my science degree to use," she says. Her involvement with her family farm helps her maintain a connection to her maternal Southern heritage and participate in land stewardship. 
Complex Problems, Complex Solutions
Back in New York, her work with BFF is addressing the systemic and historical discrimination around lending and banking that has led to racial disparities in the current agricultural system.
In 1920, the U.S. Department of Agriculture (USDA) recorded 925,708 Black farm operators — 14% of all U.S. farmers — who owned 15.6 million acres of land. By the end of the 20th century, just 18,000 Black farmers remained, with ownership of 2 million acres. In 1999, Black farmers won a major civil rights settlement against the 
Olivia and Black Farmer Fund are rewriting the underwriting rules and creating something that is radical, because it's giving sovereignty and ownership to the people doing the work.
USDA after arguing that the loans and subsidies they received historically were substantially lower than those for comparable white farmers. That settlement and subsequent payouts helped but didn't come close to eliminating the long-standing inequity. There was still an alarming lack of financial support for Black farmers. 
That's what spurred Watkins and BFF board chair and co-founder Karen Washington, a Black farmer and advocate, to action. The two women, who first met at a farmers conference, began brainstorming. "There was nothing at the time that was focusing on supporting Black farmers with financing options," Watkins says.
Washington invited Onika Abraham, from Farm School NYC, and Dennis Derryck, from Corbin Hill Food Project, to join the board. Together, the team assessed the landscape and analyzed legal research to determine the gaps in financing for BIPOC farmers, especially Black farmers. They determined how BFF could best serve the community, which traditional banks and lending institutions have shied away from.
Watkins says that she knew early on that she would go further in her work if she collaborated with those with more experience in the field. "The network of my board members — who are elders in the spaces of philanthropy, social enterprise, and impact investment — is critical," she says.
Derryck agrees but adds that Watkins herself brings valuable insight to the table. "Access to capital and land is one of the big structural and institutional barriers faced by Black farmers," says Derryck. "So Olivia and Black Farmer Fund are rewriting the underwriting rules and creating something that is radical, because it's giving sovereignty and ownership to the people doing the work.
"Bankers use ratios to make decisions and don't have relationships with folks, as we do," he continues. "Ordinary folks who are closest to the problems and the issues are structuring the terms so that folks receiving the investments can succeed."
Watkins is putting her MBA to good use.
"We offer integrative capital, which is the recognition that when you're trying to solve complex problems, you need complex solutions," she says. "By offering different kinds of capital, we create more flexibility and resilience." She says that the loan and grant offered by BFF are the start of a long relationship between the nonprofit and its borrowers, which will include a wide variety of enterprises involved in food systems, from farmers and herbal medicine apothecaries to value-added businesses.
"All of our borrowers receive business coaching and additional support. Whether they need bookkeepers or help in operationalizing the financing, we help them access the services they need," Watkins says.
"Our organization has chosen to focus on feeding communities of color, providing jobs for communities of color, and allowing investors to contribute to social change," Watkins adds. "I want to help create a thriving and resilient food system and use impact investment to redistribute wealth and money into communities and organizations that are working for changes in our nation and our world."