Isabel Jacobs '54 feels a connection to today's Barnard students in large part because of the diversity of the student body. She grew up in New Britain, Conn., and says that in 1950, coming to college in New York City was as drastic as traveling to the other end of the earth. "It was an enormous cultural experience," says Jacobs. "It changed my life. I met people I would never have met before because of the diverse student body. Many of them are friends to this day. It introduced me to fields of study and interests that I had absolutely no way of understanding before."

Jacobs knew she wanted to attend a prestigious women's college. It was important that the college be affiliated with a men's school, so her choices came down to Radcliffe or Barnard, and New York easily won out. Her mother played a crucial role in Jacobs being able to live out her dream, contradicting her father when he insisted that the "local university is good enough for girls."

Now Jacobs is honoring her mother's own unfulfilled dream of being a doctor by creating the Bessie Schafran Fenster Scholarship to provide support for pre-med seniors. Fenster graduated from New York University in 1931. Her family wouldn't allow her to apply to medical school, believing it was inappropriate for a woman to be a doctor. The scholarship fund also honors Jacobs's late husband, a physician who helped pioneer the field of pediatric rheumatology. While raising three children—her daughter Deborah Jacobs is Class of 1977—Jacobs worked as a high school history teacher in the New York City public schools for 26 years. 

The IRA option in 2012 and 2013 allows individuals 70½ or older to make a charitable gift directly to Barnard from an IRA or spouse's IRA (or Roth IRA). The fact that it counts toward the individual's required minimum distribution and is not treated as taxable income, helped her decide to fund the endowment. "I wanted to do it while I was alive so that I could see the fruits of it rather than having to leave it after my death," she says.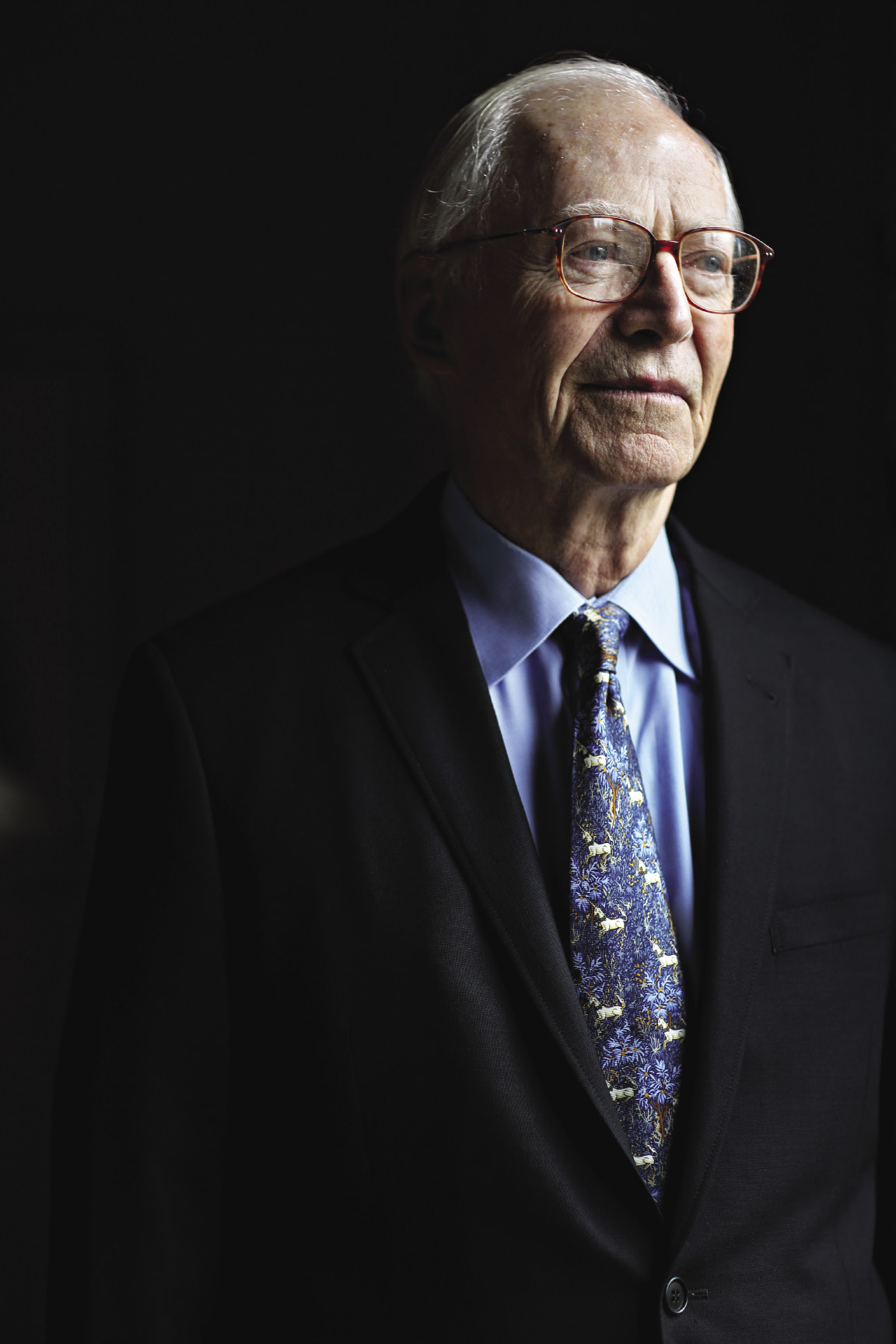 Another of this year's Torchbearers is James Neff, who recently endowed the Elizabeth Gould Neff Scholarship Fund. Named for his mother, Class of 1927, Neff says attending a Torchbearers reception stirred memories of his mother and left him deeply impressed. A product of her generation, Neff says, his mother always deferred to his father. Only after Neff created the scholarship fund did he learn that his mother had been a regular contributor to Barnard. Although he didn't see palpable evidence of her Barnard experience, he clearly appreciates her connection to the school.

Neff attended Princeton University, and while he enjoyed his time there, he claims he wasn't a particularly good student. To graduate in 1953 he needed to retake his comprehensive exams in order to receive his diploma. But, the Korean War was going on, and since Neff was going to be drafted, he enlisted in the Army for three years. When he completed his tour of duty, he enrolled at Columbia School of General Studies for a year then obtained his Princeton degree. He joined The Bank of New York in the personal-trust department and developed a different perspective and appreciation for learning. Neff attended NYU and earned certificates in management and marketing, and another one at the Stonier Graduate School of Banking, then at Rutgers University. 

After attending an event at which Arthur Levine, then president of Teachers College, was speaking, Neff was inspired to endow a scholarship fund. With matching funds from The Bank of New York (now Bank of New York Mellon), Teachers College received approximately $500,000. "Some shade of my own failure as a student was to help other students do better," says Neff, who also volunteers as a tutor at P.S. 6 in Manhattan.

Neff established another connection to Barnard through the late Diana Lanier Smith '45, a relative of Neff's wife. Smith endowed a scholarship for women of Native American descent. Smith and Neff attended a Torchbearers reception where Neff met India Lovato '14, the student aided by Smith's generosity. "I thought of my mother at that time," says Neff, who then decided to endow a scholarship. He adds candidly, "I felt I owed my mother's memory something because the money I have in my pocket right now is from her estate, which I helped to manage.

"My interest in education in the broadest sense has always been there one way or the other. I'm pleased to try to facilitate a good education [for someone else]."

Lori E. Gold '78 came to Barnard after attending an "experimental" high school in Brooklyn, where she studied anthropology. Barnard's anthropology department, where Margaret Mead was still lecturing, was a lure. As Gold was about to graduate, her younger sister, Grace, decided to enter Barnard's class of 1982. Tragically, Grace's life ended on the night of graduation 1979 when she was struck by falling masonry from a building on Broadway and 115th St. Today, New Yorkers can thank Grace for the existence of Local Law 11/98 (formerly Local Law 10/80), which Gold is campaigning to have renamed the Grace Gold Law. Created in the aftermath of her death, the law mandates the periodic inspection of New York City building facades higher than six stories. If unsafe conditions are found, repairs must be made or other reinforcement measures taken. 

Members of the class of 1979, Grace's senior suitemates who were celebrating their graduation before she was killed, helped establish a darkroom in the McIntosh Student Center named for her. Subsequently, the Grace Gold Digital Photography Center, in the publications suite at Brooks Hall, was dedicated on April 7, 2011. "As part of my talk about Grace during the rededication, I revealed two things. One was the portrait of my sister by artist Rob Rush, which he created from several 30-plus year-old, mostly black and white images, which now hangs in the Grace Gold Digital Photography Center. The other was that I would be moving the Grace Gold Memorial Scholarship Fund from The Miami Foundation to Barnard, its ultimate home," says Gold. The fund is for students who intend to pursue a career in writing, journalism, or a related field.

"That my sister's life was over at 17 can only, in my opinion, be shown to have had value beyond those who knew her in that brief time by allowing her to do good for others as time moves forward," she continues. "Now she will help Barnard students achieve their dreams, finish their educations, and follow their passions."

Gold, a consultant who advises non-profit organizations on fund development, strategic planning, and long-term sustainability, was a BAAR (Barnard Alumnae Admissions Representative) for 10 years in South Florida, interviewing prospective students; she continues to speak with children of friends and family interested in Barnard. "I feel a connection when I am physically back on campus walking the paths and halls that connect us, intergenerationally," she says. "It is not the choices that Barnard women make, but the manner in which we make choices—doing it with full-throttled determination, conviction, and focus."