Founded in the late 1960s to house the College's institutional history, the Barnard Archives preserve and make available more than 450 individual collections. Every year, the Archives and Special Collections staff fields hundreds of off-site research questions and in-person visits from students, staff, scholars, journalists, family historians, filmmakers, and artists. The number of collections has increased over the past four years by nearly 50 percent—the equivalent of 5,000 boxes of material.  
"We're interested in building collections that complement the nature of student and faculty inquiry at Barnard and also provide new opportunities for different modalities of scholarship, such as activism and art," says Shannon O'Neill, director of Archives and Special Collections and personal librarian to the History Department.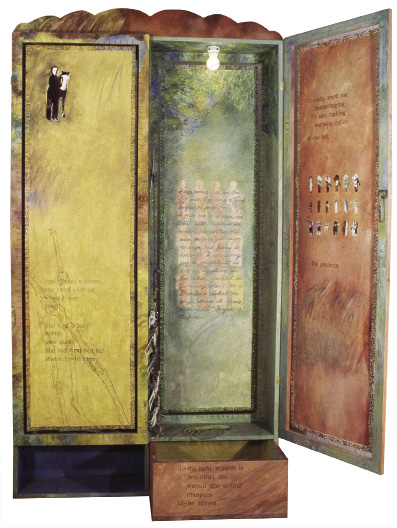 A recent acquisition is the Alessandra Comini Diaries and Letters. Comini '56, one of the foremost art historians on the work of Austrian painter Egon Schiele, is credited with discovering Schiele's prison cell (now a museum) in 1964. Comini has authored major essays on Schiele, Beethoven, and Wagner and written eight books, including the award-winning  Egon Schiele's Portraits.
Comini is the University Distinguished Professor of Art History Emerita at Southern Methodist University in Dallas, Texas, but chose to donate to Barnard her childhood and early adulthood travel diaries from the early to mid 1950s, when she voyaged around the world.
Since the 1960s, artist Sabra Moore has been a key figure in the feminist art movement. Her activism during the 1970s and 1980s encouraged the Museum of Modern Art and other museums to showcase more work by women artists. 
Last year, the College acquired the Sabra Moore NYC Women's Art Movement Collection and hosted Moore when she released her new memoir,  Openings: A Memoir from the Women's Art Movement, New York City 1970-1992. The collection, which encompasses two decades of Moore's work with feminist art groups in New York City, includes artwork, correspondences, flyers, publications, photographs, pieces of protest art, and T-shirts created by Moore and her colleagues.
The collection also has Moore's papers from her work at the first legal abortion clinic in New York State. Moore spoke of that experience, which took place between 1970 and 1972, in an interview with Barnard. Separately, Moore and Brazilian-born multimedia artist Josely Carvalho co-donated their collaboration "Connections/Conexus," which features exhibit documentation and original art from an international show of 16 pairs of feminist artists in the United States and Brazil. •