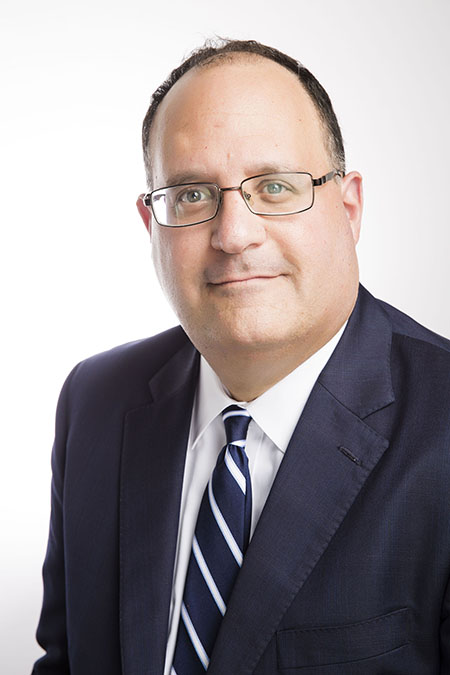 Greetings. After nine years, the Barnard President's Page finds a new—interim—voice. I have been serving as Interim President now for a few months and will continue on until the Presidential Search Committee finds a new president to lead the College into the future. In the meantime, I find myself thinking about transitions and leadership and what it means to lead the College through this somewhat uncertain period. Not only is our community experiencing change—so is our country, creating new and different challenges that we must face together.
But we face these challenges from a position of strength. More students than ever want to attend Barnard; the Cheryl and Philip Milstein Teaching and Learning Center is rising, and when we begin the fall semester, its opening will be less than a year away; we are on our way to meeting the goals of The Bold Standard , our $400 million capital campaign; our first-year students are enjoying the benefits of a new, challenging curriculum, Foundations; and we are embarking on a serious effort to foster a more diverse and inclusive community.
Barnard is also continuing its role as a pioneer in a time when our community is focused on how to respond to national issues of serious import. Debora Spar, in one of her last acts as Barnard president, secured the Ann and Andrew Tisch Scholarship for Refugee Women, and the Board of Trustees unanimously approved the recommendation to divest the College's endowment from fossil fuel companies that deny climate science, aligning our investment strategy with our academic mission. Both of these actions, while seemingly disparate, show how institutions like ours can take a stand on serious public policy issues while staying true to our mission.
These two acts do have one thing in common: they both were student-driven, highlighting the power of effective student engagement and how, in many ways, students can teach all of us something about the world.
The idea for the Tisch Scholarship came from a Barnard senior who saw the evils of the conflict in Syria and looked for a way to help victims of that conflict. The scholarship is a big idea but a simple one: that Barnard can help a young woman gain a world-class education—thus making a small but meaningful dent in the lives of displaced people everywhere.
Fossil fuel divestment is a wholly different issue but again student-driven. A group of determined and knowledgeable students began as activists and challenged us to do our part to mitigate the impacts of climate change, perhaps the biggest issue of our time. We listened and worked together. The students learned the value of negotiation and compromise. They worked with trustees and faculty on options, weighed the pros and cons, debated them on their merits, and agreed to a proposal that is not only unique in the country but one that strengthens our academic mission. The students offered expertise, passion, and a willingness to engage in sometimes difficult discussions. There were rocky moments along the way, but in the end, the students were part of the process, and as a result were able to effect change.
The notion that student leaders can make a real difference here and in the world is not a new concept for Barnard. It is one that I understood the moment I arrived. As Barnard's president during this transition period, I will always keep this notion in the front of my mind. Educating, empowering, and mentoring young women to create change in the world: it's a big reason why we exist. It's why I look forward to coming to work every day. •