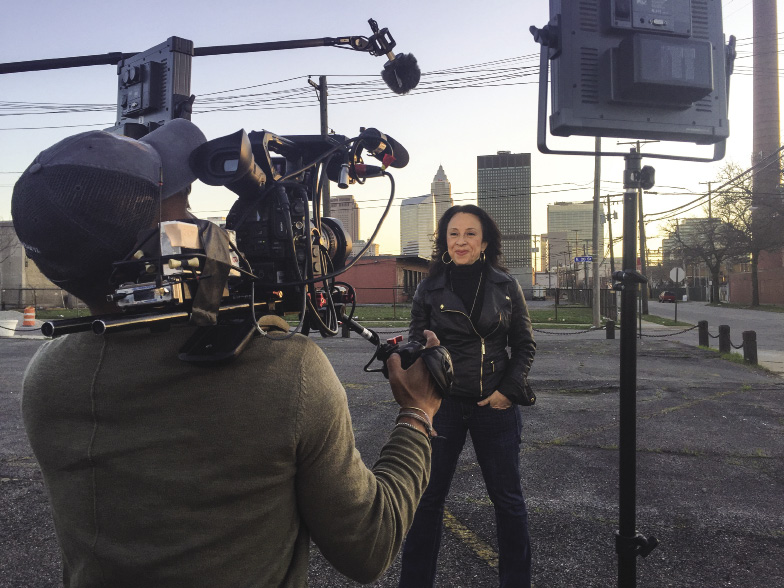 After 25 years as a high-profile journalist appearing on NPR, CNN, and PBS, Maria Hinojosa '84 founded her own media company in 2010 with a singular mission: tell stories often overlooked by the mainstream media.
Hinojosa was born in Mexico City and moved to the South Side of Chicago as a young child. She grew up watching the news but never seeing faces that looked like hers or hearing stories about immigrants. "We were invisible," she remembers. "I wanted to tell stories that others weren't telling." At NPR, she helped launch Latino USA, one of the earliest public radio programs devoted to the Latino community, and hosted America by the Numbers on PBS, which focuses on data, demographic changes, and human stories.
Seven years ago, Hinojosa founded the Futuro Media Group to expand venues for giving a voice to the diversity of the American experience. Futuro, an independent non-profit based in Harlem, produces radio and TV shows as well as web content that capture stories many media outlets don't cover, such as a probing look at a town outside of Atlanta that was once 97 percent American-born but is now 53 percent foreign-born after the arrival of refugees from more than 40 countries. The 25-minute piece explores the viewpoints of the residents of Clarkston, Ga., about the fact that, for the first time, three former refugees were running for local elections. "This is journalism that has deep emotional content," Hinojosa says.
Her passion for journalism was ignited at Barnard where, during her sophomore year, she landed a slot at Columbia's radio station, WKCR, from 10 p.m. to 1 a.m. Hinojosa played Latin American protest music—"I started with 10 records," she recalls—and interviewed grassroots activists in Spanish. The show led to her first job, at NPR. She has received numerous awards, including four Emmys, the John Chancellor Award for Excellence in Journalism, and the Robert F. Kennedy Award. She also teaches Latin American and Latino studies at DePaul University in Chicago.
Hinojosa returned to her radio roots last year by creating a podcast that examines how people of color look at politics. In The Thick, launched during the election, explores topics such as how to talk about class and its relationship to race. The broadcast discussed the consequences of having darker skin as a Latino and the way that racial issues are often class issues.
Hinojosa is unafraid to speak up against intolerance and discrimination. During an appearance last year on MSNBC during the presidential election, she criticized a fellow guest for his use of the term "illegals" to refer to immigrants who are undocumented. "You do not label a people 'illegal.' They have committed an illegal act . . . but they are not an illegal people," she said on the show, AM Joy . "That's my job as a journalist," she explains. "We shine a light where there isn't one." 
— Photograph courtesy of Maria Hinojosa '84