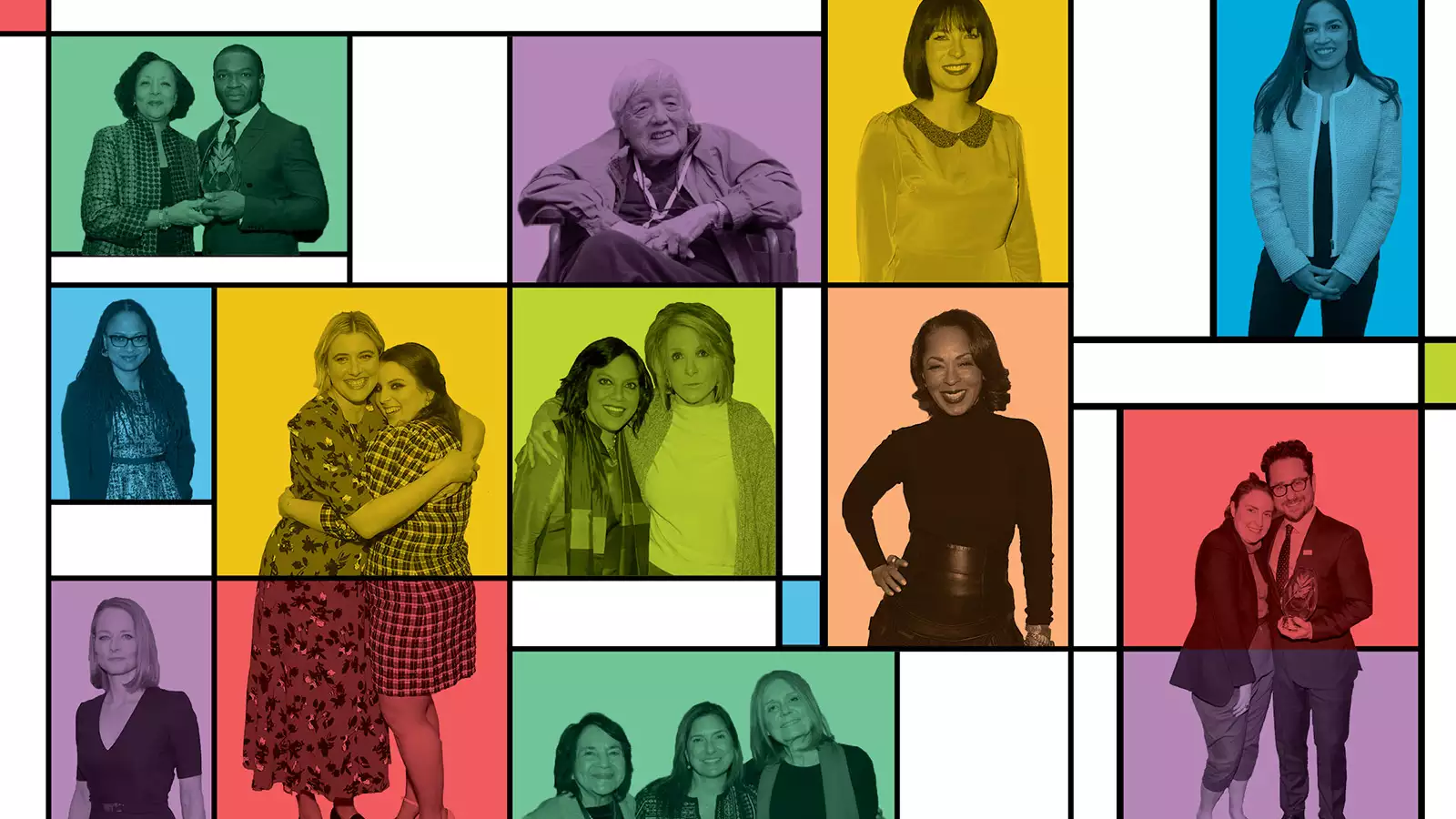 Barnard College's most prominent, signature annual event was conceived in the most Barnard way possible: in Gloria Steinem's living room. As Kathryn Kolbert, the Athena Film Festival's co-founder and current producing director, remembers it, Women and Hollywood's Melissa Silverstein had invited her to a party at Steinem's in honor of New Zealand filmmaker Jane Campion.
"It was a great party," she says, "and I'm walking around the living room hearing women filmmakers talk about how they have trouble getting their second and third films made." Kolbert and festival co-founder and artistic director Silverstein agreed that something had to be done, and a film festival was born to champion women and underrepresented filmmakers.
Films are like our cave paintings. They're what is going to be left behind. And if you don't have any women there, and you don't have any people of color, what are people going to remember? The world is not just white men, even though they want us to continue to believe that it is.
The festival furthers Silverstein's all-encompassing professional mission to push for a film culture that centers on gender diversity and inclusion. "Films are like our cave paintings," she says. "They're what is going to be left behind. And if you don't have any women there, and you don't have any people of color, what are people going to remember? The world is not just white men, even though they want us to continue to believe that it is."
For Kolbert, the festival was a natural extension of the Athena Center for Leadership, which she served as director of from its launch in 2009 until 2018. The center sought the same objectives that Silverstein and Kolbert, an esteemed journalist and public interest attorney (Planned Parenthood v. Casey), had for the festival: "... building a world where leadership is constantly reimagined to reflect the needs of women and society — where women obtaining and exercising power is both expected and commonplace."
Today, the center has matured into an integral part of Barnard and grown far beyond its humble beginnings in historic Milbank Hall. As the center celebrates its 10-year anniversary and better digs in the sleek, new Milstein Center, it looks to the future with its new director, Umbreen Bhatti '00, at the helm and its mission to define and develop women's leadership as vital as ever.
"When I was a student here, there was no place like this. I'm looking forward to growing Athena as a home for students who will lead us to a better world," says Bhatti.
Imagining an ideal world demands visionaries, which the festival welcomes en masse every year. It has become the place for women leaders in film and filmmaking. Reverberations from the creation of this forum have been huge. Some 40,000 people have attended the film festival in the past decade, viewing more than 400 films.
"It's a testament to the festival's mission that 70% of all films ever screened at Athena have been directed by women, with 64% written by women," says President Sian Leah Beilock. "And all of these films center on strong women, leading in different places and spaces throughout time and around the world. In contrast, just 25% of the films at top international festivals in the past three years were from women directors."
Last year, the festival started to award grant money in partnership with the Alfred P. Sloan Foundation and Netflix to help support the work of up-and-coming women filmmakers. The first Sloan development grant, established to promote stories of women in STEM, was awarded to Denise Meyers for her screenplay Lucky 13, and the inaugural Athena Breakthrough Award, sponsored by Netflix, went to director Unjoo Moon for her Helen Reddy biopic, I Am Woman.
Silverstein is especially proud of the emerging filmmakers honored by the festival who have subsequently found wide acclaim: Greta Gerwig '06 won an Athena Award in 2011, long before 2017's Lady Bird and 2019's Little Women launched her into prominence for her directing chops. (The festival has screened both of Greta's Oscar-winning films, with the director making video and in-person appearances, respectively.) And it honored Chinonye Chukwu's script Clemency with a spot on the 2017 Athena List (a "Black List"-inspired roster that recognizes the best women-inspired screenplays not yet produced). Chukwu went on to direct the film, which took the top prize at Sundance in 2019, making her the first black woman to win it.
While the festival has proved to be a successful launch pad for women in film on a global scale, it has also had a formidable impact on the next generation of women filmmakers. For Ashley Bush '11, who interned for the inaugural festival in the months before it opened, its mission has been personal, too.
"We spent the entire summer in the new Diana Center holed up in a room just watching all these films made by women," Bush says. "That was incredibly impactful for me as a young filmmaker." Since graduating from Barnard, she has built a career producing and writing in film and is currently working on a documentary that examines the history of the male gaze in cinema. Her work with the film festival "definitely affects my choices of what I work on," she says. "What I write, who I work with — it's had a long-term impact." (For more on how the festival and Barnard changed Ashley Bush '11's idea of what's possible in film, see "Where Are All the Women?")
For filmmakers like Bush, the festival very quickly became both a beacon and platform, shining a spotlight on the important work underrepresented artists are doing in film. It demonstrates and announces to Hollywood establishment what women can and should be doing as filmmakers and protagonists, while demanding change in movements such as Time's Up and #MeToo, both of which have been featured in panels hosted by the festival.
As Athena looks to chart its next 10 years amid the rising tide of films about and by women, a sea change is coming in the industry — thanks, in no small part, to the festival that took root at Barnard.
---
2020 Vision
A look back at the Athena Film Festival's 10th anniversary celebration
The Athena Film Festival wrapped a perfect 10 on March 1, 2020, capping a decade of hosting 40,000 attendees at Barnard College's signature annual event. Activists, directors, actors, and writers came together to celebrate the festival's milestone and commitment to showcasing the work of underrepresented filmmakers in partnership with the Athena Center for Leadership and Women and Hollywood.
"Every year I watch a screening at the Athena Film Festival, and I leave all the more inspired by the strong female characters and women behind the camera," said history major Connie Cai '21, who attended the showing of Sister Aimee.
This year's festival lineup presented more than 50 events and 62 films, including narrative, documentary, and short films; Q&As and panels; workshops and master classes; and more New York and international premieres than ever before — 22 total — as well as screening Golden Globe and Sundance prizewinners and Academy Award nominees over the course of the weekend-long event. The College's faculty participated as well, attending screenings with students for classroom discussions and also through panels on topics such as women in science, which featured professor of physics and astronomy Janna Levin, and art and activism, with professors of English and Africana studies Monica Miller and Yvette Christiansë.
On February 26, the 2020 Athena Awards honored Golden Globe-nominated actress Beanie Feldstein (Booksmart), producer and CEO of Gamechanger Effie T. Brown, director Unjoo Moon (I Am Woman), and filmmaker Jennifer Kaytin Robinson (Someone Great). Moon was honored with the inaugural Athena Breakthrough Award, sponsored by Netflix, which provides $25,000 to a first- or second- time woman filmmaker whose project has not yet secured U.S. distribution. Her film follows singer Helen Reddy and her hit song "I Am Woman," which became an anthem amid the second-wave feminist movement of the 1970s.
Guests included Gloria Steinem, filmmaker Lorraine Toussaint, and Netflix vice president of inclusion strategy Vernā Myers '82, among other luminaries. Academy Award-nominated director Greta Gerwig '06 presented Feldstein with an Athena Award in what became an onstage Lady Bird reunion for the two friends.
On Friday night, Yu Gu's documentary A Woman's Work: The NFL's Cheerleader Problem screened, followed by a Q&A with former New York Jets cheerleader Krystal Cruz and New York Assemblywoman Nily Rozic. The film takes a closer look at the salary imbalance between NFL cheerleaders and the football players, highlighting the mistreatment of the cheerleaders and lawsuits against their teams. On Saturday, Disney's Frozen II gathered students, staff, and children dressed as their favorite characters to see the animated feminist tale. The screening was preceded by "The Present and Future of Women in Animation," a panel moderated by animation veteran Jinko Gotoh.
In what was a powerful discussion, Hollywood Reporter journalist Tatiana Siegel moderated the "Silence Breakers" panel with music producer Drew Dixon, writer Sheri Sher, actress Sarah Masse, and writer Jasmine Lobe. Dixon and Sher discussed breaking their silence against hip-hop mogul Russell Simmons, while Masse and Lobe discussed coming forward to describe their experiences with the former Hollywood media giant Harvey Weinstein.
The four are now advocating together to further the employment of sexual survivors in Hollywood, via the #HireSurvivorsHollywood initiative, spearheaded by Masse. "It is important for me to let fellow artists know that this is an issue in our industry right now and how they can be a part of changing it," Masse stated.
"Barnard sits at the intersection of STEM fields and female narrative[s]," said screenwriter Mary Elder. This year, the festival featured more STEM-focused films and events than ever before, through its partnership with the Alfred P. Sloan Foundation, a nonprofit organization that awards grants for science and technology. The Foundation bolsters screenwriting labs and STEM focused films as part of Athena's larger parity pipeline that features women on screen and at the forefront of creative development.
The festival screened four films centered on women in STEM fields: Neasa Hardiman's Sea Fever, Marie-Sophie Chambon's Stars by the Pound, Todd Thompson's Woman in Motion, and Jack Thorne's Radioactive. "With research showing how important it is for girls to 'do science,' as opposed to 'being scientists,' it's critical that films represent women doing science and achieving their dreams," said President Beilock. 
— Stefani Shoreibah '21