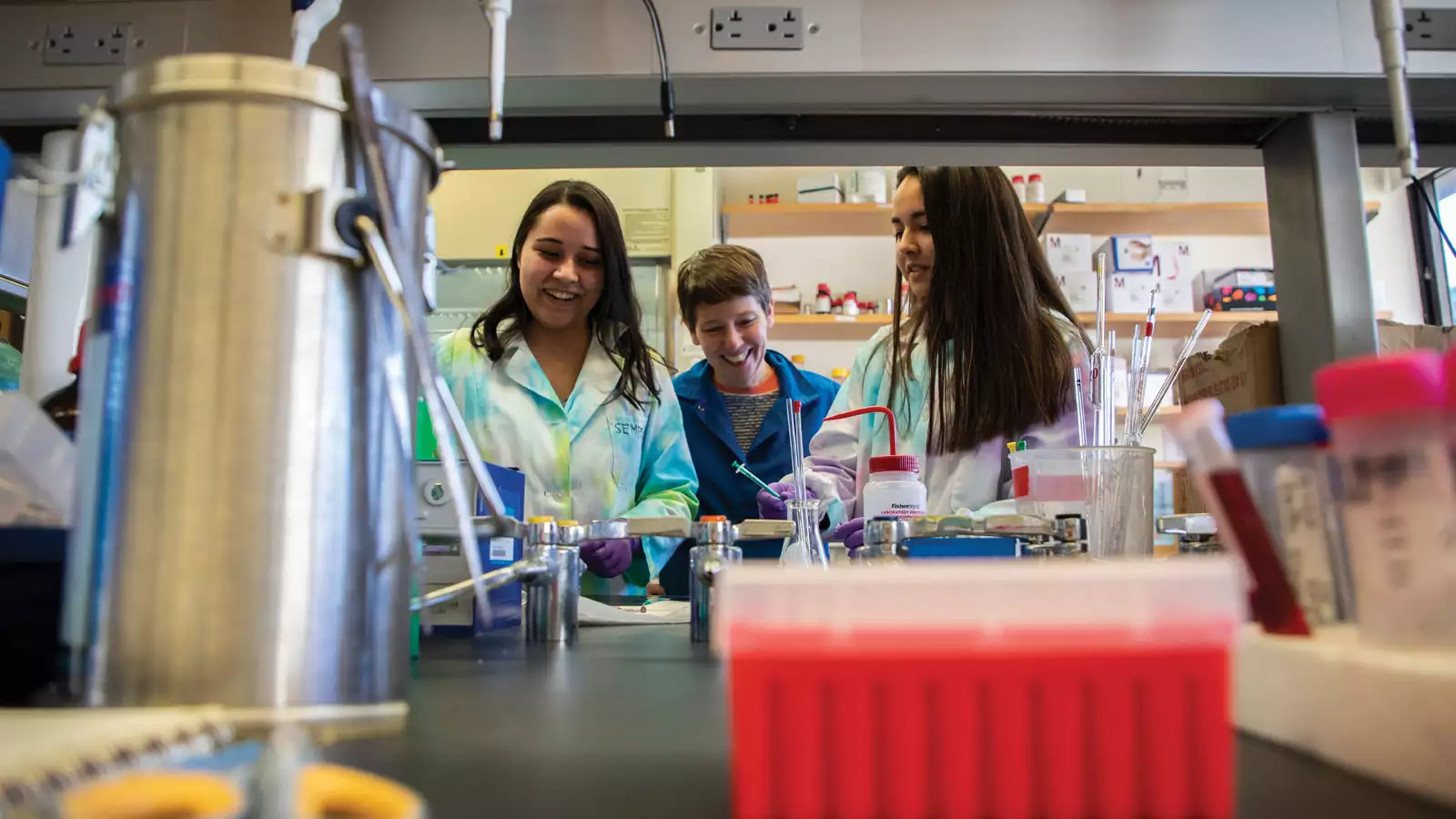 Sedelia Rodriguez remembers how it feels to be an outsider in science. She grew up in California with parents from Mexico who didn't expect her to go to college, let alone pursue a career in science. It was, Rodriguez says, "unheard of." But she discovered her passion for the subject as a first-generation college student in a geology class at California State University, Los Angeles. There, she met a professor, a Latino like her (he was the only one in the department), who pushed her to graduate and continue her studies, encouraging her to '"be an example for others,'" she recalls. "He kept saying — not in a gruff way — that it was my responsibility to do this not just for myself but for others."

 
Rodriguez took heed of this advice. She went on to complete her postdoctoral research at Columbia University. Today, she's the assistant director and academic coordinator for the Science Pathways Scholars Program — nicknamed SP2 — at Barnard. And she's become that very role model for Maria Blankemeyer '23, an SP2 student in chemistry from Austin, Texas. Rodriguez was the first person Blankemeyer had ever met who "had a high-standing role within the sciences who was like me," she says. "It was a relief to be able to recognize myself in somebody else who has everything I hope for."

Providing mentorship is just one of many goals for SP2. The four-year program brings to Barnard exceptional minority and first-generation students with a strong interest in science. Students can major in biology, chemistry, environmental science, physics/astronomy, or neuroscience. (Computer science majors will be offered in fall 2020.) And the benefits are manifold. From three summers of funded research to academic advising by senior STEM faculty, SP2 provides each participant with a number of unique opportunities to delve into their studies and forge a career path in the field of science.

Launched in 2016 with a grant from the Sherman Fairchild Foundation, SP2 now includes 32 students. The first cohort graduates in May. The pool of applicants is competitive: For the class entering in fall 2019, 446 students applied for 10 slots in the program.

Barnard developed SP2 to help address the serious lack of diversity among U.S. science students and, subsequently, in the science professions, including academia. "We were tracking national trends but also responding to our perceptions of what was happening with students at Barnard," explains Paul Hertz, Claire Tow Professor of Biology and SP2 director. "The numbers of underrepresented minority students and first-generation students who express an interest in science and then switch out [of the field] have been pretty high nationally."

The reasons for this fallout are complex. For some students, the need to hold a job during college can make pursuing a demanding science curriculum especially challenging. And, as Rachel Narehood Austin, chair of Barnard's chemistry department and SP2 faculty advisor, points out, "there just is still quite a bit of implicit and explicit bias about race in America," which can manifest in different ways on college campuses and make students feel as if "they don't belong."

 
SP2 is designed to do the opposite, welcoming young talent into the fold. It starts with the pre-first-year summer experience: Students visit the research facilities, meet professors, and get acquainted with each other and the campus. "Knowing my professors made going into introductory science courses much less intimidating and instilled me with confidence," recalls environmental biology major Livia Martinez '21, a Miami resident whose family immigrated from Cuba.

First-years take a seminar together called the Journal Club to read and discuss scientific literature. Students also learn how to write a résumé, create a cover letter, and approach potential mentors to discuss interest in their work. The training has proved successful based on where SP2 students have landed summer research posts, including a Nobel Prize winner's lab in Columbia University's biology department and a spot at the National Science Foundation program for physics research in Paris.

Martinez found her place at the New York Botanical Garden, where she's carried out research since 2018. Her current focus is extracting DNA from historic herbarium specimens and studying their genes to better understand the implications they might have for contemporary agriculture. Though the research opportunities are extraordinary, Martinez says the friendships among SP2 students have been "one of the most amazing parts" of her Barnard experience. "The older cohorts always feel a sense of responsibility to those who are younger than them," says Martinez. This support she says, creates "a safe space where we can ask for help from those who can give it and extend our helping hand to those who need it."

Though the retention rate in SP2 has been high, a few students have left the program when other subjects beckoned. That's okay, Austin says. "College is a time of exploration. It's fine if a student gets here and then realizes there's something she likes more." Those students even continue to receive summer research funding in their new disciplines.

For Janine Sempel '20, SP2 spurred a revelation. She knew two things about herself when she arrived at Barnard from her home in Los Angeles: She hated chemistry, and she planned to major in neuroscience. Then she decided to take a chemistry class her sophomore year. That changed her world. She switched majors, published a paper in an academic journal with Austin, who is her mentor, and is in the process of writing two more.

In August, Sempel will move to Mozambique to teach high school science with the Peace Corps, serving as that critical role model for a new generation of students. Down the road, she plans to study for a Ph.D. Ultimately, she wants to work in green chemistry, researching biofuels and finding more sustainable sources of energy. "I've grown a lot in my time at Barnard," she says. Thanks to SP2, she feels "at home and most confident in a lab." Science, she knows, is where she is supposed to be.