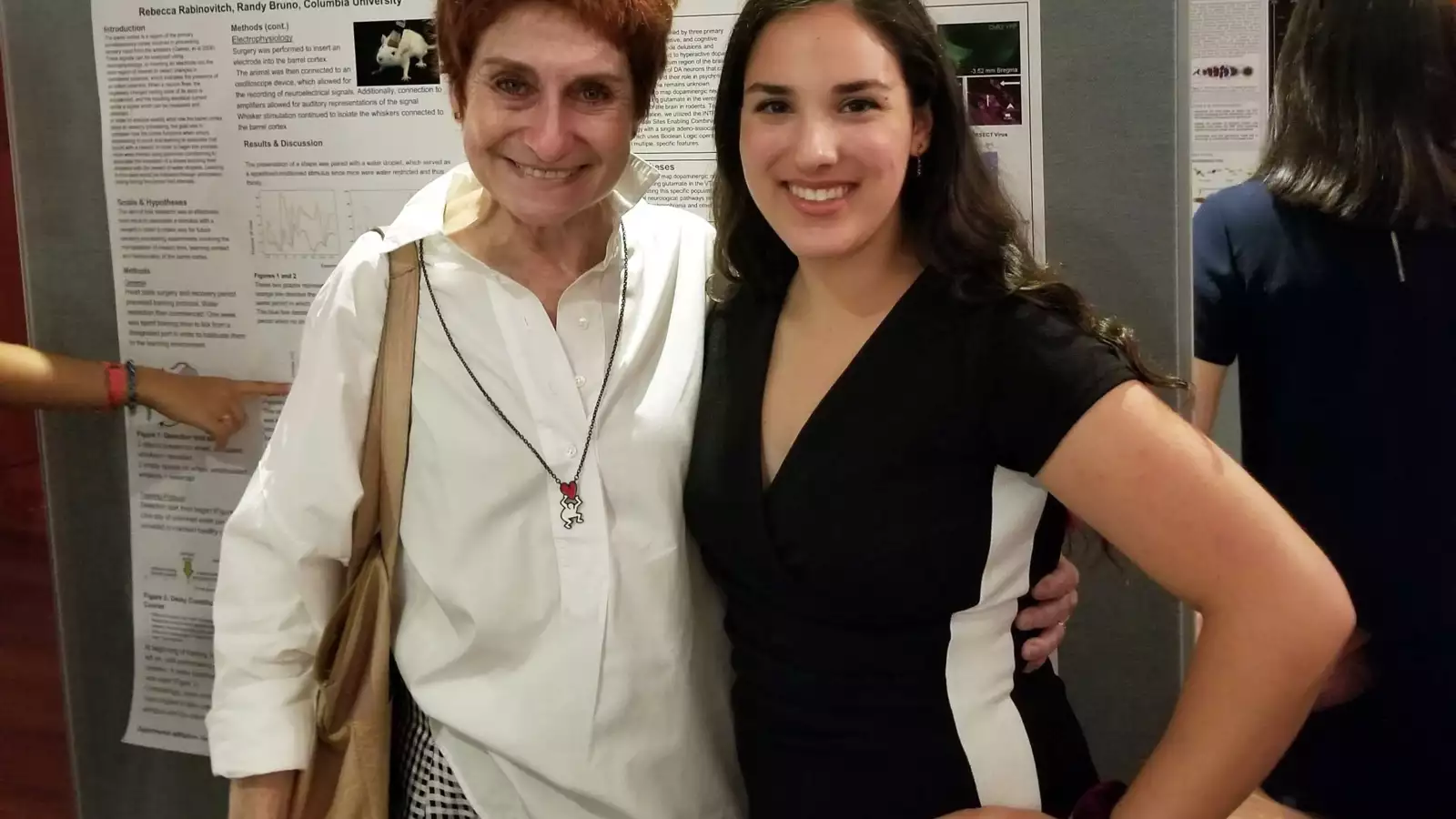 Since starting her scholarship fund in 2003, Lida Orzeck '68, founder and CEO of the lingerie company Hanky Panky, has played a critical role in the education and lives of numerous Barnard students. Her mentorship has been far-reaching and enduring, culminating in meaningful relationships with scholarship recipients, such as the one she's fostered with recent graduate Aliza Amsellem '20. While we weren't able to come together for this year's annual Torchbearers Celebration — at which Orzeck was to be the honorary speaker — due to the COVID-19 pandemic, we were fortunate to catch up with Orzeck and Amsellem. The two women filled us in on their close friendship and how the scholarship aid has created a sense of community while championing the next generation of strong Barnard women.
Lida, what inspired you to become a financial aid donor?
Lida Orzeck: I was a Brooklyn kid who was raised with an orientation towards equity and fairness. Orzeck family lore involved my father's work for the Bureau of Indian Affairs after he received his medical degree in the late 1930s. Newly married, my parents relocated to Neah Bay, Washington, where my dad provided the only professional health care within a 200-mile radius from his base on the Makah Reservation. I always had a sense of a larger, more inclusive universe, of which I felt my family was a piece.
But during my young adulthood, academia occupied my attention, and then for several decades, my intense focus on building and running my company drove my daily life. When I finally stopped, looked up, and took a breath, I knew I had to act on issues that were most troubling to me — the multidimensional inequities in our society. The success of Hanky Panky allowed me to act financially on my philanthropic instincts, and over the next few years I was able to grow the fund, culminating in supporting an actual Barnard student in 2008. Since then, five students have received support from the Lida Orzeck '68 Scholarship Fund, but I believe that it is I who has received the most benefit from this arrangement.
I love the family feeling that my scholarship has spawned. As my community of sponsored students grows, each year at the Barnard Annual Gala, we test the seat limit at the table.
Lida and Aliza, when did you first meet, and what has been so unique about this relationship? How has it evolved over time?
Lida Orzeck: We met at the Torchbearers Celebration in 2018, and what makes my relationship with Aliza unique is that Aliza is Aliza! Her interests and talents run the gamut from the arts to the sciences, so getting to know her has been fun, entertaining, and uniquely enriching. She is a visual artist, an a cappella singer, a dentist-to-be, and she volunteers and mentors in her own right. Whew! It has been an enormous pleasure for me to build a relationship with Aliza and become even a small part of her fascinating life.
Aliza Amsellem: I distinctly remember how incredibly nervous I was to meet the woman whose generosity has made my experience at Barnard a reality. But the minute I met Lida, that nervousness dissipated. I was immediately comforted by her warm and enthusiastic disposition. Throughout the entire night, we learned about each other — about our passions, interests, families, goals, and of course, the ultimate link: our experiences as Barnard women. Though Lida and I had our Barnard careers years apart, our connection with each other and to this school continues to flourish. To this day, Lida and I remain present in each other's lives. From meeting for Sunday brunch to updating each other on current happenings, I am confident that our friendship will last a lifetime. Now that I have graduated from Barnard, I am excited to update Lida with my future academic and career accomplishments in the field of dentistry.
As a recipient, Aliza, what has been so impactful about receiving scholarship support and Lida's mentorship?
Aliza Amsellem: Something very special about Lida is that she not only connects with people, but she also has a knack for connecting people with each other. Every year, Lida generously invites all of her previous and current Barnard scholarship recipients — who I have dubbed my "scholarship fam" — to the Barnard Annual Gala. It is incredible to sit at a table with Barnard students and alumnae of all different ages and to hear about how each one of them is making a unique impact on this world. We reflect upon how Barnard has changed over the years but agree that the important things, like the warm and supportive community, have persisted. I am incredibly grateful to Lida for bringing me into our little intergenerational Barnard family, and I cannot wait to continue developing our friendship.
If there is one thing that I have learned from Lida and my wonderful scholarship family, it's that my journey with Barnard by no means ends when I graduate. I look up to Lida immensely for the work she has done to become successful, and I am grateful every day for her generosity to Barnard. I look forward to doing Lida and Barnard proud as I embark on this next leg of my journey.
Lida, what do you hope Aliza and other scholarship recipients take away from their Barnard experience, especially as they prepare for their next chapter after graduation?
Lida Orzeck: Our country has such deeply ingrained, foundational problems around inequitable financial access and social mobility. Scholarship aid alone will not solve historically rooted unfairness, but recruiting a more economically diverse student body is still crucial. This country — this planet — needs as much brainpower as it can foster, and the talent is out there. Not to mention it's simply wrong that one's ability to get a top-tier college education can be determined by one's ability to pay for it. It is my belief that those of us who are fortunate enough to have the financial capability have an actual responsibility to be generously philanthropic. I have chosen Barnard not simply because I was a student here but because my overall engagement with the College has convinced me that the academics, the values, the community, the faculty, and the leadership have earned and deserve my personal and financial support.
Encouraging our talented, deserving young women is essential to improving our future. I hope all scholarship recipients share this orientation and act on it as they can, when they are able.