Imagine going behind the cordons of a period room at the Metropolitan Museum of Art, guided by a renowned curator, to examine a piece of furniture the public can see only from a distance, or having the chance to examine a rare silver serving piece from the collection of the New-York Historical Society.
One team studied the story behind furniture commissioned by Marie-Antoinette; another focused on the artisans' tools and materials. Avery Schroeder '16, an art history major, devoted her attention to 18th-century color, starting with porcelains and branching out to other areas of material culture. For her group's section of the virtual exhibit, "Materials and Their Makers," she used images of Sèvres porcelain from the Met's online collection, then worked in Photoshop to show them laid out in arrangements accurate to the period. "Our goal for our final project was to place the history of the artisans who worked on these materials back into the Tessé salon itself," she says. Schroeder is now writing her thesis on colors of 18th-century Sèvres porcelain and applying to master's programs in the decorative arts. Says Higonnet, "The kinds of objects in the Met period room are so three-dimensional. It's not just that they have three physical dimensions, it's that their meaning and purpose, the beauty of their design, is inherently three-dimensional."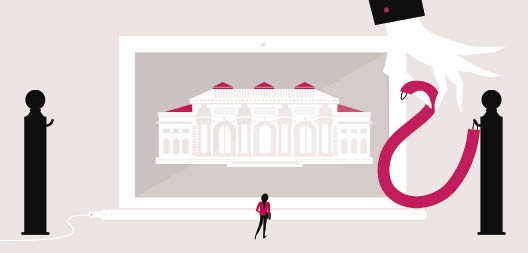 The Barnard Teaches: Real Place + Digital Access initiative is funded by a five-year, $800,000 grant from the Mellon foundation. Barnard faculty develop the courses in collaboration with curators, archivists, and collection specialists at their respective institutions. Says Linda Bell, provost and dean of the faculty and a principal investigator on Barnard Teaches, "What we proposed was that, being the best liberal arts college located in a major city, we have a unique opportunity to embrace what we do best, which is close student-faculty interaction, and challenge it with the notion that the combination of technology (innovations in how we teach) and places (the cultural institutions and museums that define New York City) can enhance that experience," she says.
To prepare for the Barnard Teaches courses, students receive extensive digital training—typically from the International Center of Photography—where they learn such skills as how to photograph objects, and manipulate photos with software such as Photoshop, and how to design websites. The digital technology helps the students understand and present what they've learned in a visual, dynamic way that traditional term papers do not.
The principal investigators also expect that the Barnard Teaches courses will serve as prototypes for educators around the world for incorporating local cultural and scientific resources into classroom learning, coupling them with instruction in digital production skills, and allowing new forms of analysis and presentation of findings. "Imagine you're a small rural college, for instance," posits Bell. "You could see this course being taught in conjunction with a local historical society or other organization."
Kimberley Johnson, professor of political science, director of the urban studies program, and also a principal investigator, taught the second course, "New York City's Gilded Ages: Coming of Age, Past and Present," which ran in Fall 2015 and will repeat in the spring of 2017. Meredith Linn, assistant term professor of anthropology in the urban studies program, cotaught the course. It compares the original Gilded Age, from the 1870s through 1900, with the present era, often referred to as the Second Gilded Age. Says Johnson, "We're looking at people both in the past and in the present, in these moments of economic inequality and social stress, and thinking about how young people come of age in these different time periods, and how they create their sense of self."
Curators at the New-York Historical Society (N-YHS) led students through exhibits, instructing them on how to conduct close readings of objects through hands-on examination, looking for clues about how they were made and used. For example, students were taught how to identify pieces of information from maker's marks and and hallmarks on silver works. Throughout the semester, each student researched a single object from the first Gilded Age, which she then paired with a comparable modern object (literal or virtual). These comparisons focused on the objects' underlying significance, in terms both of personal identity and larger cultural meanings.
N-YHS site visits gave students insights into the behind-the-scenes workings of the institution, including how an exhibit is constructed. Working in teams, the students created a detailed digital exhibition that compares and contrasts, among other pairings, a parasol and yoga pants, each a physical embodiment of wealth, class, and status; a pocket watch and a T-shirt, both adorned with Native American imagery; and a portrait miniature and a Kim Kardashian selfie.
The highlight of the site visits was access to the N-YHS artifacts and curators. "It's one thing to get an image of the object that the museum sent us, versus seeing that object on a table," Johnson says. "There's a degree of detail that you simply can't see if it's a stock image."
"I think you can research any object at all—like a paper cup, for example—if you just know how to look at it," says Debra Schmidt Bach, curator of decorative arts at the N-YHS, who collaborated on the course. Margaret R. Laster, associate curator of American art and co-collaborator, adds, "Objects can be the starting point for many, many questions that can come back to the object or lead to a much broader inquiry."
The benefits of this Barnard Teaches class go beyond the students, whose research so impressed the curators that it may ultimately be added to the objects' accession files at the N-YHS. Some of the objects, in fact, hadn't yet been researched by the organization's staff.
Two more Barnard Teaches courses are on the horizon. In spring 2016, Kim F. Hall, the Lucyle Hook Chair of English and professor of Africana studies, will teach "The Worlds of Ntozake Shange and Digital Storytelling" about the famed poet, performance artist, playwright, and novelist Ntozake Shange '70. Hall's course will be in collaboration with the Schomburg Center for Research on Black Culture. Next year, Paul Scolieri, associate professor of dance, will teach "Digital Footprints" in conjunction with curators from the Jerome Robbins Dance Division of the New York Public Library, using its collection of historic dance images, films, and videos, which is among the world's largest and most comprehensive.
"With technology ever evolving, institutions of higher education continue to explore the question of how digital tools can enhance the experience of studying the humanities in the 21st century," says Linda Bell. "We're using traditional tools, celebrating what we do best, and conjoining it with the place that we are—a vibrant and historically rich New York City. We need to be ahead of the curve, and one of the unique things that's come out of these courses is that we've engaged the humanities into thinking strategically about how to employ digital techniques in the context of the undergraduate and broader educational experience." •