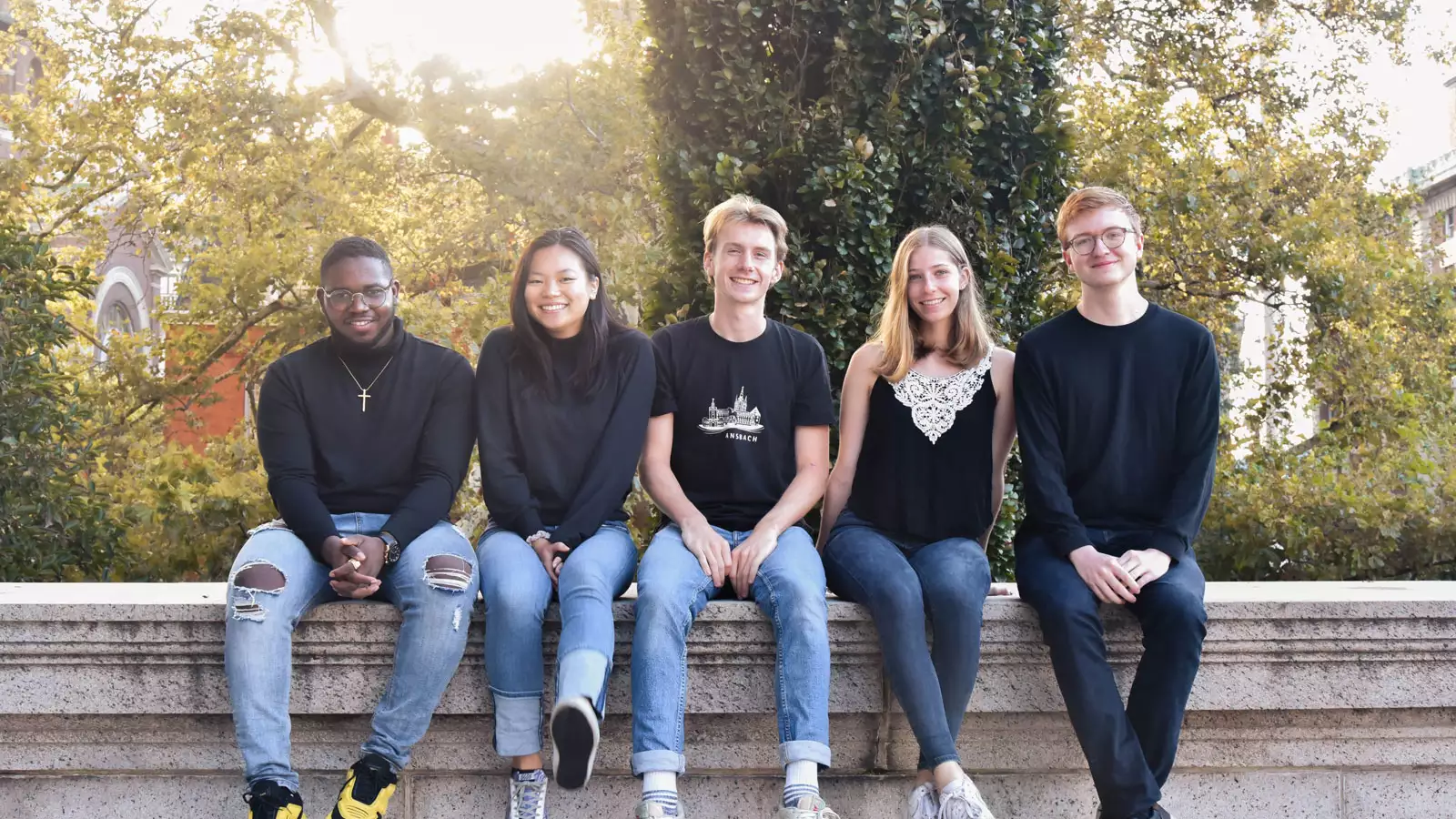 For some, neuroscience can be intimidating — and mystifying. "When I tell people that I am a neuroscience and behavior major, the most frequent response I get is, 'Wow. Intense,'" says Rochelle Vayntrub '22. "There is a prevailing stereotype of neuroscience being something foreign and impenetrable."
This stereotype is exactly what Vayntrub and her peers set out to dismantle with Grey Matters Columbia University (CU), a joint Barnard and Columbia literary journal geared toward making neuroscience more accessible to the public by demonstrating how it permeates daily life.
In their inaugural issue (spring 2021), for instance, they addressed how language is processed while reading, how the brain reacts to seeing a painting, and the challenges with sleep after bingeing a television series. "We wish for a conversation about neuroscience to happen as casually as a conversation about the newest blockbuster movie," states the journal's "About Us" section.
With the Barnard Year of Science officially underway (October was Neuroscience and Behavior Month) and the Barnard Department of Neuroscience & Behavior growing rapidly (the program, launched in 2019, now has more than 100 majors), the new, semesterly neuroscience publication is right on time.
The Origin Story
Shortly after Vayntrub transferred to Barnard from Georgetown University for her junior year, she got down to work. In November 2020, she sent an email to the original Grey Matters chapter, a student-run organization at the University of Washington (UW), to ask about starting a Barnard/Columbia version — at the time, only UW and Vassar College had chapters. She also reached out to Rebecca Yeh '22, a fellow neuroscience and behavior major who had transferred from the University of Maryland at College Park, to see about collaborating with her. "I found this opportunity to be one where I can meet many students, as well as be able to discuss my work in research with my non-STEM peers in a comprehensible way," says Yeh, who agreed immediately to work on the project. Today, the publication is helmed by Vayntrub and Yeh, who serve as its co-editors-in-chief.
Yet starting a publication and forming a team during the pandemic was rife with challenges. As transfer students, Vayntrub and Yeh had to get to know other students. And recruiting an entire team while remote sometimes felt like a Sisyphean task. They found success, nonetheless, by relying on social media and asking professors to share the news with their classes. "Applications came pouring in," says Vayntrub. "It soon became clear to us that Grey Matters was an opportunity that many students had been waiting for."
Elynn Isabella Chang CC'23 was one such student. Chang saw a post about the journal on her class page, and she was surprised there wasn't already a publication like Grey Matters on campus. As the editing coordinator for the spring 2021 issue, Chang was excited to explore the intersections between neuroscience and music. "The thought of working with both like-minded but different people was intriguing," she says. "I also wanted to actively take part in making something [that] I'm passionate about accessible to all."
Throughout the process, Vayntrub says, Barnard's Department of Neuroscience & Behavior was an indispensable source of support — particularly Rae Silver, the Helene L. and Mark N. Kaplan Professor of Natural & Physical Sciences, and Michele Miozzo, the Department of Neuroscience & Behavior's administrator. "The department supported us from the day of our conception to the printing of our first issue and continues to do so today," says Vayntrub. 
A Peek Inside the Spring 2021 Issue
The spring issue of the journal consists of four main themes — Nurturing the Nervous System, Where Our Axons Meet, Mental Health and Neuropsychiatry, and Making Headway in Neuroscience — and explores a vast subset of topics under the neuroscience umbrella. In "Integrating Medicine and Minds," for example, Atara Schulhof '22 delves into different forms of holistic medicine, such as acupuncture, neurofeedback, and aromatherapy. And in "DID I Do That?," Anastasia Velikovskaya '21, former outreach director for Grey Matters CU, tackles dissociative identity disorder (DID), once known as multiple personality disorder.
"As a writer, my biggest takeaway was that it takes a village to produce even one piece," says Velikovskaya. "I am grateful for the entire team of editors, illustrators, and scientific and lay reviewers who gave me feedback every week and helped my article come to fruition."
To make the journal even more accessible to a large audience, each article included a scannable Spotify code that led readers to a podcast version narrated by one of the team members.
Throughout the publication, there is a swell of eye-catching illustrations — all created by Barnard and Columbia students. Josef Pawl GS'22 illustrated the menstrual cycle in the article "That Time of the Month" to help readers easily visualize and understand the science behind menstruation.
A Team Effort
True to their commitment to interdisciplinary work and inclusivity, Grey Matters CU invited both STEM and non-STEM majors to collaborate on the spring issue, as well as on the upcoming fall issue and beyond. For each publication, writers pitch ideas for consideration, and generative editors and scientific review editors are matched to those that are selected (illustrators are also matched to articles based on their preference). To ensure accuracy, Grey Matters CU recruits Columbia-affiliated Ph.D. neuroscience students to help edit articles and offer expertise through the Graduate Student Review process.
"Getting to work with so many editors and graduate student reviewers completely enhanced my writing skills, from things as simple as jargonless word choice to broad notions of scientific accuracy," says Samuel Hutchinson CC'23, a writer for the spring issue.
One of the cornerstones of the journal is that students from both sides of Broadway helped bring the vision of the spring issue to life — something the Grey Matters CU team takes pride in. "The Columbia-Barnard partnership has been imperative to the success of Grey Matters thus far," says Chang. "This collaboration has been so seamless that oftentimes it doesn't feel like a partnership at all. We are just a collective undergraduate student body, all passionate about sharing neuroscience with the world."
For Vayntrub, successfully leading the team and bringing a journalistic spin to neuroscience was a direct result of the campus support they received. "Since starting the organization, I have felt incredibly empowered by Barnard to pursue this passion," says Vayntrub. "Out of all the universities in the country, I cannot imagine a better place for a woman to found a science publication than Barnard."  
The fall issue of Grey Matters CU — its second edition — was published in early December and includes stories on homelessness, psychedelics, pollution, neurocinematics, and more. For updates, visit greymattersjournalcu.org or follow Grey Matters CU on Instagram.