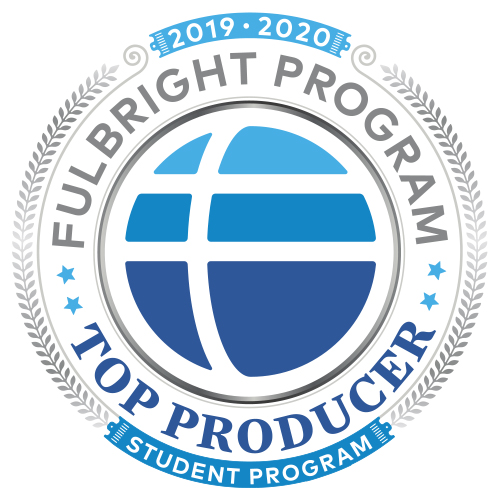 For the third year in a row, Barnard has been named one of the top producers among U.S. colleges and universities of students selected for the Fulbright U.S. Student Program. Out of 35 applicants, six students were selected, and four accepted Fulbright awards for the 2019-20 academic year, ranking Barnard among the top undergraduate colleges to share this honor. (Two of the six declined the Fulbright to accept other prestigious fellowships — a Pickering Foreign Affairs Fellowship and a Harvard University Center for Arabic Study Abroad (CASA) Fellowship — that aligned better with their long-term goals.) The Fulbright honorees are currently teaching or conducting advanced research in Malawi, Bulgaria, Romania, and Taiwan. The news was announced on Monday, Feb. 10, 2020, in The Chronicle of Higher Education, which publishes the list of top producers annually.
"We are so proud to be one of the schools to receive this distinction and congratulate our students whose hard work, ideas, and dedication earned them a coveted spot in this program," said Sian Leah Beilock, president of Barnard College. "It speaks volumes about the academic excellence of our faculty and students to be honored for nine of the past 11 years."
"With the incredible support of Beyond Barnard's dedicated staff and with the continued support and advice of faculty, our students and alumnae have both the preparation and resources they need to pursue competitive fellowships, scholarships, and awards like Fulbright," said Barnard Provost Linda Bell. "And, the recipients' commitment to fostering the important exchange of knowledge, culture and language is more critical than ever."
The Fulbright Scholarship Program is the U.S. government's flagship international exchange program, which provides grants for individually designed study/research projects or for English Teaching Assistant Programs during one academic year in a participating country outside the U.S. Administered by the U.S. Department of State's Bureau of Educational and Cultural Affairs in conjunction with the Institute of International Education, the Fulbright Program provides more than 2,200 students and young professionals the opportunity to study, teach English, and conduct research in over 160 countries worldwide. Recipients are often paired with nonprofits and NGOs to complement their research and benefit the local communities where they are placed, exchanging ideas and finding solutions to important international problems.
See the rankings in The Chronicle of Higher Education, find out more about the Fulbright Program at their website, or visit Beyond Barnard for more information on competitive national and international opportunities like the Fulbright program.