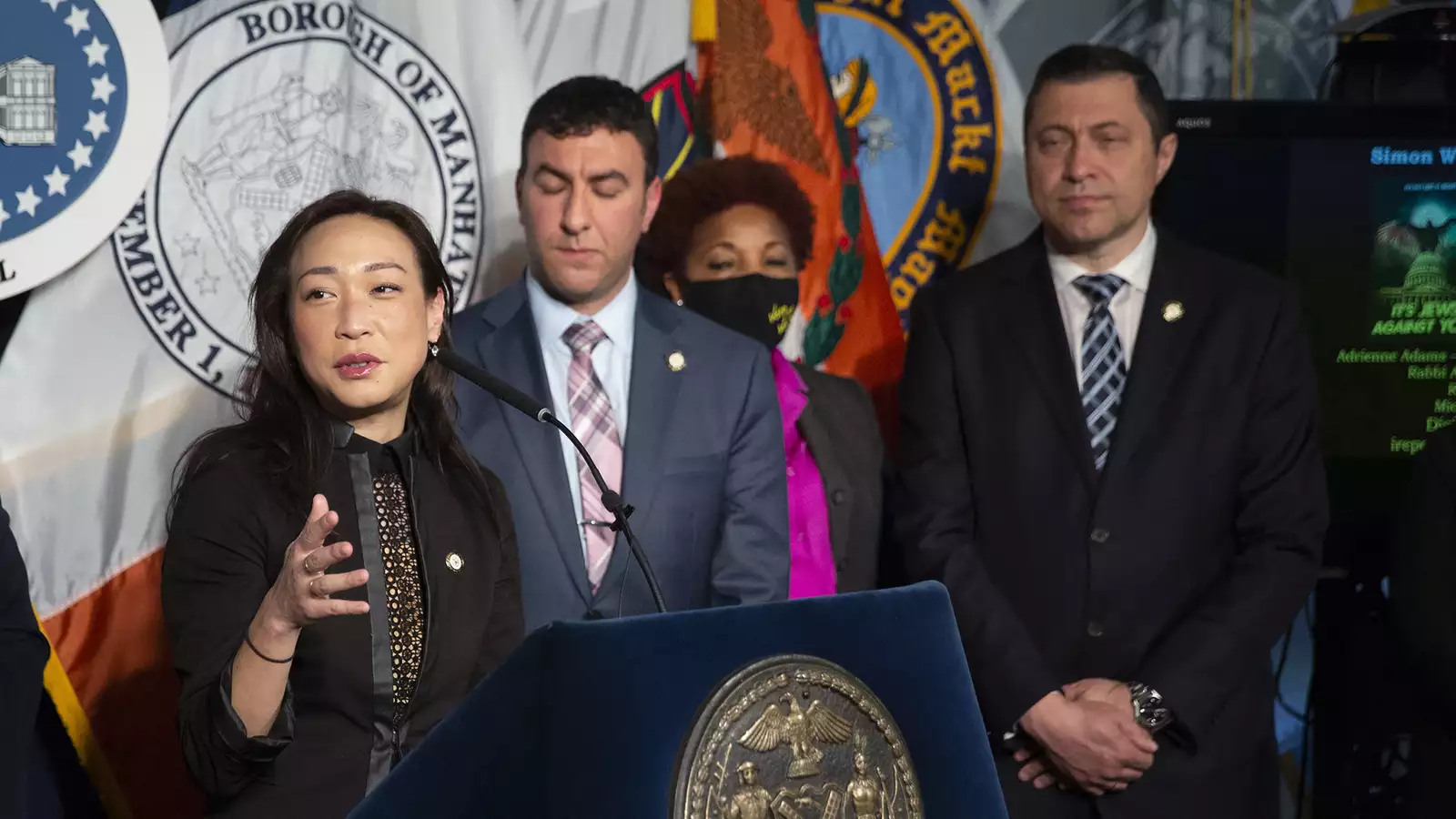 One of the greatest lessons Linda Lee '01 learned from Barnard happened before she was enrolled in the school. The New York native was so sure she wanted to attend the College that she applied early — only to be waitlisted. A friend who had gotten accepted encouraged her that instead of giving up, she should write a letter to the admissions office expressing everything she'd done academically and extracurricularly since applying, and how Barnard remained her first choice. The next piece of mail she received from the school was an acceptance letter. 
"That was one of the first things to show me you have to advocate for yourself if you want something," said Lee, who continues to live by this philosophy now that she is the New York City Council member representing the 23rd Council District in eastern Queens. As the first Korean American ever elected to the City Council, and the first woman and person of color to hold the seat, Lee works not only to improve life for all New Yorkers but also to be a voice for those who have traditionally not been represented in electoral politics. 
Much of Lee's worldview was shaped while she was at Barnard, and her time as an undergraduate continues to impact the work she does today. Lee arrived at the College after attending a small high school where everyone knew her. But at first-year orientation events, she sat among hundreds of strangers. "Growing up in Long Island, there weren't a lot of Asian Americans, so going to Barnard was a huge culture shock," she said. "I'd always thought 'I'm an American,' and then being thrown into a new environment, people were making assumptions of who I was based on my face and what I looked like."
 
It was an experience that Lee initially found uncomfortable, but after a time, it was empowering. "While at Barnard, I really embraced my Korean identity and became proud of it," she said.
 
Aside from connecting to and exploring other aspects of who she was, Lee also spent her years at Barnard discovering why the world was the way it was. As an economics major, she took classes that focused on how environmental, sociological, and political factors impacted economics. Lee says it changed the path she was on — shifting her from someone who was going to graduate and work in finance to someone who was going to address these unequal factors. A job as a camp counselor in the Poconos working with kids from the Bronx, the summer before her senior year, further cemented her determination. "I knew I wanted to help people but just wasn't sure how," Lee said.
 
Not surprisingly, three years after graduation (including a year spent teaching English in China in a region with many Korean Chinese residents), Lee entered the Columbia School of Social Work in 2004 to get her master's degree. She wanted to focus on administrative work "to support frontline workers," she explains.
 
In 2009, Lee became associate executive director at Korean Community Services (KCS), New York's first community-based social service organization focused on the Korean community. In her 12 years there — during which time Lee became the executive director and then president/CEO — the organization expanded to serve over 1,300 members daily with programs focused on aging, education, immigration, workforce development, public health, and mental health. While there, Lee helped to create the only state-licensed mental health clinic serving the Korean American community in New York. 
KCS also worked with New York University to conduct the-first-of-its-kind research on health concerns that disproportionately impact Korean Americans, such as diabetes. "We would go to City Hall and say we need this funding, and they'd say, 'Where's your data?' and there was none. So we worked with NYU to get it," she said. 
 
Lee's experiences at KCS showed her that there were limits to how much change she could make on the nonprofit side. "Working in the Korean American community, I saw we had no seat at the table, and lawmakers had no idea what we were doing and who we were. A white man in Albany was dictating how to run my organization in a way that would affect services on the ground and how they were delivered," said Lee. "I thought, 'We need to advocate, fight, and have a seat at the table, or we will be forgotten about.'"
In her 12 years at KCS, a number of people told Lee she should run for office, since she was already a vocal and public advocate for Korean American communities. And each time she had the same response, which boiled down to a professional way of saying, "Get out of here!" "I had this idea that all politicians were evil," she said, laughing. 
 
And then 2020 — or more specifically, the COVID pandemic — happened. As the world went indoors, armed with little information as the coronavirus tore through communities across New York City and hate crimes against Asian people rose, Lee went back to a lesson she learned from Barnard: There are times when you have to do it yourself to make sure something is properly done. 
 "I wanted to be a part of the change-making on the other side, including better policies."
"COVID was the final straw for me. I wasn't saying I was the best person to figure it out, but come on, N.Y., we have to do better. I wanted to be a part of the change-making on the other side, including better policies," said Lee, who added that during campaign speeches she would lean into the feedback professors had given her during a public speaking course she took at Barnard. "I didn't realize how verbose and wordy I am. To this day, I go into the background too much and need to land the plane."
In November 2021, Lee was elected to the City Council — and for the first time, the council is majority women. And quite the opposite of what she used to imagine she'd find among her fellow lawmakers, Lee is surrounded not by evil people but by women who were moved to run because they wanted to bring change to issues that they didn't see being addressed. "There are a lot of folks like me who have this perspective," said Lee, the mother of two young boys. "We want our streets safe and our children thriving."