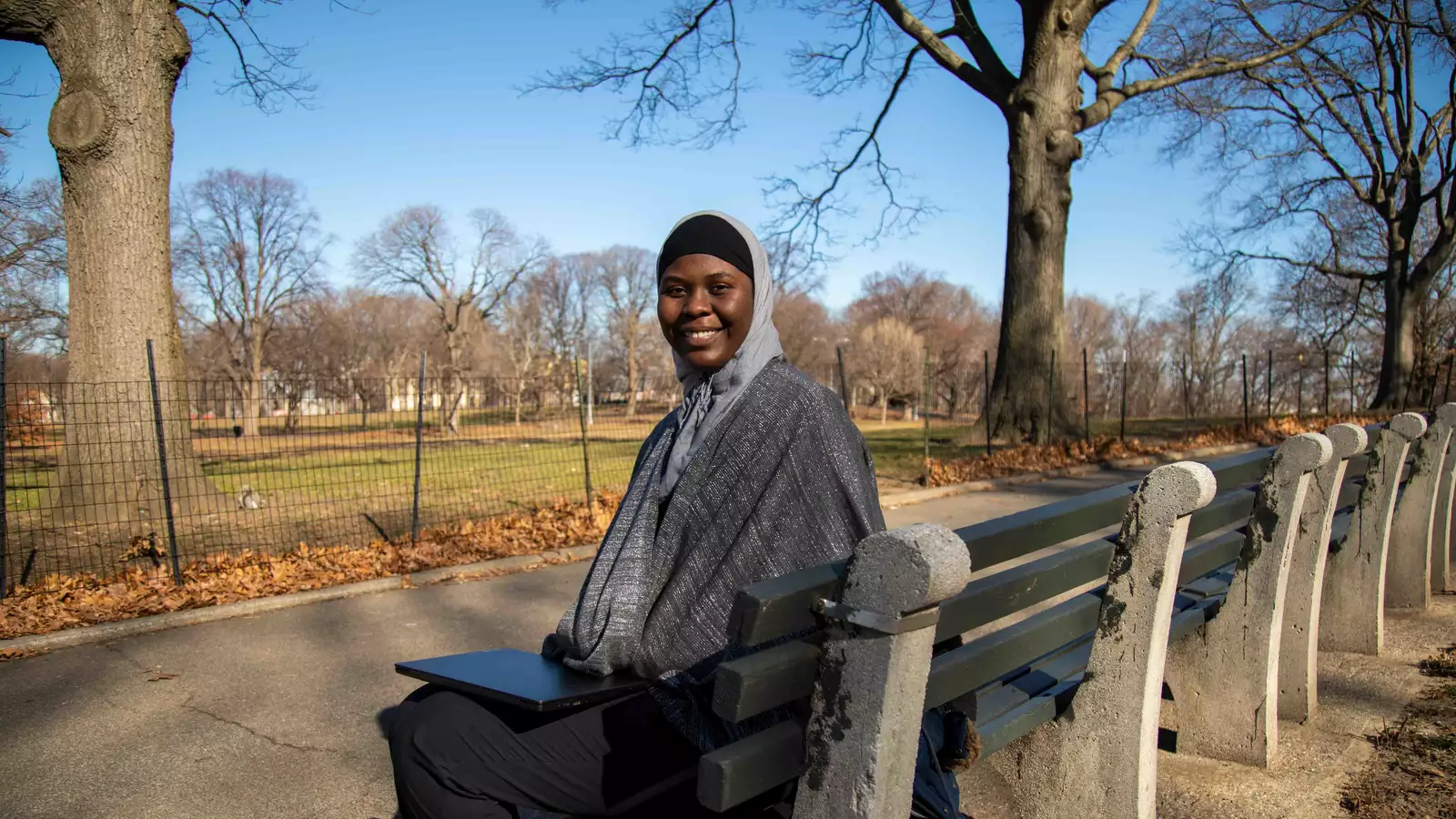 Hawa Tunkara '21 is 23 years old and already on the fast track. As a newly hired corporate and investment banking payments analyst at J.P. Morgan, she is carving a path toward a dynamic, upwardly mobile future. And that's exactly how she planned it.
By the time Tunkara graduated from Barnard, in May 2021, she had already amassed a collection of accomplishments, including paid internships in the financial industry and an offer for her dream job at J.P. Morgan. From the outside looking in, Tunkara appears to have stumbled onto some very good luck. But a closer look at her trajectory makes it clear that luck had nothing to do with it. With every opportunity and pivotal decision, she has turned on her intellect as a strategic imperative to elevate her life and to serve her family. For Tunkara, the work doesn't stop there. As a first-generation college student, she supports fellow students in her community, uplifting their voices through an oral history project.
Tunkara's own story is one of triumph over struggle. The daughter of Gambian immigrants — her parents came to the U.S. in 1990 — Tunkara, who was born in New York City in 1999, faced some challenges fitting in at home and in The Gambia.
"[We weren't] seen as truly black Americans because we were children of African immigrants. Then back in The Gambia, we were not seen as truly African, instead, we were seen as Black Americans," said Tunkara. "So we were neither and both at the same time."
In high school, she excelled academically and grew supportive friendships. Her grades and her drive led her to the Bard Early College program and then to Barnard College. Coming from a low-income family and being the first to attend college, Tunkara developed a deep appreciation for the experience of students who also identified as FLI (first-generation/low income). 
Tunkara worked as a library assistant for the Cheryl and Philip Milstein Center for Teaching and Learning all four years at Barnard and was also a Speaking Fellow, helping peers tackle challenges such as clarifying presentations and overcoming the fear of public speaking, a skill that comes naturally to her. During her time at the Milstein Center, she noted a gap in the archives.
"We hadn't documented FLI stories since the '90s," said Tunkara. So she proposed a series and made a repository of audio interviews, videos, artwork, and writings — what is now the Hawa Tunkara '21 FLI Story Collection. Through the project, which was partially funded by generous donor Alice Schreyer '68, Tunkara gained a richer perspective on the FLI experience at Barnard. "We are a community of excellence. We are proud women. Nothing knocks us down." 
We are a community of excellence. We are proud women. Nothing knocks us down.
Tunkara's decision to major in economics, despite a love for the performing arts, was strategic. Having been exposed to corporate opportunities during the summer before her first year, she realized majoring in economics would serve her and her family best.
"Through the Higher Education Opportunities Program (HEOP)," she explained, "we had our summer five-week intensive academic courses before even starting the first year, because they wanted [us] to get acclimated to what college life would be like." That's when she learned about corporate finance careers and determined that majoring in economics would enable her to leverage her opportunity at Barnard. During her first year, she secured a summer internship in finance, and then two more. This diligence has paid off.
But that's not to say Tunkara has abandoned the performing arts; she hosts her own podcast. She named it The H-Suite Chats, "H" for Hawa and "suite" for her goal to make it to the C-suite. The podcast, which she launched early in her junior year, features conversations with classmates that simply struck Tunkara as interesting. "I didn't have a method to my madness," she said. More recently, she's expanded the scope of the show to reflect her current life: the post-college experience.
Going from student to professional hasn't been an easy transition. Tunkara said she was so focused on getting her education and landing the job that the launch into her profession has been challenging. Having idealized corporate life, now that she's there, she finds herself feeling anxious about her performance on the job. She worries about making a mistake or not doing enough. She takes a breath, reminds herself that she is still learning, that the job is still new. And, in characteristic Hawa Tunkara style, she is finding her way through this struggle too.
"It's been a learning curve that I am opening my arms to. Every chapter you begin, you begin with grace. Give yourself some grace. It's only the beginning."