Barnard College's 2023 Commencement Celebration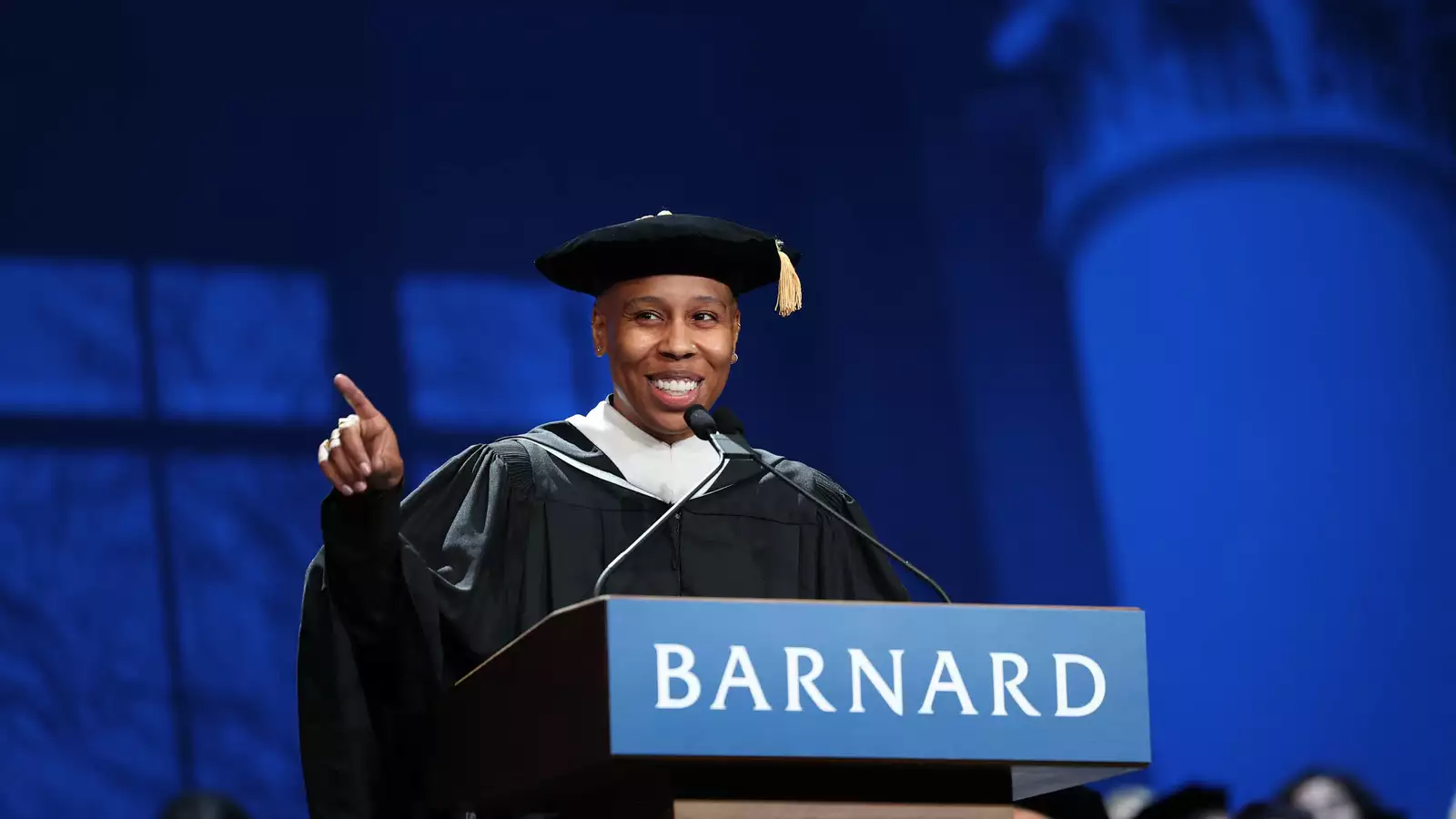 The end of the academic year at Barnard is always a time for major celebrations, and this year the spotlight was on the Class of 2023. On Wednesday, May 17, the College honored more than 760 graduates at the 131st Commencement ceremony — the biggest party of the year — along with 4,600 cheering family, friends, faculty, staff, trustees, and alumnae. 
Emmy Award-winning actor, writer, and producer Lena Waithe delivered the keynote address.
See photos below from the big day, as community members celebrated students on campus at daylong events and at the official ceremony at Radio City Music Hall:
WATCH: Seniors reflect on their time at Barnard in the video below:
Keynote Address by Lena Waithe
Before Emmy Award-winning writer, creator, producer, and actor Lena Waithe — of Master of None, Beauty, The Chi — delivered a rousing Commencement speech about balancing successes with failures, President Sian Leah Beilock invited the audience and Bacchantae, the College's a cappella group, to serenade Waithe in honor of her 39th birthday.
"Here's what I know to be true: In your life, you will know success and you will know failure," Waithe told the seniors. "They are both equally important to your growth as a human being. It's called balance — do not chase one while trying to run away from the other. You must embrace both, with open arms." 
As the founder of Hillman Grad, the production company whose mission is to empower underrepresented artists and historically marginalized communities across all industries, Waithe has made it her mission to fight against the status quo by expanding storytelling access to voices that are usually not given center stage, while challenging audiences to think outside of conventional norms. Next month, in June, Waithe will serve as the ambassador at the American Black Film Festival.
To Barnard's students, Waithe offered a gentle reminder: "What I'd like for you to do is create your own definition of success. Don't let society tell you what it has to be.
"I want to say congratulations on making it to this day. I'm sure there were a lot of successes and failures along the way. But you made it. You're still here, and you're surrounded by so many people that love you and have your back, and in this crazy world, that's all that really matters," said Waithe. Read the transcript of Waithe's keynote address. 
Medals of Distinction
The College awarded its highest honor, the Barnard Medal of Distinction, to Waithe and three other luminaries: Lynsey Addario, a career photojournalist and two-time Pulitzer Prize winner who has covered conflict, humanitarian crises, and women's issues around the Middle East and Africa; María Magdalena Campos-Pons, whose work in photography, performance, painting, sculpture, film, and video can be viewed in over 30 permanent museum collections worldwide; and Loretta J. Ross, professor at Smith College in the Program for the Study of Women and Gender and a 2022 MacArthur Fellow.
Read the citations for Waithe, presented by President Beilock; Addario, presented by Barnard Board of Trustee member Paola Ramos '09; Campos-Pons, presented by Trustee Daphne Philipson '69; and Ross, presented by Meghna Mallapan '23. 
WATCH: Videos of dedicated remarks from the Medalists to graduates:
Address by President Sian Leah Beilock
Barnard President Sian Leah Beilock, who presided over the celebration, also presented the Medals of Distinction. In acknowledging that this was her final ceremony at Radio City as Barnard's leader, President Beilock shared her excitement to help transition the Class of 2023 from students to graduates.
"You are entering the world at a fascinating moment. And it's at the exact moment so many critical fights are being waged: on climate change, freedom of expression, on the future of work, on diversity," said President Beilock. "There is an enormous leadership gap to step into. If you feel overwhelmed — or have that dreaded feeling you may not belong — remind yourself that [this] feeling is normal. We all go through it."
President Beilock then asked graduates to remember when they arrived at Barnard four years ago. "Think back to those first few moments on campus. I bet you'll remember that feeling many first-year students have: That your admission was a fluke.  That you 'tricked us' into admitting you," she said. "You didn't trick us. You belonged. You had to prove it to yourself [and] you belong out there, too. Your story has just begun." Read a transcript of President Beilock's speech.
President Beilock presented Myesha Choudhury '23 with the Frank Gilbert Bryson Prize, an award voted on by classmates to the senior who contributed to Barnard the most over four years. And Sharmie Azurel '23 and Ainsley Walker '23 shared the Alicia L. Lawrence Memorial Award, which "honors a student who has made significant contributions to the College and who exemplifies Alicia's values and honors her memory by leading with light and strength." 
WATCH: The complete Commencement ceremony below:
Remarks From Barnard Community Members
Graduates, families, and friends also heard from Provost and Dean of the Faculty Linda A. Bell, who applauded the Class of 2023 on behalf of Barnard's faculty. Senior Class President Myesha Choudhury '23 gave the "Charge to the Class of 2023" speech. Frances "Fritzie" Schwentker '23 presented academic reflections, and Victoria Cadostin '23 shared the senior experience. 
The Senior Fund Committee announced a senior class gift of more than $59,000, with over 63% participation. The gift was designated to Access Barnard, which supports students who identify as international, first-generation, or low-income as they navigate higher education, bridging the gaps that first-time undergraduates often face as they transition into college.
Cheryl Glicker Milstein '82, P'14, Chair of the Barnard Board of Trustees, welcomed the graduates into a supportive alumnae community that is nearly 40,000 strong. "That incredible Barnard legacy — the same one that convinced you to apply — now belongs to you, too. You are our ambassadors," said Glicker Milstein. "You are 'Barnard Ready' to take on the world."
Baccalaureate Service
Lily Conable '23 and Areej Qadeer '23, who delivered remarks at the Baccalaureate Service on Sunday, May 14, at St. Paul's Chapel, spoke about the importance of being present and building strength among community, respectively. "Home transcends physical space because a sense of belonging can be found just about anywhere by cultivating faith and companionship," said Qadeer. Conable shared favorite moments and places on campus where she was able to find quiet moments or a supportive network of friends and faculty.