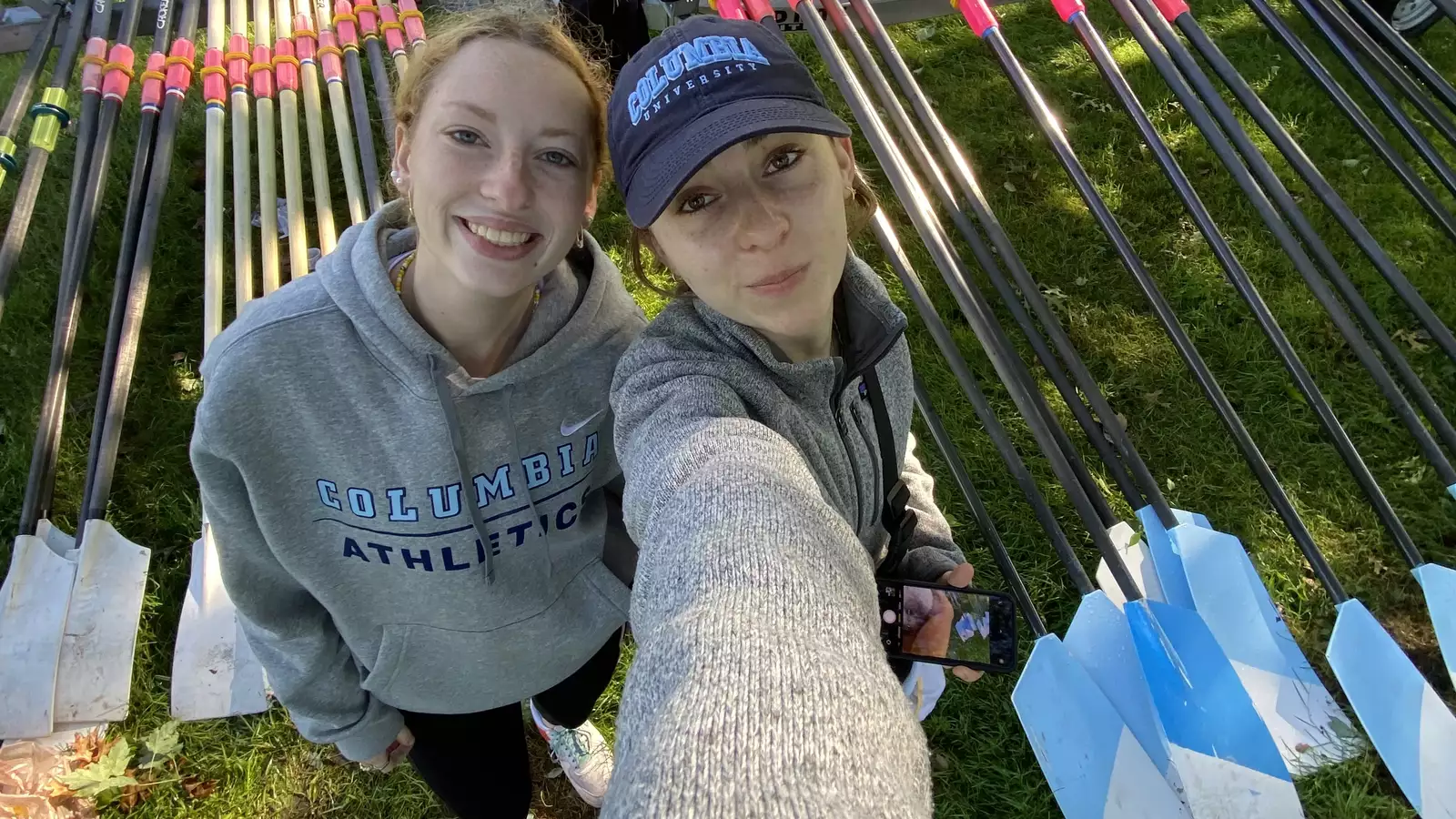 Painter, baker, and senior student-athlete Caiti Levin '23 is no stranger to working and playing hard. Majoring in astrophysics while minoring in mathematical science, Levin spends a lot of her time juggling coursework, rowing practice, and weekend athletic competitions. "This semester is definitely more busy for me than those in the past," shared Levin. "I'm really trying to be more disciplined on completing work whenever I can throughout the day."
Levin is a coxswain on the men's lightweight crew team through the Columbia-Barnard Athletic Consortium, which gives Barnard the distinction as the only women's college whose students participate in Ivy League Athletic Conference and NCAA Division I athletics. Before transferring to Barnard, Levin competed on the heavyweight rowing team at George Washington University as an undergraduate for two years.
"I love how open and friendly everyone at Barnard is," said Levin. "I've found that the thing I missed the most from GW was the people, and D.C., but I'm so grateful for the relationships I've been able to create here as well."
In addition to juggling her athletics, science, and math studies, Levin is also enrolled in the 4+1 Pathway at the Fu Foundation School of Engineering and Applied Sciences for her master's in biomedical engineering. The 4+1 Pathway offers students the unique opportunity to obtain a graduate level-degree in five years by taking both graduate and undergraduate level courses.
When she's not on the water or in the classroom, Levin manages to carve out time for her social life. "I think that the diverse opportunities this school offers make it hard not to be a well-rounded member of the community," she said. Even on the days she sees her teammates outside of practice, Levin finds her friends through shared classes, campus clubs, and her sorority sisters. She finds comfort in her family when she visits her sister's Upper West Side apartment or calls her twin brother, who is a rower at Vanderbilt University.
Follow along as this student-athlete shares the details of a busy
Day in the Life
!
 

7:30 a.m.: The bus leaves campus to go to Overpeck Park in Leonia, N.J. We get back to campus around 11:30 a.m., so the earliest class we can take is an 11:40 a.m. one. The excitement on the bus helps wake me up before practice!

 

7:50 a.m.: The guys warm up, while the other coxswains and I set up the boats and get ready for practice. We row!


 

 

 

12 noon: Lunch! Depending on when I have class, either at 3 p.m. on Tuesdays, or 1 p.m. on Thursdays, I'll cook up a quick lunch. Today, I made Annie's white cheddar shells mac and cheese in my kitchen.


 
3 p.m.: Class time! I have a biology discussion section in Altschul Hall, [where] we talk about society and how it relates to the work done by scientists in research fields.
 

 

5 p.m.: Economics class at Milbank Hall. In lecture, we go over some assignment problems.


 

 

 

6 p.m.: Dinner time, or my favorite time. For dinner I have leftover soup from when I visited my grandma in Queens yesterday.

 


 

 

 

7 p.m.: Homework! I'll usually do work in my apartment or at a library on campus. I try to paint or draw in my free time as a way to relax, as well as bake!