Since its founding five years ago, Barnard's Summer Research Institute (SRI) has enabled students studying in the College's science programs—in biology, chemistry, environmental science, mathematics, neuroscience and behavior, physics and astronomy, and psychology—to become involved in immersive, fully funded, ten-week research experiences by working closely with faculty mentors in labs both at Barnard and around the New York City area. (The Institute is part of Beyond Barnard, which supports students and alumnae as they define, pursue, and achieve success in their careers and communities.) The Summer Research Institute is funded by The Arnold and Mabel Beckman Foundation, Con Edison, The Howard Hughes Medical Institute, The Henry Luce Foundation, and the Mellon Fund for Enhancing the Sciences at Barnard, as well as by a number of anonymous donors.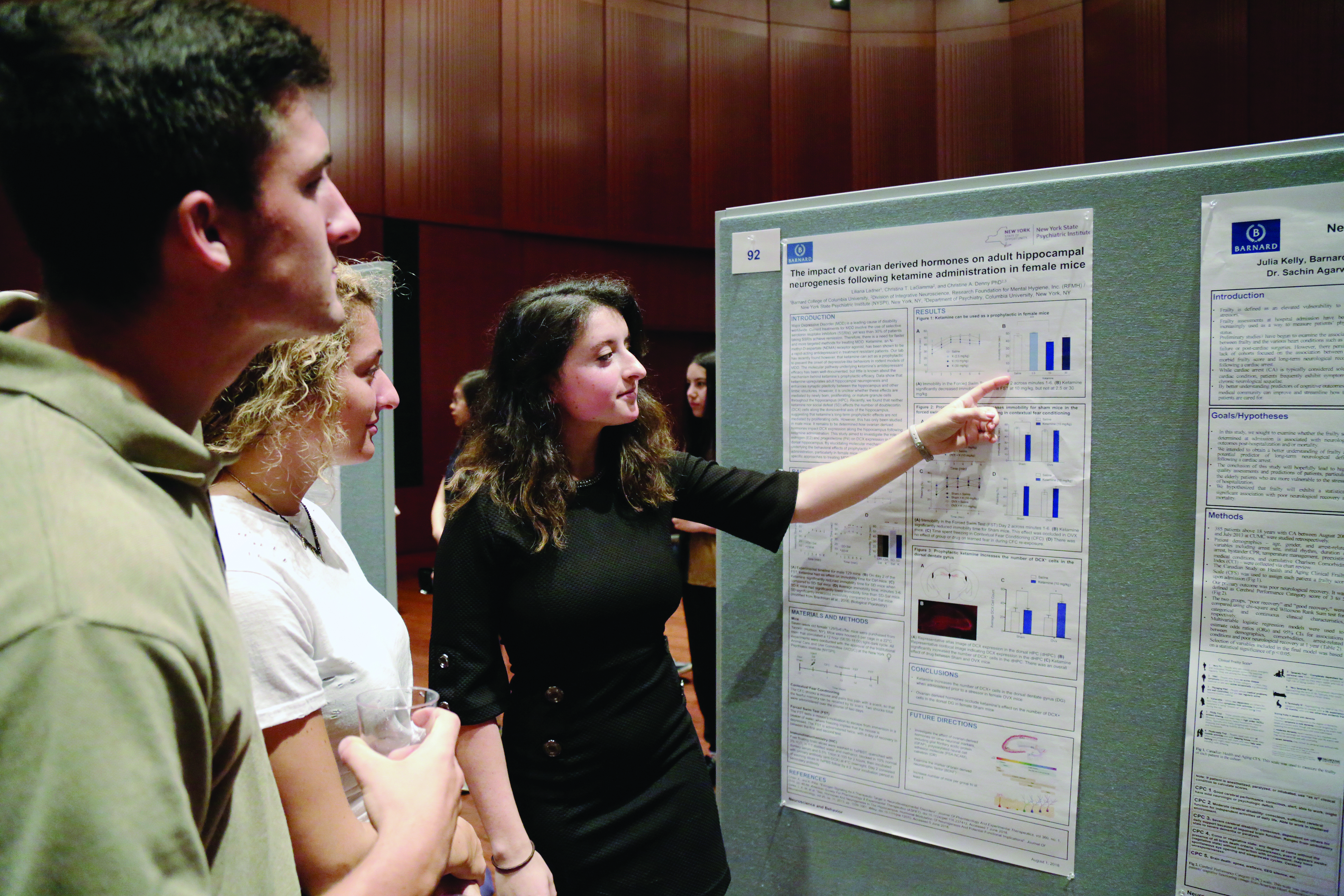 "What is so valuable about SRI is that it is a full-time, funded research experience," says Associate Professor of Biology Jennifer Mansfield, who worked with three students this summer. For aspiring scientists, Mansfield says, "there is really no substitute for this immersive work in the lab."

This summer, 161 students—the largest group ever—took part, not only working in labs, but also attending lectures and showcasing their work, much as professional scientists do. For Biiftu Duresso '19, who researched causes of neurodegenerative diseases such as Alzheimer's this summer, the program affirmed both her career aspirations and her desire to improve lives through science. "There aren't many women of color" in science, she said, "and even more rare, black women. Through SRI, I now have a more hopeful outlook in knowing that doing what I want to do is possible."
Outside the Lab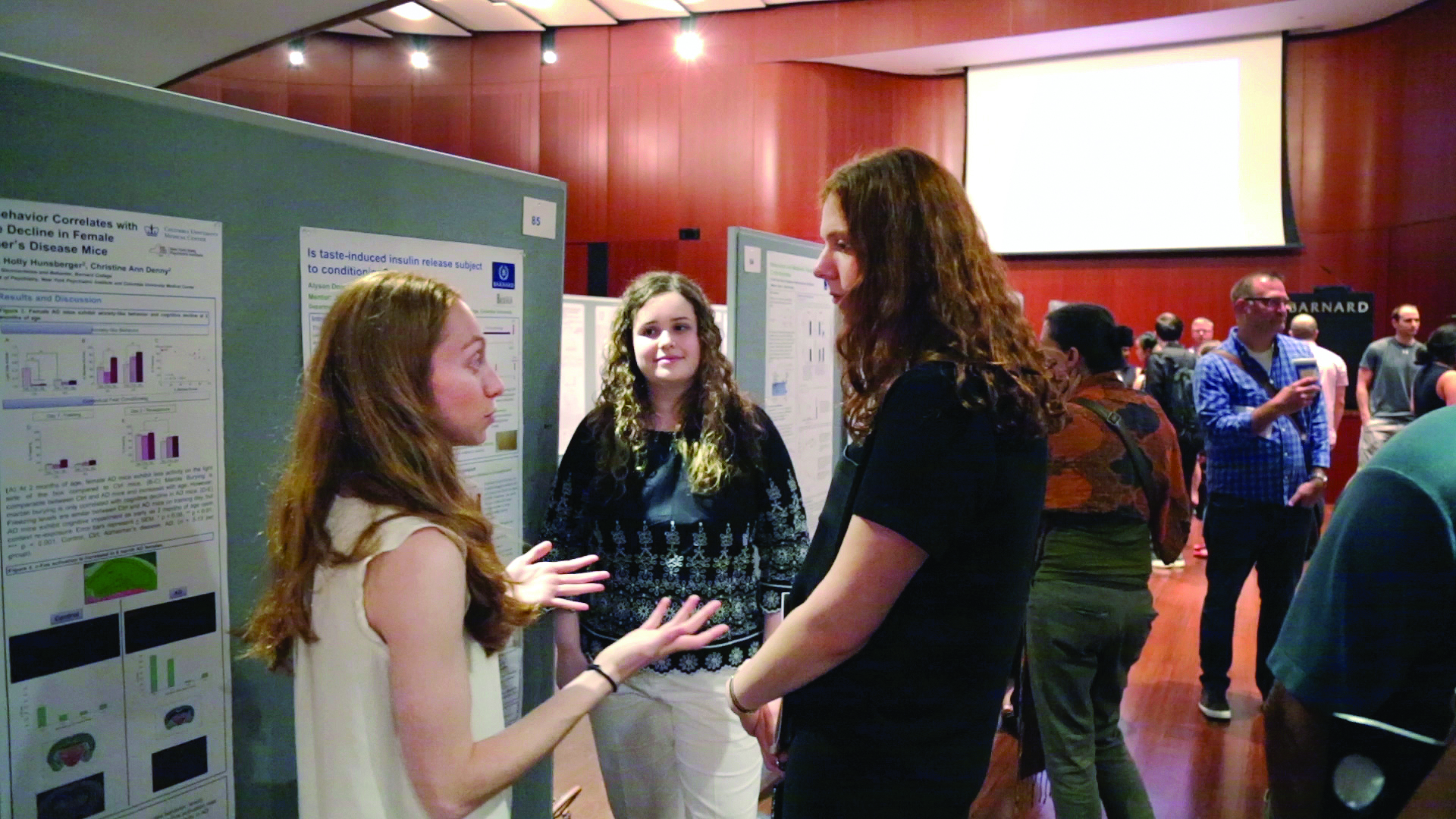 In addition to working in their respective labs, students and alumnae attended a "Diverse Careers in STEM" dinner, where guests shared information about careers in science, technology, engineering, and math. The event, coordinated by Beyond Barnard, was moderated by SRI Codirector and Ann Whitney Olin Professor of Biology John Glendinning. It featured Yana Zorina '04, a cofounder of the New York City biotech incubator KiiLn and an assay development scientist at Memorial Sloan Kettering Cancer Center (MSKCC); Josephine McGowan '16, a Columbia University PhD candidate in neurobiology and behavior; Irene Dankwa-Mullan '92, deputy chief health officer at IBM Watson Health; and Yasmin Khakoo '86, MD, an attending pediatric neurologist/neuro-oncologist and child neurology director at MSKCC. "Being surrounded by women scientists can really change how you feel about yourself as a scientist," said Nora McNamara-Bordewick '20, who worked with Assistant Professor of Biology Jonathan Snow to research parasites that are one of the causes of colony collapse disorder, which is decimating bee populations in North America, Europe, and Asia. "Having alumnae who are now in science come in to talk to us on panels—it's really helped me envision myself in the sciences later on."
At a capstone "poster session" on August 1, SRI student-scholars presented their research, much as professional scientists do at academic and professional conferences, by displaying their protocols and results on large posters and answering questions from those in attendance.
At the event, Linda A. Bell, Barnard's provost, dean of the faculty, and Claire Tow professor of economics, said, "The Summer Research Institute builds on Barnard's commitment to faculty-student research collaboration. The SRI exposes students to scientific research and methods both in their laboratory work and through the larger program of speakers and events." Importantly, she observed that SRI met its goal this year of providing paid summer science lab research to every Barnard student who was able to find a research mentor. "By all metrics," she said, the program "has been a great success, and the number of students participating in scientific research continues to grow."
SRI Codirector and Professor of Environmental Studies Martin Stute also addressed this year's SRI student-scholars at the poster session, noting that with nearly 100 faculty mentors at the ready, SRI was able to expand and support every student in the sciences who applied to the program. Says Stute, SRI "allows students to really be at the forefront of science and gives them an experience that is unique." 
—Photos by Carrie Glasser