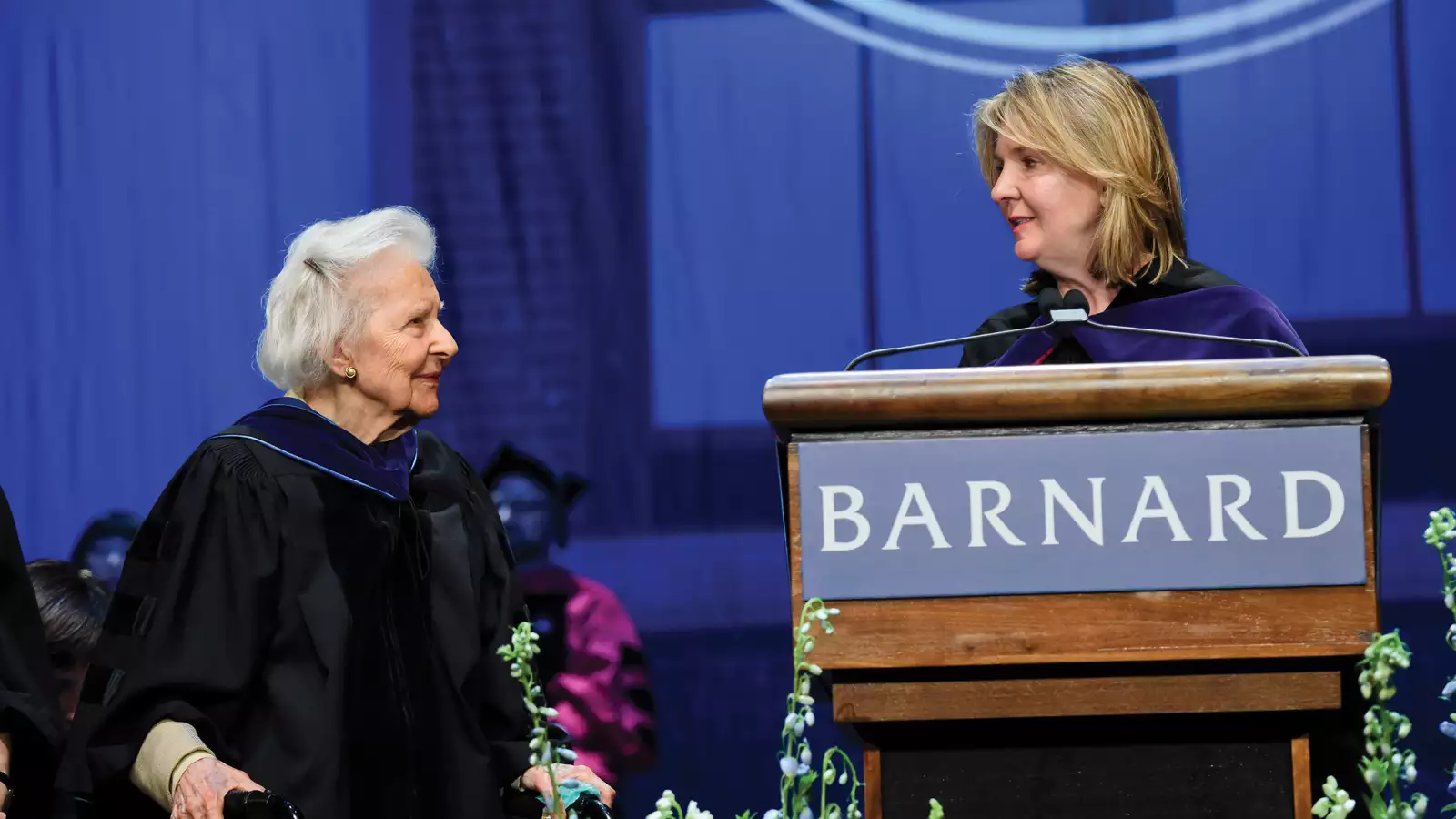 The Class of 2019 gathered on Monday, May 20, with distinguished leaders in entertainment, literature, and civil rights activism at Radio City Music Hall for the College's 127th Commencement. Award-winning actress, producer, and humanitarian Viola Davis — the first African American actress to win an Oscar, a Tony, and an Emmy — delivered the keynote address to Barnard's largest-ever graduating class. An outspoken advocate for human rights, Davis told the 678 new alumnae, "You are graduating from a school whose mission it is to not just hand you a diploma, but a sword."
Davis received Barnard's Medal of Distinction, as did pioneering civil rights and fair housing attorney Shirley Adelson Siegel '37; Sana Amanat '04, who co-created Marvel's first female Muslim superhero to headline a comic book series; and internationally recognized poet, essayist, and playwright Cherríe Moraga.
The Class of 2019 took its first step in giving back to the College, announcing a senior class gift of more than $20,000 to support low-income, first-generation, and refugee students.
Board of Trustees Chair Cheryl Glicker Milstein '82, P'14 reminded the graduates, "You will always be tethered to the College because of the strong ties you made during your years here, the connections with faculty from whom you gained so much, the individual growth and change that inevitably happened. You get to keep and cherish all of it."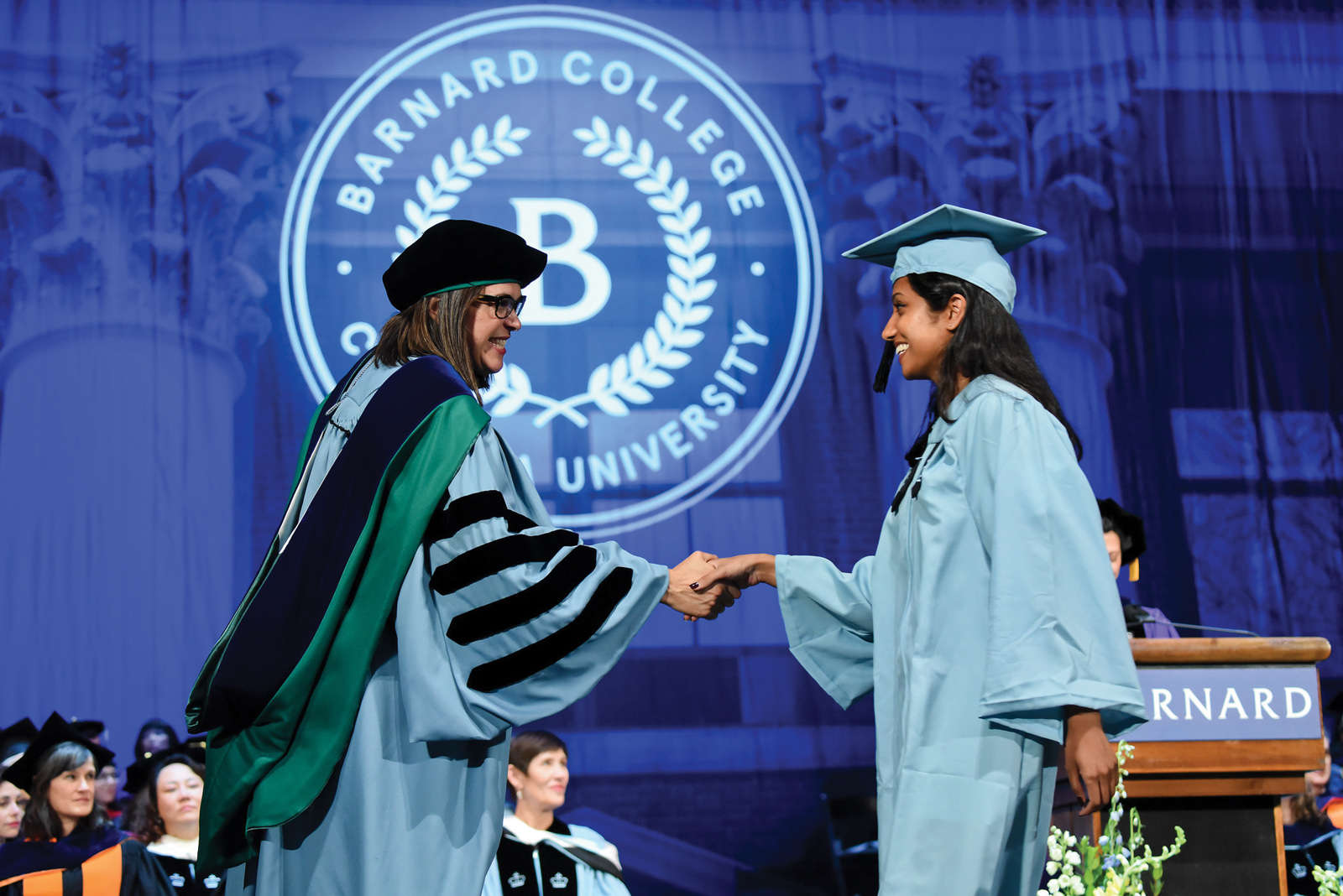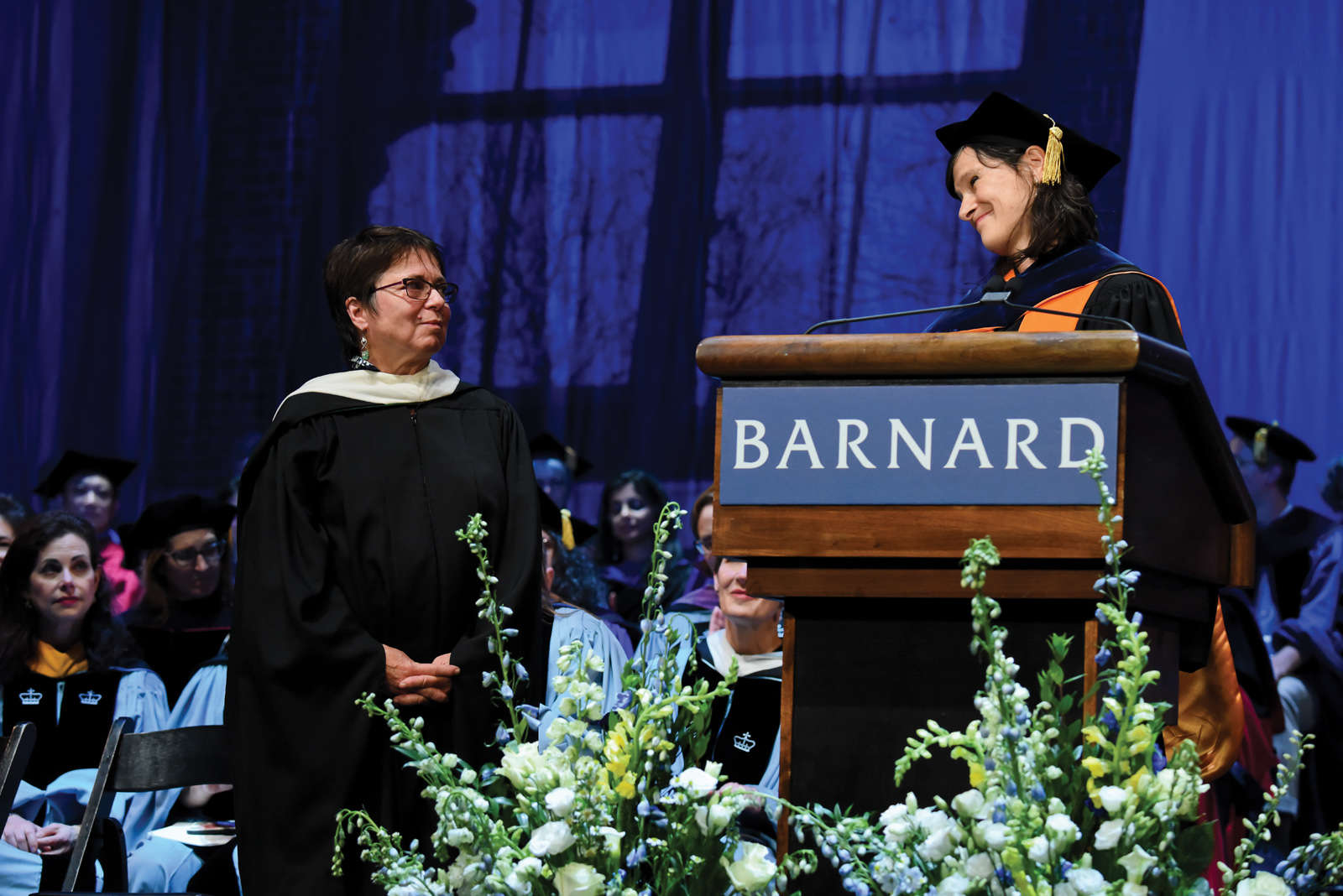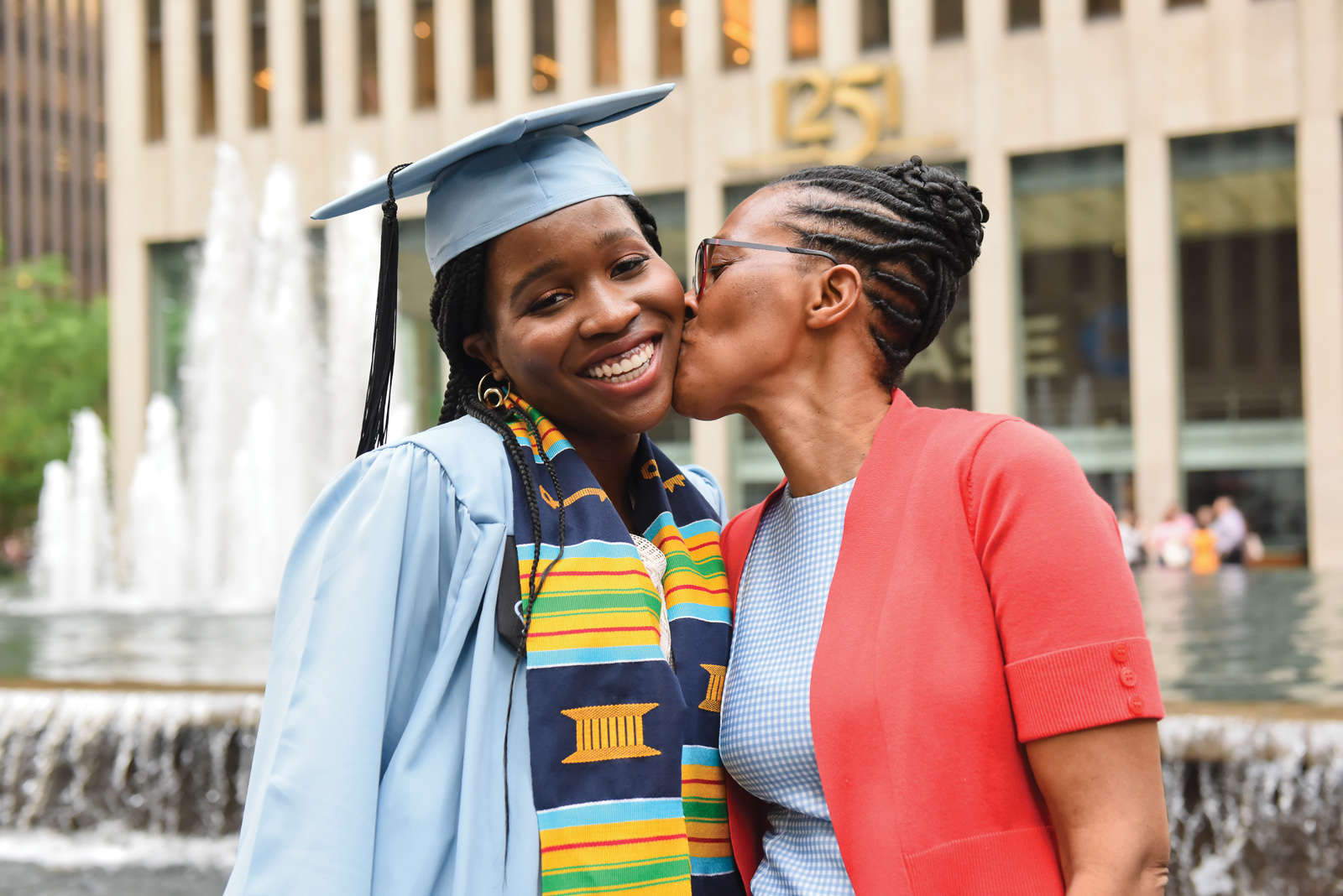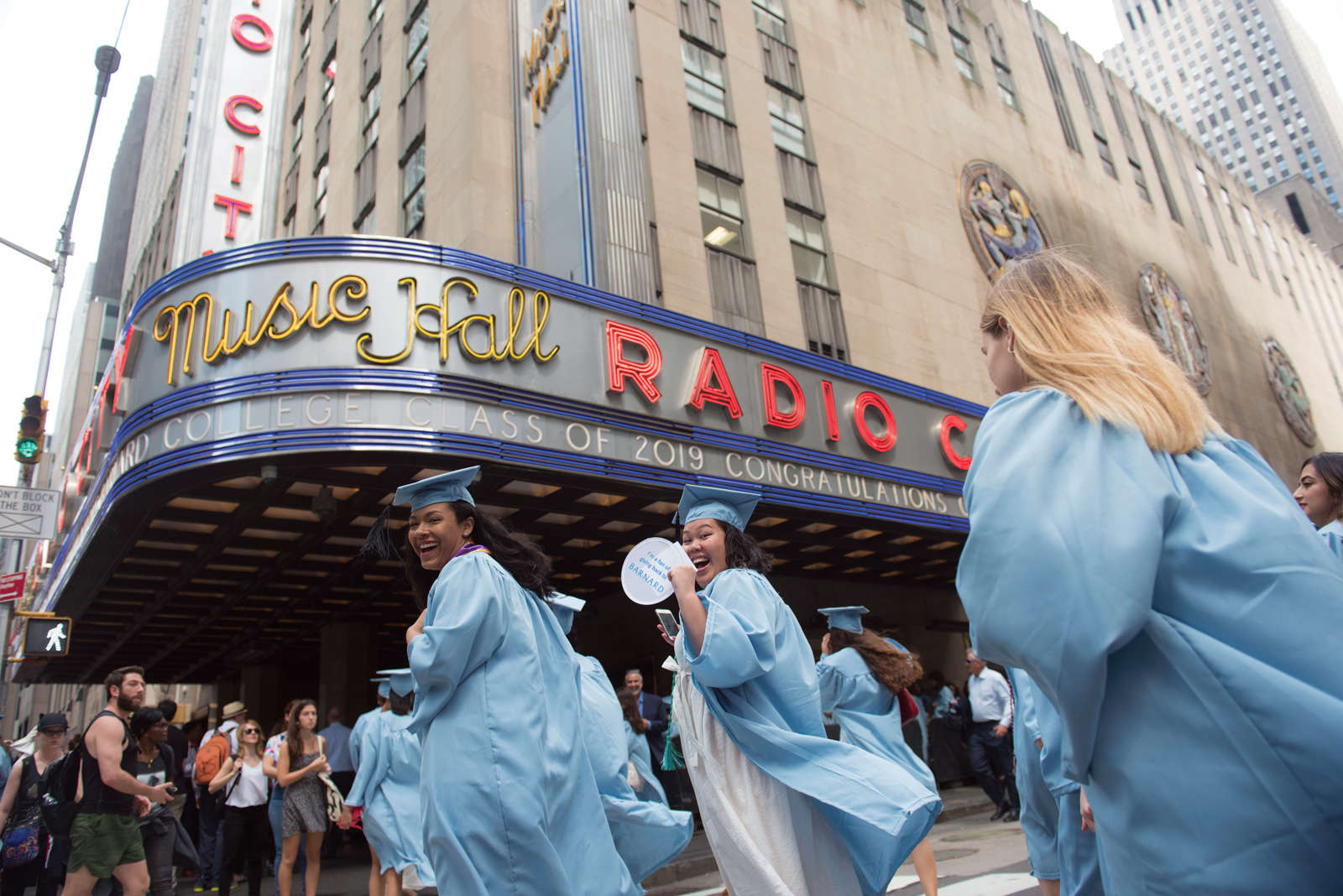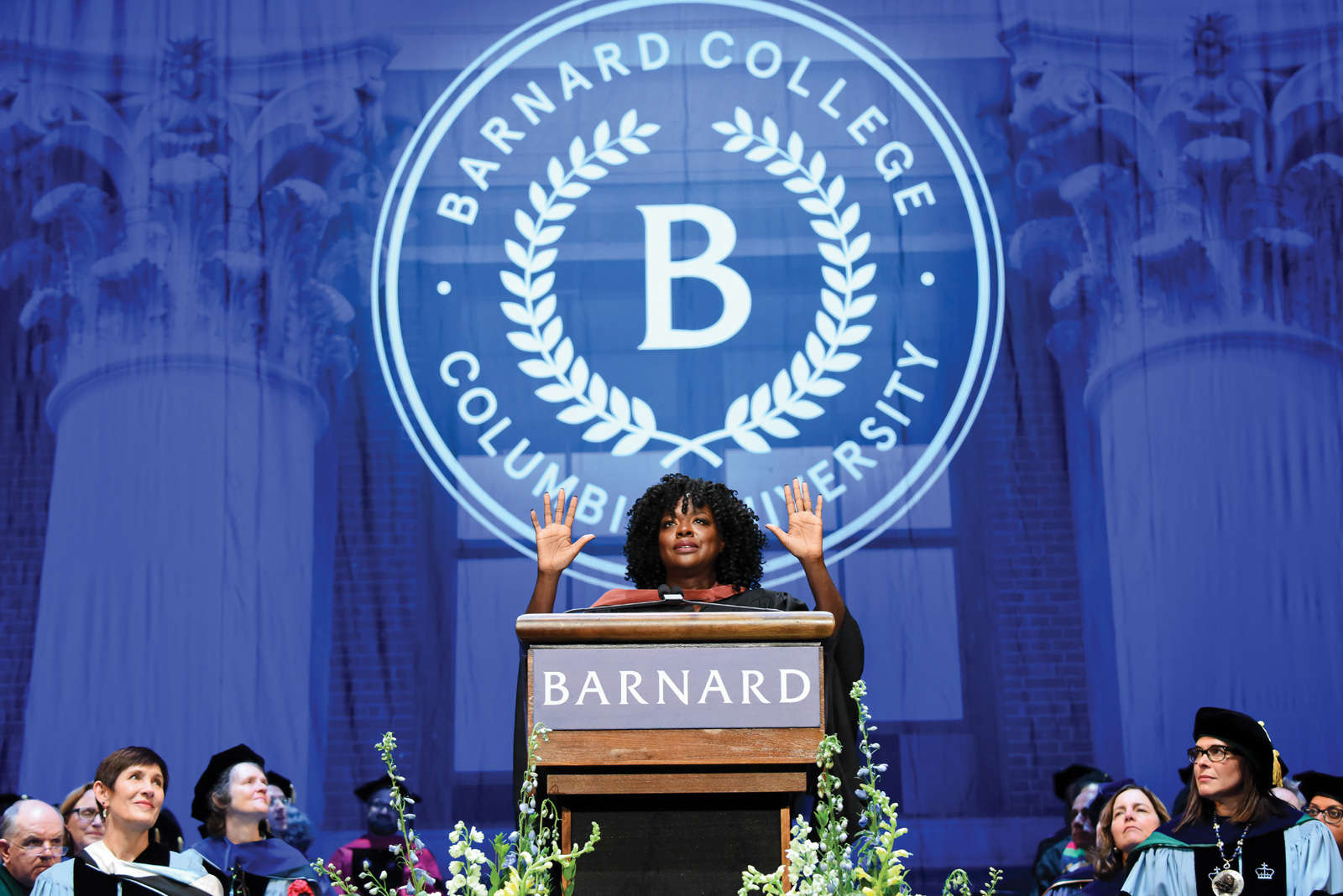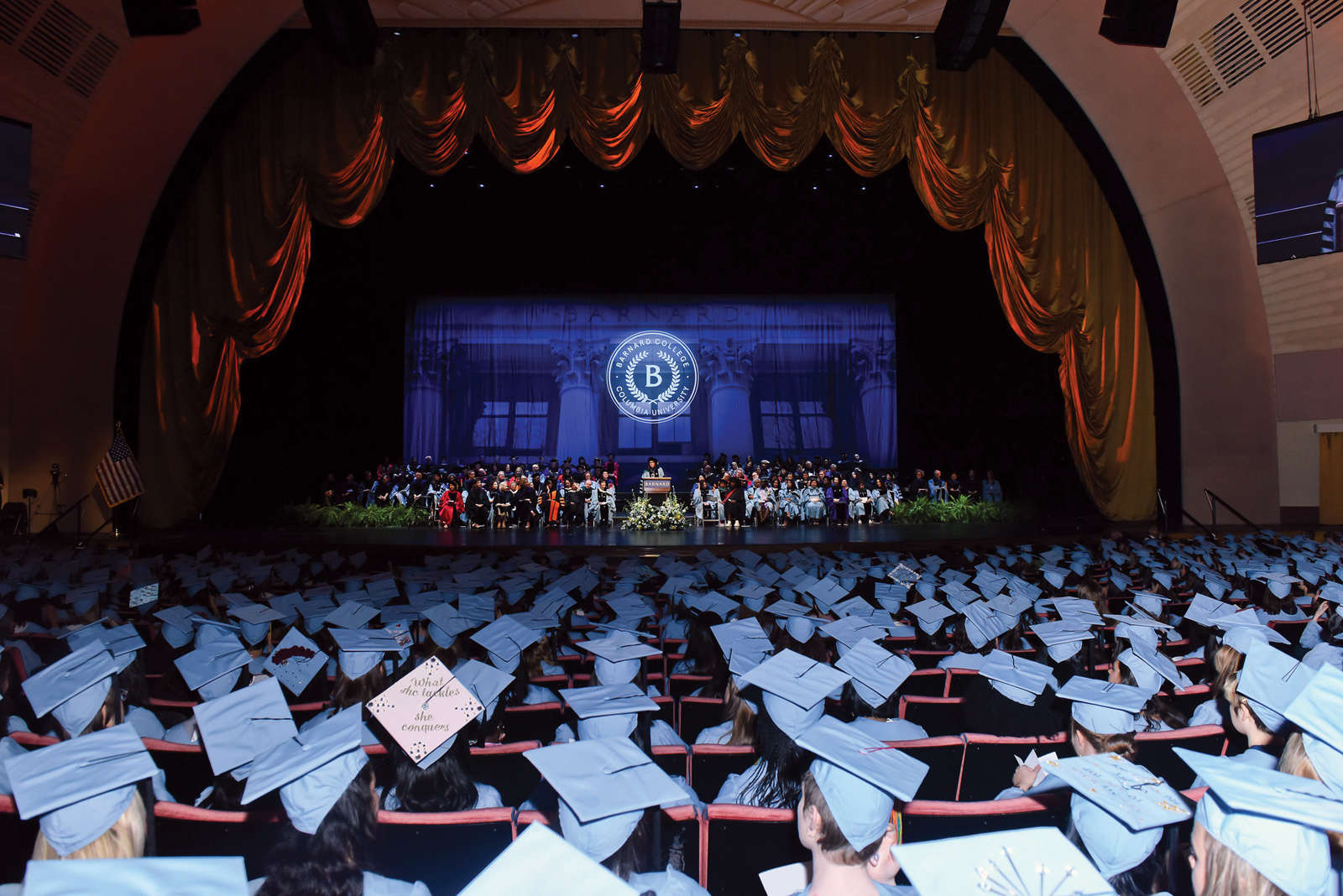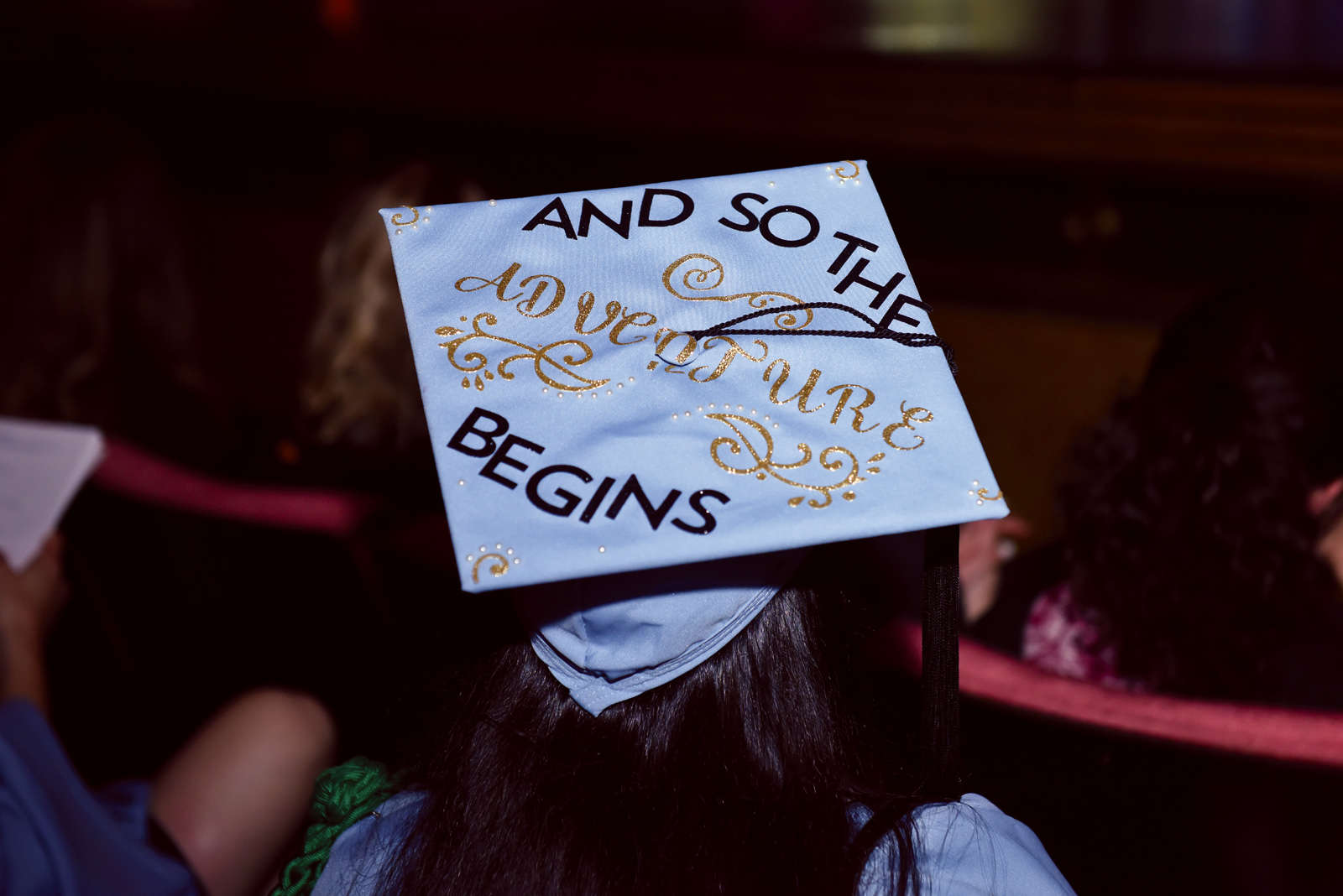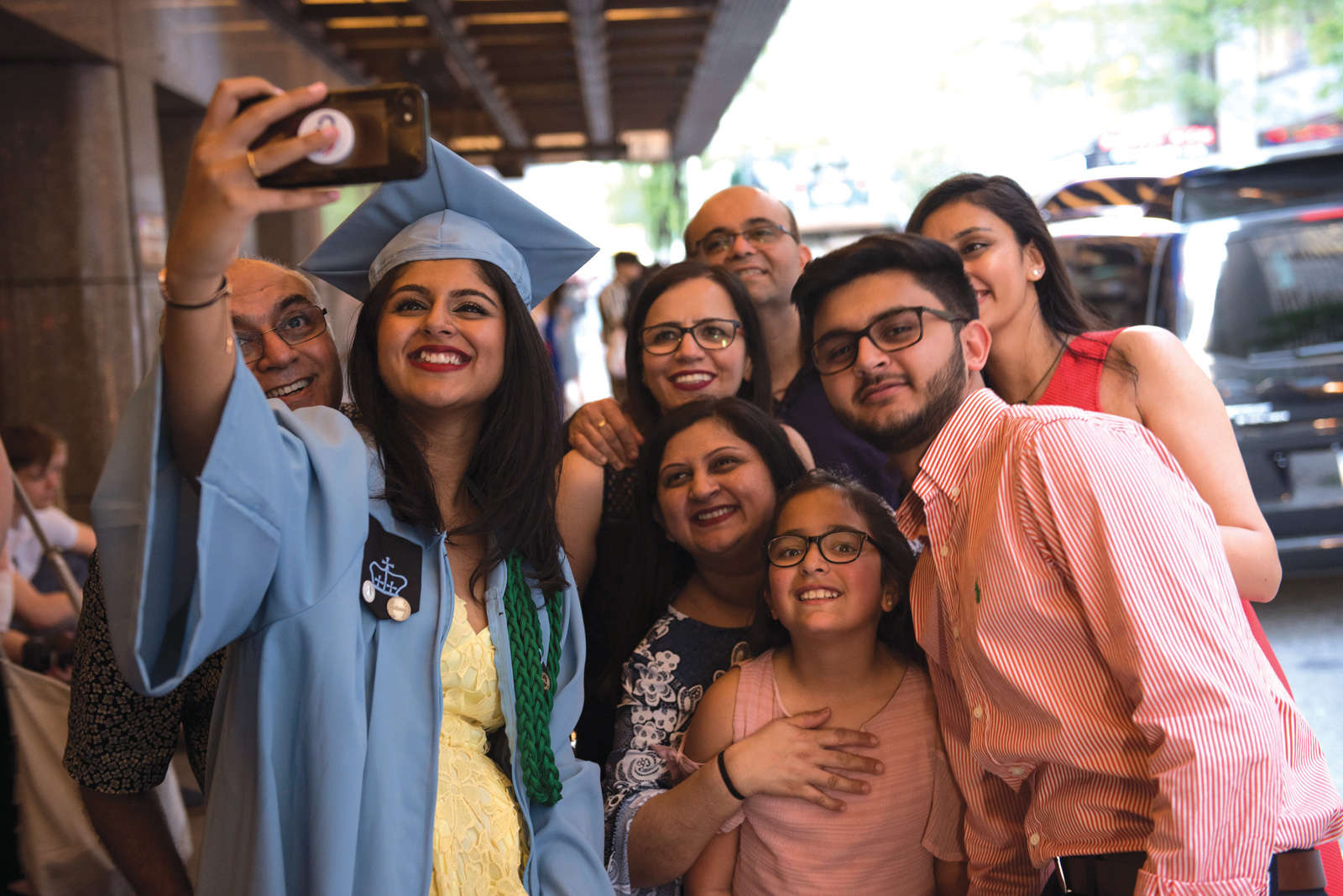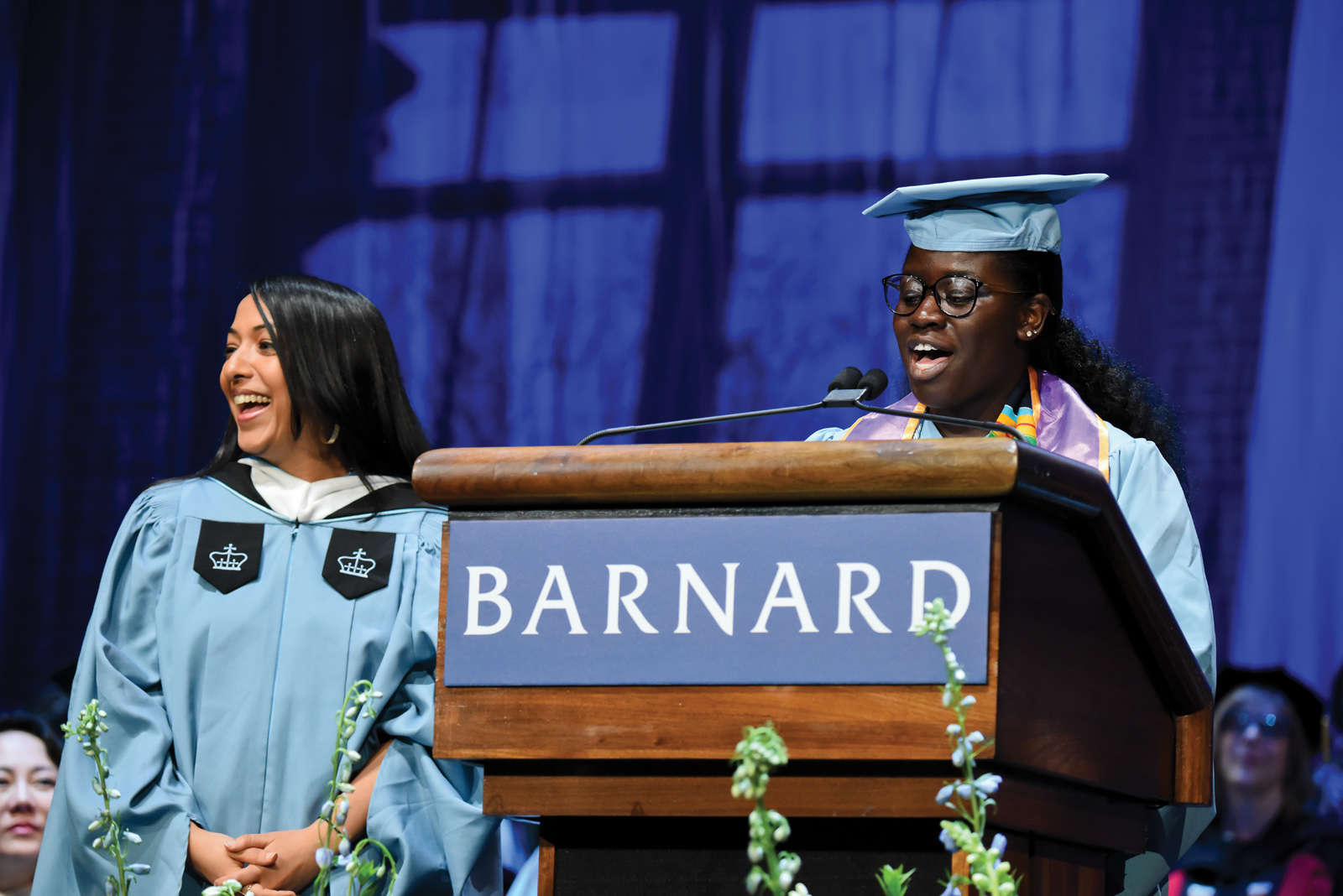 President Beilock congratulates a new graduate
Professor Nancy Worman '87 presents essayist and poet Cherríe Moraga with the 2019 Barnard Medal of Distinction
A tender moment of congratulations for a graduate
Celebrating in front of the Radio City Music Hall marquee
Actor, producer, human rights activist, and 2019 Barnard Medal of Distinction recipient Viola Davis delivering this year's Commencement address
Commencement proceedings at Radio City
One of many decorated mortarboards on display
A celebratory selfie with family on Sixth Avenue
Graduating senior and Frank Gilbert Bryson Prize-winner Alicia Simba '19 presenting Marvel Comics' vice president of content & character development Sana Amanat '04 with the 2019 Barnard Medal of Distinction
Barnard Welcomes New Trustees
Barnard College recently announced the appointment of three new members to its Board of Trustees.
The new class includes Sherif Nadar P'21, P'23, Daphne Fodor Philipson '69, and Ramona Emilia Romero '85.
Nadar works as founder and CEO of Horizon Asset LLP, a London-based alternative asset management company.
Philipson is a retired private equity partner and board chair of Planned Parenthood Hudson Peconic who helped found both Barnard's Project Continuum, which brings together alumnae who graduated at least 30 years ago, and the College's Athena Center for Leadership.
Romero currently works as Princeton University's general counsel and was the general counsel at the U.S. Department of Agriculture under President Obama. As a Barnard senior, she served as president of the Student Government Association.
The Trustees of Barnard College are responsible for the overall governance of the College, including oversight of strategic direction and large-scale programmatic initiatives, approval of the budget, and stewardship of the endowment.
"My fellow Trustees and I are delighted to welcome Sherif, Daphne, and Ramona to the Board," said Cheryl Milstein '82, P'14, who was elected chair of the Board in June 2018. "Our incoming trustees will bring valuable new ideas and perspectives to the table as we engage in the ongoing work of guiding Barnard's future."
—Photos by Asiya Khaki '09 and Skyler Reid