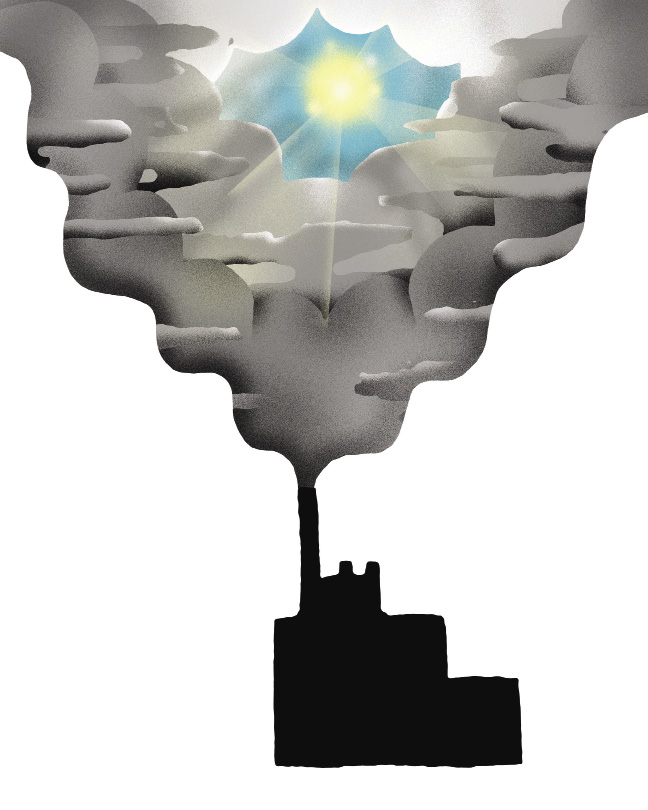 In a first for any college in the nation, Barnard will divest from fossil fuel companies that deny climate science or otherwise seek to thwart efforts to mitigate the impact of climate change.

The College's plan was drafted after a nine-month review by the Barnard Presidential Task Force to Examine Divestment, which was comprised of trustees, faculty, staff, and students. The task force was formed in response to a student-led campaign by the group Divest Barnard. (For more on the task force, see the President's Page.) The Board of Trustees approved the plan in early March.

"The Board of Trustees acknowledges the increasing demand, both from our students and the greater public, to act as ethical investors and do our part to fight climate change," said Linda Fayne Levinson '62, who is the Board of Trustees Chair of the Committee on Investments. "Divesting from companies that deny climate change supports the College's academic mission and is an important next step in Barnard's 360-degree approach to promoting sustainability."

The move aligns the College's investments with its core mission, centered on academic freedom and scientific integrity, and will enable the College to distinguish among companies based on their behavior and willingness to transition to a cleaner economy and could create incentives for the poorest performers to change their ways.

"More than ever, academic freedom and scientific integrity are under attack. We applaud Barnard for taking this innovative approach to aligning the College's investments with its values," said Kathy Mulvey, climate accountability campaign manager at the Union of Concerned Scientists, a non-profit science advocacy organization that ranks fossil fuel companies on "climate deception, disclosure, and action" through its Climate Accountability Scorecard.

The plan to divest builds upon the College's long history as a pioneer in environmental research and education. Barnard was one of the first colleges or universities to require a course on climate for environmental majors, and now at least 13 programs offer a course focused on climate, sustainability, or the environment. Faculty are also deeply involved with high-profile climate and sustainability research and education around the world.

Barnard's commitment to sustainability also involves and integrates students, faculty, and staff in promoting sustainable practices, reducing the College's environmental footprint, and encouraging the adoption of effective and efficient programs that demonstrate our commitment as a leader in the urban environmental landscape.

"The College is proud of its history of proactive engagement with social and political issues, from divestment from apartheid South Africa in 1985 to the 2015 decision to expand our admissions policy to include transgender women," said Debora Spar, who left the Barnard presidency in March to lead Lincoln Center. "Our relatively small size allows us to serve as incubators for new ideas, and divesting from companies that deny climate change is an intriguing and potentially impactful next step."

Members of the task force considered five options: no divestment, investment in an alternative energy fund, divestment from companies that mine coal and tar sands, divestment from organizations that deny climate science, and full divestment from all fossil fuel companies.

The task force weighed the financial and fiduciary responsibilities of the Board of Trustees to grow the value of Barnard's endowment and the moral and ethical issues surrounding Barnard's responsibility to do its part to address the climate change issue. Ultimately the task force decided, and the board approved, to combine these options—divestment from deniers of climate science as well as from companies that mine coal and tar sands, and also implementation of a plan for the College to reduce its carbon footprint and become more sustainable. 
The full report is available here.
— Illustration by Daniel Zender