When Irene Golden '19 was a Barnard first-year, she took an upper-class seminar in urban studies. Still relatively new to college, she was unseasoned in, and nervous about, high-level classroom exchange.
"The discussion component just flew over my head, and I couldn't figure out ways to break in," says Golden, a chemistry major. Before Barnard, her public speaking experience consisted of a single event: delivering her high school commencement address. "So I made a one-on-one appointment and had a really awesome meeting with a Speaking Fellow who helped me get through that course and prepare in other ways for discussion-based courses."
The Barnard Speaking Fellows Program, begun in 2006, offers peer-to-peer mentoring on all manner of public speaking. Over the last eleven years, it has prepared students not only for the rhetorical demands of the rigorous liberal arts education Barnard provides, but also for all that comes afterward, helping graduates become accomplished speakers in all aspects of their lives.
Golden was fortunate that such a program was here for her. That wasn't the case before the presidency of Judith Shapiro, who conceived of the Speaking Fellows after noticing that many students "up-talked"—that is, they ended spoken sentences with question marks. The trend nagged at her. "Being able to speak clearly and with authority was just central to everything that Barnard was trying to do for its women," says Shapiro, who now heads the Teagle Foundation, an educational nonprofit. "It seemed to me obvious that we wanted to help women become powerful and effective speakers, just the way we wanted them to become powerful and effective writers."
Indeed, the Speaking Fellows Program, which serves more than 1,000 students and at least twenty-three classes a year, is modeled on Barnard's successful peer-to-peer Writing Fellows mentoring program.
Both programs are highly selective. Each spring Pamela Cobrin, who heads both the Speaking and Writing programs, and Daniela Kempf, the Speaking Program's associate director, receive some forty-five to fifty applications from prospective Fellows. Of those, they select roughly fourteen students who, to prepare for their new roles, then take Rhetorical Choices, a course the pair teach each fall. Fellows learn how to coach other students on ways to improve public presentations of all sorts—speech-making, debating, and other types of oratory—everything from thesis presentation to seminar participation.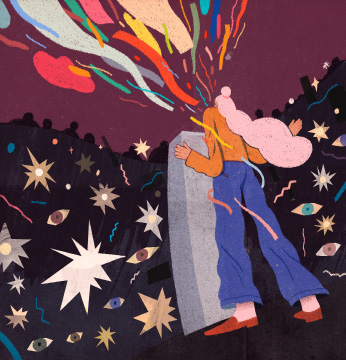 "Students come to us with a lot of apprehension about public speaking," says Kempf, "which indicates they just didn't have a lot of opportunity to practice it." How do the Fellows help ease students' fears? "Ultimately, it's a process of exposure, experience, practice, and feedback," she says.
Add to that some specific techniques: pausing between sentences to reduce stutters or 'ums'; striking powerful poses so that students occupy their space rather than shrink within it; and directing their attention to a single spot in the room to mitigate feelings of intimidation that can come when encountering expectant faces.
The Fellows, who receive stipends for their work, also run workshops on negotiation, mock trial participation, and topics such as facilitating class discussion, public advocacy, and presenting a prospectus. At the invitation of individual professors, they work with students in specific courses to help with in-class public speaking. They also organize the annual Cicero Speech Contest, in which students compete in persuasive advocacy and impromptu speech. And the Fellows produce public events, such as February's sold-out interview with Martha Stewart '63.
Barnard is now one of only a handful of colleges with a program dedicated to public speaking, despite the fact that formal instruction in rhetoric was once considered central to a liberal arts education. And, as with so many of Barnard's programs, this one is designed specifically with the needs of young women in mind. As a group, they "are uniquely scrutinized for how they speak," says former Speaking Fellow Sarah Levine '14, referring to common verbal habits such as up-talk, "vocal fry," (a guttural growl or nasal tone), and the use of fillers such as "like" and "you know." Because of that scrutiny, continues Levine, now a first-year law student at Yale, "the content is often lost or undervalued."
For her, verbal tics and other often-derided features of speech are entirely valid forms of self-expression. "But the tension," she says, "is that some people cannot focus on the 'what' because the 'how' is distracting, or the 'how' makes them necessarily devalue the 'what.' "
"We have a lot of debate around what we call 'gendered speech,' " says political science major and Speaking Fellow Shreya Sunderram '19, echoing Levine. She blames a "societal expectation of women to be more submissive and less assertive in their speech" for the frequent use of vocal fry and up-talk.
While oratory is the program's focus, much of the Speaking Fellows's work is taken up with listening. "It's listening to people express their anxieties," Sunderram says. "It's listening to people define their problems and ask for help."
Cobrin and Kempf are pleased that, over the years, the number of faculty who have requested that Fellows attach to their courses has climbed. Laurie Postlewate, a lecturer in French, has used Speaking Fellows in teaching her Reacting to the Past seminar and has witnessed the impact of peer tutors on her students.
"Their confidence is way up after they've had interactions with the Speaking Fellows. The proof is in the way that they are able, over the course of a semester, to get stronger and more comfortable with public speaking," she says.
Biology Professor Jonathan Snow requests Speaking Fellows for the courses he offers, too. "Scientists can be really data-focused, and that's great. But you can numb people with too much information," he explains. Fellows coach his students not to include every factoid and data point. "You want to impress people, so you put in more information. But that's not what listeners want to hear. Getting feedback from the Speaking Fellows is important."
The Speaking Fellows Program also helps level the public-speaking playing field, Postlewate says. Not every student comes from a background in which she's been instructed in public speaking. "It's a great move toward equity in the way we educate, in the kinds of exposure we give students, and it really helps when you go beyond Barnard," she says.
That's been the case for Sarah Levine, who credits the program with helping her at every juncture since graduation: at a tech start-up, an academic fellowship, and now, law school. The program taught her "how to will myself to participate in conversations where I didn't necessarily feel that my opinions were as valued as others," she says, "or how to be extra thoughtful in wording anything to make sure there was no possibility of ambiguity."
It has also been key in interviews for summer positions. "It's easy to get wrapped up in: 'Why am I here? What's the short-term goal?' And to lose sight of the larger narrative: 'Who am I? How do I make a story out of my résumé? How do I explain what I'm interested in, but present that in a way that's coherent with what I've been doing so far?' " And, of course, it helps in answering that all-important question: "Where do I want to go next?" •
Sara Ivry is a writer, editor, and podcaster. She lives in Brooklyn, New York.