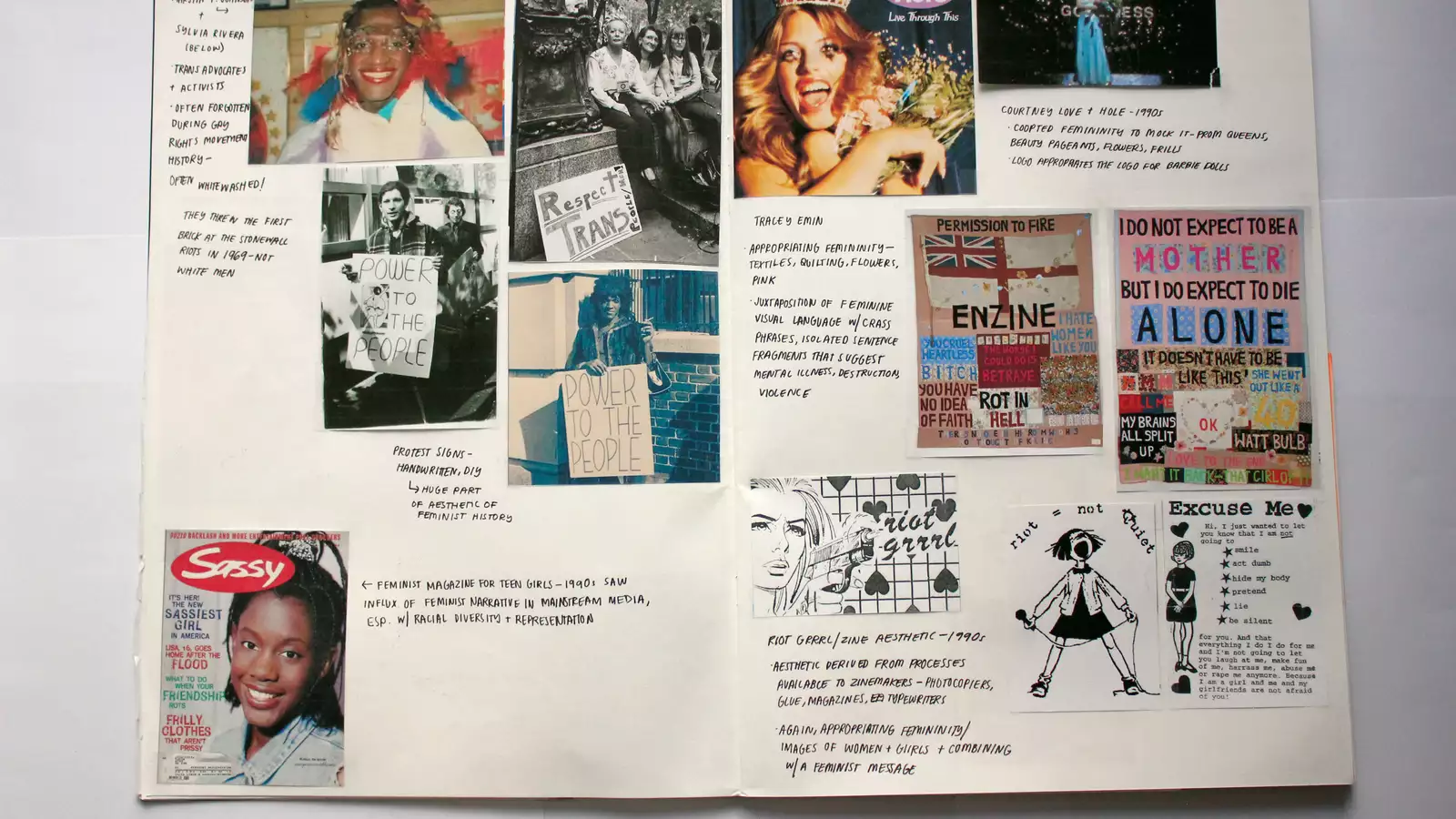 Where do you draw inspiration from?
I do read design publications, like It's Nice That or AIGA's Eye on Design, but my favorite projects draw inspiration from elsewhere, like community activist movements, illustrated children's books, archival collections, the film world, etc. 
Which classes at Barnard have most informed your work? 
Every art history class I took at Barnard shaped the way I understand methods of looking and seeing in both art and design. I loved Jack McGrath's Body Politics Since 1945, Elizabeth Hutchinson's Native American Art, and Rosalyn Deutsche's Institutional Critique. 
What is your creative process like?
Ideally, I like to start by doing research. I pull inspiration from books, online, or real life, and print it all out. I physically cut and paste the images into a sketchbook, making notes alongside them. Before this, I have a general concept of what I'm trying to communicate, but this is the point where I start to ideate on what form my final product should actually take. I then design a few rudimentary experiments. 
In grad school, I was really encouraged by my professors to take this experimentation stage off of the computer and to iterate by a handmade process like screenprinting or letterpress. After experimenting for a bit, I'll probably return to the research, adding to it or refining it further in order to really solidify the work's conceptual message. Then back to experimenting. Back to research. And so on and so forth, until everything winnows down like a funnel and I eventually reach a point where I understand what the final product will look like. 
Then I'll go through the production process, which can either take forever (like my grad school thesis) or end up being quite quick (like a lot of branding and logo work that I do). The final product itself is also documented in my sketchbook, which ends up functioning as a living document of the process. I view it as integral to the final results instead of just a supplemental, separate entity.
Of course, this was a process that I was taught while I was in school. In the working world, it's not often practical — for client-based work, there is a truncated research phase before I start designing, and for my in-house design job, I'm working on super tight turnaround times, often a day or less. I can function without it, but for personal projects, the luxury of time allows me to move through the process fully and make my best work. But because I'm balancing those projects with a litany of other responsibilities (like paying rent, making dinner, being a person, etc.), they end up taking a lot longer than they would in school when I had a deadline. Projects can last months or years now, instead of weeks, and I'm learning to be okay with this.
How would you describe your aesthetic (in 3-5 adjectives)? 
Playful, irreverent, feminist.
What is your favorite project or piece?
I'm very proud of my thesis from design school, Women's Lib. It was a feminist toolkit full of interventions that one could take into a library to protest and make visible the dearth of women in the art and design canon. I screen printed library cards, bookmarks, shelf talkers, and posters, and designed (and dyed, and sewed!) a backpack to hold everything. It was specifically inspired by my time as a worker in the Barnard Library — after I left, I wished every library could be as radical, warm, and inclusive as the community there.
It was the first time I had approached a design project like I would a research paper, and it fundamentally changed the way I thought about my work and my process. It was also the first time I saw the production process through, from start to finish; I designed every single piece and made the final product entirely by hand. This basically never happens in real life!
Where would I find you sketching on campus?
Back in the day, I'd be under the magnolia tree! If I were a student at Barnard now, you would definitely catch me working on my sketchbooks in the Design Center.
What do you listen to while at work in your studio? 
Garrett, the bartender at my favorite bar, has a great collection of playlists for every mood, so I'll usually put one of them on since they're 8-9 hours long each! Also, in grad school, I listened to all seven Harry Potter audiobooks while working on my thesis.
Who is at your dream dinner party?
Bong Joon Ho, Alexandria Ocasio-Cortez, Claire Saffitz from the Bon Appetit Test Kitchen, and Elena Ferrante. I would roast a chicken, but Claire would have to bring dessert.
What artwork was on your dorm wall?
The walls had a similar mishmash aesthetic and DIY vibe to my sketchbooks and zines. Any well-designed printed matter could go up there — postcards from The Met, illustrations from zine fests, notes from friends, a giant foldout map of London's independent bookstores, prints and photos from the Archives that I rescued before the Lehman Hall demolition. I had this huge poster of a smashed clementine that someone had scanned, and a thin newsprint drawing of a sad Bigfoot with a speech bubble that said "I stink." Though I wasn't very discerning about what I actually taped up there, I was completely meticulous about saving everything and would carefully take down and put each piece in a big envelope when it was time for move out.
What's your guilty pleasure?
The Instagram algorithm continuously shows me pictures of Timothée Chalamet…. 
What is your idea of perfect happiness?
A library book, a loaf of homemade sourdough bread, and a picnic blanket in Prospect Park on the first warm day of the year.
What is your favorite place to see art? 
In New York: The Met, the Cooper Hewitt, and Chinatown Soup. In London: the Design Museum and the ICA.
Which living person do you most admire?
I've worked a bit in film, both on set as a producer and first assistant director and off set as a graphic artist. I have the utmost respect for all women working in that wild industry, which somehow manages to be even more white and male-dominated than the world of graphic design. I particularly admire the directors Lulu Wang, Céline Sciamma, Ava DuVernay, and Lorene Scafaria.
What is your greatest extravagance?
Fancy paper stock for printmaking. I have a box full under my bed.
What is your current state of mind?
A general state of anxiety and excitement, all the time. Broadly speaking, I am not super chill. I am sure many of my fellow Barnard alums can relate.
What do you consider your greatest achievement? 
I love being a co-organizer of the NYC Feminist Zine Fest alongside fellow Barnard alum Lili Finckel and Barnard zine librarian Jenna Freedman! Even though it's just one day a year, it really feels like a community space that brings people together.
Where would you most like to live?
I would love to live in London again someday! Other contenders: Amsterdam, Copenhagen, or anywhere in Japan. 
What is your most treasured possession?
My zine collection, which has 500+ zines and counting. Plus, my four external hard drives that archive my work, and my grandmother's jewelry box from Trinidad.
Who are your heroes in real life?
All community activists everywhere.
What is your motto?
Start before you're ready.
From Suze Myers '16's sketchbook of project inspirations