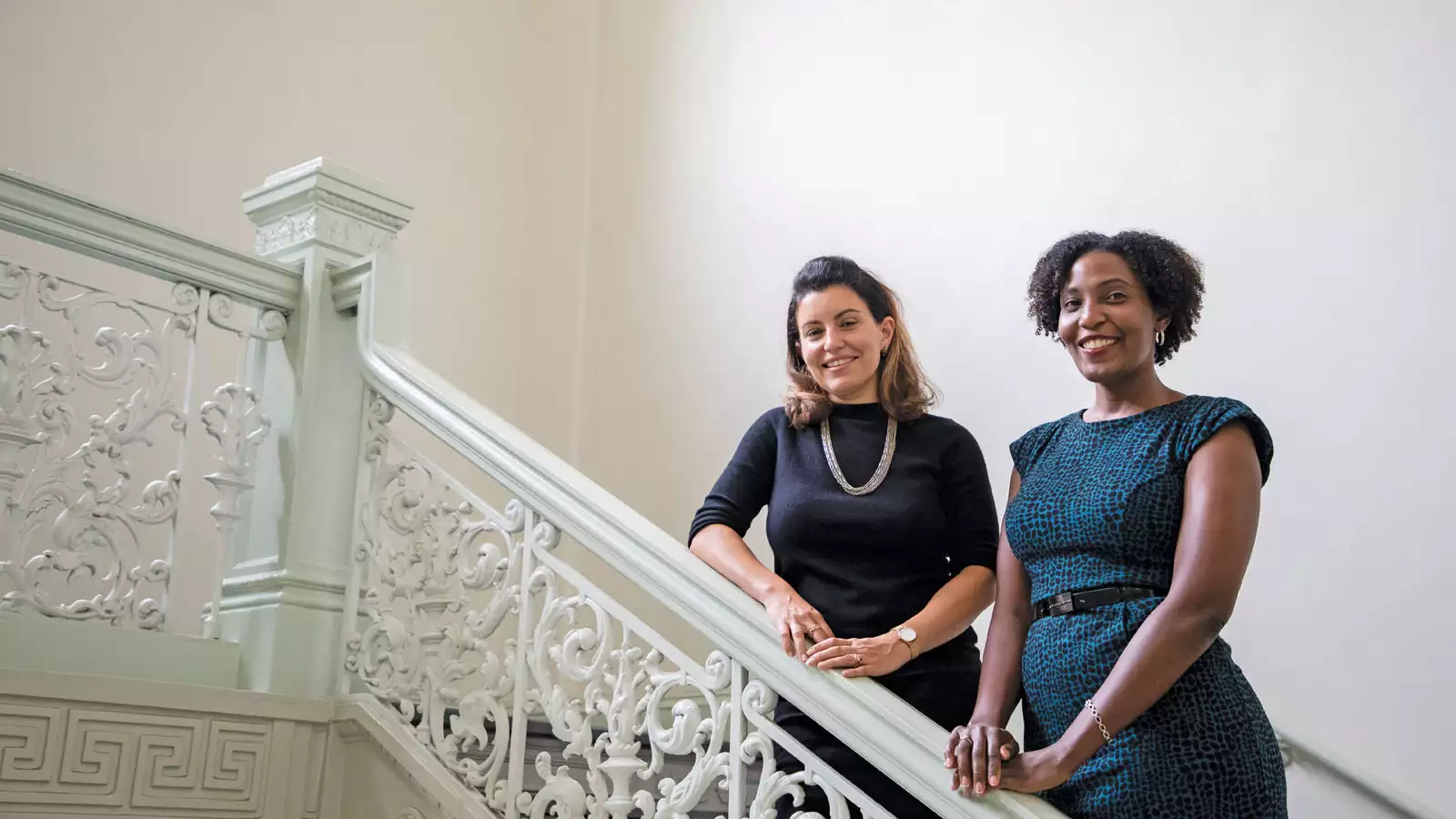 Two new leaders on campus — Vice President for Diversity, Equity, and Inclusion Ariana González Stokas and Dean of the College Leslie Grinage — share a commitment to creating an even better Barnard. 
Closely connected to the experiences of first-generation college students — Grinage was one herself, as were both of González Stokas' parents — the pair aim to fine-tune services across campus so that they better meet the needs of Barnard's diverse student body. Here's more about each of these new principals.
A More Inclusive College
"Society is so segregated. But college campuses are one of the few places where people are brought together," says Ariana González Stokas, Barnard's inaugural vice president for diversity, equity, and inclusion, whose overarching goal is to create a campus environment where all feel respected and accepted. "It's very much about building relationships so people feel they're heard," González Stokas says. "It's about how students feel they're cared for and welcome in the classroom."
González Stokas earned her Ph.D. in philosophy and education from Columbia's Graduate School of Arts and Sciences and Teacher's College. She came to Barnard most recently from Bard College, where she served as the inaugural dean for inclusive excellence. 
Higher education, González Stokas believes, is a sector that can help right some of the country's injustices and aid in the healing of its divisions. "Deepening intercultural understanding" through academic coursework and programs in residential life and student life can create a more inclusive academic community, González Stokas explains. 
To help reach that goal, she's begun taking aim at services for first-generation students and disabled students, with the goal of making those services "much more holistic, much more streamlined, and to attend to the gaps," she says. Already under consideration are a food pantry and a clothing swap, which can help meet the food security and clothing needs of low-income students. 
Ultimately, says González Stokas, her work on campus is "about building a community of support." 
New Dean, New Energy
A native New Yorker who was raised in Brooklyn's Flatbush-Ditmas Park neighborhood, Leslie Grinage is thrilled to be home again after serving as associate dean of students at Davidson College in North Carolina. The new Dean of the College was attracted to Barnard's distinct identity as "a world-class liberal arts college adjacent to a research university. I have never worked at a single-sex institution before and believe an educated woman is an empowered woman."
She also appreciates Barnard's culture: "We all have a responsibility to take care of each other. This community cares about students and supporting students outside the classroom to thrive inside the classroom. That's an important part of our work."
There's hardly an area of the Barnard student experience that Dean Grinage's work doesn't touch. She and her team have broad responsibilities in the fields of academics, careers, health and wellness, and residential and student life.
Advising is one example. "It's such an important part of the undergraduate experience," says Grinage, whose doctoral dissertation from Vanderbilt University focused on academic advising. "I'd like to look at how to sharpen the experience," she says, training her eye on envisioning Barnard's next chapter.