On November 3, President Sian Leah Beilock hosted New York Times technology and healthcare reporter Katie Hafner and Memorial Sloan Kettering bioethicist Amy Scharf for an on-campus/hybrid event to discuss the launch of Hafner and Scharf's new podcast, Lost Women of Science. Scharf and Hafner are the podcast's executive producers and the founders of the Lost Women of Science Initiative, a nonprofit organization that's partnered with Barnard to raise awareness of the important contributions women have made in the realm of scientific achievements and progress as well as empower young women and girls to pursue STEM careers. The event was part of the Barnard Year of Science, a yearlong celebration of everything related to science, technology, engineering, and math at the College. 
President Beilock moderated the discussion and connected the podcast's mission to Barnard's advancements in STEM fields. "Highlighting what women have contributed to science in the past, thinking about what they'll contribute in the future, both at Barnard and beyond, is something that's really in line with what [the College] is doing," President Beilock said. "As part of our Year of Science, where we're uplifting and celebrating all things science at Barnard, we're so excited to partner with Amy and Katie to hear about what they've done on the podcast." 
The podcast lays out reported narratives on women scientists who made groundbreaking achievements in their fields yet have gone largely unacknowledged for their pivotal work. The inaugural season of Lost Women of Science focuses on Dr. Dorothy Andersen, a pediatric pathologist who helped to identify cystic fibrosis in the 1930s. 
Read more, below, for key moments from the event with President Beilock, Scharf, and Hafner. 
On the mission of the podcast:
Amy Scharf: "The Lost Women of Science Initiative is a dual mission. It's not only to tell the stories of these women whose stories must be told, but in telling them we hope to then help create relatable role models who can inspire girls and young women to begin the STEM pipeline and if they're in the STEM pipeline, to persevere through." 
Katie Hafner: "We're also hoping to put together a series of children's books, aimed mostly at middle school years so that they can get into some of the real substance behind the science. [We want to create] the series thematically — for instance, [looking at] the lost women of the Manhattan Project, of physics, of mathematics. So we're not doing an entire book on one person that's kind of separate and down the road. The initiative is to branch out into various different areas, and this is one of them."
Watch the video of the full discussion below:
On researching women scientists:
Amy Scharf: "We have this database of about 150 to 200 women, all of whom are remarkable. What's so amazing about this cohort of women is that they're incredibly diverse. They are spread across all areas of science, from math, physics, chemistry, medicine, botany, computer science, and everything you can imagine. They are ethnically and religiously diverse. They're almost all Americans, but in terms of their diversity and where they were from in the United States, socioeconomic background, race, and ethnicity, it's a really wonderfully diverse group. 
"What's been really fun as we read about them, we each sort of fall in love with them. So we have had these very passionate meetings where we're fighting for our favorites. We end up choosing our own favorite scientists that we really want [to feature]." 
On the importance of the podcast: 
Katie Hafner: "Part of our mantra is that for every Rosalind Franklin or Marie Curie, whose story has been told, there are scores of women — these amazing scientists — whose stories haven't been told. And we've accrued a database of between 150 and 200 women whose stories deserve to be told. 
"In Dr. Andersen's case, she spent [61] years of her life on this planet, [with] many of those years devoted to her work in cystic fibrosis, and I figure we can spare a couple of hours telling her story." 
On dedicating the first season to Dr. Dorothy Andersen:
Amy Scharf: "[In this season,] we'll learn exactly how Dr. Andersen came to isolate cystic fibrosis and recognize that it was a unique disease, but we'll also put this work into context [to understand] what it was like for her to be a scientist and a doctor at Columbia's hospital in the 1930s and what kinds of obstacles she faced, as there were very few women [working] there [at the time]. For example, Andersen originally wanted to be a surgeon. But when she graduated from medical school in the late 1920s, there were no surgical residencies available for women. Or if there were, there were just a handful. [Although] that hope of hers was dashed, it was fortunate in many ways that she came to pathology, so we really unpack the history of women and medicine at that time. We also give a very deep dive into the disease of cystic fibrosis because as an educational initiative, it's not just about telling the stories of the scientist. It's also about understanding the science and conveying this understanding of the science so that our listeners can really appreciate the medicine and the science [behind it]." 
— SOLBY LIM '22
Barnard Honors the Lost Women of Science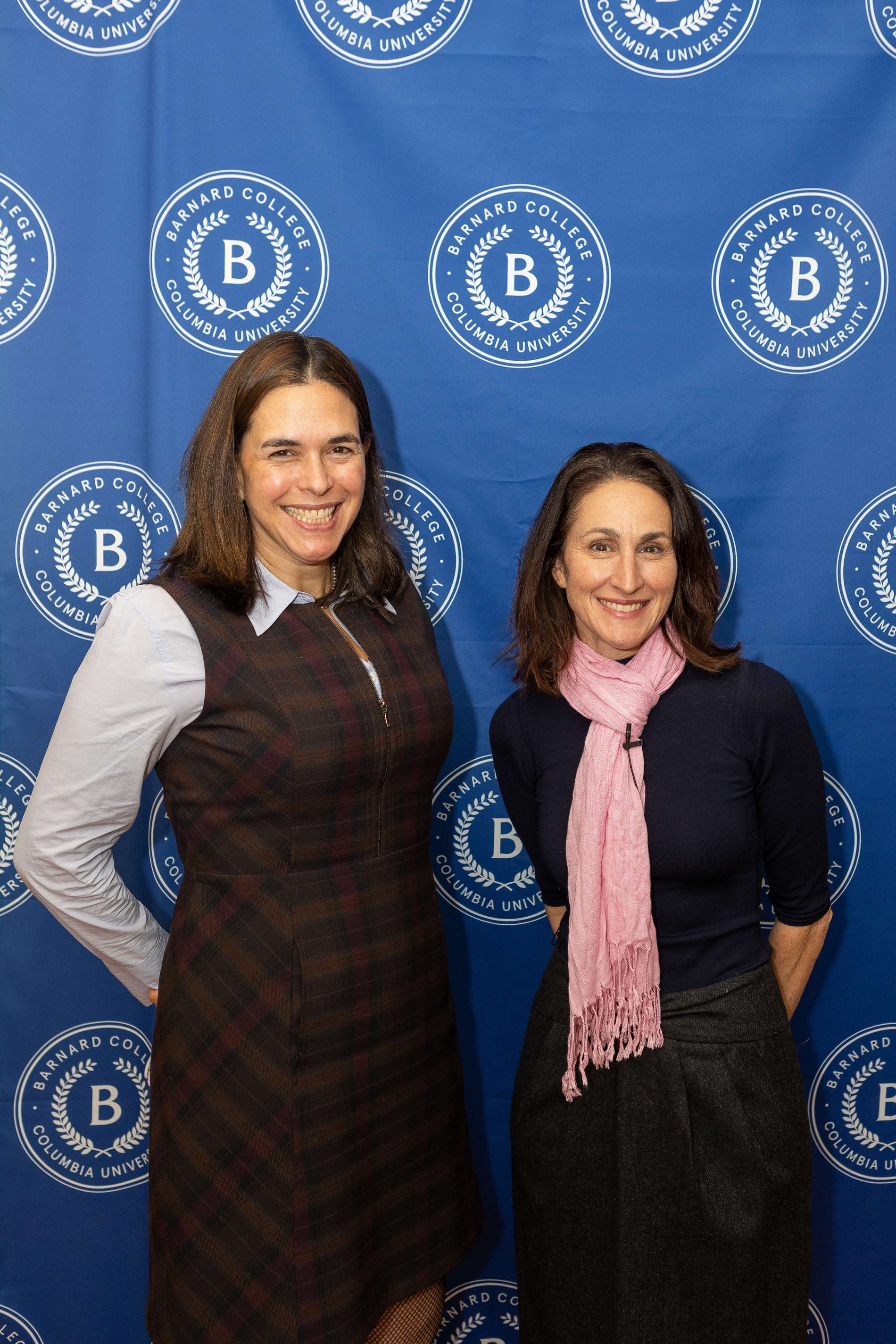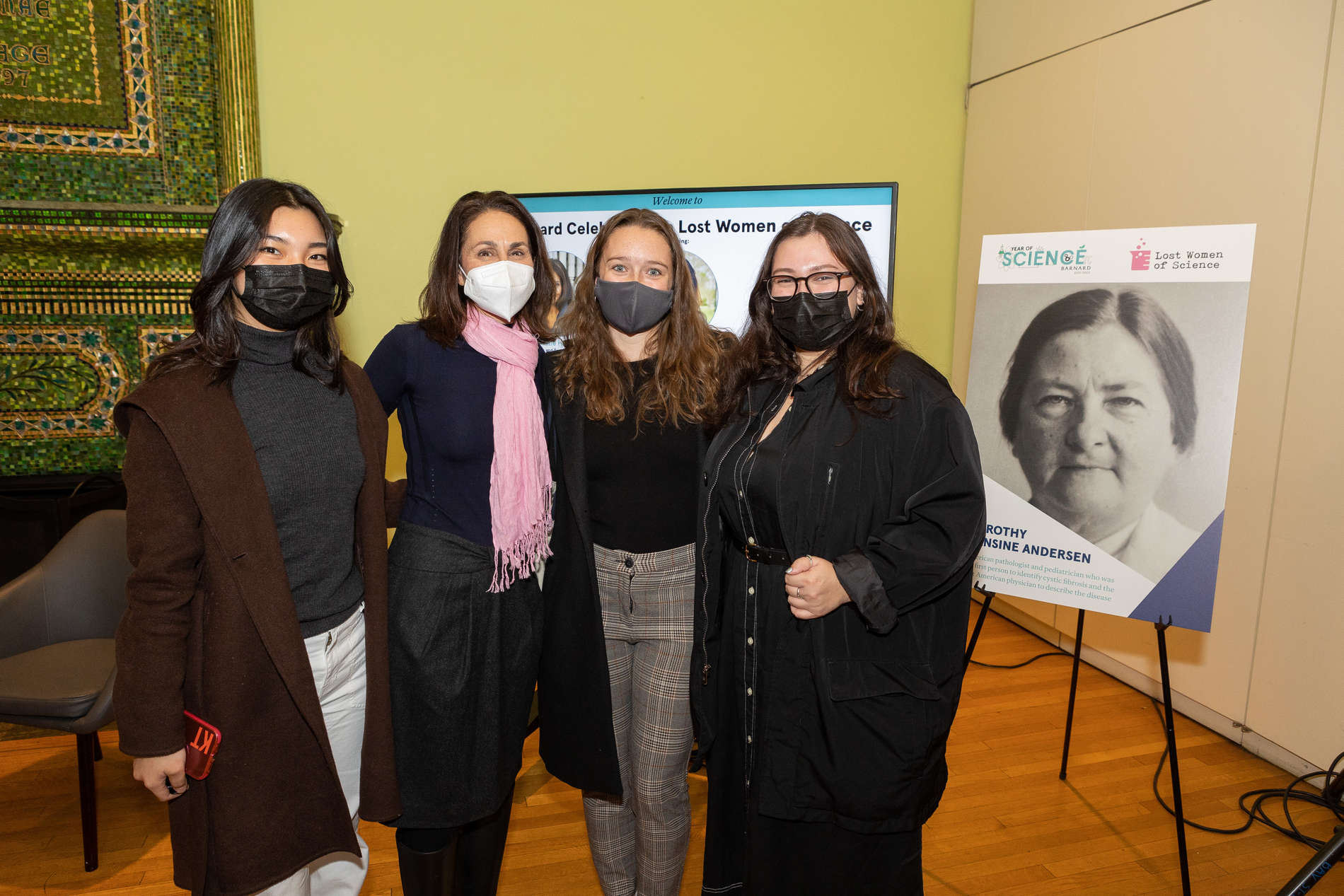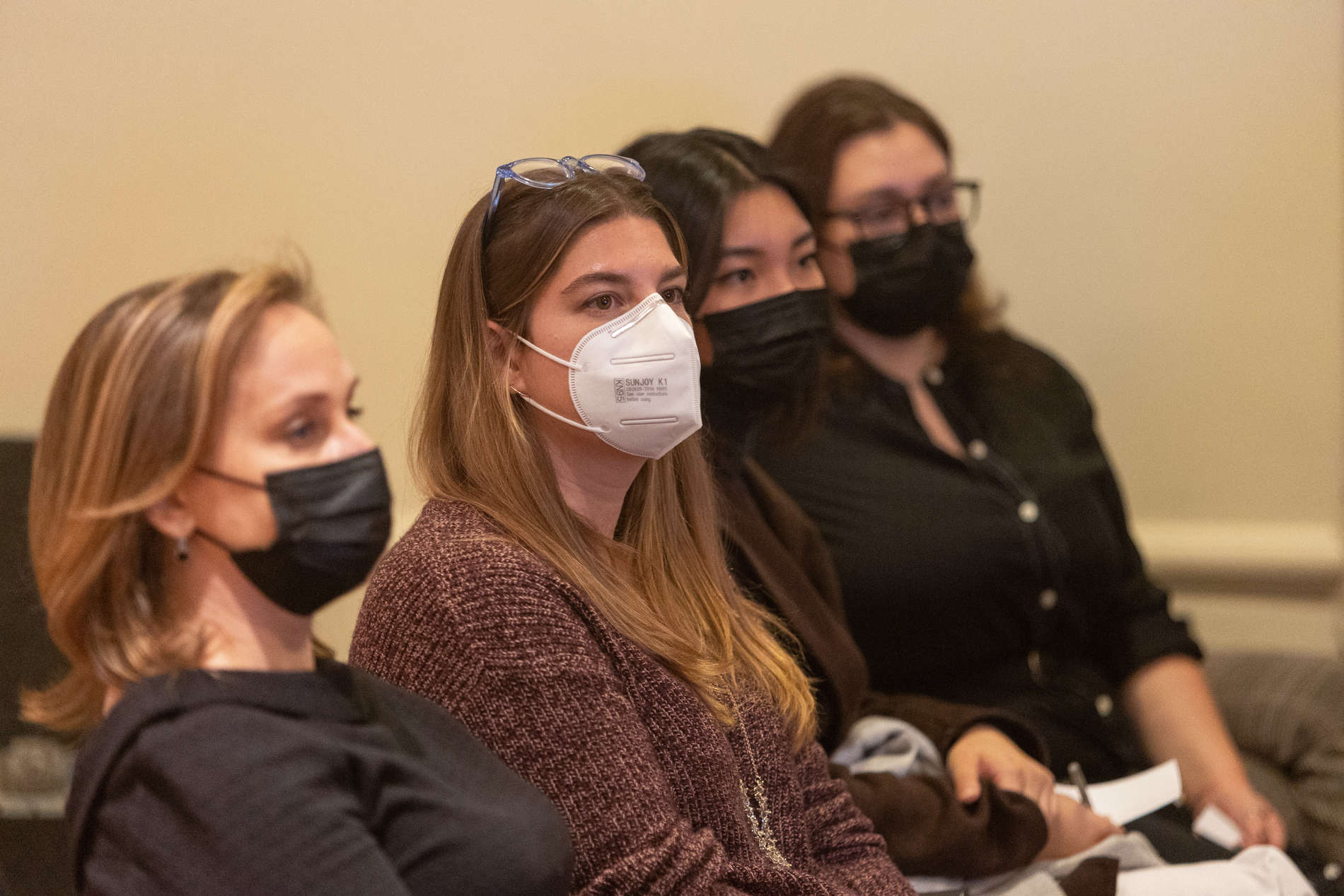 Barnard President Sian Beilock and Amy Scharf, executive producer of the Lost Women of Science podcast.
Kylie Tangonan '23, Amy Scharf, Leeza Kopaeva '22, and Giuliana Russo '22, Kylie, Leeza, and Giuliana are all current Barnard students who are interns with the Lost Women of Science Initiative.
 
Barnard staff, faculty, and students had the opportunity to hear from the Lost Women of Science team in person on Barnard's campus.