[Photo: Herjavic holding her bronze medal win from a May 2019 meet, where the Columbia women's rowing team took third place in the grand final of the varsity eight.]
Barnard has a unique relationship with Columbia, which includes partnerships like the Columbia-Barnard Consortium, which was established in 1983 to enable Barnard students to compete in NCAA Division I athletics. This enriching arrangement is unparalleled, making Barnard the only women's college whose students compete in D1 (via the Ivy League Athletic Conference). 
Caprice Herjavec '20, a member of the women's crew, began rowing her senior year of high school, before joining the Columbia Women's Rowing team in 2016 as a coxswain. Like many student-athletes, Herjavec balances a very busy schedule: studies, practice, and competitions, while also supporting her team. She is a double-major in psychology and human rights, with a minor in economics, three intersecting academic fields that she hopes will prepare her for a future in finance. Learn more about Herjavec in this "Barnard's Got Game" Q&A.
How were you introduced to crew?
I have been involved in athletics all of my life. I started off in swimming when I was young and then transitioned to cross-country and track in high school. Rowing had been big at my school, and in my senior year one of my friends urged me to try it. They insisted that my athletic abilities would transfer over well, so one chilly day at 4:45 a.m., I trudged myself out of bed and down to the lake in my town. Little did I know that I would be doing that every morning for the next five years. Rowing was my first experience in a team sport, and there was something truly unique about going to the line with eight other people.
What is your greatest athletic accomplishment?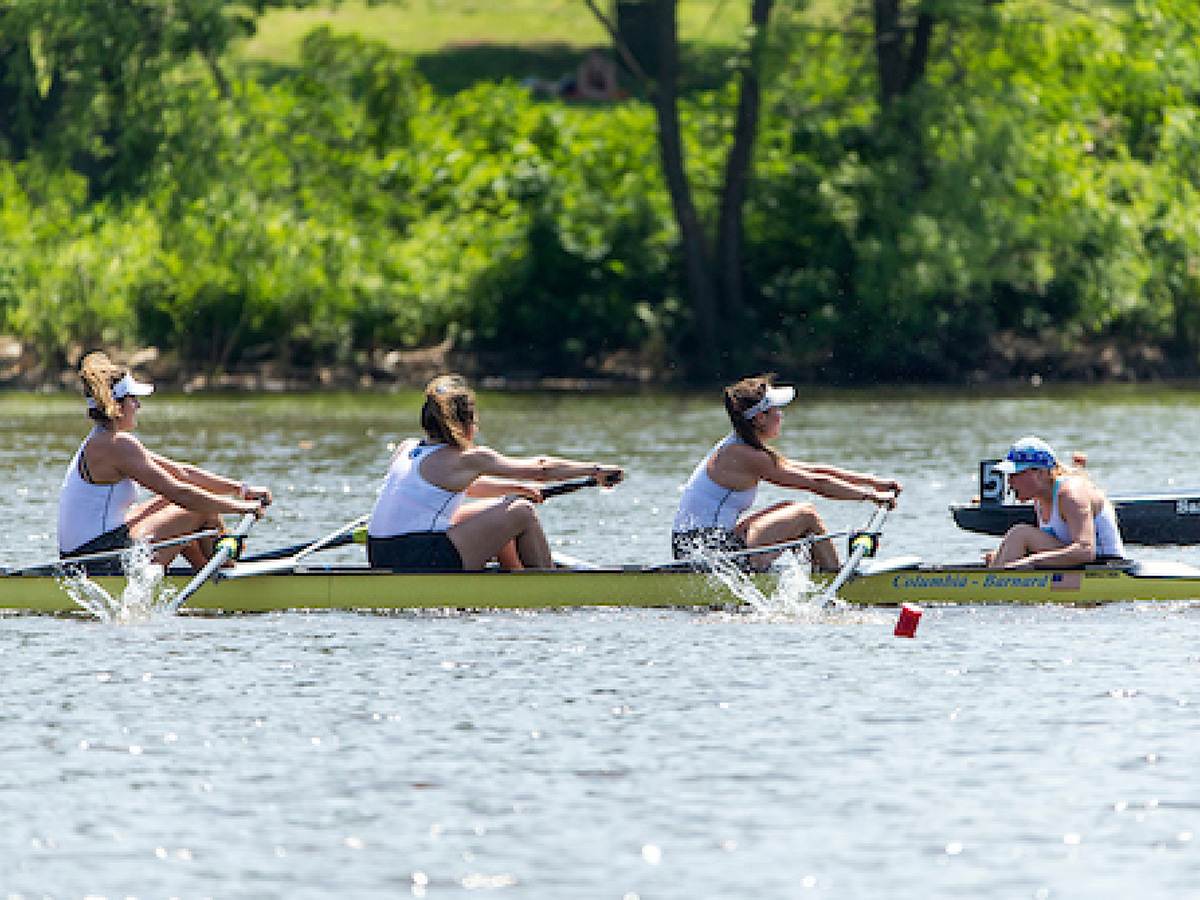 Winning a silver medal at the Ivy League Championships during my first season of coxing. I was a rower for my first year and a half on the team, and then due to my small height and size I switched to coxing. It was a challenge at first, but with the help of the rowers in my boat, I was able to lead our crew to a second-place finish at our championship meet.
What does being a student-athlete at the only college for women to offer Division I athletics mean to you?
That I am part of something really special that not a lot of women get to experience. It both bonds me with my peers and also the alumnae who have gone through the same thing. It also means I don't have to choose between getting a liberal arts education and competing in a top-level athletics program.
In the spirit of "Feel Well, Do Well," how do you take care of yourself while balancing academics and athletics?
Organization and scheduling are imperative at a school as rigorous as Barnard. The greatest piece of advice I received from a senior on my team when I was a first-year was to always know what was coming down the pipeline. At the beginning of every semester, month, and week, I write down all my assignments, regattas, and any big events, and I try to have a game plan about how to make time for everything. Another great part about being on a team is that I can always lean on my teammates for support. With a large team, chances are someone has struggled with the same things I have. Whether it's with homework help or life advice, the girls on my team have definitely helped me feel well and do well.
What motivated you to choose your majors?
I chose psychology because I was always interested in human behavior and our attempts to explain why we do the things we do, specifically within the context of pathologies. I chose human rights because I am interested in its application to international law, specifically its influence on policy and the pursuit of justice in war crimes. Finally, I'm studying economics because I've realized throughout my time at school and in New York City that no change can be implemented in our society without a thorough understanding of the economic implications and logistics.
What are your postgraduation plans?
New York is America's financial hub, and going to school in the city has introduced me to aspects of business I never knew existed or thought I'd have an interest in. After graduation, I am staying in New York and pursuing a career in financial consulting. I am grateful to Barnard for providing me with the skills necessary to enter and succeed in this male-dominated field.
Listen to an interview below with Herjavec, on Columbia University's podcast Roarcast. 
— SARAH PATAFIO '20 and STEFANI SHOREIBAH '21