Division I Athlete Applicants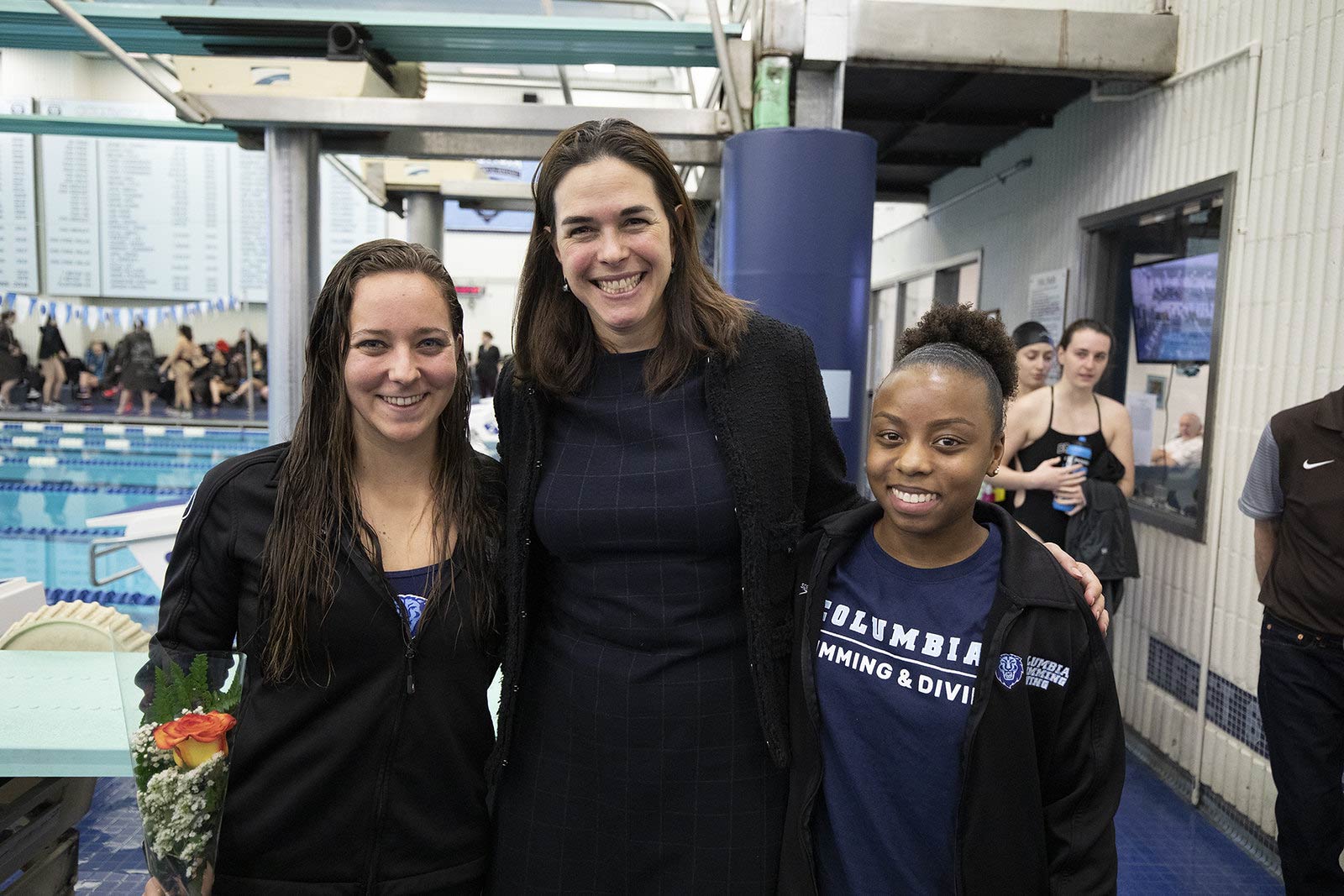 I love being able to show younger children—and especially girls—that women can be strong and active and have all the agency that we are often deprived of in media and society.
- Ester Schrieber '20, Women's Fencing
Under a unique agreement, women at Barnard College and the undergraduate divisions of Columbia University compete together as members of university-wide athletic teams. The arrangement, called the Columbia-Barnard Athletic Consortium, is the only one in NCAA Division I Athletics. Established in 1983, the consortium was designed to coincide with the admission of women to Columbia College. It was built upon an already established women's athletic program at Barnard College. The consortium provides the opportunity for women students enrolled at the separate colleges to compete within one athletics program while drawing on all the resources of all the colleges. Through the continued development of the program, the university provides all undergraduate women with the finest competitive opportunities.
How to apply as a Division I Athlete




Frequently Asked Questions
A special partnership between Barnard College and Columbia University makes it possible for students enrolled at Barnard to compete alongside Columbia students on 16 NCAA Division I teams. This arrangement offers an unparalleled opportunity to enjoy all the benefits of being a student in a small, liberal arts setting where the success of women is the focus—while being part of the NCAA Division I and the Ivy League Conference.
Before 1983, Barnard had its own established athletics program for women, and Columbia University was an all-male institution. When women were admitted to Columbia University in 1983, the consortium was formed. The goal remains to provide all undergraduate women at Columbia and Barnard the finest competitive opportunities within the Ivy League. By combining forces, Barnard and Columbia are able to offer a stronger athletic program than what either could offer individually.
Barnard as part of Columbia University is a member of the Ivy League Athletic Conference, which also includes Brown, Cornell, Dartmouth, Harvard, University of Pennsylvania, Princeton, and Yale. The Ivy League annually finishes among the top Division I athletic conferences in national competitive rankings, and Ivy League student-athletes earn the country's best records in the NCAA Academic Performance Ratings.
Coaches for women's sports at Columbia recruit for Barnard College, Columbia College, and the School of Engineering and Applied Science. Students from all three compete as Columbia Lions. It's up to you to figure out which school or college is the best fit for you!
In terms of basic facts, Barnard is smaller, with slightly more than 2,600 students on a four-acre campus. Comparatively, Columbia has a total of nearly 30,000 students on a 32-acre campus. Barnard is an all-women's institution, while Columbia is co-ed. Both Barnard and Columbia are liberal arts institutions, but they have different approaches. Columbia has a shared Core Curriculum to guide course selection, while Barnard uses the Foundations curriculum, a progressing set of requirements which provides flexibility and exposure to a wide range of subjects through Distribution Requirements and the Six Modes of Thinking. Through Barnard's partnership with Columbia, Barnard students can take classes, access resources such as libraries, and join student organizations open to all students at Columbia.
If you see yourself in a smaller liberal arts college setting where faculty and staff members know you and are committed to your success as a student, an athlete, a leader, and a woman, but you don't want to give up the opportunity to compete in Division I athletics, consider Barnard.
Your Barnard diploma will include the signatures of both the president of Barnard College and the president of Columbia University, as well as the seals of both institutions. Barnard students are individually recognized at a College commencement ceremony and degrees are conferred to all schools and colleges at the University commencement ceremony.
The universities in the Ivy League, including Columbia/Barnard, do not award scholarships based on athletic ability. At Barnard, financial aid is completely based on need. Find out more about financial aid at Barnard.
Students use facilities on both the Barnard and Columbia campuses, including Dodge, Levien, and LeFrak gyms, along with outdoor facilities at Baker Field, a 26-acre complex at the northern tip of Manhattan. Highlights include three multi-sport gyms, two indoor pools, a boathouse, a soccer stadium, a softball field, and a field hockey venue.
Under NCAA Division I guidelines, you may visit Barnard — at your own expense — anytime before or during your senior year. That's known as an "unofficial visit." An official visit, on the other hand, is financed in whole or part by Barnard/Columbia. An official visit cannot be longer than 48 hours. You can make up to five official paid visits to college campuses.