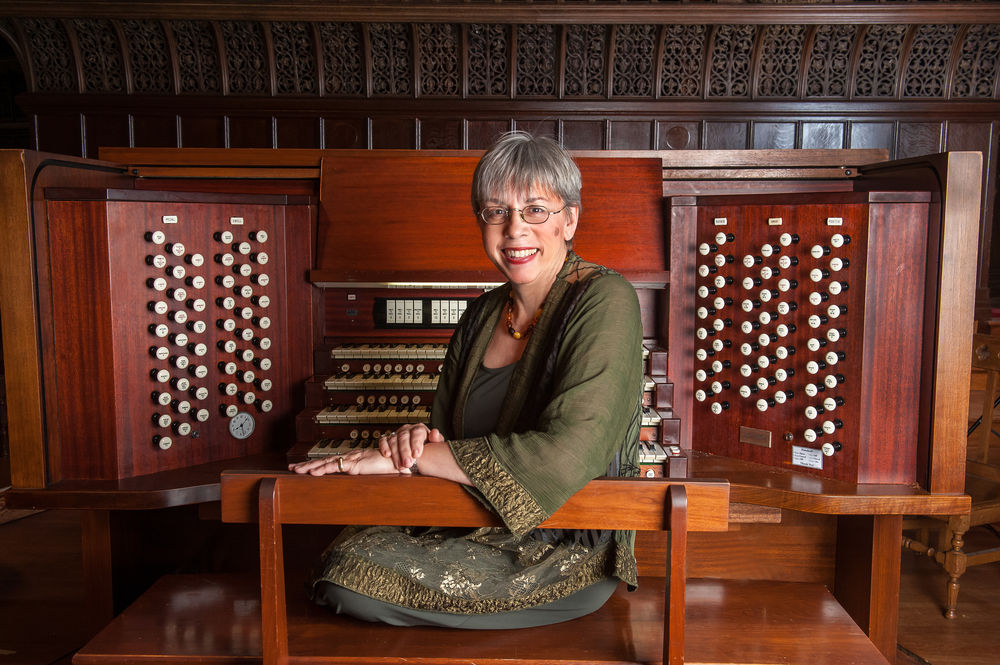 Professor of Professional Practice Gail Archer, who is is the Director of the Barnard-Columbia Chorus and Chamber Choir, is a Grammy-nominated concert organist and one of the few women organists in the field. She has taught at Barnard for nearly three decades, has recorded eight albums, including the most recent, A Russian Journey, featuring works by 19th and 20th Century Russian composers, and is the founder of Musforum, an online magazine dedicated to affirming and promoting the work of women organists. (Read her article "Prairie Voices," about a conference for women organists, ages 11-88, that Musforum hosted and Barnard supported over the summer, in Omaha.) After returning from her summer tour across Europe, we hear from Archer about her amazing career.
*See snapshots from Archer's summer performance venues and listen to samples of her music
What made you choose the organ over other instruments, and when did you start playing?  
I started to play the piano at age 8, which is also the age I joined the children's choir at our church. My family were regular churchgoers, so I heard wonderful choral and organ music from my earliest years. I was fascinated by the complexity of the organ and as soon as my legs were long enough to reach the pedals at age 13, I went over to the organ.
In past news interviews, you have discussed sexism in your industry. Can you share some of your observations or experiences?
Highly educated and skilled women in the field are often overlooked. Today, not a single women leads a conservatory organ program in North America, and none of the current heads of these programs hold terminal degrees. The women who are peers in this field hold DMAs or PhDs and are conductors, composers, and organists who teach music history, music theory, and composition at major universities. They receive far less attention than their male colleagues teaching in the conservatories or heading cathedral programs in major cities.
Similarly, only two women lead cathedral music programs in a major city in the United States: Jennifer Pascual at St. Patrick's Cathedral in New York and Crista Miller at the Co-Cathedral of the Sacred Heart in Houston. It's an unfortunate reality that women are still trying to overcome. 
Is this why your digital network Musforum is specifically dedicated to women organists?
I started Musforum after my research on women organists in North America was published in Spring 2013 in the Journal of the International Alliance of Women in Music. I was distressed and discouraged by the personal stories I heard from women colleagues, and I was equally determined to do something to change the culture. With the help of Barnard's information technology team, I created the Musforum website featuring an international database of women organists. Each month, a member is featured as a way to highlight her accomplishments and as a way to profile women who I believe deserve far more recognition and visibility.  
To date, we have had two conferences: The first took place in New York City in June 2015, and the second was in Omaha, Nebraska, in June 2017. Omaha is the only town in the United States that has a woman music director at both the Roman Catholic and Episcopal cathedrals. There were choral and organ performances, chamber music, choral and organ reading sessions, and lectures. All performers, ages 12-88, were women. The joyful spirit and high level of the performances and lectures at the gathering inspired all of us and shed light on the remarkable achievements of women musicians in the Heartland. Our next meeting will take place in Houston, Texas, in 2019.
I know you play all over the world. Do you get a different reception when touring overseas, such as your summer concert series this year through Europe, than when performing in the United States?
The oldest organ in Europe, in Sion, Switzerland, dates from the mid-15th century. The principal book of Gregorian chant, the Liber Usualis, was codified in the sixth century. When one performs in Europe, one is part of a tradition of choir and organ that dates back many centuries and which is deeply appreciated by people of European nations, regardless of their personal faith tradition. Music education is very important in the schools, so more people sing and play instruments, which tends to encourage them to regularly attend concerts of classical music. In my experience over the past 15 years performing summer concerts in Europe, the churches are full to overflowing as the summer organ series is an anticipated highlight of the cultural calendar.
One of the highlights of the spring was when the Barnard-Columbia Chorus performed a Mozart concert with the chorus of the University of Lausanne(Choeur Universitaire de Lausanne) in Switzerland, which you conducted. Can you discuss how your work with students differs from the way you work with professional colleagues?
Student singers have an enthusiasm and commitment for choral and solo singing that often surpasses the work of professional adult singers. All our soloists come from the choir itself or from our solo vocal studios, and the students devote many hours to rehearsing and perfecting their roles. For many of them, it is the first time they sing with an orchestra in a grand space. Traveling to Switzerland in May was the first trip to Europe for a number of the choristers. We all made new friends during our New York and Lausanne rehearsals, festive meals and concerts, which made the music even more beautiful and meaningful for performers and the audience alike. In these troubled times, we need choir and organ to lift hearts and minds, and to bring people together in an inspiring and joyful spirit.
---