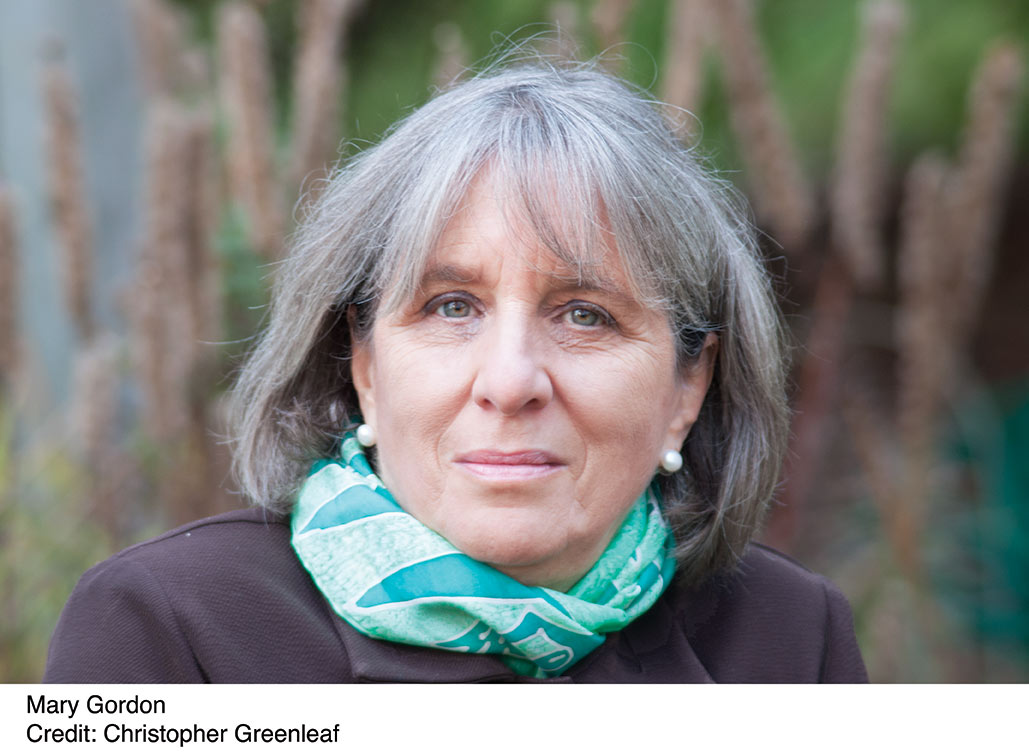 Professor Mary Gordon '71, the Millicent C. McIntosh Professor in English and Writing and an award-winning author, has spent her career examining some of the deepest human experiences, including our connections to faith, through literature. As a sought-after author, she has been featured in The New York Times (which published a rave review of her most recent book), on Bill Moyer's Faith and Reason series, and in America Magazine, among many others. She has taught at Barnard for nearly three decades.
Gordon has published seven bestselling novels over four decades (including The Love of My Youth, Final Payments, Pearl), a collection of novellas (The Liar's Wife), six works of nonfiction (including the memoirs The Shadow Man and Circling My Mother; two Joan of Arc biographies; and Reading Jesus: A Writer's Encounter with the Gospels), and three collections of fic­tion (including The Stories of Mary Gordon, which was awarded the Story Prize). She has received a Lila Acheson Wallace Reader's Digest Writer's Award and a Guggenheim Fellowship and was elected to the American Academy of Arts and Letters in 2007.
In her most recent novel, There Your Heart Lies, about an American woman's experience in Spain during and after the Spanish Civil War, Gordon takes readers across two continents and two generations to tell a story of life, love, religion, and the art of fearlessness. In this special "Break This Down" interview, Gordon explains what the past can teach us about the present.
What inspired you to center the story around the Spanish Civil War from an American woman's perspective?
Most of what we know about the Spanish Civil War is from a man's perspective, primarily Ernest Hemingway and George Orwell's. Both of them had a political agenda; they were writing, in the case of Hemingway, in support of the Communists; in Orwell's, in support of the anarchists. Both suppressed the negative aspects of the parties they supported, and neither acknowledged the complexities and contradictions of the people they supported. Both had a romance about the nobility of war, of bloodshed, and I wanted a woman's perspective, the perspective of one who tended the shattered and destroyed bodies that were far from heroic.
Why did you choose to tell a multi-generational, cross-continental story that spans from the 1930s to 2009?
I have often been struck that young people are not able to act with the impetus of large ideas, like Communism or pacifism. They are too aware of all the large ideas that have failed, and so they often find themselves politically and even existentially adrift. I wanted to compare this to the idealism of the young in the 1930s.
Can you describe the different kinds of research you conducted to write There Your Heart Lies, and what were some of your most surprising discoveries?
I began reading the standard histories by Hugh Thomas and Paul Preston. Preston's work, especially a book on women in the Spanish Civil War, called Doves of War, led me to sources about women in the war. From there, I just kept hunting through bibliographies; I also traveled to Spain to look at records and visual archives. I discovered a treasure-trove of documents in the Tamiment Library at New York University; an American nurse, Frederica Morton, collected letters and records from hundreds of volunteers. What was most shocking and enlightening was the discovery of the terrible shortages of medical supplies and the implication for doctors, nurses, medical volunteers.
While researching, did you find any historical information that sheds light on America's current political environment?
I was struck by the similarities, for example, with Syria: what happens when an opposition is so fragmented, as the left was in Spain, that it works against itself. I also see echoes in contemporary America in the desire for certainty in an uncertain world.
There Your Heart Lies explores love and loss via themes of Catholicism and a grandmother/daughter relationship. How do these motifs inform each other?
I'm not sure they do, except that the grandmother realizes how many terms that were familiar to her are utterly alien to her granddaughter.
Why do you think storytelling has the ability to change one's perspective on life, as it does with the character Amelia?
Because with story, change is never abstract, never impersonal.
For more on Gordon and her books, visit her website.
---