Congratulations new 4+1 program entries!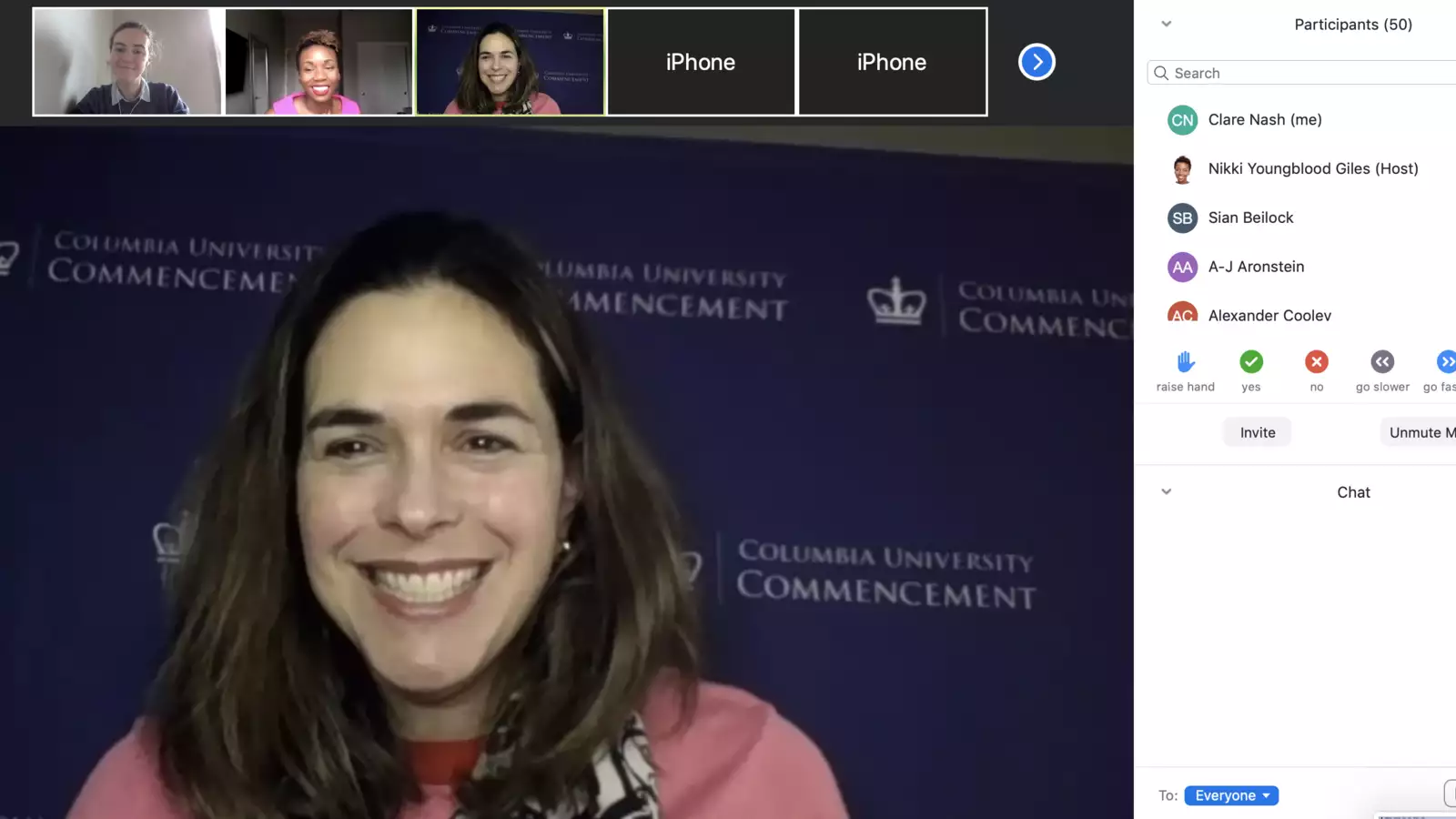 More than 60 students, faculty, and college leaders gathered virtually on May 6 for the inaugural Pathways Celebration, sharing their appreciation for a unique program that offers Barnard students a five-year journey through a nationally renowned education in the arts and sciences and one of five prestigious graduate programs at Columbia University.
Fourth- and fifth-year students presented their master's degree research projects and shared the intellectual, experiential, and social experiences they garnered as they took advantage of the best of two great institutions. Barnard president Sian Leah Beilock congratulated both graduates and the newly admitted Pathways cohorts, whose experience at Barnard gave them entry into Pathways and their graduate education track.
"You really are changing history here," said President Beilock of students who are pursuing a bachelor's degree alongside a master's in engineering, public health, public affairs, international affairs, humanities disciplines, and more. "This is something that very few schools are able to do, and I'm so excited to see how you take it and use it to change the world, because we need it right now, and we're certain that you're going to have an impact."
 
Students talked about the rare combination of advantages the Pathways program offered them: personal guidance from Barnard faculty throughout their journey, support from Barnard staff and enrichment programs across the five years, a cohort that shares the experience and offers social opportunities, and a network that draws on both undergraduate friends and a broad spectrum of graduate students.
"[The Pathways rest] on a model of building a community," said Carmelina Palmer '19, a 4+1 Pathways student who majored in human rights and Asian and Middle Eastern cultures at Barnard and graduated this year from the Columbia School of Public and International Affairs (SIPA). "Being able to remain a part of Barnard while transitioning to my graduate school life allowed me to have a foot in two incredible spaces and find a sense of belonging in both."
President Beilock was joined by  Provost Linda Bell, Dean of the College Leslie Grinage, Druckenmiller Professor of Computer Science and Director of Vagelos Computational Science Center Rebecca Wright, Beyond Barnard deans A-J Aronstein and Nikki Youngblood Giles, and more.
"These are really amazing achievements, and we are committed to the growth and strength of this program," added Provost Bell. "We're convinced that these Pathways will give you, our students, an enormous leg up on in your professional careers, in your academic careers, and whatever you chose to pursue moving forward and the confidence to pursue it."  
Isabel de Katona '19, another 4+1 student who majored in anthropology with a minor in economics, said she chose to join a Pathway because "a master's in public affairs from SIPA would allow me the flexibility to shift careers and jobs as time goes by, given its broad applications to a multitude of sectors."
Choosing the "Pathways" Ahead
At a time in history when seismic economic shifts are producing uncertain financial outlooks and more competitive job markets, the Accelerated 4+1 Pathways provide an advantage to Barnard students, who have the option to take a seamless, custom-designed journey through a nationally renowned education in the arts and sciences and into a fifth year in one of Columbia University's world-class graduate programs, earning a valuable credential faster and at less cost than a traditional master's degree.
"Our Accelerated 4+1 Pathways combine an undergraduate degree from one of the most selective liberal arts colleges with a competitive master's from a leading research university," said President Beilock. "We provide students with the highly respected credentials and well-rounded résumés they need, giving them a distinct edge in an ever-shifting job market. 
"By streamlining opportunities for continued education, we provide a foundation for lifelong learning, a unique entree to a wide range of career possibilities and network of classmates and mentors, and the knowledge and skills they need to make their mark in the world," President Beilock added. 
Students' Accelerated 4+1 Pathways education is woven into a broad and rigorous exploration of the arts and sciences, with the freedom and flexibility to choose from a wide variety of majors. The Pathways complement Barnard's strengths in science, technology, engineering, and math (STEM) fields, with programs in biomedical, chemical, civil, computer science, electrical, mechanical, and industrial engineering and operations research through Columbia's School of Engineering and Applied Sciences (SEAS); at the Mailman School of Public Health; and at the Graduate School of Arts and Sciences Quantitative Methods in the Social Sciences (QMSS). Pathways are also available to the School of International and Public Affairs (SIPA) and the Harriman Institute for Russian, Eurasian and East European Studies. 
"Pathways participants follow a specially designed course of study that combines undergraduate and graduate classes, giving them access to renowned scholars and researchers from both Barnard and Columbia," said Youngblood Giles. "At every step, students receive personalized guidance and resources from Barnard's faculty and advisors, as well as support from a cohort of peers who share their passions, experiences, and purpose." The pathways align with Beyond Barnard's mission to support students and alumnae as they define, pursue, and achieve success in their careers and communities. Launched in spring 2018, Beyond Barnard serves as a one-stop shop for support related to professional life, from career exploration and advising to opportunities for experiential education and preparation for graduate school.
For instance, Palmer credits her SIPA mentor, Assistant Dean for Student Affairs Samantha Shapses-Wertheim, for providing meaningful guidance and becoming a role model. "Being able to not only receive [Dean Shapses'] professional and academic advice but to see her actively work on the problems we talk about occurring on a global level within our community has been a tremendous opportunity for learning outside of the classroom."
Getting Results
The Accelerated 4+1 Pathways programs elevate students' academic experiences through a robust menu of offerings that distinguish Barnard from its undergraduate peers. "The 4+1 Pathways are an exciting expansion of what already makes Barnard a singular institution — a close community dedicated to rigorous academics with full access to Columbia University's vast array of courses, programs, and institutes," said Bell. 
"Designed to lead students along a well-outlined track with hands-on advising, the 4+1 Pathways allow students to take a broad range of coursework as they find their true academic passion in their initial years of their Barnard education before taking a deep dive into their major and subsequently pursuing advanced graduate work," Bell continued. "The various 4+1 Pathways each enable the deep accumulation of skill, training, and knowledge that enhances our students' expertise and positions them well for their future careers and academic pursuits."
Pathways in engineering, data science, and public health are helping students thrive in STEM fields where women are historically underrepresented. The option to pursue an advanced degree is especially important for the fast-growing number of students majoring in STEM at Barnard: In the Class of 2019, 34% were math and science majors (compared to about 21% nationally); and one-third of underrepresented minorities were STEM majors (compared to 23% nationally).
"[These programs] give Barnard students the opportunity to have an outstanding liberal arts college education while simultaneously preparing to complete a master's degree in very exciting areas of engineering in 12-15 months," said Rachel Narehood Austin, Diana T. and P. Roy Vagelos Professor of Chemistry and department chair. "It offers them the best of two worlds, with close mentorship and guidance from two strong institutions, both of whom are committed to advancing women in STEM."
 
Youngblood Giles points to how the Pathways carefully prepare students at every step of the way to be "ready to choose the right path, ready for the rigors of graduate study, and ready to launch into careers and lives of meaning."
De Katona believes that Barnard's foundation helped her thrive and that the advanced degree from Columbia will give her a competitive edge: "Barnard pushed me to question my closely held beliefs in a way I think only a liberal arts education can do, and specifically a women's college liberal arts education. 
"This program has given me the benefit of being able to build a career from a place of already having two degrees, with a better understanding of how I can use both of them in conjunction with each other," de Katona continued. "Through the SIPA experience, I have learned how to articulate a point combining my anthropology background with a solution-oriented policy perspective, to put these to test in consulting projects with outside clients, and to insist on the incorporation of a liberal arts lens into spaces in which it is sorely needed."
"At Barnard, I was exposed to theoretical and empirical knowledge," agreed Palmer, "and at SIPA, I was able gain the pragmatic experience of how to mobilize and critically engage with the problems I see in the world." 
Next Steps for Interested Students
Whether a student is interested in engineering or East European studies, it's likely that Barnard offers a Pathway for them to pursue accelerated graduate study. And because the College streamlines the application process, more students can — and have — applied. 
Eligible students with a demonstrated record of undergraduate excellence are guaranteed admission into their chosen Columbia master's program (no standardized testing, letters of recommendation, or interviews), and they enter those programs full-time in their fifth year with the preparation to thrive in their graduate studies.
To help incoming students learn about the expanding world of advanced learning at Barnard, Beyond Barnard is working closely with Admissions to offer ongoing information sessions throughout the summer. Information on summer overview sessions will be available in Beyond Barnard's June 1 newsletter and throughout the academic year in Beyond Barnard's Handshake. Meredith Kol-Balfour '24 attended one of the information sessions offered in April and recognized the opportunity straight away. Speaking with Youngblood Giles about her interest in the Columbia Graduate School of Arts and Sciences Quantitative Methods in the Social Sciences (QMSS) helped affirm Kol-Balfour's choice of Barnard. 

"The exceptional support that Barnard has already offered me, both academically and emotionally, helped me to choose Barnard," said Kol-Balfour. "Having a clear and mapped-out direction is greatly appealing to me, and the combination of this practical and inspiring pathway, along with the welcoming and supportive space, is what did it."

"In addition to providing information and administrative support for the Pathways," Youngblood Giles said, "the Beyond Barnard team supports students in the application process, especially in the development of personal statements, preparing short-answer prompts, and crafting the college résumé." As most of the Accelerated 4+1 Pathways application deadlines occur during the fall semester of a student's junior year, students can confirm all checklists by attending an overview session. 
Sessions for each accelerated pathway are facilitated throughout the academic year; students can register via Beyond Barnard. Sessions are led by Barnard faculty and their Columbia counterparts to outline course plans, application timelines, and career outcomes for the Pathways. "Current 4+1 students participate in the overview sessions, providing insight into the student experience," explained Youngblood Giles. 
At the information session for SIPA on April 21, Palmer shared how members of each cohort support one another through their time at Barnard and into the graduate program at Columbia. "Beyond academics, I gained this incredible community of six equally ambitious and passionate women with very different life paths but a common intersection. There is a network of professional support that we are able to provide each other that fundamentally has changed the way that I understand how women support women."
"I chose to continue on into the 4+1 program with SIPA because I wanted to use my liberal arts education, my ability to think from multiple perspectives, to craft policy solutions," de Katona added.
"Talk to a faculty mentor as soon as you can," advises Professor Rajiv Sethi of the Barnard Economics Department. Sethi acts as an Operations Research developer in collaboration with the Department of Industrial Engineering and Operations Research (IEOR) at Columbia University School of Engineering and Applied Science. "These programs require students to start planning very early, ideally in their first year, and to choose study-abroad options with great care, so that they can complete all requirements in time." Sethi added, "SIPA is a dynamic place; there is no ideal SIPA student. It is our diversity that makes us a stronger community and the Barnard/SIPA cohorts more meaningful. Within the five years from the past two cohorts, students with a variety of GPAs, interests, passions, and career paths have been accepted." 
Youngblood Giles advises curious students to attend a Pathways overview session and then arrange a follow-up appointment with a Barnard faculty lead. Each faculty lead is dedicated to supporting the specific pathway of interest and will assist with mapping out a course plan in line with the eligibility requirements for the 4+1 program of interest. 
As students progress through their first two years at Barnard, interests may also begin to gel and make the right "Pathway" more clear, as Palmer experienced. "SIPA became a natural fit for me," she says of her decision to pursue that particular Accelerated 4+1 Pathway. "My undergraduate program of study and participation in Columbia International Relations Council and Affairs (CIRCA) made my interests and the classes at SIPA a perfect match." 
To explore available Pathways, potential applicants should express their interest to Beyond Barnard, attend upcoming information sessions via Handshake, watch the following video, read more below, and/or visit here.
Overview of the Accelerated 4+1 Pathways 
School of International & Public Affairs (BA/MIA or MPA):
Students in the SIPA 4+1 Pathway at the Columbia School of International & Public Affairs (SIPA), have the choice of working toward either a Master of International Affairs (MIA) or a Master of Public Administration (MPA) degree in the process of earning their undergraduate degree. At SIPA, students learn from faculty working on the current public health crisis, such as how best to understand and respond to the COVID-19 outbreak. 
Fu Foundation School of Engineering and Applied Science (BA/MS): 
At the Columbia School of Engineering and Applied Science (SEAS), Barnard faculty lead students through the SEAS Accelerated 4+1 Pathways in biomedical, chemical, civil, computer science, electrical, mechanical, and industrial engineering and operations research. On April 23, interested students attended an information session hosted by Barnard with faculty advisors. 
Mailman School of Public Health (BA/MPH):
Ninety-seven percent of Columbia University Mailman School of Public Health — ranked in the top 5 among national public health schools — are either employed or continuing studies after graduation. This pathway allows students to be at the forefront of public health research, education, and community collaboration. Addressing everything from the current global pandemic caused by the novel coronavirus to healthcare policy, Mailman tackles today's pressing public health issues, translating research into action.
Harriman Institute (BA/MA):
Budding Eastern European culture experts who attend Columbia Harriman Institute Program for Russian, Eurasian and East European Studies will train to become specialists who set academic and scholarly agendas, craft new policies, and challenge how we study our changing world. Founded in 1946 as the the first academic center in the United States devoted to the interdisciplinary study of Russia and the Soviet Union, Harriman Institute is focused on "first, the direct advancement of knowledge in the Russian field through the coordinated research work of faculty and students; and secondly, the training of these students… as American specialists who will subsequently do work of authority and influence in the Russian field."
Quantitative Methods in Social Sciences (BA/MA):
An interdisciplinary graduate program in Columbia Graduate School of Arts and Sciences Quantitative Methods in the Social Sciences (QMSS) leverages a student's quantitative skills and knowledge at the Institute for Social & Economic Research & Policy (Graduate School of Arts & Sciences).