The Chemistry of Cosmetics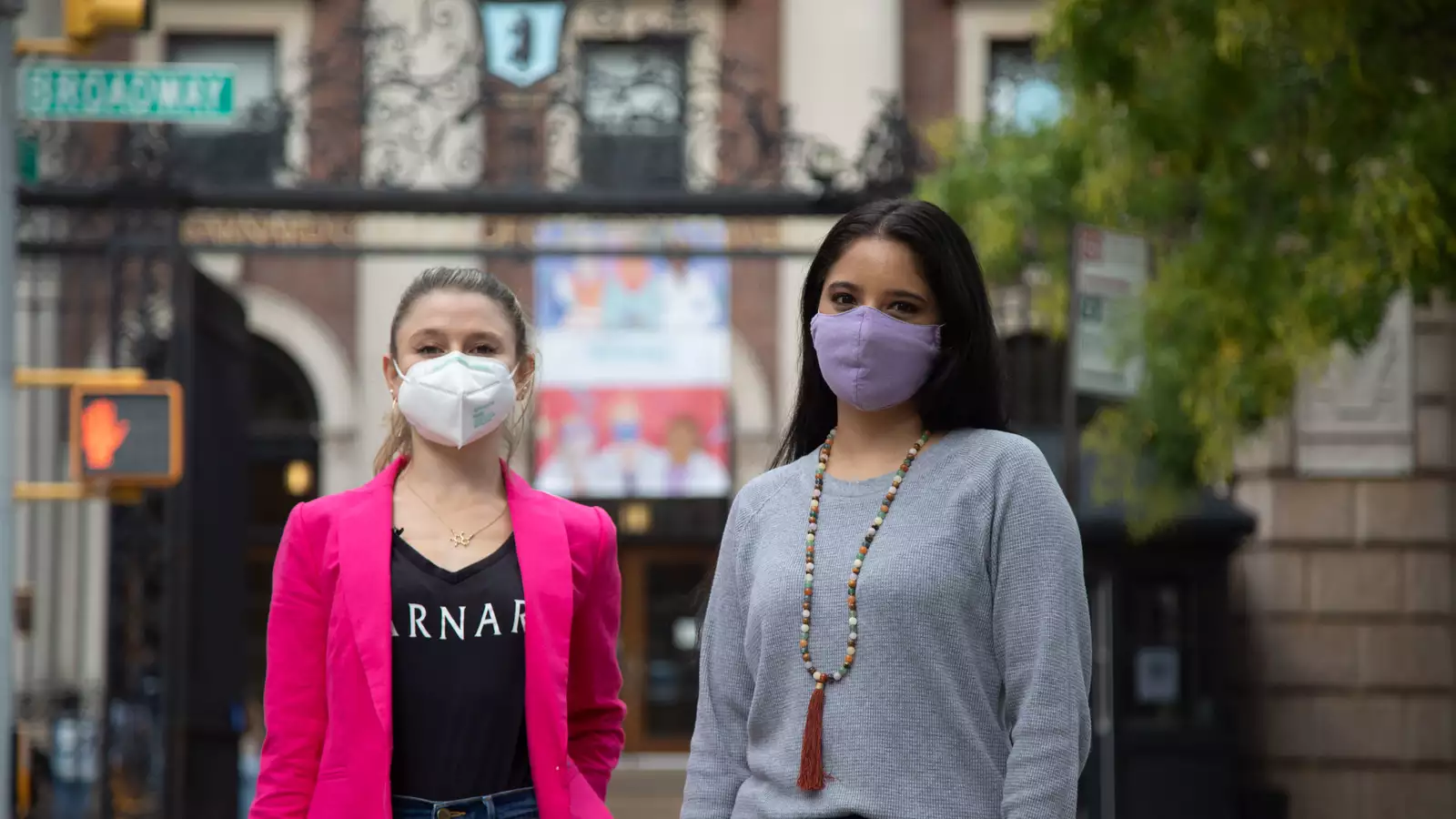 Above photo: Alison Scorese '16 and Rhitu (Rhi) Risal '14, on campus to chat chemistry and cosmetics.
When some think "chemistry," they may not think "cosmetics," but as Barnard students, Rhitu (Rhi) Risal '14 and Alison Scorese '16 did. Today, they have careers in cosmetics that reflect the passion they've always had for science — Risal is a cosmetics company founder who works cheek-by-jowl with a chemist, and Scorese is a research chemist at a large cosmetics company. 
Even though they work in different sides of the beauty industry, chemistry plays a major role in each of their jobs. Both alumnae also initially chose to attend Barnard because of their interests in STEM and the arts — Risal minored in dance, and Scorese was a member of the Columbia Musical Theater Society. The two interests are far from disparate, as working with cosmetics gives them ample opportunity to blend chemistry and creativity, from figuring out how to create formulas that have staying power to mixing and matching ingredients and colors that complement different skin types and tones.
In recognition of the Barnard Year of Science, a yearlong celebration of all things STEM at the College, Risal and Scorese returned to campus to share their cosmetics career stories, how Barnard helped them with the foundation, and advice for budding entrepreneurs and STEMinists (video above). 
Read more about their journeys below.
The Cosmetic Entrepreneur 
Rhitu (Rhi) Risal '14 is a brand-new entrepreneur who knows that the fulfillment of her dream has been a full-circle achievement. "I came to Barnard to study chemistry to create makeup but majored in economics, interned for a major beauty brand during my junior year, and wrote my yearlong thesis on the beauty industry," Risal wrote to the College in September 2021 to announce the launch of her new, vegan cosmetics brand, R2R Cosmetics. "I've been working on my startup since the day I graduated from Barnard and self-funded it from my job at IBM, which I left this year, and now I'm running my company full-time. This has been a childhood dream of mine."
Indeed, working with the chemistry of cosmetics has been Risal's desire since she was 12 years old, growing up in Rockville, Maryland. Once at Barnard, she started laying the groundwork for her current career. "Being able to choose my thesis, while sitting in a room full of other entrepreneurs in the Economics Department, gave me a chance to consider what I could write about chemistry," Risal said. "A lot of my inspiration, why I make this makeup, comes from my experiences at Barnard."
An economics major who minored in dance, Risal said she used every available Barnard resource to reach her goal. This included the papers she wrote about dancers needing long-lasting makeup formulas, the networking opportunities she had with professional alumnae, and the ability to capitalize on the College's location in New York City, which offered the student inspiration from museums, internships, and even colors. 
"All my colors embody New York, and Barnard plays a significant role in New York," said Risal. 
Within the Athena Center for Leadership, she learned the ins and outs of business development and money management. During a special event for seniors, Risal asked then-President Debora Spar to read her thesis. Spar did — and then connected Risal with faculty at Harvard Business School, one of whom became her business mentor. Risal hired Barnard students as interns to help with the startup and continues to do so as often as possible. Today, Risal is the sole owner of R2R Cosmetics, which offers a multipurpose product for eyes, cheeks, and lips that comes in 45 highly saturated shades. 
R2R is Risal's labor of love and vision. Her cosmetics lab is in her home office, which makes it easy to closely collaborate with her chemist, Nick Morante. She appears in video calls with beautiful swatches of colors lined across her forearm and knows her product so well that she can artfully self-apply a full face of makeup, during a Zoom call, in under 10 minutes. In a nod to her love of science and for the College, one of R2R's shades, "Constellation," was inspired by Barnard's blue.
"Barnard had women that you had access to who were motivated to succeed," said Risal. "Being with women and being exposed to that was important."
The Makeup Master
Unlike Risal, Alison Scorese '16 didn't always know that she wanted to work in cosmetic chemistry — she just knew that whatever she wanted to do, she'd be able to find it at Barnard.
"I went to Barnard without any concrete career plan, only the conviction that I was going to find my path here and have a blast pursuing it," said Scorese, who spends her days formulating new lip products at a multinational beauty company.
The New Jersey native elaborated that choosing to attend Barnard "was very much a gut feeling from the second I walked on campus from the subway. I got the sense I was among kindred spirits in a very special place, a place where women of every background could pursue their dreams, fully supported and inspired by one another."
Barnard didn't disappoint. As Scorese explored everything the College had to offer, she took various courses in the Chemistry Department and began to consider minoring in the discipline. Then one of her professors asked her to think about majoring instead. "I was daunted at first, knowing how rigorous the upper-level chem courses were," said Scorese. "It took some convincing from those close to me that 'yes, Alison, you absolutely have what it takes to be a major.'"
She still didn't know then where a major in chemistry would take her. While many of her peers went on to pursue graduate research degrees, Scorese was inspired by Jennifer Haghpanah, a former post-doc researcher at Columbia who came back to campus to speak about her work creating hair product formulas at a cosmetics brand. "I was captivated," recalled Scorese. "I was like, 'Wait a second, this is a way I can apply my chemistry knowledge to the beauty sphere. This is really cool.'"
Scorese connected with Haghpanah and eventually got a job working at the same company. But the benefits Scorese reaped from studying chemistry at Barnard went far beyond just networking. "[At Barnard], there are myriad opportunities to do lab research, to 'get one's feet and hands wet' in the field, while at the same time making close connections to professors and fellow majors," Scorese said. "In a close-knit community, it very much felt like we were all going through this intense major together. Majoring in chemistry at Barnard showed me the power of diverse and brilliant minds coming together."
For now, cosmetic chemistry is a passion that Scorese is excited to keep pursuing. "Makeup is honestly what has got me through this pandemic, expanding my collection and using the no-pressure situation to experiment with different color combinations," said Scorese. "Whatever my mood is or whatever my outfit is, I can be very deliberate and precise with how I do my makeup, and that gets me through anything."