Celebrating Convocation 2022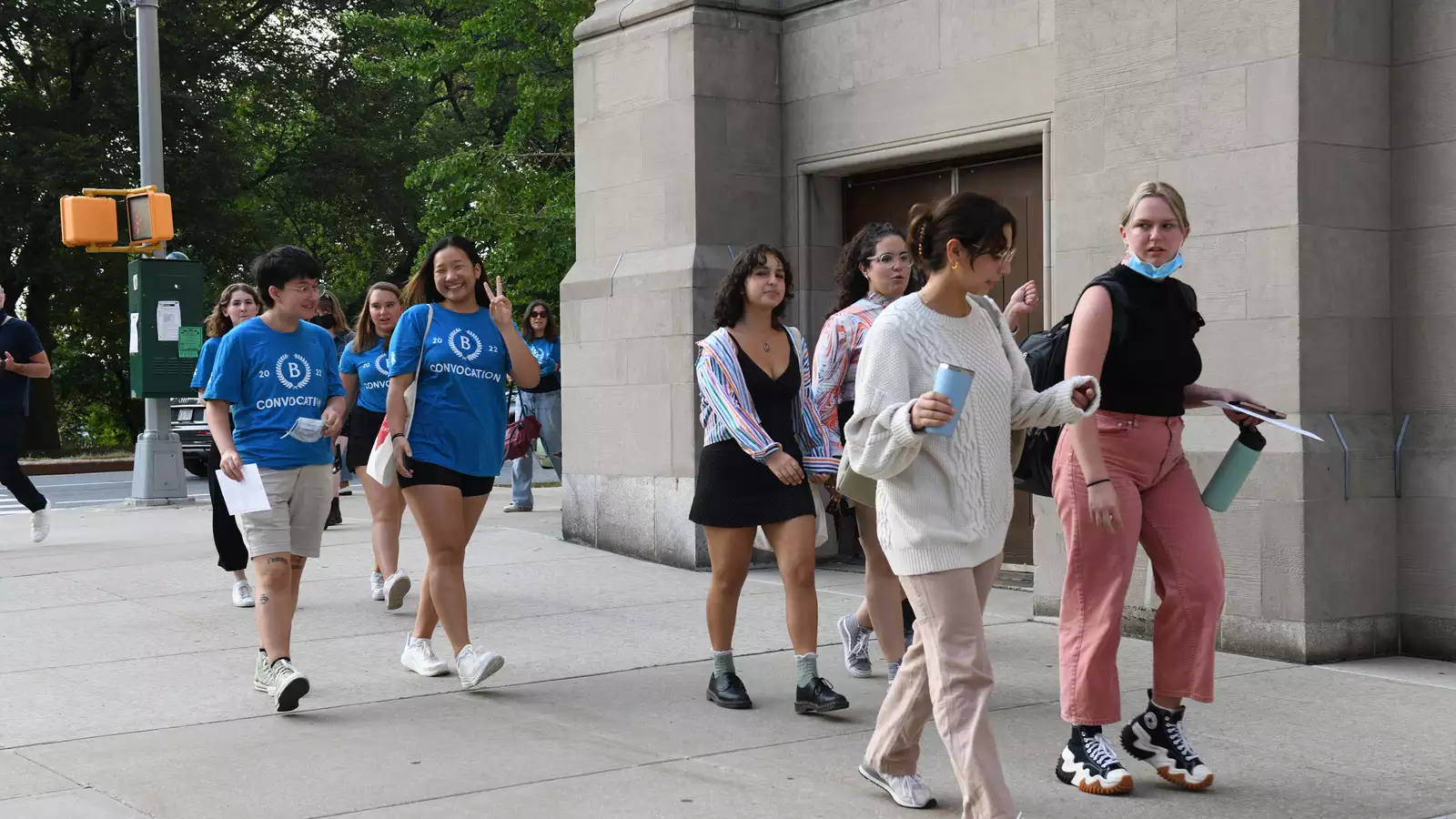 Barnard's annual Convocation — the time-honored tradition that formally welcomes students back to campus — was a little more special this time around. On September 12, 2022, students, faculty, staff, and alumnae returned in person for the first time in two years to the iconic Riverside Church to mark the start of the 2022-23 academic year. 
The Barnard community gave a live, and color-coded, welcome to the new members of its student body. In a sea of red, yellow, blue, and green T-shirts, students — from incoming first-years to returning seniors — shared in the excitement of the event, ready to embark on a year of academic exploration.
In her opening remarks, President Sian Leah Beilock welcomed the Barnard community — both those who were attending in person and those tuning in virtually. "Convocation is an opportunity for celebration and inspiration — a singular chance to come together and help each other prepare for the excitement, the challenges, the successes, and, yes, the stumbles sure to come in the months and years ahead," she said. 
Reflecting on the College's history, President Beilock noted that Barnard stood out not only for its "legacy of change" but for its ability to be "at the forefront of change." Whether a student or faculty member, change, she said, is an integral to learning and growing, and the same holds true for Barnard as an institution. 
"All of us are both sources and recipients of the change in our community," she said. "So rather than stand here only to tell you, our students, all the ways you are going to change in college — although I will do a little of that — I am just as eager to focus on how you will change the College itself." 
Touching on her departure at the close of the 2023 academic year, President Beilock highlighted the many ways in which the College has and continues to evolve, from its curriculum that pushes students to "think locally, globally, equitably, historically, empirically, and technologically" to the the renovation and expansion of the Altschul Hall science building — now designated as the Roy and Diana Vagelos Science Center.
"Barnard as an organization continues to develop, because that's just who we are: whether it's the change that awaits the next president that's selected or whether it's the personal changes that await all of us as we find our own place within our incredible community," said President Beilock. 
President Beilock introduced N. Jamiyla Chisholm, Director of Creative Content for the Department of Communications at Barnard, to deliver the keynote address on behalf of this year's Convocation speaker, Ayana Byrd '95, who tested positive for COVID and could not attend the event. An award-winning author, journalist, and screenwriter, Byrd discussed how her time at Barnard paved the way for her writing on Black women and beauty culture. 
She credited her Barnard experience for fostering a community of shared values and sparking a sense of curiosity. "Because at Barnard, we are encouraged to explore what doesn't sit right with us. To ask questions and to dig for the answers. But to also study the systems, the thinking, the ideologies that are behind the answers we find," said Byrd.
Byrd acknowledged how Barnard prepared her to meet challenges and face the unexpected. "As we live through a pandemic, we all know that sometimes life can happen in ways that are unimaginable. And in each of those times, we have to figure out who we are, what we believe in, and how we are going to move forward — and whether that is in step or very much out of step with those around us. Barnard provided me [with] what I needed to do that." 
Concluding her keynote, Byrd praised students for being what she called "free thinkers." "Today I would like to congratulate you for the choices that led to you becoming a Barnard thinker and wish you an amazing, curiosity-filled academic year," said Byrd.
Chair of the Board of Trustees Cheryl Milstein '82, P'14, spoke to students about the spirit of community. "If you allow it to, Barnard will become a regular feature in your lives for decades to come," she said. "It will stand by you forever, providing social and professional connections, career resources and guidance, boundless learning opportunities, a family for life, and a whole lot of fun." 
Sharing greetings from the faculty, Provost Linda A. Bell implored students to "embrace uncertainty in your limited time here at Barnard. There has never been a better opportunity to embody Barnard's unofficial mantra and to in fact 'major in unafraid.' Challenge yourselves to explore new areas of study, take classes in departments you are unfamiliar with, explore interests that are new to you, found a student group that helps to hone a particular passion, explore the city, sign on to do research with a faculty member."
Holly Tedder, Dean for Academic Planning & Class Advising, offered greetings from the staff by sharing a story about her own academic experience. Describing the support she received from the staff advisor of her college's radio station, which helped her feel better connected to campus, she encouraged students to reach out if they have a question or issue — and even when they don't. "I share this," she said, "because I want you to know that you don't need to have connections with everyone on staff, and we don't expect you to — but even one connection can make a huge difference. It did for me."
Tiffany Vo '23, president of the Student Government Association (SGA), shared that over these past two years, the support from the Barnard community helped her navigate these difficult times. "I've come to see and understand what it means to be resilient and unafraid," said Vo. "It is through our care of each other and ourselves." 
Dean of the College Leslie Grinage assured students that while they've faced uncertainty over the past years, they've shown considerable strength. "We can reflect on how we've persevered through challenging times. We are comforted by the knowledge that we are exactly where we need to be and that we have the tools we need to succeed. And we are encouraged in knowing that we will learn more along the way in preparation for the journeys and experiences that are yet to come." 
As the ceremony concluded, students headed back to campus, where the Barnard community continued the celebration with the post-Convocation Block Party, featuring carnival food, lawn games, and a special guest appearance from Millie the Bear.
"Having endured the empty campus during the summer research, I'm thrilled to see the hallways refilled with energy and familiar faces," said political science major Zuyu Shen '24. "Convocation is a pivotal moment that often reminds me to look back and encourages me to forge ahead, and I can't wait to begin my third year of exploration and growth at college."
English major Tara Terranova '25 added, "I don't think there's a more welcoming feeling than returning to campus and being able to recognize the people and places around you. Convocation is such a special occasion to not only kick off the official start of the academic year but also be reminded of the support and warmth offered by the College."