Move-In 2022: Welcome to Barnard!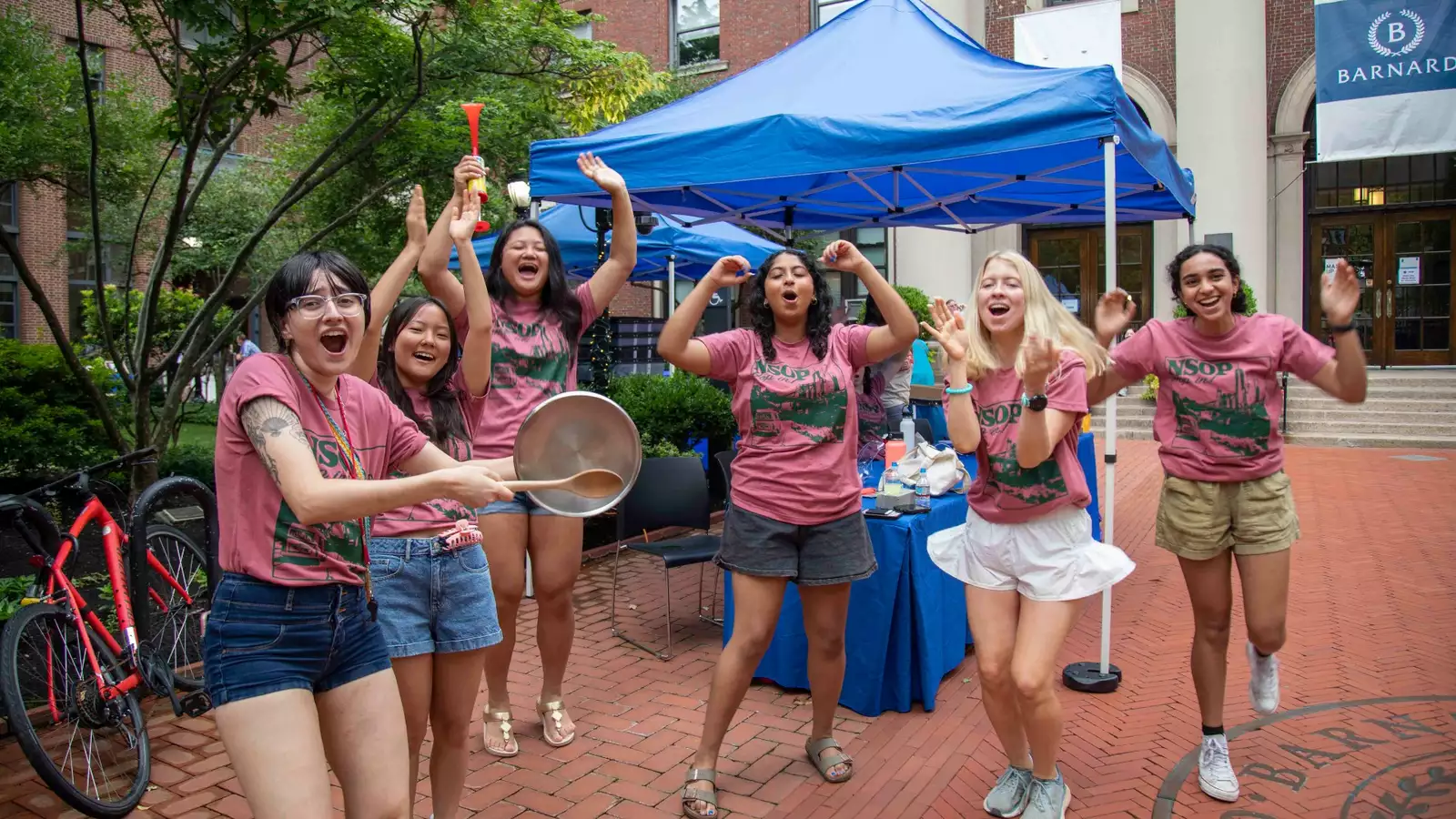 As summer in the City began to cool down, Barnard couldn't wait to welcome its incoming first-year, transfer, and international students to campus with the exhilarating New Student Orientation Program (NSOP). This year's program, which ran from August 28 to September 4, included events specifically designed for new students to learn about all of the resources available to them during their time at Barnard. Through the abundant and fun in-person activities curated by the NSOP committee, students joined campus with the support system and academic opportunities needed to prepare them for a successful transition into college life. 
Leticia Lynch, program coordinator for New Student Orientation & Campus-Wide Programming, explained that "NSOP allows for students to begin imagining the many paths they can take on their college journey as they learn about the wonderful practices and traditions that make up Barnard. This annual tradition reminds us of the endless possibilities a new academic year can bring as we continue to learn and grow together as a community."
Below, two NSOP student leaders — Hilda Gitchell '23 and Asma Ali '23 — share insights into this year's theme, along with some event highlights for new students. 
What is this year's NSOP theme?
Hilda (left): Together with the NSOP committees of the three other undergraduate colleges — Columbia College, Columbia Engineering, and Columbia's School of General Studies — the theme this year is "Hop In." We're using the idea of a road trip as a metaphor for the collective journey of NSOP, with all of its twists and turns, detours and setbacks, and unexpected memories. We also have a very cute logo and color palette that will be seen throughout Orientation!
What can new students expect from this year's event? 
Hilda: It is so exciting to return to the first "normal" NSOP in two years! Some extra fun events will be a performance showcase and a movie night with students from all four colleges. We will also hold neighborhood tours to many areas all over the City, through which incoming students can get acclimated to NYC and how to navigate it.
Asma: In addition, there will be events geared toward transfer, international, and gap-year students, as well as spaces where students can have more personal discussions centered around aspects like identity.
What is the committee doing differently this year?
Asma: After our most recent NSOP in spring 2022, which was virtual, we are finally able to do a 100% in-person Orientation. This fall, the committee is excited to create some events that differ from years past. For example, the program will include a new comedy show as well as B'scursions, or outings, to areas previously not visited through NSOP, such as the East River Ferry and Dumbo in Brooklyn. Incoming students will be able to find many new ways to connect with their new school and classmates!
What are you each most excited for at this NSOP?
Hilda: I'm most excited for the events that include all four colleges. I think it will be a great way to get to know people that might not be in your classes, your major, or any of the activities that you do, but might become some of your closest friends! 
 
Asma: I look forward to our incoming students arriving on campus and beginning to get to know Barnard inside and out! Since all of our programming will be fully in-person, I'm excited for everyone to be able to get to know each other and start life at Barnard.
See the photos, below, taken during Move-In.
—ZUYU SHEN '24
---
Stay Safe Barnard
The Community Accountability, Response & Emergency Services Department (CARES) strives to foster a safe and welcoming community for students, faculty, and other campus audiences. By emphasizing safety as an essential element of campus culture, CARES promotes accessibility to all four of the department's units — Response Team, Preparedness, Community Safety, and Nondiscrimination & Title IX. These units, in partnership with the campus community, address safety across all elements.
Under the leadership of associate vice president Amy Zavadil, CARES promotes safety with a multifaceted approach. Accordingly, the four units within the Department collaborate to address all elements of safety, including physical, fire and life, structural, interpersonal, and psychosocial.
"Safety is a community responsibility, and we each play a role," said Zavadil. "The CARES Department is excited to welcome back students and resume activities on campus, and we look forward to opportunities to discuss safety across all elements and safe decision-making. We have added information and resources to the CARES website and look forward to speaking with students, faculty, and staff during the fall semester." Requests for meeting visits or to provide workshops can be made by emailing CARESTeam@barnard.edu.
The Response Team initiates intervention and responds to non-emergency needs, and works collaboratively with Community Safety in case of an emergency. In addition to emergency services, Community Safety will directly respond to reduce identified risks on campus. Preparedness provides emergency planning and a wide range of safety protocols, with a focus on fire and life safety. And the Nondiscrimination & Title IX unit, directed by Elizabeth Scott-Francis, works across campus in support of an environment free from harassment or discrimination. 
"As one unit of the larger CARES Department, the Nondiscrimination & Title IX Office is eager to work with students, faculty, and staff as they return to campus for the fall semester to discuss interpersonal and psychosocial safety and the role we all have in creating a safe and equitable community," said Scott-Francis. "The office provides supportive outreach, prevention programming, and community-wide support related to issues of discrimination, harassment, and behavior on the spectrum of sexual violence. We welcome and encourage community members to consult with us about their rights, available support options, and campus resources." 
Because Barnard is committed to a safe community, students and campus community members stay tuned for more of the "Stay Safe Barnard" campaign — CARES will continue to promote it well past orientation. Community members will see timely campus safety messages and updates communicated through a variety of different channels, such as through the CARES website, opportunities to "Meet Cares," messages in the Barnard 411 and Connections newsletters, and social media campaigns.
To learn more about CARES and how they keep Barnard safe, click here.
—TARA TERRANOVA '25
---
Barnard's Morningside Heights neighborhood and the larger playground that is New York City hold a treasure trove of goodies for new (and returning) students. Check out our curated list, below, of the best places to study, hang out, and more.
Best places to eat:
Diana Center
Ferris Booth Commons
JJ's Place
Koronet's: Looking for a savory, greasy, cheesy slice of pizza? Koronet's has you covered. Make sure to try their jumbo slices. 
Saiguette: A warm little spot offering Vietnamese food such as banh mi and pho.
Absolute Bagels: Arguably the best bagels in NYC. With lines that often go down the block, especially on weekends, you'll have plenty of time to decide whether you want the bacon, egg, and cheese or the lox bagel! Helpful tip: They're cash-only. 
To study:
The Milstein Teaching and Learning Center
Avery Architectural & Fine Arts Library
New York Public Library
To shop:
Get everything you need for school and dorm life within 20 blocks. 
Barnard Bookstore: The best place to purchase the authentic merch of the College, such as a cute Barnard bear! 
Book Culture: With two locations in the Morningside Heights area — one store on W. 114th St. and Broadway and the other on 112th St. between Broadway and Amsterdam — Book Culture hosts a wide variety of recently published and popular books and knickknacks, as well as textbooks and course books. Check out the 112th St. location to see if that one book you're missing for a course is there. 
To hang out with friends:
Cafe Amrita: A local community gathering at the northwest corner of Central Park to grab yummy pastries and coffee for a morning wake-up or for a relaxed brunch with friends. 
Low Steps/Columbia Lawn: The steps to Columbia University's Low Library are not only a historical icon of the University but also a fantastic place to enjoy the afternoon sun or the pink-marshmallowish afterglow as it sets below the entire campus. 
The Hungarian Pastry Shop: A family-run, local cafe on Amsterdam Avenue, across the street from the Cathedral of St. John the Divine. Don't let the lines that snake out the door scare you; they're fast-moving and also a true testament to how loved this cafe is. Don't miss out on their cream puffs!
To see art:
The Metropolitan Museum of Art (the MET): One of the largest art museums in the world, the Met shelters collections that run from the Stone Age to the contemporary. It has two locations, the main building on the east side of Central Park and the Cloisters at Fort Tryon Park in Upper Manhattan, both within 30 minutes of campus. As a Barnard student, you get to visit both places free of charge with your student ID card! 
Museum of Modern Art (MoMA): Displaying the avant-garde artworks of the late-19th, 20th, and 21st centuries, MoMA is the top choice to explore recent innovations in art. A free ticket is also available here with your UNI and student ID! 
Solomon R. Guggenheim Museum: Located at the corner of E. 89th St. and Fifth Ave., which is a hourlong walk from campus, the Guggenheim presents modern art within its unique architectural space. 
Broadway: Hamilton, Come From Away, Wicked … all of the exciting or moving stories you can think of that make a Friday night and enrich your four-year life in the City. 
The New York City Ballet: Whether or not you're a dance major, the ballet class at Barnard and the shows at the New York City Ballet at Lincoln Center are irresistible options to appreciate classical or modern repertoires. 
To walk/bicycle:
Central Park
Sakura Park (north of W. 122nd St. between Riverside Dr. and Claremont Ave.)
Riverside Park: Located right behind the College, Riverside Park offers a long stretch of nature for when you want a break from City life. Make sure to head over and catch the amazing view of the sunset over the Hudson River!