Barnard students have many opportunities to collaborate closely with faculty on their research through formalized programs such as the Summer Research Institute and community-based, social justice initiatives like the Harlem Semester. Likewise, the new "Mississippi Semester" course, taught by Professor of History Premilla Nadasen, allows students to explore, hands-on, the ways in which historical, political, economic, and social issues affect communities in Mississippi. 
This course is an example of how the College uses internships, research, and field placements in New York City and other locations to expand learning by connecting classroom experiences with co-curricular activities. In this way, students are given strong pathways to achieve their goals after graduation and throughout their lives.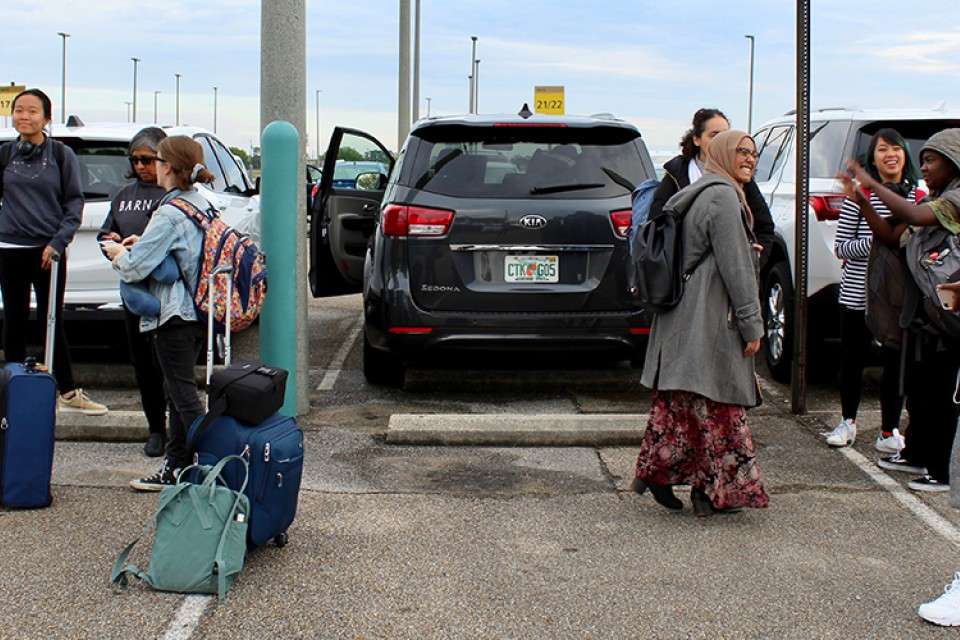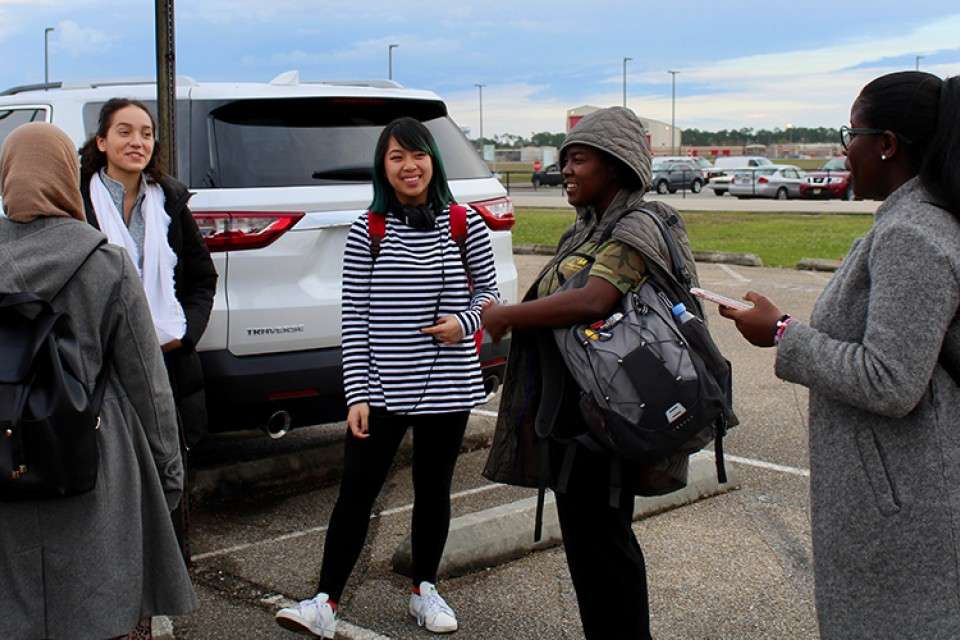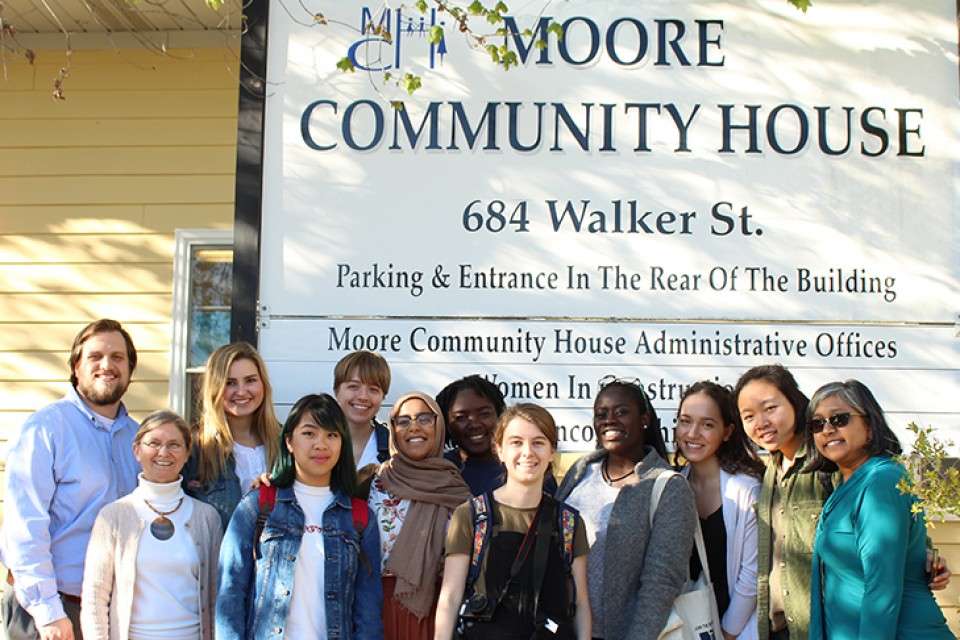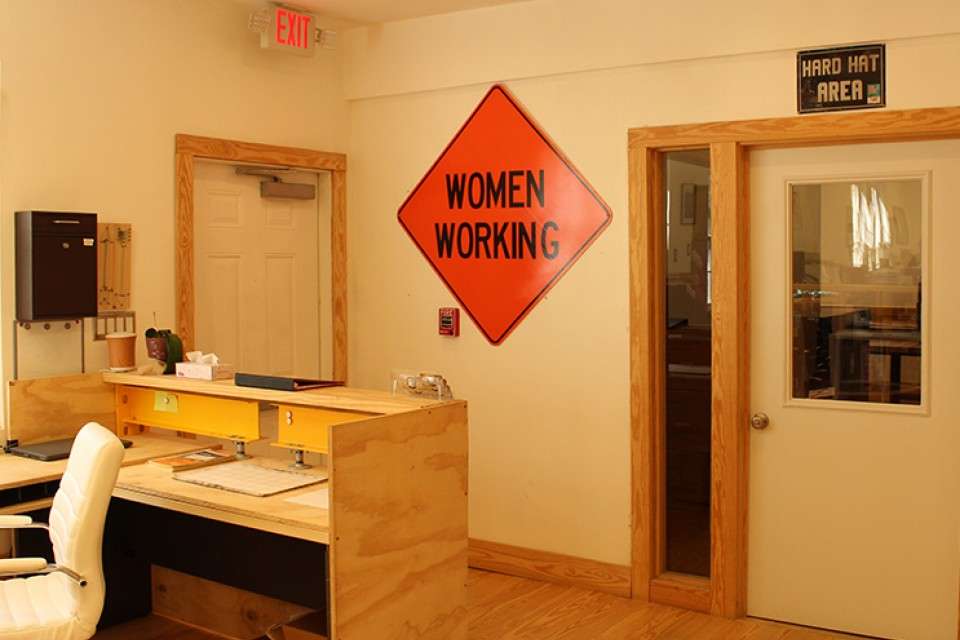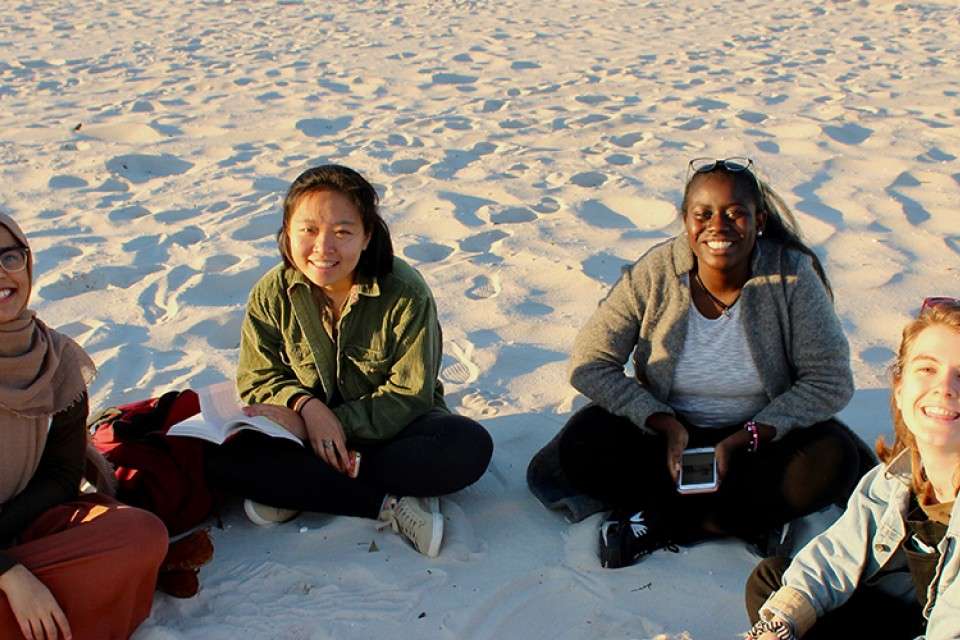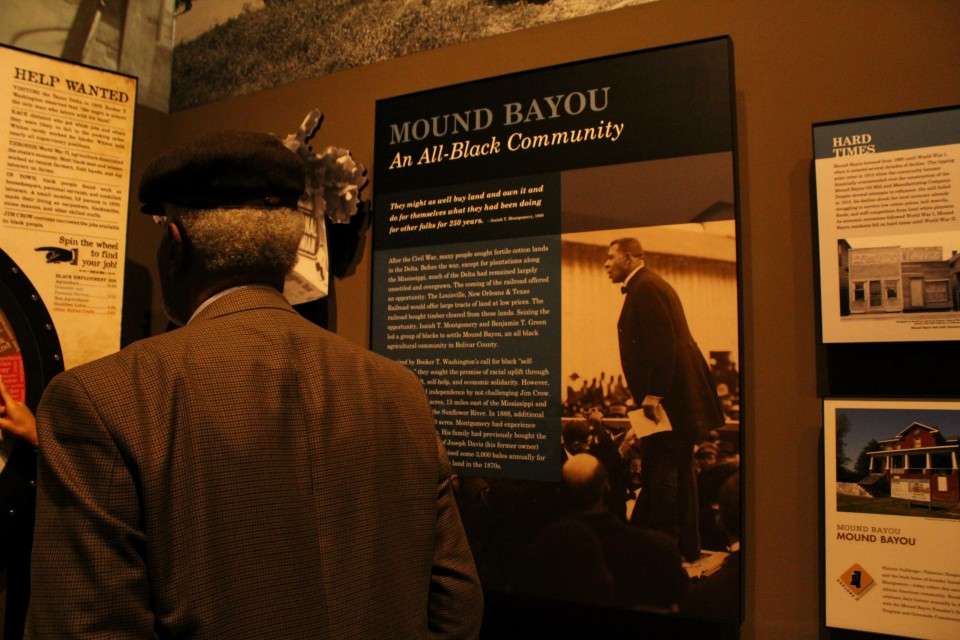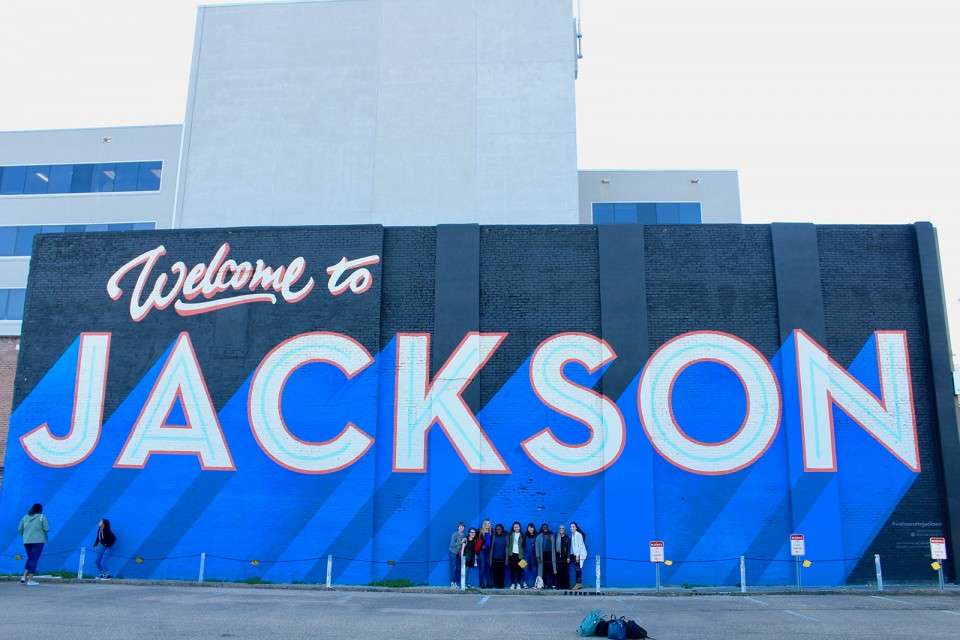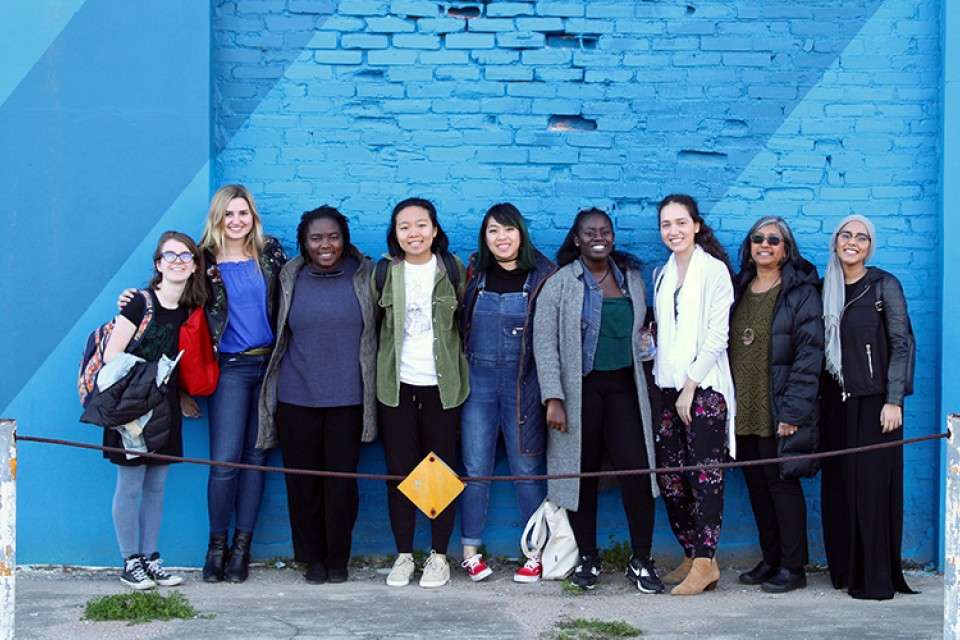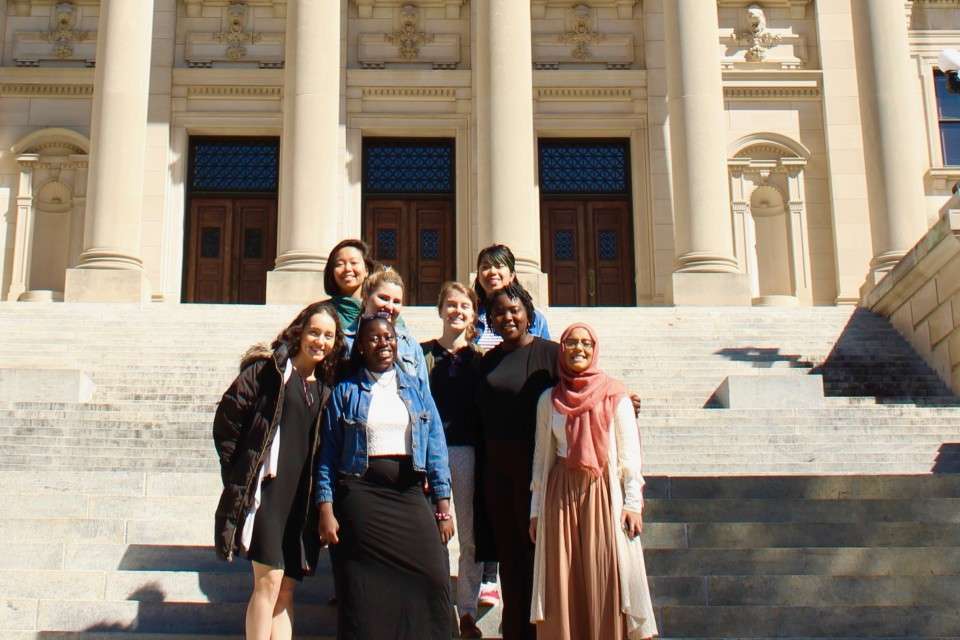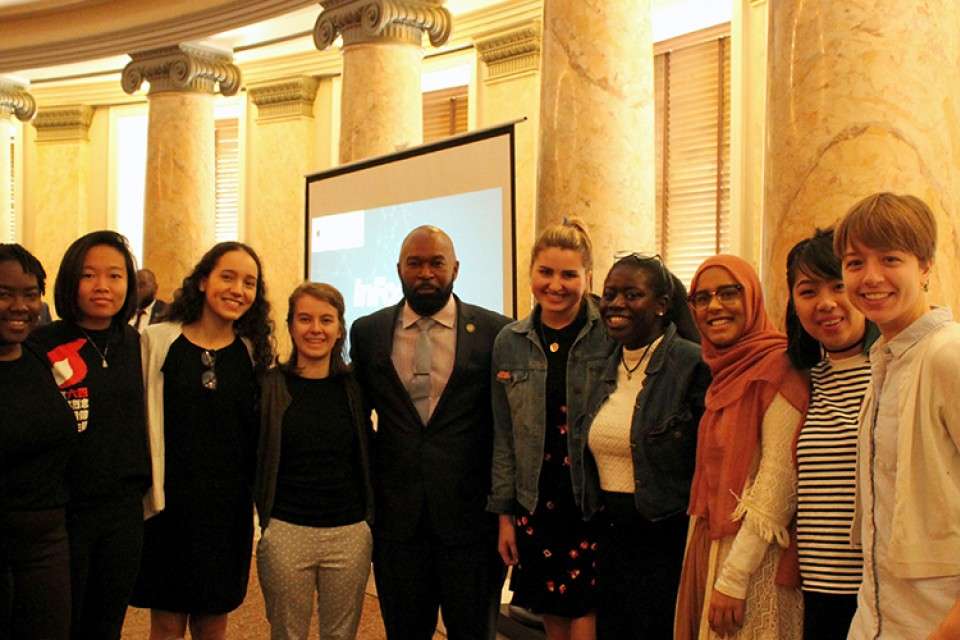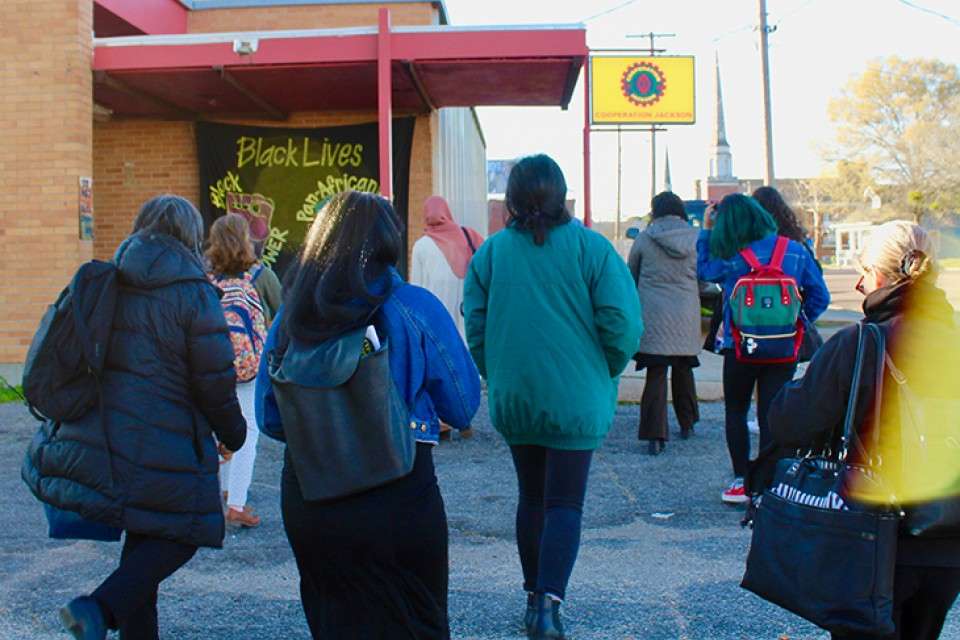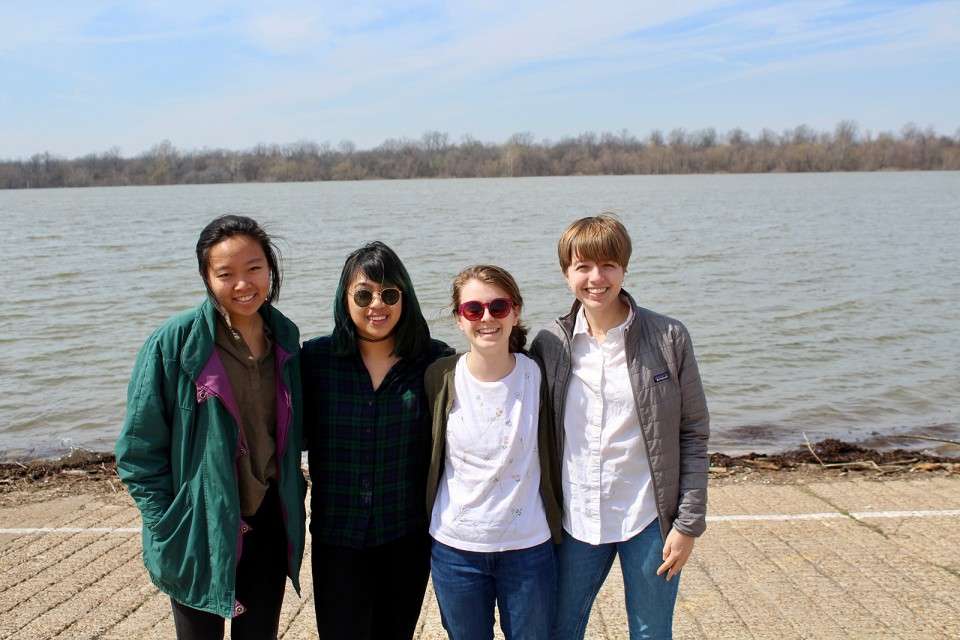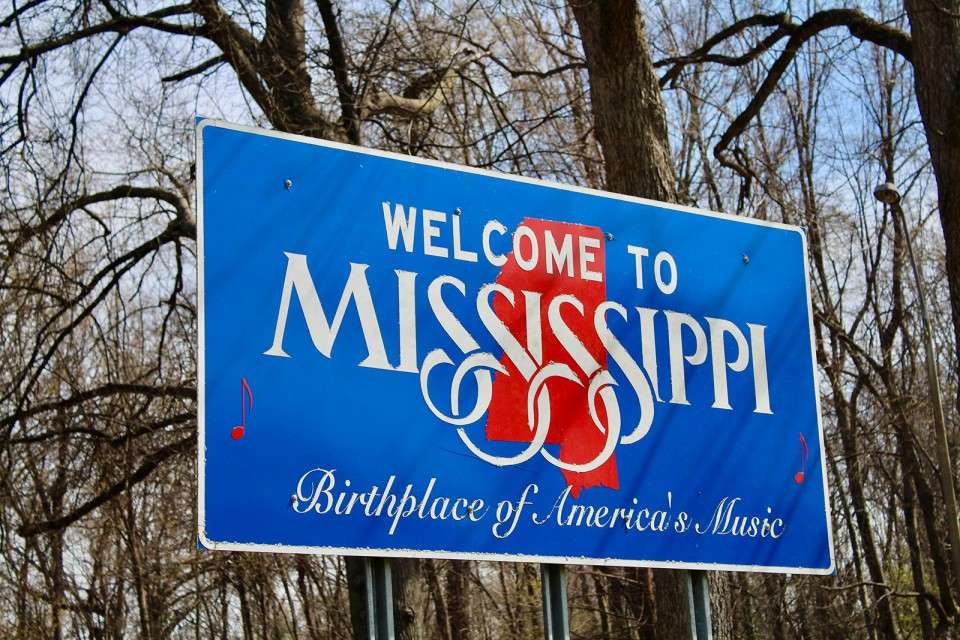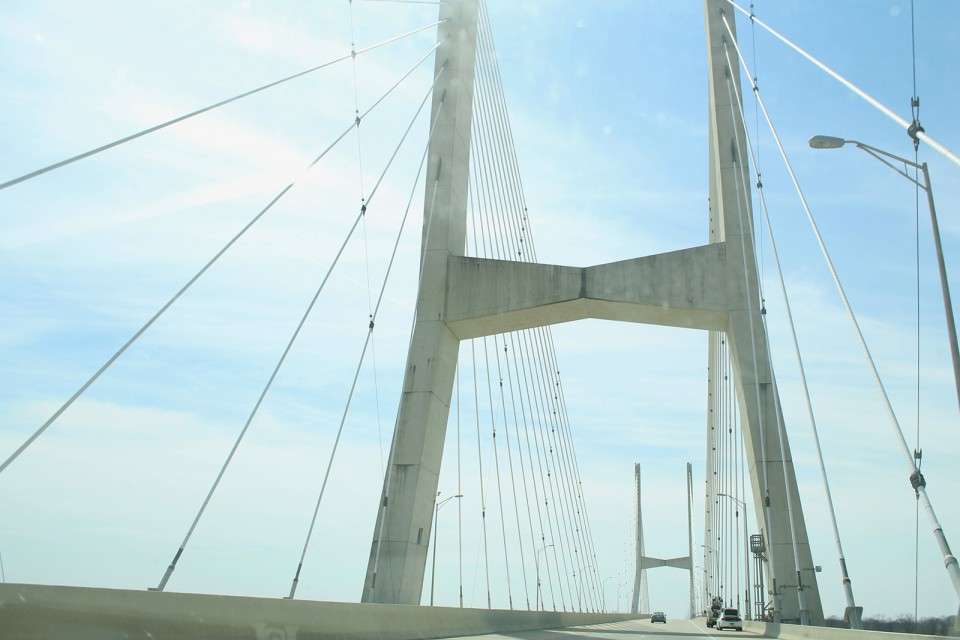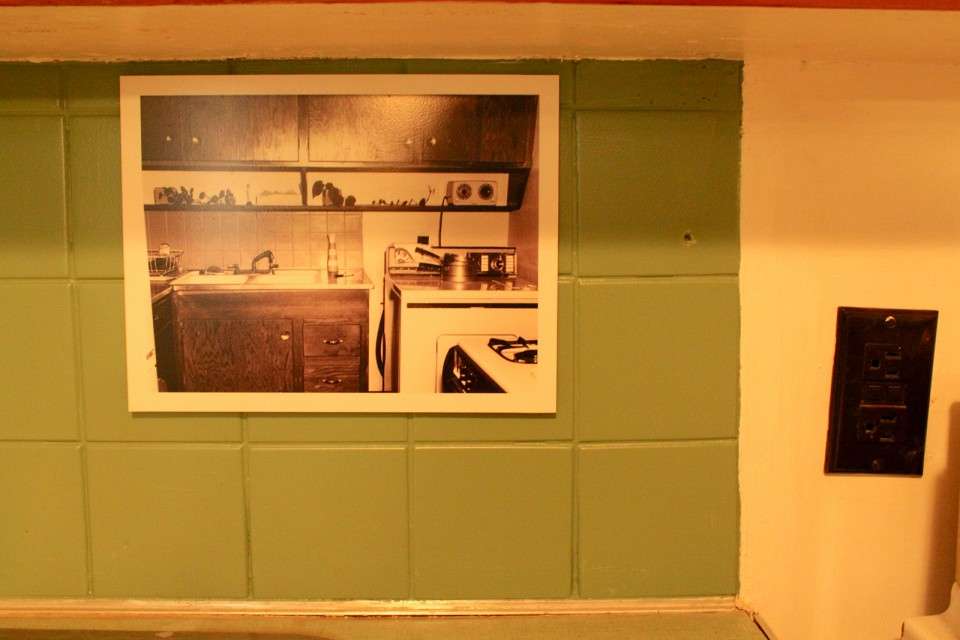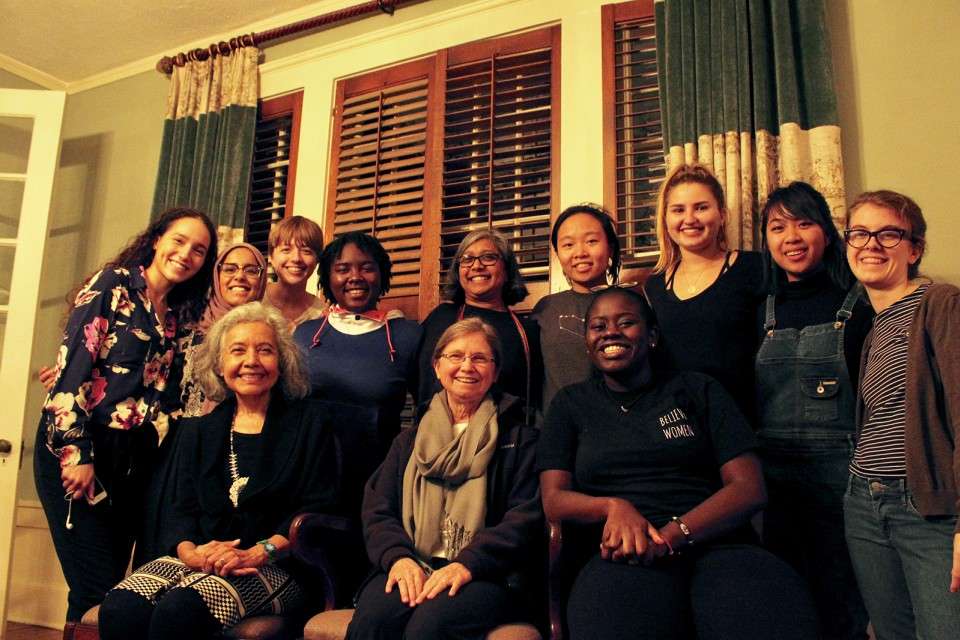 Day 1: Prof. Nadasen and students arrive in Gulfport, MS. 
Day 1: Following a long commute to Gulfport, MS, students gather before heading to the hotel.
Day 2: (L-R) MLICCI Director of Research, Matt Williams; MLICCI Executive Director, Carol Burnett; Madison Ailts '19; Francesca Carlos '19; Aubri Juhasz '18; Fatima Koli '17, Master of Science student at Columbia University's Data Science Institute; Christina Saint Louis '19; Gaby Ferrell '19; Alicia Simba '19; Rayanne Farhat '18; Janine Ko CC'18; and, Prof. Nadasen outside of Moore Community House.
Day 2: Moore Community House's Women in Construction two-month job training program, in Biloxi, has trained more than 400 women since 2008.
Day 2: Following their visit to Moore Community House, Fatima, Janine, Alicia, and Gaby soak up some sand at the beach. 
Day 3: At the Mississippi Civil Rights Museum in Jackson, an installation highlighting the all-black community, Mound Bayou, that was founded by former slaves in 1887.
Day 3: The class in front of the new (2017), and now famous, hand-painted mural in downtown Jackson.
Day 3: (L-R) Gaby Ferrell '19, Madison Ailts '19, Christina Saint Louis '19, Janine Ko CC'18, Francesca Carlos '19, Alicia Simba '19, Rayanne Farhat '18, Prof. Nadasen, and Columbia graduate student Fatima Koli.  
Day 4: The group poses in front of Mississippi State Capitol building, in Jackson. 
Day 4: The group with the newly elected Representative Cheikh Taylor (D), inside the Capitol building. 
Day 4: The class visits Cooperation Jackson, a cooperative organization that focuses on sustainable community development, economic democracy, and community ownership.
Day 5: (L-R) Janine, Francesca, Gaby, and Aubri in front of the Mississippi River.
Day 5: The state is the birthplace for many famous singers and musicians, such as Lance Bass, Sam Cooke, B.B. King, LeAnn Rimes, Elvis Presley, and Lester Young.
Day 5: The class travels over the Mississippi River, on the cable-stayed Greenville Bridge, to Arkansas.
Day 6: On their final day in Jackson, the class tours the family home of Civil Rights activist Medgar Evers (now a museum operated by Tougaloo College), who was assassinated on June 12, 1963, in the driveway outside his home. Visitors can follow the bullet's trajectory as it traveled through the living room window and into the kitchen, where it hit the wall above the sink.
Day 6: Prof. Nadasen (second row, center) and the class pose for a final photo with Roberta Avila (first row, left), executive director of the STEPS Coalition, which includes 30 social justice organizations on the Mississippi Gulf Coast that came together after Hurricane Katrina, and with MLICCI's Carol (second row, center).
The Mississippi Semester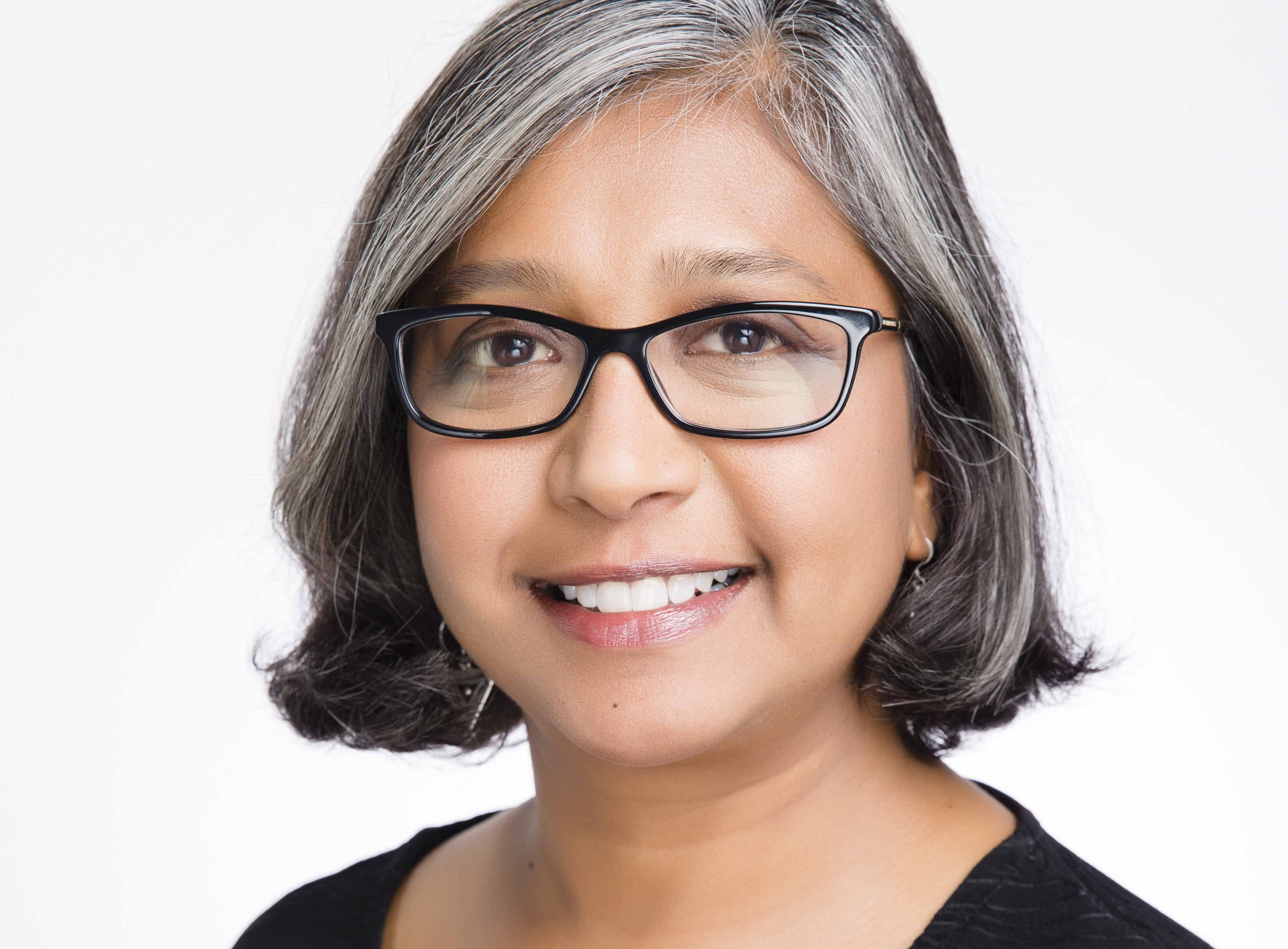 Over spring break (March 11-March 17), Professor Nadasen, along with nine Barnard and Columbia students, drove a rented van through Biloxi, the Delta, and Jackson to work with the Mississippi Low-Income Child Care Initiative (MLICCI)—an organization that advocates for low-income working parents to have access to affordable child care in the state. Students learned how economic insecurity disproportionately affects women in Mississippi and the impact the data can have on public policy. 
"The 'Mississippi Semester' teaches students about long-term collaborative relationships and how to work with an organization over a period of years," said Nadasen, who has long engaged with community organizations in both instruction and scholarship. By engaging with communities and putting faces to data, students were able to connect course study taken on census and social exploration with real-world attempts at political empowerment.
The "Mississippi Semester" was inspired by students during the Fall 2016 semester, following the United States presidential election. Many were dissatisfied with how the electoral process played out and told faculty across departments that they wanted to increase their social activism.
"My colleagues and I started talking about alternate models for how to get students engaged and how to prepare them to work with community organizations," Nadasen said. "In college, we prepare students for a certain kind of leadership, but different leadership skills are needed when you're working within a community, such as how to communicate with someone who may have a completely different background from one's own."
"This partnership with Barnard College is so important to our organization because it will help provide us with the critical data we need to effectively inform Mississippi's policymakers on key issues impacting low-income single mothers," said Pamela Berry-Johnson, MLICCI director of communications. "But equally important for us as social justice change agents are the opportunities we'll have to support the hands-on educational experience for these students and to help shape their sensitivities, perspectives, and ideologies as they relate to the intersections of race and gender."
To create the Economic Security Index, students worked with the Empirical Reasoning Center (ERC) to collect census data and used a geographic information system. They interviewed local residents about their experiences with poverty, participated in community meetings, met with state legislators, and collaborated on the data to write op-eds. The information collected will be used to develop a visual digital map that organizations can use to lobby for programs.
Mississippi & Beyond
The dialogue between students and faculty led Nadasen to create the interdisciplinary, intersectional program that welcomes any student with an interest in activism. "Mississippi Semester" serves as a model for a larger experiential learning program called "Community Engagement Initiative: Reimagining Education Through Community Collaboration," overseen by Professor Nadasen, Associate Professor of History and Africana Studies Abosede George, and Professor of History Nara Milanich. In future semesters, "Mississippi Semester" will coordinate with the Barnard Center for Research on Women (BCRW).
"I wanted to create a hub at Barnard that coordinated efforts between faculty and students, to engage a range of students in and out of classrooms," says Professor Nadasen. Support from the Fund for Innovation in Teaching Grant helped make this possible.
[page-element:grouped-quotes]
For more on "Mississippi Semester," read the blog about the students' experiences. 
---
Additional Faculty-Student Spring Break Research Trips
As an expansion to her spring semester course, "Vienna Stories," Irene Motyl-Mudretzky, Senior Associate in German and Language Program Coordinator, returned to Austria with students for a second time to explore the use of digital technology for analyzing culture, language, and identity. Watch the 2017 student-made video.
Joan Snitzer, Senior Lecturer in Art History and Co-Chair and Director of Visual Arts, led seniors to Berlin to visit artists, studios, and galleries. 
Professor Milanich will offer a course on "Refugees, Incarceration, and Asylum," exploring the historical roots of the Central American refugee crisis, in connection with the CARA Pro Bono Project in Dilley, Texas, during Spring Break 2019.
---
All slideshow photos courtesy of class photographer Aubri Juhasz '18