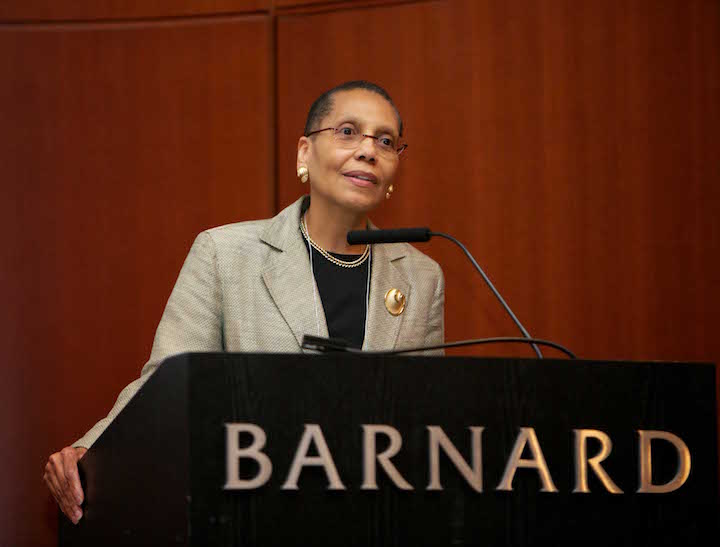 Barnard College is deeply saddened to learn of the recent death of Sheila Abdus-Salaam '74, an associate judge on the New York State Court of Appeals and a devoted and caring alumna of the College.
After graduating from Barnard with a major in economics, Sheila Abdus-Salaam went on to earn her J.D. from Columbia Law School in 1977. She built on her Barnard-Columbia foundation to become a true force in the legal profession, starting her career at Brooklyn Legal Services. She went on to the New York State Attorney General's Civil Rights Bureau, and later, served as general counsel of the NYC Division of Labor Services, enforcing fair employment laws. In 1991, she was elected to the New York City Civil Court and, in 1993, Judge Abdus-Salaam became the first female Muslim judge in the United States when she started serving on the State Supreme Court. Following re-election to that court in 2007, then-Governor David Paterson appointed her to its Appellate Division, where she served until Governor Andrew Cuomo named her to New York State's highest court, the Court of Appeals, in 2013. She was the first African-American woman to serve on that bench. At every turn, Judge Abdus-Salaam was duly recognized for her intelligence, warmth, and candor, and for always being on the side of justice for the poor and underserved.
Throughout the years, she shared her vast experience and wisdom with Barnard students and fellow alumnae. She graciously served on the Awards and Fellowship Committees of the Alumnae Association, proudly attended countless Reunions and Alumnae of Color Dinners, and participated in events for newly admitted students and the Barnard Organization for Soul Sisters (BOSS). In 2014, on the occasion of her 40th reunion, it was our honor to present her with the Distinguished Alumna Award.
Judge Abdus-Salaam made the world a better place, as a trailblazer in her profession and a caring and brilliant person. Our hearts go out to her family and all those whose lives she touched.