With a switch to online learning, students like me may have lost opportunities to participate in ordinary extracurricular activities at Barnard College; however, the old "when one door closes" adage has proved true with many students (again, like me!) picking up new, extraordinary hobbies to help pass the time and cope during the COVID-19 crisis. Digging through my closet while back home from school, I unearthed an old pair of shorts and a cherished gift my grandmother gave me long ago: my sewing machine, which has since been put back into regular use, transforming the jean shorts and stressful moments into a new and productive hobby.
 
Check out what Barnard students are up to, and maybe become inspired to learn some new hobbies, too, in this new feature, "Students Share... ," highlighting current students' experiences and interests — told from our point of view.    
— DANIELLE SLEPYAN '22        
Jade Wilson '22, economics major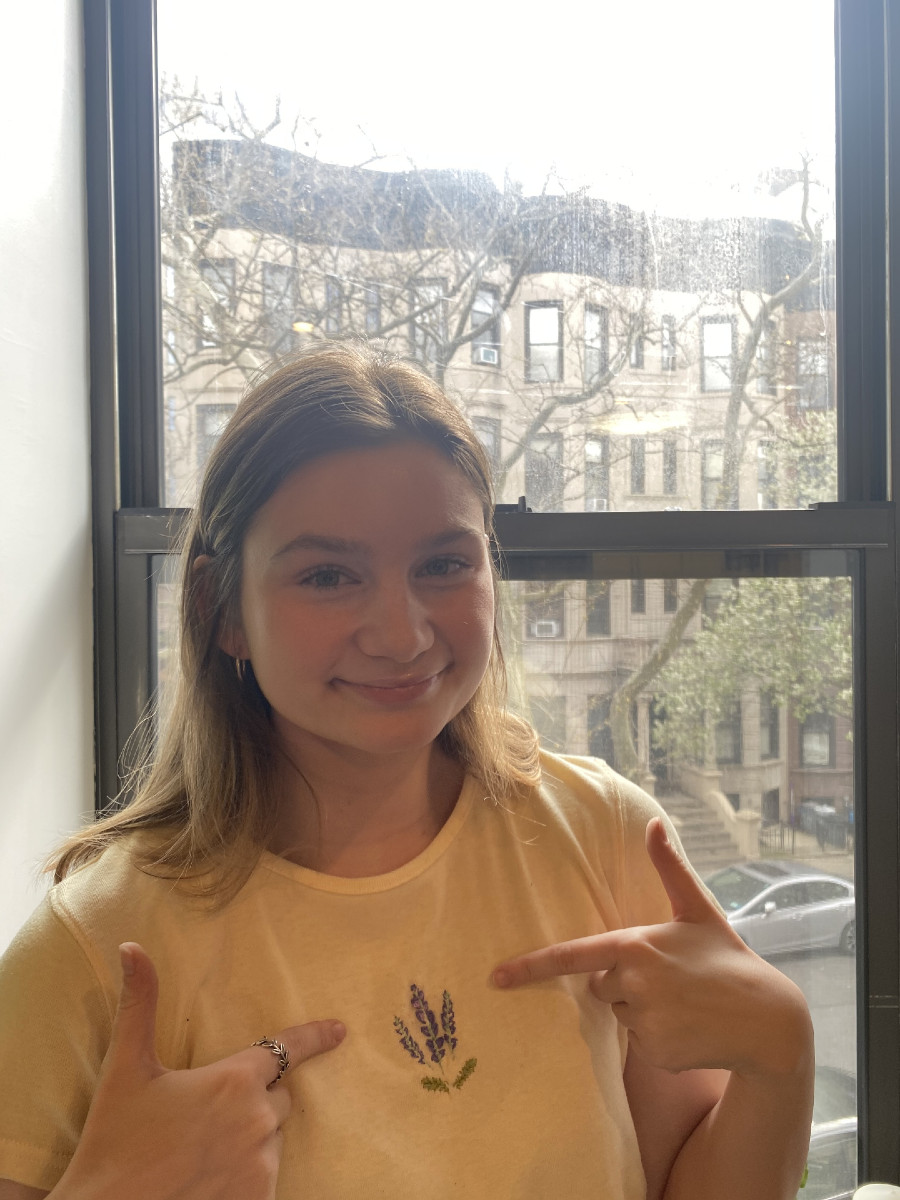 New hobby: Since remote learning began, I have finally had a chance to learn how to use the embroidering tools that my parents got me for Christmas.

Inspiration: I wanted to get into embroidering clothes because I think it's such a beautiful way to personalize and repair clothing. For example, this shirt originally had a giant sequin daisy. While I was trying to snip off the sequins, because my scissors were so imprecise, I accidentally cut some tiny holes in the shirt. The lavenders I embroidered on this shirt are actually camouflaging some tiny holes.

How it helps: Quite often lately, I have reached for my embroidery floss to relieve my eyes from staring at the computer screen all day! Plus, it's very relaxing. 
Tips for others: I would recommend using a pencil to create a "blueprint" for your design before you pick up the needle. Also, pulling apart the floss strands and recombining them with the strands of another color helps to add dimension!
Andrea Coit '23, undecided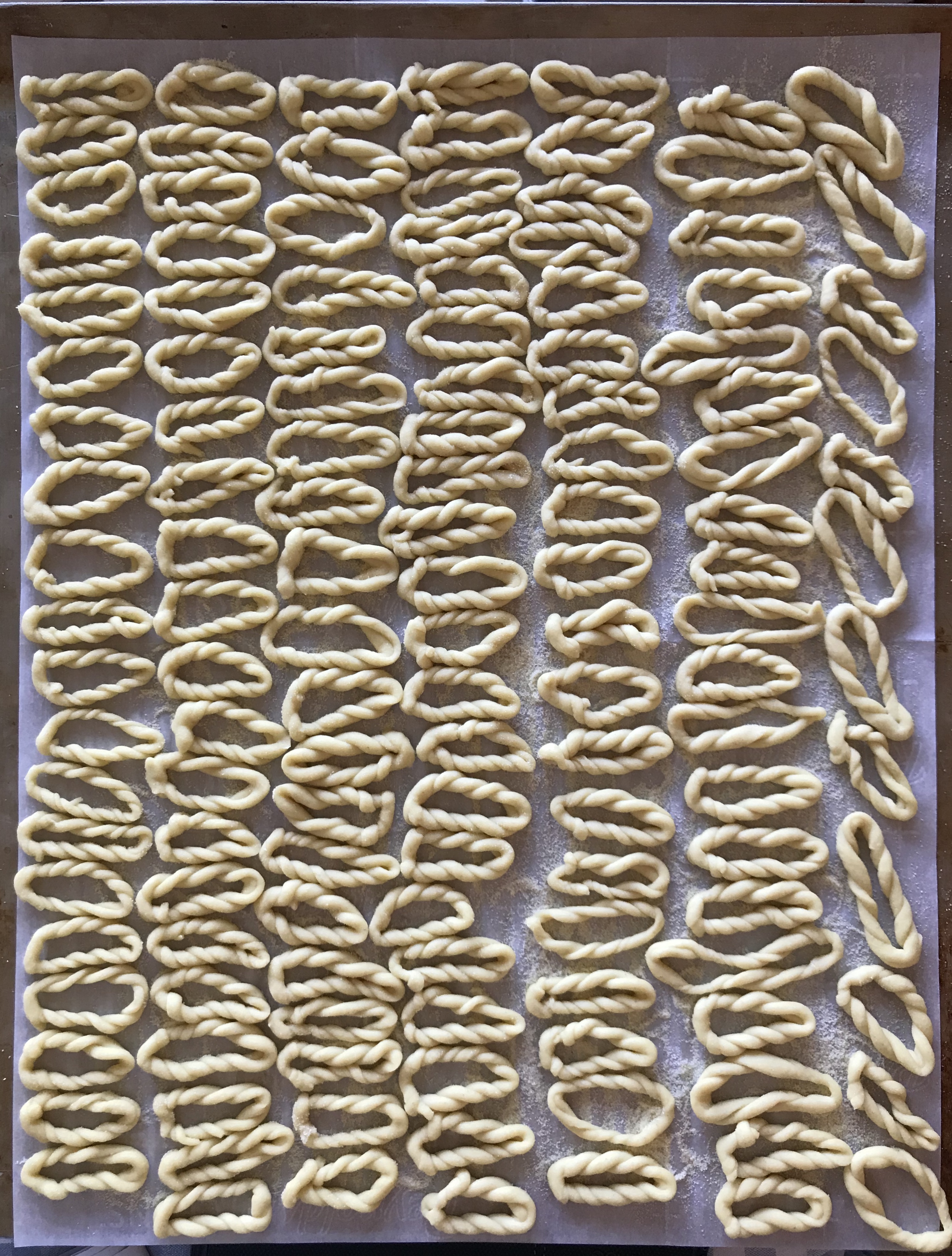 New hobby: My new hobby is making fresh pasta!

Inspiration: Making pasta is a skill I've always been interested in, and being stuck at home felt like a great time to start. I've been using a cookbook called Pasta Grannies that is filled with recipes from older Italian women — hence "Pasta Grannies" — from all over Italy. It is filled with beautiful photos of the pasta dishes. I decided that when making pasta, there is no time like the present.

How it helps: Making pasta has helped me through this tumultuous time because it allows me to make something with my hands. One of the challenges I have experienced in this time of virtual learning is a lack of motivation around schoolwork because I'm not making anything physical. It's all online. When making pasta, you end up with pasta! If I'm feeling especially antsy or unmotivated, I can spend an hour or two making pasta in my kitchen and end up with a pile of pasta next to me. It feels good to make something, and I get the bonus of a delicious meal.  
Tips for others: Making pasta is simpler than you might expect. All you need is flour and water or flour and egg, depending on the type of pasta you're making. If you're nervous at the idea of making pasta, there are many recipes and videos online to consult, so there is little reason not to try! If your pasta doesn't come out the way you expected, you can always try again; if you think it's ugly, trust me, it's still edible, and it will taste good. With regard to the physical making of pasta, in my experience (limited as it may be) it is easier to work with dough that is a little too wet than a little too dry. Dry dough is much harder to knead because it is less elastic, but with slightly wet dough, you can just add a little bit more flour. Good luck!
Emma Tabenken '22, majoring in history and peace
New hobby: Baking all the time.

Inspiration: I've always liked to cook and saw YouTube videos about baking bread on a show called "Binging With Babish," so I decided to create a sourdough starter that you need to make sourdough bread.

How it helps: Baking takes my mind off of everything else and allows me to focus on something fun and stress-free. Plus, you get to eat what you make.

Tips for others: Experiment! Watch YouTube videos so you can see how others do things. My favorite cooking channels are "Joshua Weissman" and "Binging With Babish."
Eden Rosenbloom '23, undecided (thinking anthropology major, environmental science and English double minor)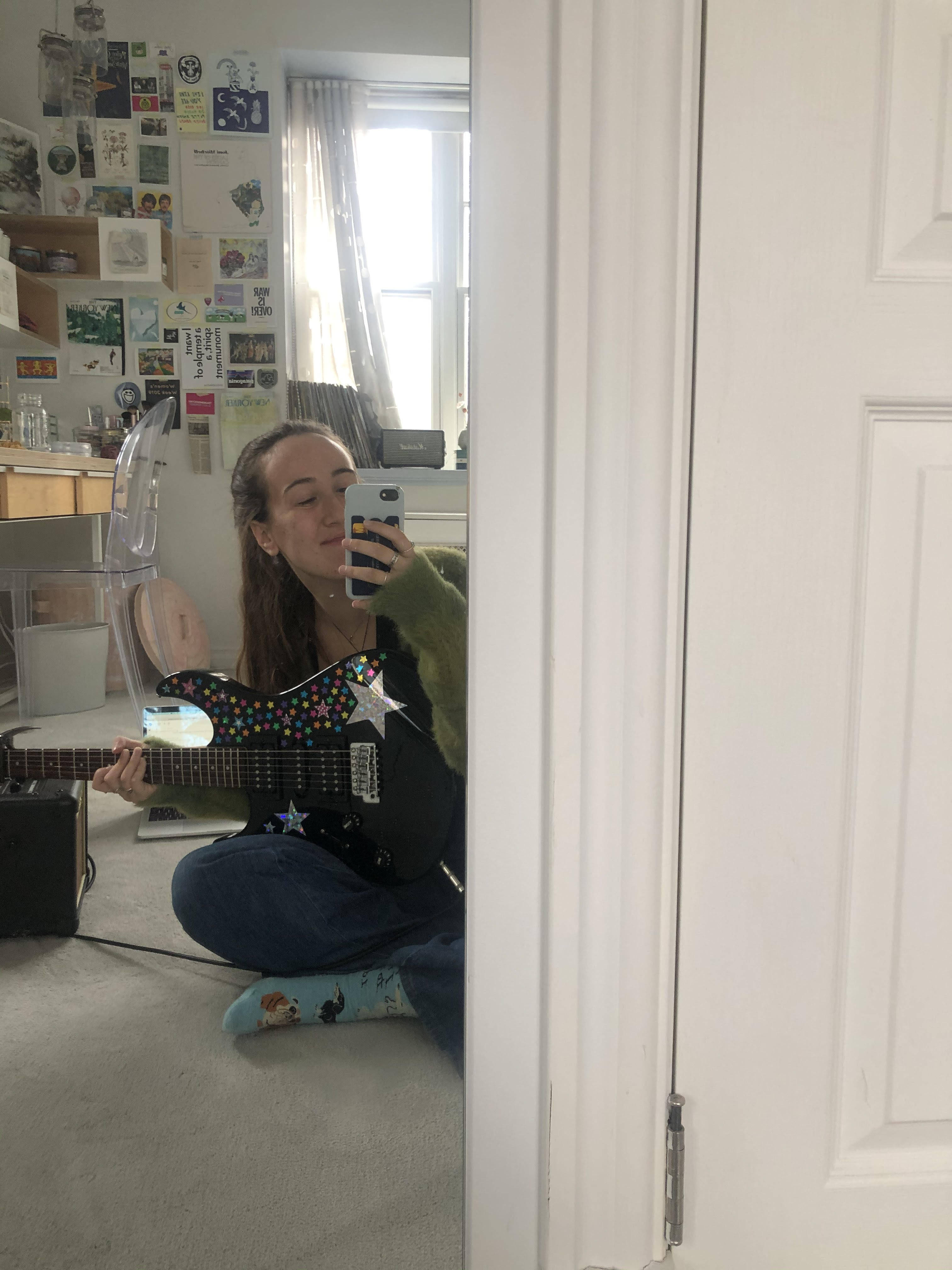 New hobby: Playing electric guitar!

Inspiration: I started playing acoustic guitar a little over a year ago and have not been able to put it down ever since. Playing acoustically definitely fueled my love for folk music and also provided a new creative outlet for my writing. During my time at Barnard, I had the pleasure of starting a band with a few other members of the Class of 2023, and our hourlong time slots in the music practice rooms in the basement of the Quad consistently turned into three-hour jam sessions and allowed for the blossoming of lasting friendships. Upon returning home, I was determined to continue to use music as a release and as a form of personal growth. Picking up my family friend's old electric guitar allowed me to do just that.

How it helps: I have always found playing guitar to be a form of deep meditation, and having an outlet where I can see my own progress keeps me motivated and eager to keep playing. Plus, my switch from acoustic to electric has undoubtedly made me feel more powerful and unstoppable. My family thinks it's definitely given me more of an edge!
Tips for others: If you have access to any musical instrument, play it! I used to think that I had to be qualified in some way in order to play guitar, and this held me back from exploring how fun it really is for far too long. Music is a wonderful source of purpose and self-exploration, and there is no feeling quite like being able to play your favorite song for the first time or finally writing a song of your own.
Brigid Cromwell '22, majoring in English with a concentration in film
New hobby: I used to run cross country and track in high school, but I was never very good at it. Since returning home, I've decided to start running again and focusing on my physical fitness. There is a beautiful park near my house with mountains, a creek, and trails to walk, run, and bike on. I've been going there almost every day to improve my running, and I'm having a lot of fun doing so.
Inspiration: I love exercising, but I usually stick to yoga and high-intensity interval training. Since I hadn't really run seriously since high school, I decided to try it out again, since the gym is closed. The weather is getting nicer, and I find that being outside in the sun always improves my mood.
How it helps: For me, running is relaxing and a form of meditation. I find it extremely difficult to quiet my mind at times, and I've discovered that exercising is one of the best ways to shift your focus to your physical sensations and practice mindfulness. It's nearly impossible not to be present when you're running since you're focusing on your breathing, your pace, and your heart rate. 
Tips for others: Start slowly running for one minute and walking for two minutes, and then gradually increase this. Make sure to invest in comfortable and supportive running shoes to avoid shin splints and other injuries. I also suggest running in a scenic area if you can, since this makes the experience more enjoyable. Lastly, good music is a must! Your body and mind will thank you after you run, even if you start out mostly walking. Do this for yourself; you are capable of much more than you think! 
Danielle Slepyan '22, psychology major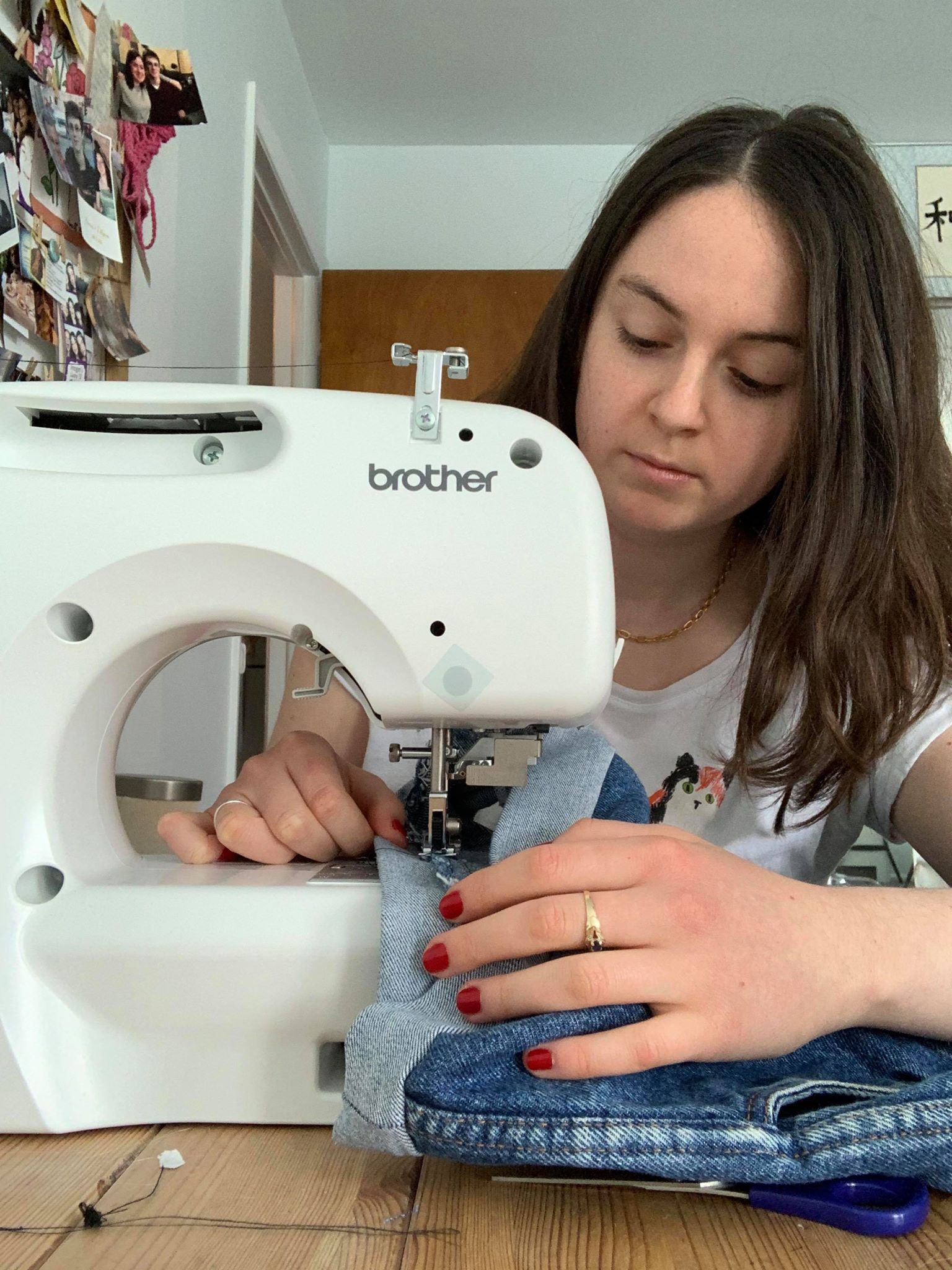 New hobby: I take old clothes from my closet and transform them! I have a bunch of old clothes in my closet that I never wear, and it's usually because they are too small, too short, too big, or I don't like them anymore. Instead of throwing them out, I decided to try to make something else out of them. I had an old pair of jean shorts, and they used to be super long (down to the knee). Last year, I cut them so they would be shorter, but I ended up cutting them so they were way too short and also had sloppy-looking frayed edges.

Instead of throwing them out, I decided to fix them up. I took some extra jean fabric that I had laying around, and cut 3 inches by however long each side of the jean was. After that, I sewed the extra bit onto the edges of the jean shorts. Then I folded the fabric so it looked like the jean shorts had been rolled up, but really I sewed extra fabric onto them. Then I ironed, cleaned it up, and made some finishing touches, and voilà! I tailored my shorts to a more wearable and trendy length.
    
Inspiration: When I was younger, my grandmother gave me a sewing machine (she is from Soviet Russia and wanted me to be prepared for womanhood). I love using the sewing machine for projects like stuffed animals or sewing dresses. But this time, I realized I have so many unworn old clothes in my closet that with just a few adjustments can be made cute!
How it helps: Sewing is a really great stress reliever for me. When I have way too much homework or other life stressors, it's so nice to be able to get behind the sewing machine and focus completely on one project: finishing my jean shorts. And when they come out the way I want them to, there's no better feeling of satisfaction!
Tips for others: Finding a pattern online or making your own pattern with paper is super important. Patterns, in addition to measuring with a ruler, are vital in sewing or hemming your own clothes. My advice is to not rush, be patient when you make a mistake, watch a YouTube video on how to do whichever project you choose, and don't give up!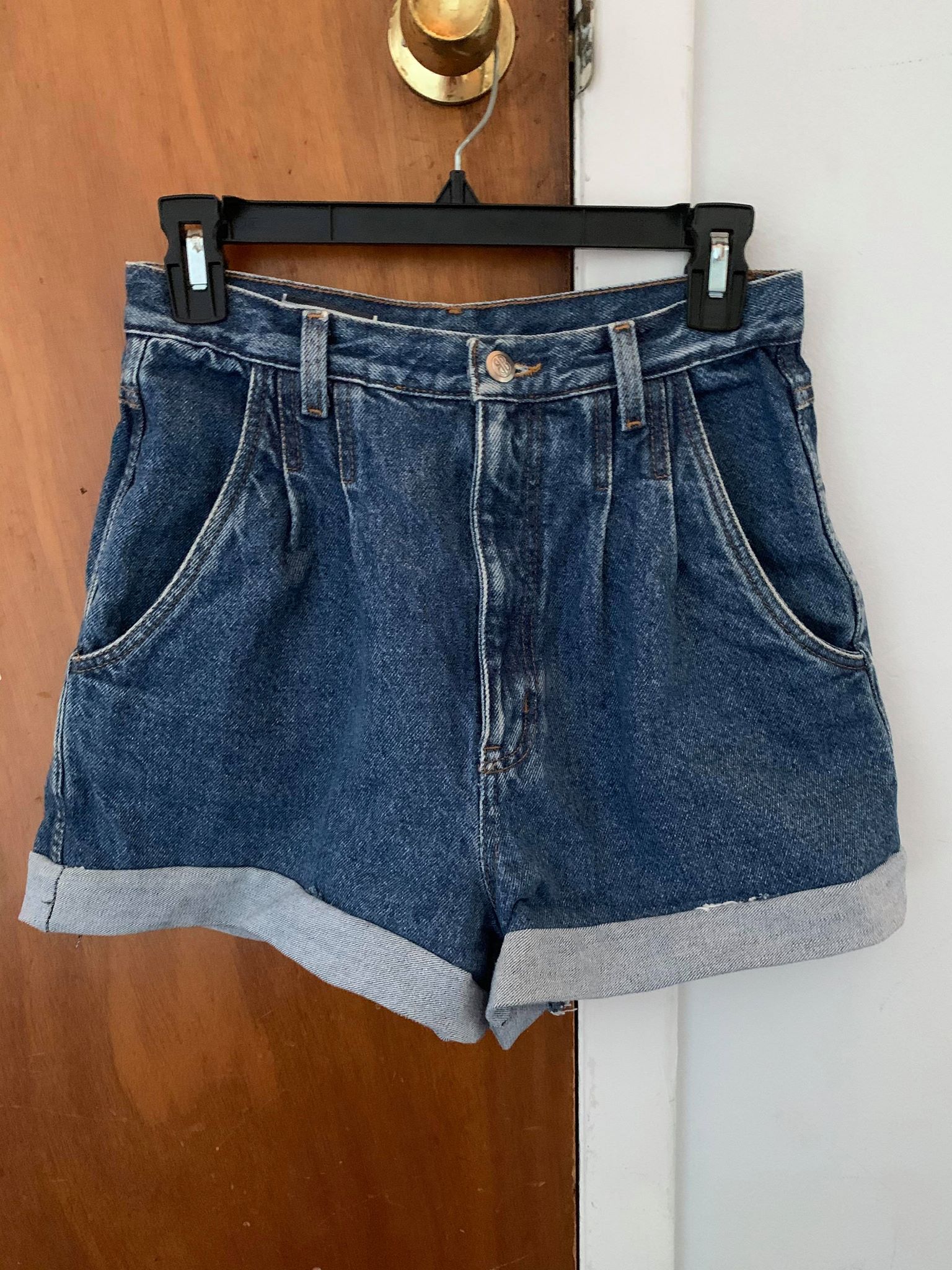 ---