(Hero image credit: NBC/NBCU Photo Bank | 2013 NBCUniversal Media, LLC)
When HeartShare St. Vincent Services recognized Ariane Rinehart '15 with a "Rising Star Award" at its annual benefit last November, their acknowledgment only confirmed what the Barnard community already knew about the actor who, in her junior year, landed the plum role of Liesl in NBC's The Sound of Music Live!, alongside country music singer Carrie Underwood.
While her acting talent and ambitions initially drewRinehart to New York, Barnard wasn't on her radar. "I had never heard of Barnard," she said. "I [just] knew I wanted to go to college in New York."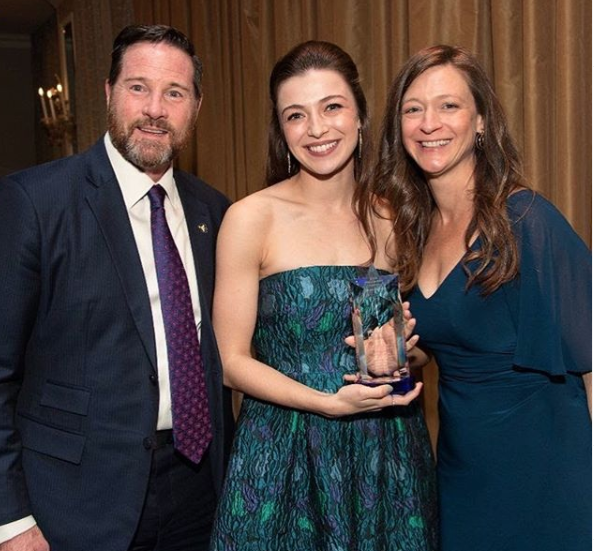 Although she was raised in St. Louis, her mother is from New Jersey, so the New York metropolitan area was familiar. Rinehart initially came east to look at NYU and Columbia, but quickly decided that Barnard was her first choice. "I ended up applying early decision," she said. "There was something about [Barnard], and seeing the campus tour" that immediately captured Rinehart's attention and solidified her choice.
Even though she took a semester off to take advantage of the Sound of Music Live! opportunity with NBC, that didn't diminish her academic performance. Rinehart was selected as an Athena Scholar and chose to major in sociology, not theatre.
"Sociology applies to the study of people, why they do what they do, the things that they do," she said. "It's looking at someone very different from you. I look at [acting] roles from that sociology perspective." Unsurprisingly, Rinehart "ended up writing [sociology] papers about how we're socialized through TV, media, and film."
Intent on remaining available for professional auditions, Rinehart didn't perform in campus theatre productions. But she was still deeply involved in campus life, as a member of Bacchantae, Barnard's a cappella group; president of a community service project called Dance Marathon during her junior and senior years; orientation leader for NSOP; and a student worker for Reunion.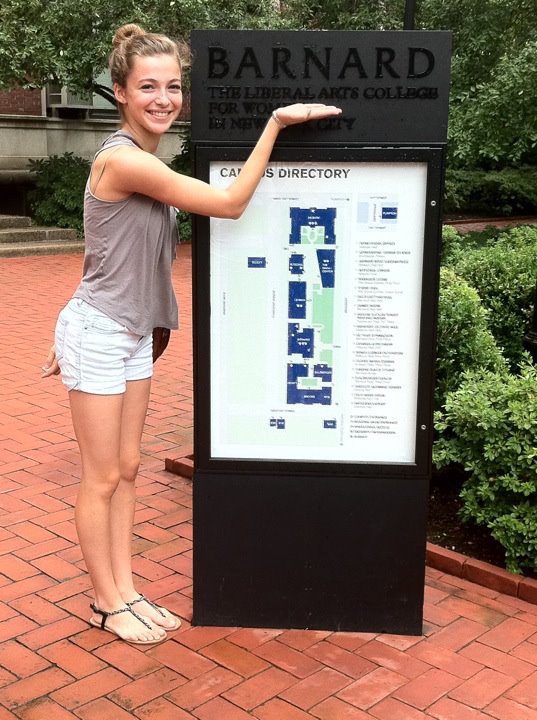 Majoring in sociology instead of theatre hasn't kept Rinehart from her preferred career path, proving that one's major doesn't dictate one's professional trajectory.
A working actor barely five years after graduation, Rinehart knows how lucky she is not to need "a survival job." Since landing The Sound of Music Live!, Rinehart has sung in the Macy's Thanksgiving Day Parade, performed in a music video with Justin Timberlake, taken on the role of Eve in the film Noah, appeared in television shows like Quantico and Blue Bloods, and had a recurring role on the show Chicago Fire.
"It's helpful to have four years to feel really confident and take that into the rest of the world," she said. Part of her early success navigating the mostly male-dominated sets relies on the resolve that Rinehart learned at Barnard. 
"There are so many really intelligent, opinionated strong women [at Barnard]," Rinehart explained. "It's a training ground not to second-guess yourself. It would have been easier at a coed school not to have asserted myself."
"It's funny to pick up on areas in your work life where maybe you would have backed down," Rinehart continued. "Barnard was about standing up for yourself and [learning] ways to advocate for yourself."
—MERRI ROSENBERG '78