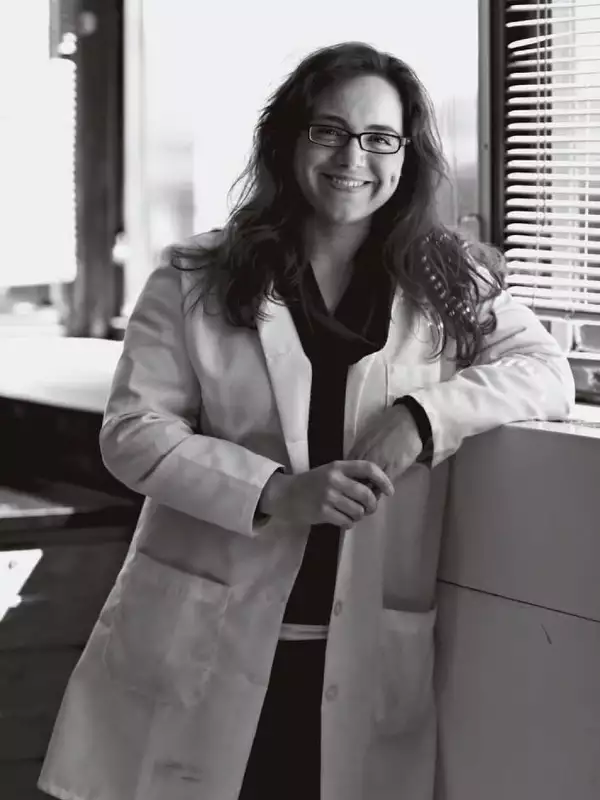 Marisa C. Buzzeo
Associate Professor of Chemistry
Department
Office
Contact
Marisa Buzzeo is an Associate Professor of Chemistry at Barnard College and a graduate of the class of 2001. Prior to her faculty position, Buzzeo was a visiting research scientist at Columbia University's nanocenter and a postdoctoral scholar at the California Institute of Technology, in the laboratory of Prof. Jacqueline K. Barton (BC '74). Marisa completed her graduate studies in physical chemistry at the University of Oxford, under the supervision of Prof. Richard G. Compton. Her research program at Barnard is focused on the use of electrochemical techniques to examine fundamental properties and potential sensing applications of naturally redox-active biological systems.
B.A., Barnard College (Chemistry)
DPhil, University of Oxford (Physical Chemistry)
Physical Biological Chemistry
Electrochemistry
Biosensing
CHEM BC3252 Thermodynamics and Kinetics
CHEM BC3242 Quantitative Analysis
CHEM BC1003 Chemical Problem Solving
CHEM BC3254 Methods and Applications in Physical Chemistry
CHEM BC3338 Quantitative and Instrumental Techniques Laboratory
CHEM BC3901/3902 Senior Honors Thesis
Gladys Brooks Faculty Excellence in Teaching Award
Barnard College Presidential Research Award
American Chemical Society Chemistry Ambassador
American Chemical Society
Bioelectrochemical Society
Electrochemical Society
National Science Foundation
American Chemical Society Petroleum Research Fund
Barnard College Presidential Research Award
The Sally Chapman Fund
Barnard College Office of the Provost
Electrochemical Reactivity of Biological Selenium Analytes, 36th Reaction Mechanisms Conference, St. Louis University, St. Louis, MO, June 2016.
Electroanalysis of Biological Selenium Analytes, 16th International Conference on Electroanalysis, Bath, England, June 2016.
Electrochemical Behavior of Selenocystine at Gold Substrates, 229th Meeting of the Electrochemical Society, San Diego, CA, May 2016.
Going with the Flow: Tracking Electrons in Biological Systems, Raising the Bar, Barnard College 125th Anniversary Lecture Mini-Series, New York, NY, June 2015
Electrochemical Characterization of Selenium-modified Gold Surfaces, 250th ACS National Meeting, Boston, MA, August 2015.
Walker, L. M.; Karnaukh, E. A.; Dewan, F.; Buzzeo, M. C. Voltammetric Behavior of Selenocystine at Modified Gold Substrates, Electrochem. Commun. 2016, 69, 28-31.
Sokolovskaya, O. M.; Magyar, J. S.; Buzzeo, M. C.; Electrochemical Behavior of Cytochrome c552 from a Psychrophilic Microorganism, J. Phys. Chem. C 2014, 118, 18829-18835.
Capozzi, B.; Chen, Q.; Darancet, P.; Buzzeo, M.; Neaton, J. B.; Nuckolls, C.; Venkataraman, L. Tunable Charge Transport in Single-Molecule Junctions via Electrolytic Gating, Nano Letters 2014, 14, 1400-1404.
Cantalupo, S. C.; Lum, J. S.; Buzzeo, M. C.; Moore, C.; DiPasquale, A. G.; Rheingold, A. L.; Doerrer, L. H. Three-Coordinate Late Transition Metal Fluorinated Alkoxide Complexes, Dalton Transactions 2010, 39, 374-383.
Gorodetsky, A. A.; Buzzeo, M. C.; Barton, J. K. DNA-Mediated Electrochemistry, Bioconjugate Chem. 2008, 19, 2285-2296.
Buzzeo, M. C.; Barton, J. K. Redmond Red as a Redox Probe for the DNA-mediated Detection of Abasic Sites, Bioconjugate Chem. 2008, 19, 2110-2112.