Barnard College: Summer Research Institute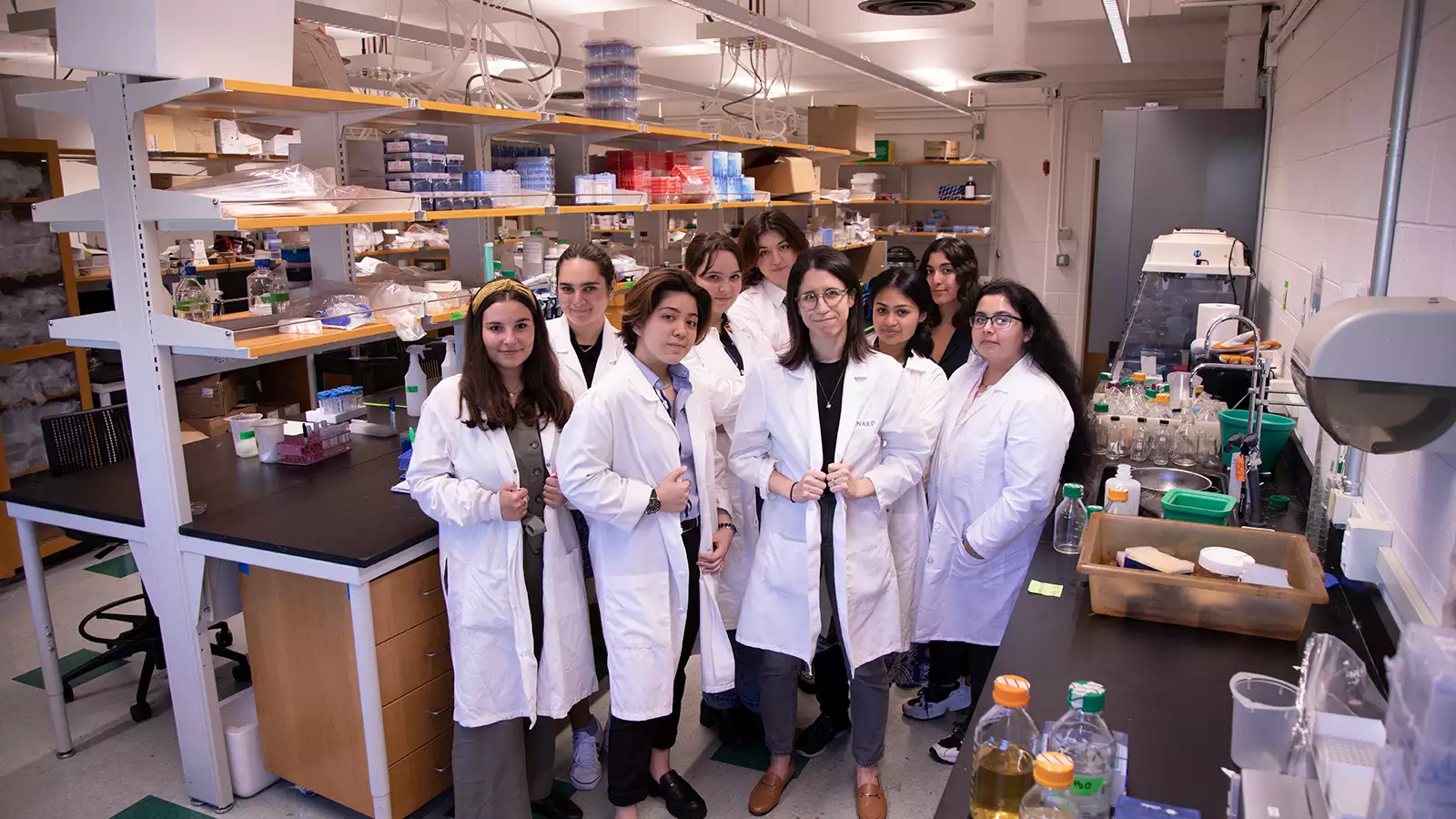 Barnard College has some of the best scientists in the City, and many of them mentor in a program that many students consider a must — the immensely popular Summer Research Institute (SRI). 
The program, which provides funding for science students and top-tier mentorship from Barnard and Columbia faculty, as well as from experts from several institutions around NYC, has grown steadily every year since it launched in 2014 with just over 100 participants. This summer, May 31 – August 5, a whopping 285 students participated — an increase from 247 in 2021. The rising participation rate reflects the huge interest in science research at the College. 
Through SRI, students receive a $6,000 summer stipend, access to subsidized on-campus housing, and mentorship from science leaders like SRI's co-directors, associate professor of chemistry Marisa C. Buzzeo '01 and professor of psychology Koleen McCrink. "For some students, even our more senior ones, this is their first chance to be able to work side by side with other students and mentors directly, 'at the bench,'" said McCrink. "There is an air of excitement with the students who are coming into the labs and to events." 
In addition to receiving funding, students also attend panels and lectures, work with the College's career office, Beyond Barnard, to hone their résumés and cover letters, and present their final research at the Lida Orzeck '68 Poster Session — one of New York City's largest gatherings dedicated to young women scientists. Speaking about this year's SRI Keynote Conversation with environmental activist and leader Rhea Suh '92, McCrink confirmed what many felt about the spark that gets ignited when scholars can physically come together. 
"[Suh] joined us for a guest Q&A, and we were thrilled to be able to share a meal and get some spontaneous, in-person insights into her work at the National Resources Defense Council and under President [Barack] Obama," said McCrink. "Occasions like that, and the poster session itself, were meaningful opportunities not just to talk about science but to connect with our shared love of research and discovery."
Buzzeo agreed. "It's always exciting to witness our students' development — as individual scientists and as members of a collaborative team — over the course of the SRI," she said. "In addition to the technical training, there is a special camaraderie and sense of community that develops when working together in a lab, and the SRI fosters those connections for our students." With so much packed into the summer months, students gain knowledge about their respective fields and research interests and walk away with experiences that often lead to other opportunities. 
As both co-directors and faculty mentors, McCrink and Buzzeo have seen how the institute serves as a research and career launchpad for students, thanks to the support from the College's administration. "The opportunity to engage in summer research can really influence and guide students' undergraduate careers, as well as the paths they choose to pursue after Barnard," said Buzzeo. "We are immensely grateful to Provost Bell and President Beilock for their continued support of this program and to our dedicated faculty advisors for their mentorship of our students."
The SRI model has also led to similar programmatic support beyond the sciences. Thanks to the generosity of external philanthropic organizations like the Laidlaw Foundation and GRoW @ Annenberg — and the template provided by SRI — Barnard has continued to expand summer opportunities for faculty-mentored research in the arts, social sciences, and humanities. "This summer, 35 students funded by the College are conducting research or completing internships under the guidance of faculty mentors in disciplines outside the sciences, alongside our roughly 100 funded summer interns," said A-J Aronstein, Dean of Beyond Barnard. He added, "We're excited to build on that number again in 2023, and we'll continue to grow SRI in new directions." 
The goal is ultimately to provide every student who comes to Barnard with guaranteed access to at least one summer of funded research or funding to support an internship.
The Student Perspective
Nia Paz-Diaz '24 (above), an urban studies major and astronomy minor, confirms how her technical skills around coding and programming have grown over the summer as a participant in SRI. The program has also given her better clarity into the specific type of research she'd like to pursue in the future. "I know now that I want to focus on science communication instead of science programming," she said. "I believe that looking at the night sky should be a basic human right, and this thought has really inspired my research at the Summer Research Institute. I would love to teach astronomy to younger kids, especially young girls, and show them this is definitely a path they can take if they want to."
Chemistry major Sheikh Jobayar '24 asserted that she grew a lot over the summer — her second time at SRI — with the help of mentor and professor of chemistry Christian Rojas. "This summer has given me the opportunity to learn a lot of lab skills in organic chemistry. I haven't taken an in-person organic chemistry lab class before, so it was great to have Professor Rojas teach me techniques in the lab," said Jobayar. And it wasn't all science skills that she acquired. "I also learned a lot of patience, how to be more careful with every step that I take, and how to have better time management skills. What I love about chemistry is not only the problem-solving aspect but also that you get to think on an atomic level."
Biology and film studies double major Jackie Balestrieri '24, who conducted research in the Lopatkin Lab, led by assistant professor of biology Allison Lopatkin, agreed that the growth she experienced came from being a part of a community that has a shared goal. "The more we grow and learn together, in collaboration and being each other's soundboards, makes you, as a scientist, more aware of what you're doing regarding the big picture. Weekly meetings, expressing our hardships and victories, big or small, really helps us to ground our work and bring it back to the big picture," said Balestrieri.
To learn more about SRI 2022 and the work that goes into some of the student research, mentorships, and poster sessions, watch the video above.
---
SRI by the Numbers: 
2022 saw the largest number of mentors in the program's history: 185 individuals from Columbia, Icahn School of Medicine at Mount Sinai, NYU, the New York Botanical Garden, and many other institutions.
58 students — or 20% — are the first in their family to go to college.
22 student participants are also in the Opportunity Programs, such as the HEOP Scholars Program and CSTEP.
From 2014 to 2021:

There were more than 800 individual participants in SRI. 
12 participants were selected for the National Science Foundation's Graduate Research Fellowship Program, and an additional 8 were named "honorable mention" — huge accomplishments for everyone involved.
20% of previous participants have gone on to complete graduate school in the sciences.