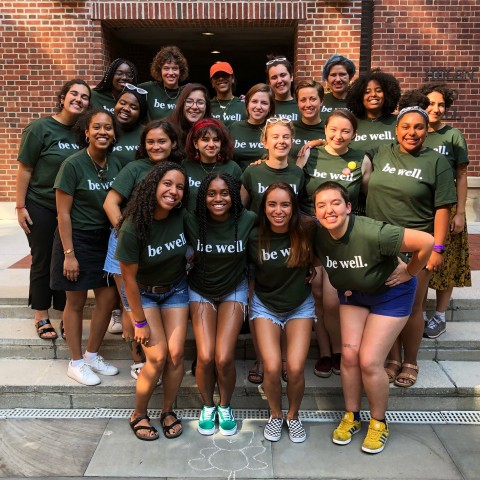 Peer educators are specially trained Barnard students who volunteer to provide information, conduct outreach, engage in advocacy, and develop creative and effective strategies to promote and support health and wellness. The peer education program began at Barnard in 1986. Well-Woman was established in 1993 to bring together per-existing small, topical peer educator groups to form one comprehensive group.
They staff evening office hours in our center (times when students can drop-in to ask questions, check out the office, watch movies, and just relax in our comfy space), write for our blog, liaise with RAs and student groups, develop events, facilitate workshops, attend weekly meetings with Well-Woman staff, help with events like our annual cupcake decorating and milk tasting (yes, milk tasting!), host our weekly craft club, act as "IUDoulas" for students getting an IUD, table in the Diana, serve as wellness resources for the student body, and much more!
The peer educators talk about any and all health and wellness issues that impact our community, including self-care, body image, nutrition, sexual health, stress management, sleep, sexuality, identity, community, mindfulness, relationships, and more.
The WW Peer Educators are part of the Well-Woman Health Promotion Program at Barnard. They are advised by our director, Cristen Kennedy. New and returning peer educators receive a week of training before the fall semester begins, and meet weekly for additional training and group work and planning during the academic year.
Applications are available on the Well-Woman blog in March. Interviews are held and final selections are made before the end of the spring semester.
Peer Eds hold drop-in office hours in 119 Reid from 7-9pm every Sunday, Tuesday, Wednesday and Thursday night. You can also look for the Well-Woman peer educators in your residence halls during their campus-wide events. Please note that Tuesday's peer ed office hours are our POC office hours, held specially for students of color. You can keep up to date with peer ed events through our Facebook, Instagram and blog, or by joining our listserv: email wellwoman@barnard.edu with "listserv" in the subject line and we'll add you to the list.
21-22 Peer Educators
Nicole Alarcon
Leahley Alawi
Gabriela Arredondo
Isha Asim
Maya Corral
Jenab Diallo
Sofia Dominguez
Gabriela Hochster
Erin Ikeuchi
Carolina Jimenez
Christina Juste
Jenna Madden
Mikayla Moaney
Marianna Najman-Franks
Magdalene Pernambuco
Lily Sickles
Olivia Slaughter
Ayomide Tikare
Magnolia Totaro
Fatoumata Wague
Ainsley Walker
Sheila Warrick