Your academic journey at Barnard is shaped by the innovative Foundations curriculum. It's exhilaratingly rigorous. It's also very flexible. The curriculum hones your ability to skillfully interpret information and think critically about it, and then to powerfully communicate your ideas.
With Foundations, you will explore international and global learning; quantitative, qualitative, and empirical reasoning; and complete a distinct technology requirement that sets Barnard apart.
How the Curriculum Works
You forge your own path with Foundations. You'll start off on an adventure that takes you across and between disciplines — the flexibility of Foundations means that you'll always find courses that interest you. And as you figure out which field you want to immerse yourself in, the curriculum lets you dive deeper.
"It's really about thinking as a continuous process, something that encourages you to challenge yourself and to be independent and try something new."
— Sara Heiny '17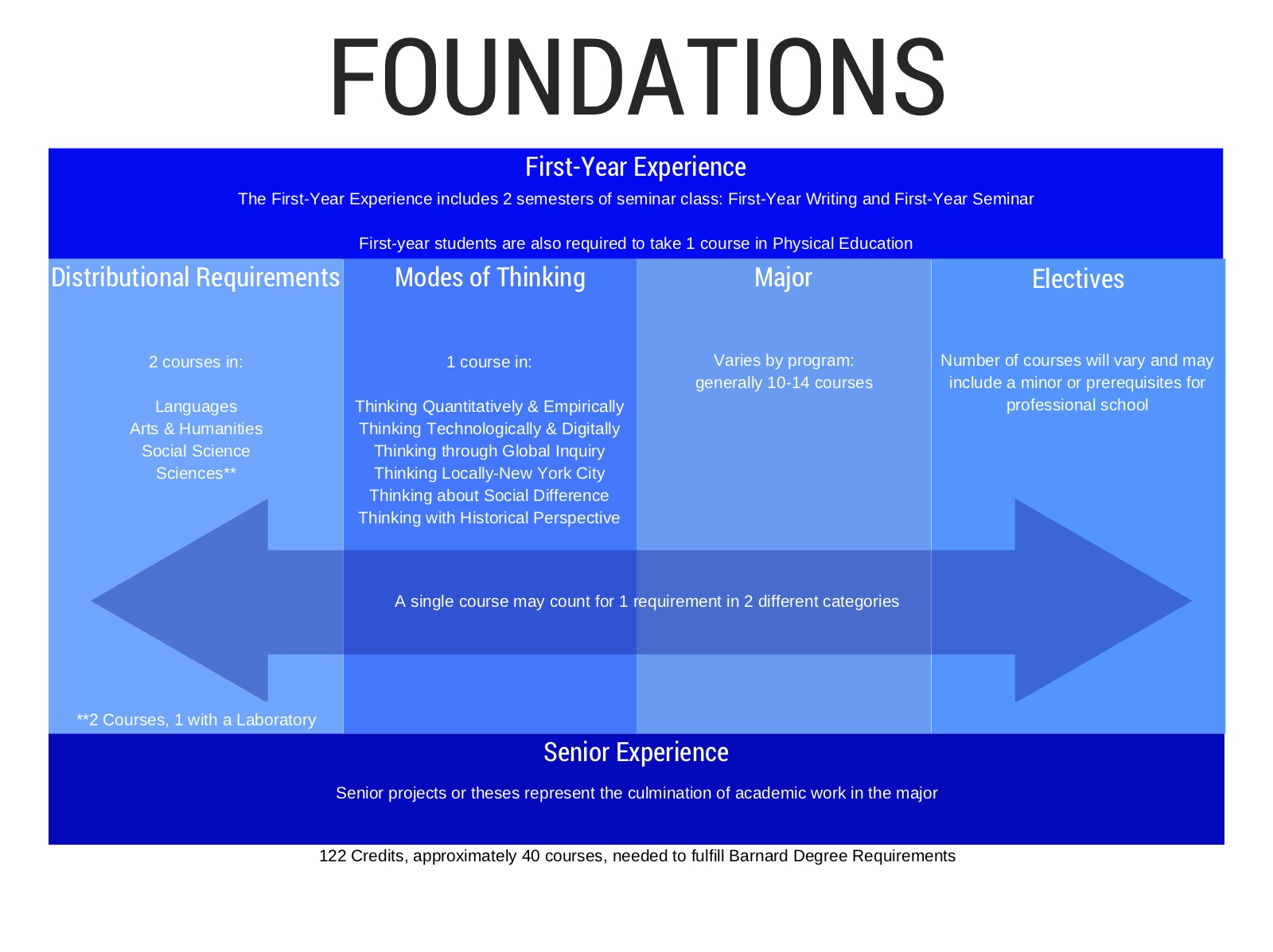 The First-Year Experience
You'll launch your intellectual journey with a two-semester sequence of intensive seminar classes. Comprised only of Barnard students, these classes may be your first experience of a small and collaborative women-centered classroom.
The Seminars
You'll read challenging literary texts and develop fundamental skills in analysis and writing that will prepare you for college coursework and beyond. There are three directions to choose from: Legacy of the Mediterranean, Women and Culture, or The Americas.
Tackle challenging material, often across fields, as you develop your ability to read critically, speak clearly and effectively, and write logically and persuasively. Opt for a seminar in one of two categories: Special Topics and Reacting to the Past.


Barnard history professor Mark Carnes pioneered the game-based teaching and learning experience Reacting to the Past. Since then, hundreds of colleges have implemented the experience. This student favorite uses role-playing games that challenges you to absorb the nuances of classic texts and wrestle with thorny issues. Here, present-day Barnard and Columbia undergraduates play "Defining a Nation: India on the Eve of Independence, 1945."
General Education Requirements
During your sophomore year, you'll expand on and strengthen the critical thinking and writing skills that drove your first-year experience. The General Education Requirements weave together Distributional Requirements and Modes of Thinking. This intersection encourages you to explore widely across disciplines before picking your major and helps you make connections between topics and subjects. You can also choose electives that support and extend your interests.
You start exploring your Distributional Requirements in your first year. And because Foundations is flexible, these courses may also satisfy the requirements within your major. They'll expose you to the disciplines, approaches, and skills that together form a Barnard education.
You'll take 2 courses in:
Languages (must be in the same language)
Arts and Humanities
Social sciences
Sciences (one with lab)
The Distributional Requirements cover a wide spectrum, with each category offering dozens of course options. Love to dance? Maybe a lab in human anatomy is right for you. Filmmaker? A lab in screenwriting could satisfy you, as well as the requirements.
The six Modes of Thinking are at the heart of the Foundations curriculum. They emphasize the dynamic process of thinking over the certainty of knowing.
You'll take one course in each of the following:
Thinking Locally — New York City: In and out of the classroom, you'll examine your community and environment to better understand the significance of local context.
Thinking Through Global Inquiry: You'll consider communities, places, and experiences beyond your immediate location, expanding your perspectives on the world and your place in it.
Thinking About Social Difference: Examine how difference is defined, lived, and challenged, and consider disparities of power and resources in all their manifestations.
Thinking With Historical Perspective: These courses challenge you to see the past with fresh eyes by examining the ways in which historical context shapes and conditions the world.
Thinking Quantitatively and Empirically: You'll gain exposure to numbers, data, graphs, and mathematical methods — approaches to thinking and problem solving.
Thinking Technologically and Digitally: Discover new ways of learning that open up innovative fields of study, including computational science and coding, digital arts and humanities, geographic information systems, and digital design.
» courses currently satisfying these requirements
"You'll look at the Course Catalog and fill your schedule with 70 credits before remembering you're human and no, you can't take four classes at the same time."

— Willa Smith '20
After completing a course, you may submit an appeal for a GER designation via the Student GER Appeal Form. If approved by the COI Sub-Committee of Student Appeals, the form is submitted to the Registrar's Office and your degree audit is updated. Please note that only courses with at least 3 credits are eligible for GERs. Reference this page if you'd like to get a better understanding of the Modes of Thinking for your rationale. If you are appealing for Nine Ways of Knowing, please reference the aims on this page in the Online Course Catalogue.
The Office of the Registrar handles any GER appeals for summer or transfer courses.
Choosing a Major
Don't be surprised if you end up picking a major that has nothing to do with what interested you when you first arrived on campus. By now you'll have experienced new fields of study that excite you. With support from your advisor, you'll decide on a major that will anchor your remaining study at Barnard. Each of the College's 50-plus majors and programs engage you in a thorough analysis of your subject and high-level content.
"Your major does not dictate your career path." 

— President Sian Leah Beilock
The Senior Thesis or Project
After three years of interdisciplinary breadth and disciplinary depth, you're ready to take on your senior project: a semester- or yearlong endeavor that represents the culmination of your work in your major. Your senior project could be a written thesis, a creative project, supervised original research in a lab, or even research within a dedicated senior seminar. Senior projects are often presented at a campuswide event, and abstracts for all senior theses are collected and published.
Challenging? Sure. And very satisfying.
Electives
The number of electives you take will vary and may include a minor or prerequisites for professional school. They may be adjacent to your major, intersect with it in an innovative way, or offer an opportunity to try something completely different that just may change your life. Whichever way you go, you'll have a full menu of courses from which to choose.